It's Saturday morning and I'm scouring around for fixtures, while checking the weather across Yorkshire.

Ideally somewhere with a walk, green outdoor space and relatively new for Cricket Yorkshire, decent parking.

Rodley's home match in Division 4 of the Aire-Wharfe Cricket League gets my vote, not least because their opponents are Bingley Congs, my local club and one I used to bowl pies for.

It has a bit of extra intrigue after all the furore about the two clubs who were voted into the Aire-Wharfe League (Rodley and Bingley Congs no less). The short version is that their presence in Division 4 particularly irked Pool who dropped down, despite finishing 9th out of 12 teams in 2022.
---

That is now (choppy) water under the bridge and I believe both Rodley and Bingley Congs will go up to Division 3 in 2024, regardless of where they finish as the League gets another re-structure.

---


I am pondering all this while we wait at the Moss Swing Bridge for a canal boat to gently make its way along this section of the Leeds & Liverpool Canal. It takes a while but we're in no hurry and at least it was working which it hasn't always in the last few months apparently.

We drive in and grab one of the last remaining spaces at Rodley Cricket Club's car park.

It is a very idyllic spot here.

Situated next to Rodley Nature Reserve is the River Aire which snakes its way past the cricket ground, with Begley Beck a tree-lined tributary at the far end next to football pitches.

The Reserve – that would have to wait until another day – is a piece of wetland introduced to this Kirkstall valley floodplain in order to encourage migrating wildfowl and waders who use this corridor that was once a Yorkshire Water treatment works.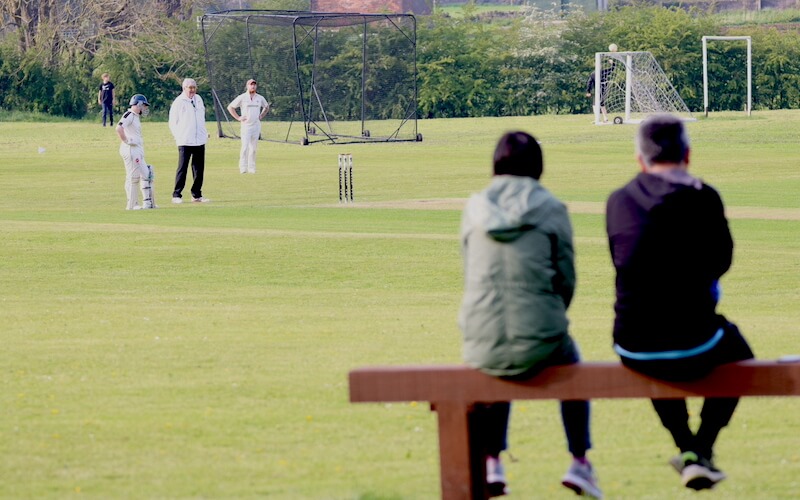 Rodley is a little more unusual as you park up and then walk (not far) to the ground and clubhouse.

It is soft and churned up underfoot; a sign of the rainfall we've had but quite a few teams haven't got a game in yet so we can be thankful this part of LS13 is currently dry.

I haven't been back for eight years or so since their one-storey brick clubhouse was built, with the help of Leeds College of Building students.

Bingley Congs' first team are batting when Mrs Cricket Yorkshire and I head over. Danny Pearson is dismissed for 46 and the visitors are 98-3.

I catch up on Congs news and take in a few overs before the camera and zoom lens on a monopod gets its first outing of the season.

I'm a bit rusty but then this is my first net with the DSLR but the rhythm returns soon enough and the angles, shots and behaviour to look out for.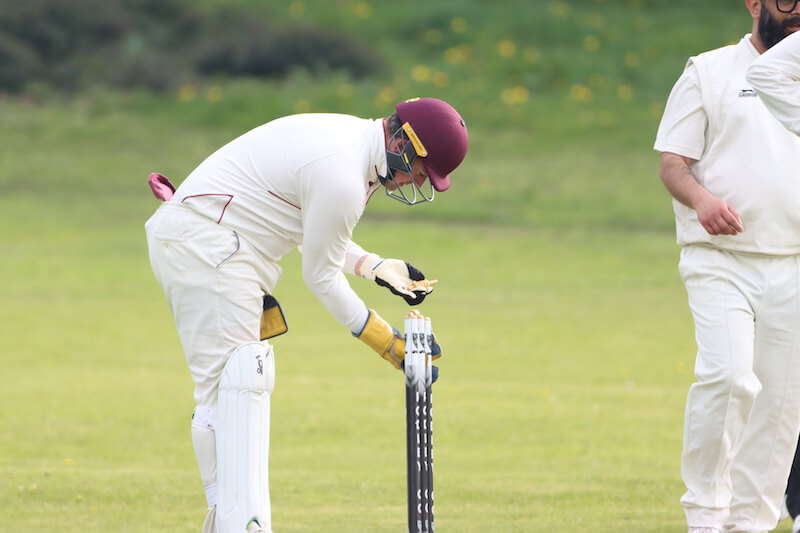 Having watched them at the top of the Craven League for years, I would expect Congs firsts to be too good for this division. Bingley are one of only three first teams in Division 4 with Old Leos and Rodley; the infernal balancing act for the League that caused headaches and resignations.
Predictions can only really make you look stupid but here goes anyway…
Wicketkeeper-batsman George Hicks (above) is bound to score plenty and captain Neil Copping will pick up runs and wickets as he always has done.
---

Matty Roberts (sporting a beard but still very much in the Angus Fraser mould of looking knackered from ball one) will bowl 4,583 overs and can muster up a 50 out of nowhere.

---
Roberts picked up 83 wickets last season in the Craven League and will do well in the Aire-Wharfe. Speaking of opening bowlers, this wasn't Congs' strongest side and when Harry Greenhalgh gets his radar and speed up, it's quite a sight.
I'm curious how they go against a division or two up if they can put a cup run together.
As for Rodley, they've moved from the Bradford Premier League and from those I talked to, it already feels like a smart move. Different leagues suit clubs for all kinds of reasons but after finishing 10th in Division 3 last year, it was time to find new pastures.
With three Saturday men's sides, Sunday and junior teams, their cricket offering has grown impressively. There were quite a few down on a chilly afternoon with spots of rain about.
Everyone said hello, perhaps curious when a bespectacled beanpole shows up with a camera but players, parents and those on the committee were all easy to have a natter with on the day.
I discover all kinds of nuggets.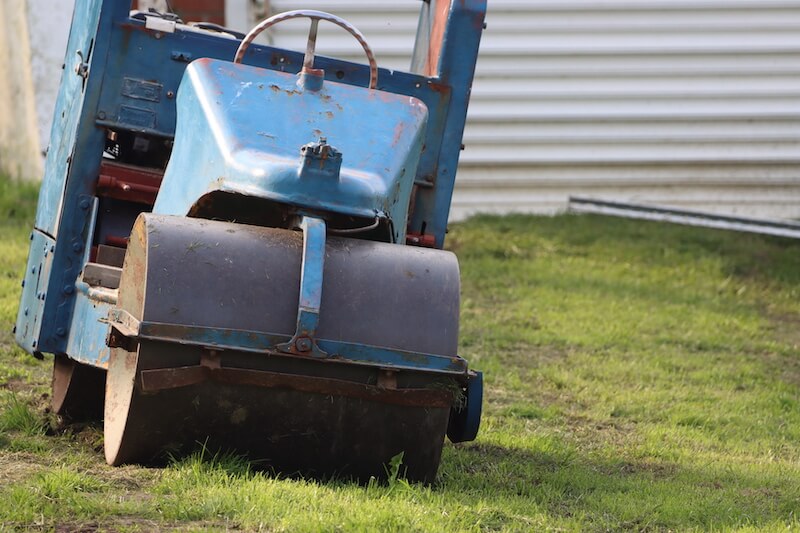 The fixture with Bingley Congs wasn't just threatened by the rainfall that has been around in recent weeks. They were broken into recently and had a mower stolen, but a loan from Thornbury Cricket Club ensured the wicket was cut and all was well.
---

Remarkably, Thornbury had only themselves taken delivery of a new mower after they too were broken into and had one stolen. When you cast your eye around, security is a real problem for clubs with Thackley another repeat victim of late.

---
Out in the middle, Neil Copping (43 not out) starts to loosen his shoulders, ably assisted by Josh Nutting (26) and then Matty Roberts (16 not out) as Bingley Congs conclude on 205-6 off 45 overs.
Dan Hill (1-43) keeps it tight with the ball, cheered on by his team-mates as "C'mon Booooris!" rings out over the wetlands. Let's hope Hill wasn't bowling any vectors of disease.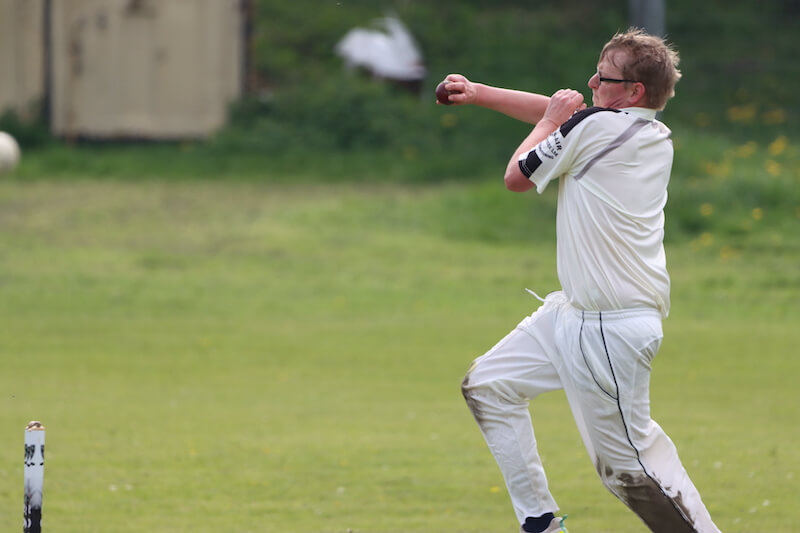 As it happens, I interviewed him years ago as Dan and a friend of his, Mark Sugden, walked from Headingley to Scarborough for Yorkshire Cancer Research.
Tea is laid out on tables in the clubhouse and players come outside with plates groaning with food and big smiles.
Rodley have a tea hatch where mugs emblazoned with the club emblem are lined up near one of those gigantic metallic teapots with two handles.
Teas at Rodley for the past year or two have put together by Daisy, in her mid-teens, who did a cracking job as players ferried back and forth to say thanks and top up with a chicken drumstick or a slab of strawberry cheesecake.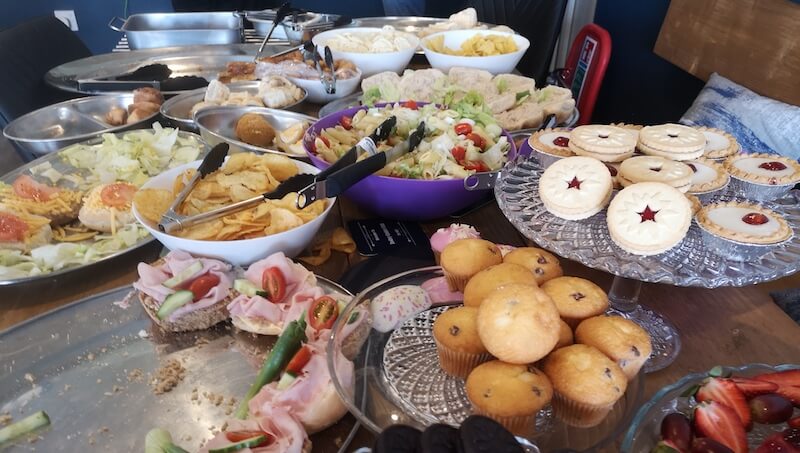 The club should enter the Cricket Yorkshire Yorkshire Tea of the Year (spectators, members or anyone can nominate a club if they take a few photos of a tea and do the quick form).
We hung around to see some of Rodley's reply with the bat. Captain Bailey Wilson (41) and Gary Sagar (21) put on a 41-run opening partnership but when the wickets started to tumble, they kept coming.
We were back in the car and homeward-bound as Mohammed Adil rattled through Rodley's resistance to record match figures of 6-12.
Rodley were bundled out for 83 and lost by 126 runs but will doubtless have better days.
The host club impressed us with their welcome and I wish them well this season. Photos from the game are below…
MATCH PHOTOS ALBUM

(Select a photo and use left and right keys to navigate)

Enjoy these match photos – share the article using Facebook and Twitter buttons below if you think others would like to have a read or see those featured here.
Latest posts by John Fuller
(see all)