Want the best cricket shoes that your money can buy? Searching for cricket spikes, trainers or boots online is time-consuming and not without drama so let Cricket Yorkshire guide you.
Need to know the best cricket shoes for fast bowlers? We can help. Need independent advice on buying adidas cricket shoes? We'll cover various cricket brands here – and give you 10-20% off!
Payntr Cricket Discount Code
We also have an exclusive 20% off Payntr (not sale or golf) discount code – just use YORKSHIRE20 at checkout.
Disclosure: Cricket Yorkshire is reader-supported. That means when you buy through links on our website, I may earn an affiliate commission. You'll be supporting Cricket Yorkshire at no extra cost to yourself. Crucially, they don't affect the independence of the writing, the choice of subject or how I review or mention products.
As an Amazon Associate, I earn from qualifying purchases.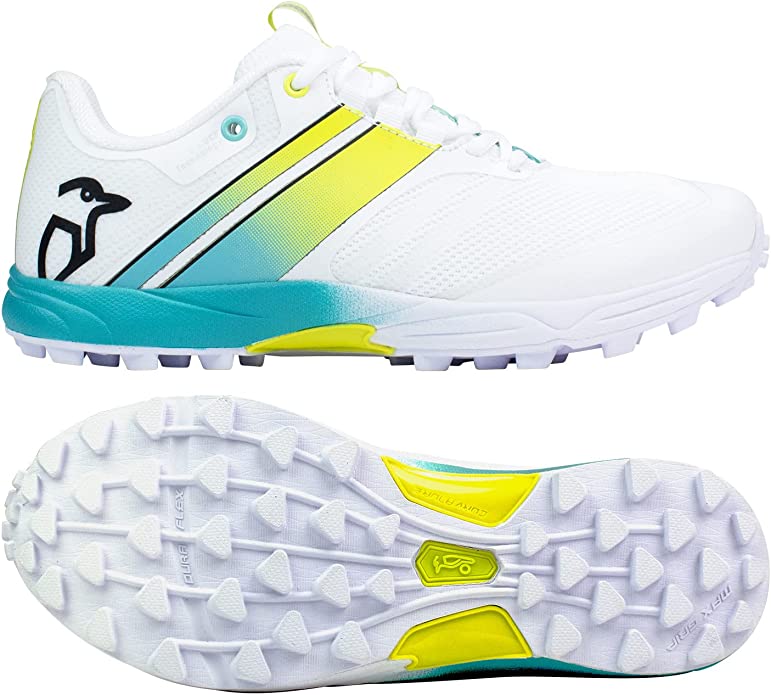 Buy Kookaburra Cricket Shoes on Amazon
Cricket trainers or cricket boot?
There is no satisfying, off-the-shelf answer to this foot conundrum. It will largely depend on what feels comfortable to you. The encouraging news is that both have come on leaps and bounds.
You have both the high-cut bowling boots (with the cut being how high up the ankle the boot goes) and alternatively, there are cricket shoes – essentially trainers with spikes.
Some years back, my previous purchase had been a pair of top-of-the-range bowling boots.
No, not those colourful clogs with the seventies livery that they force you to put on indoors when you go in search of a double strike.
But, proper, bowling boots that various professional cricketers swore by.
They had a reinforced toe that was made from Batsman's kevlar underpants and a strap across the top of each foot that locked you in like a snowboarder.
Consequently, the ankle support they offered was fantastic but at the expense of negligible risk of a turned ankle, they had roughly the same weight as a deep-sea diver's boots. And felt about as comfortable.
Cricket footwear is entirely a personal choice, not just to accommodate our weird and wonderful feet sizes and shapes but also how we walk and run.
Some cricketers will swear by a pair of boots that have seen them through 4,673 overs and are still going strong.
Others prefer lighter options that veer towards the standard trainer with the addition of spikes.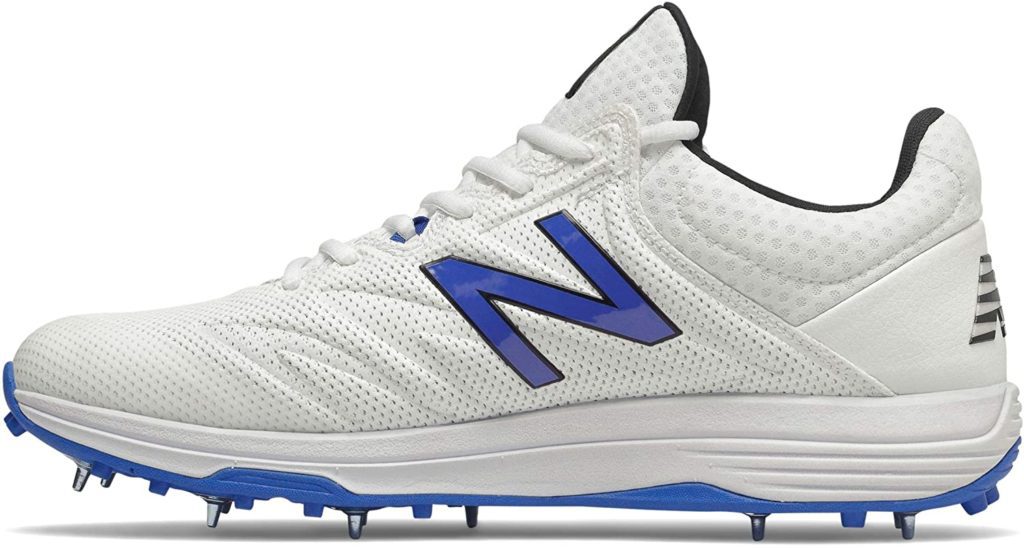 Buy New Balance CK10 BL4 Cricket Shoes on Amazon
Cricket shoes – Pronation
As most bowlers will appreciate, there is nothing natural about repeatedly slamming into a crease line all afternoon.
Consequently, the pressure on the feet is huge and the body's natural impact absorption mechanism of pronation (the flattening of the foot arch) is really put to the test.
This repetitive, forced 'over-pronation' is a significant contributor to injury, often causing shin-splints and even affecting the hips and low back if appropriate shoes are not worn.
So for all those 'high-impact' bowlers out there, whether you have a natural over-pronating gait or not, make sure you give your arches the best support possible and opt for structured bowling shoes such as the ASICS Gel-Speed Menace Cricket Shoes or New Balance CK4040 L4 Cricket Shoes.
Payntr's Bodyline 225 Bowling Spikes have that velcro strap to lock your foot in, complete with reinforced toe and ultra-lightweight insole with gel heel to absorb impact. That design combination could well make it one of the best cricket shoes for fast bowlers.
(If you want to shop for Payntr, use Cricket Yorkshire's 20% off promo code (excl sale & golf). Use YORKSHIRE20 at checkout.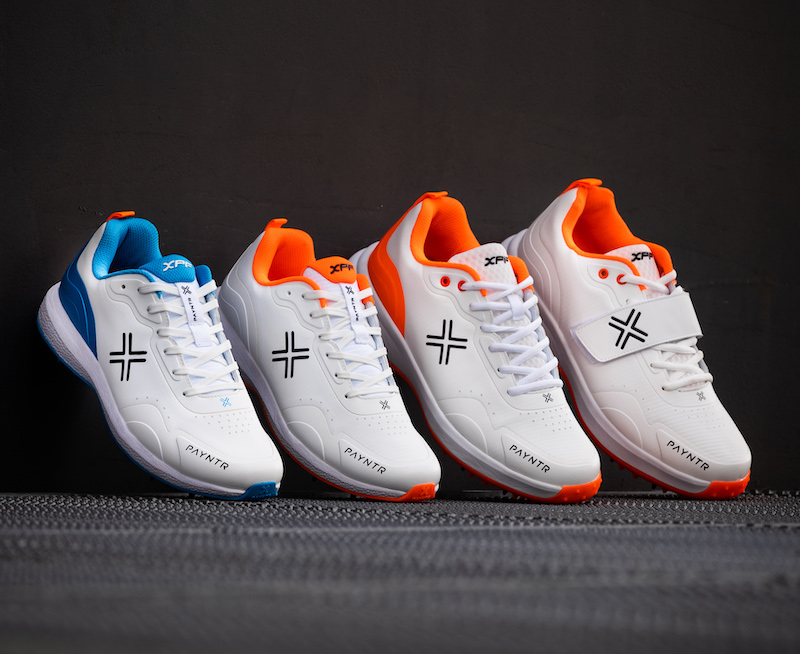 You can have how you run analysed in a running shop in the UK.
A machine will log how your foot lands with each step and therefore which shoes are the best with cushioning in the right areas. In fact, many can tell just by looking at your current footwear and where it's worn through.

When we all run, our feet strike the floor and tend to either roll in to spread the force across the foot or roll out.

You'll just run and probably not have noticed before. All of which can be mildly entertaining and freaky the first time you properly have a look.
Whatever your gait (running style), it's handy to know so you buy the best footwear, the choice out there is substantial, less so for cricket spikes admittedly, but why not get something personalised?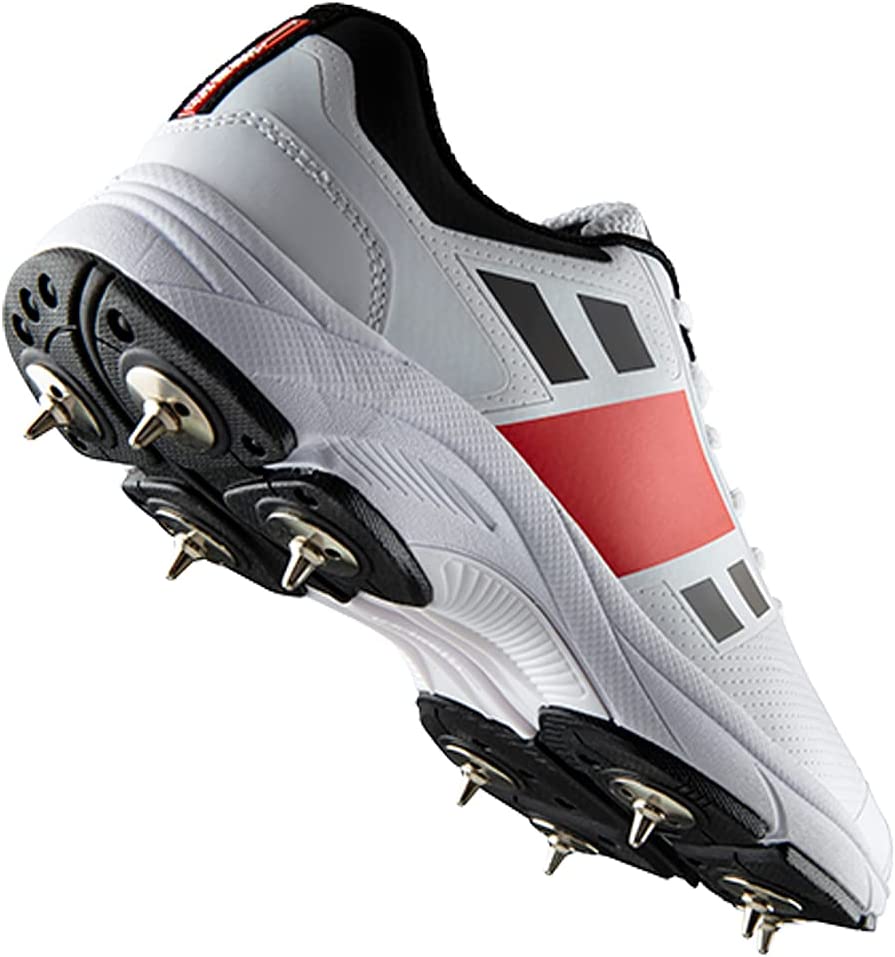 Buy Gray-Nicolls Cricket Shoes on Amazon
The power of cushioning
In an ideal world, none of us would wear footwear at all. We're not designed as human beings to wear shoes. Until that nippy quick who's won the Division bowling award three years running lands a yorker on your big toe.
But given the barefoot option is a little impractical nowadays, cocooning your foot with cushioning will reduce the impact of each step. And we all need it because the force of many times our body weight travels through our feet as we run.
It's too simplistic to buy the cricket shoe with the most cushioning although it will likely as not decrease the chance of injury; it's how it feels on and as you're using it.
People tend to be shy about pacing purposely about the shop trying to get a real understanding of how they feel on their feet.
Don't be. Testing, flexing and using the footwear in-store is part and parcel of making sure that ultimately you buy cannily.
Spend more
This is a recurring theme in my review articles and is not in any way tied to a specific brand. There are certain things in life you shouldn't scrimp on and footwear is one of them.
As a student, I would buy cheap trainers that were comfortable but lasted no time at all.
At some point, I decided to go the opposite way and buy one of the top-priced trainers after visiting a running shop. It was something of a eureka moment.
One pair of Asics Gel-Nimbus shoes memorably felt like my feet were being cuddled by pillows. They lasted a few years with very heavy use.
Particularly so given my unusual bowling action. My trailing leg drags behind me like some odd anchor churning the pitch but also giving the footwear a terrible beating game after game.
What shoes are best for cricket?
There is plenty of choice with the different types of cricket shoes but you want:

* Fits well

* Comfort / support

* Grip
So, what shoes are best for cricket? The ones that feel right to you and your feet. There is no one brand that is THE best cricket shoe for fast bowlers or if you're a batsman.
Shop around, check online reviews and then buy with confidence.
Try before you buy
If you can, try lots of pairs of cricket shoes in the shop. Walk about in them. Bowl in them. Look daft by reverse sweeping one off middle peg and trying a sneaky single.
Buying cricket shoes online is absolutely fine – I've done it many times and had no problems – but reduce the risk of sending them back by knowing exactly what you're buying beforehand.
If you're a sucker for convenience, double-check the sizing guide before buying your cricket footwear on the web and be confident with the returns policy.
Measure your feet properly too. There is not one universal sizing metric everyone follows so this will save you time and angst down the road.
Fitting Tips
Toe space – scenario, you have your hands on the last pair in the whole of Europe of the adidas 22 YDS Boost cricket shoes. They only have a size nine and you're a size ten.
Do you: a) cram your precious pinkies into this trendy foot cabin and suffer accordingly but win style points or b) accept with stoic good grace that life can be cruel but the Pro Viper Version 7 will be out soon enough?
The moral of the story is don't compromise; make sure you have enough space in your cricket shoe to wiggle your toes a bit.
Sizing is crucial and if you're going through growth spurts then re-check your feet size periodically because our cute baby feet inevitably someday will mushroom outwards like Big Foot.

Stability – there's little point in buying a bells-and-whistles cricket shoe if it's too big and your foot moves about.
It needs to be comfortable but stable. A bowler, at the point of delivery, doesn't want their foot sliding about, there's enough things to think about when hurling down that 158mph bouncer.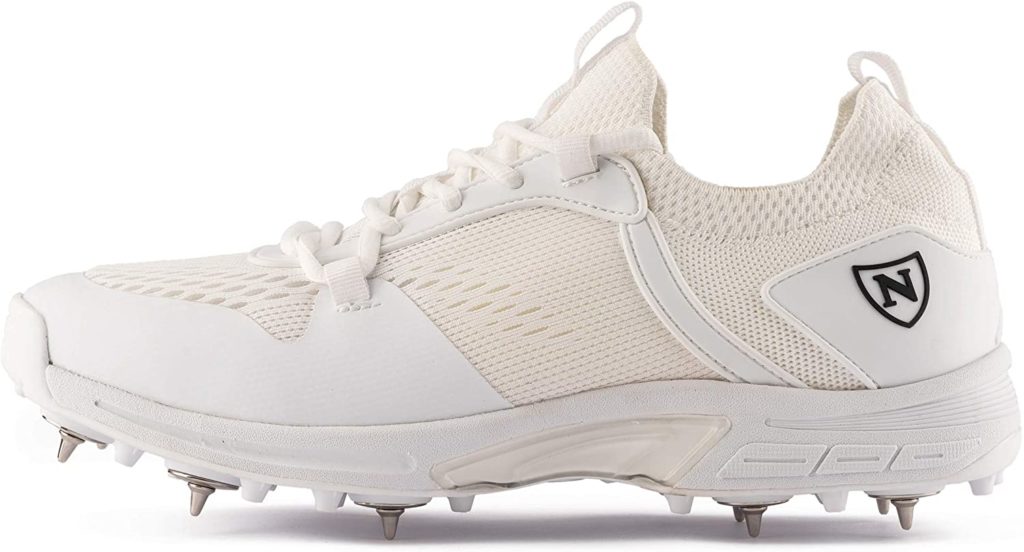 Cricket Spikes
This article looks more generally at cricket footwear – with plenty of reference to trainers because many still wear just trainers during the summer.
Whether it's wet or dry, cricket spikes give extra grip and are a no-brainer.
The choices include full spikes, half spikes (just at the front), rubber grips. Unless you're playing on an artificial wicket, wear cricket spikes. No punchline needed.
A small but invaluable point to mention – clean your spikes before the next match.
I don't mean get out the power washer but certainly early season, the chances are your spikes will collect more mud than a Glastonbury festival. Here's the deeply scientific bit. Guess what, if that's the case, they won't grip anymore!
Another gold-standard tip – check your soles periodically and replace your spikes if you lose them.
It doesn't take long but say you're missing spikes all down the left-hand side, your feet really won't appreciate it. It has even caused some cricketers to run round anti-clockwise in circles for hours.
Toe the line…
A reinforced toe is a popular feature in bowling boots to protect you when that front foot plants and shudders into the ground or if you're a batsman facing the threat from speedy toe-squishing deliveries.
Another tactic is wearing several pairs of thick, cricket socks unless it's a roasting hot day. This will pad out and cushion your toes that bit more and might mean you escape some of the foot punishment.
Whatever age of cricketer, we will all have our own brands and designs we gravitate towards.
Fan of adidas cricket spikes? Can't get enough of New Balance cricket shoes? Fair enough.
I mainly stuck to ASICS, GM or Gray Nicolls but this was years before New Balance, adidas and Puma swooped into the cricket market but here's some updated product advice.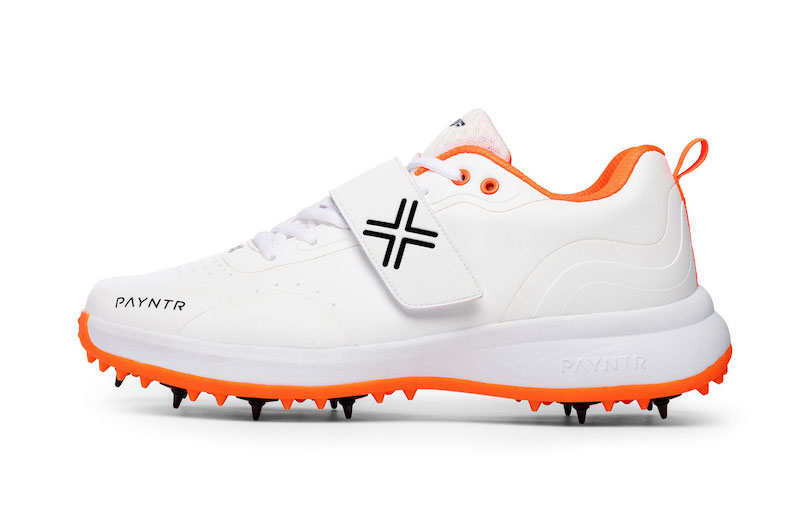 (If you want to shop for Payntr, use Cricket Yorkshire's 20% off promo code (excl sale & golf). Use YORKSHIRE20 at checkout.
Payntr cricket shoes have become very popular since the Yorkshire brand was launched by ex-pro cricketer David Paynter.
The Payntr XPF shoes are their latest designs and well worth checking out.
The Payntr cricket range combines the comfort of a running shoe with the practicalities of playing cricket. Their shoes are designed by those who know the game inside out.
Payntr cricket shoes also look distinctive and stylish, catching the eye of everyone from Rashid Khan and those who play in the IPL to club cricketers at the weekend.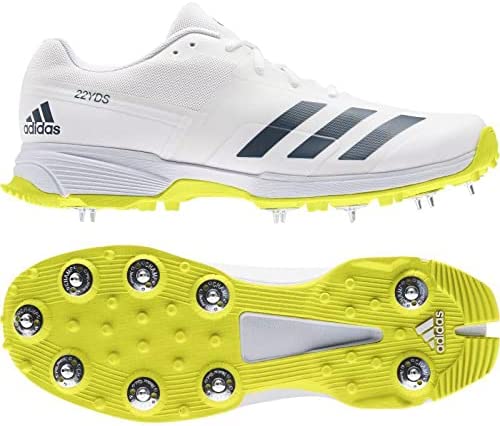 Thinking about adidas SL22 Boost, Vector, Adipower Vector Mid bowling boots, Howzat or SL22?
These come with the brand might of adidas and are popular, credible cricket shoes that have seen England Test cricket supremo Jimmy Anderson put his name to them.
Adidas Adipower Vector Mid Bowling Boots lock you in and keep you stable.
The Adipower Vector range is more like a cricket spike you're used to so lighter and more movement.
The Adidas Adipower SL22 Cricket Shoe is apparently geared towards batters.
I'll be entirely honest and note that you really need to be choosing your footwear based on your size and comfort, not your role in the team!
I do accept batters and bowlers move differently but grip, stability and protection are key.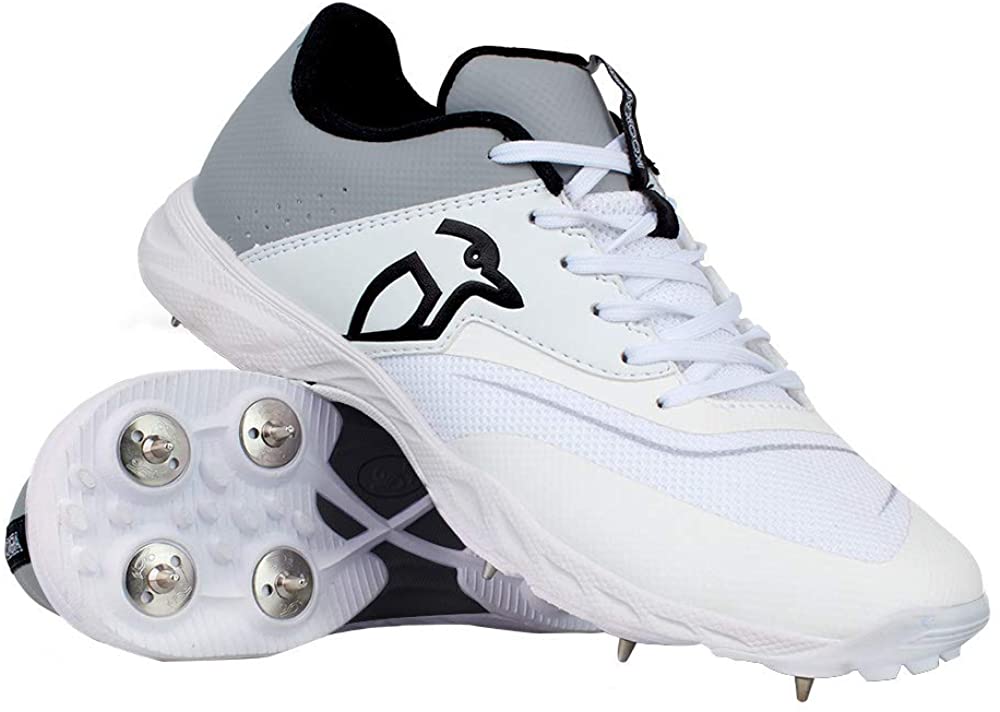 Kookaburra cricket shoes have all of that thought and experience that come with a brand whose focus is on cricket.
Their KC 3.0 cricket shoes boast a lightweight, streamlined low-profile design. Take advantage of a reinforced ankle & heel (the shoe, not your actual body!), superb shock absorbency & comfort.
Treat yourself to cricket shoes…
I haven't reviewed all brands in this article but there is always something for everyone – Gray-Nicolls also feature strongly in the Best Sellers in Men's Cricket Shoes on Amazon UK.
Indoor cricket shoes are useful for when you're training inside, whether that's a game, fielding drills or indoor cricket nets.
The best indoor cricket shoes will tick the boxes you've read about above so they'll fit well, be comfortable and supportive as well as have a good grip.
You won't need cricket spikes for a sports hall (they'd ruin the surface and you'd fall over pretty soon too) so the requirements when you're looking for the best indoor cricket shoes include rubber pimples or a typical trainer.
Gray Nicolls cricket shoes are popular and their Velocity range for indoor cricket has a rubber sole while the Payntr V Pimple are a stylish option with a rubber stud outsole.
Can you wear trainers to wear cricket? Of course, many do, here are Trainers on Amazon to dive into and explore.
That's it for this cricket shoes guide, I hope it's been useful.
So, go forth and buy cricket spikes, bowling boots or indoor cricket shoes that will cuddle your feet while you dive full-long for the crease or thunder into bowl.
Interested in cricket bats and cricket helmets too?
Best Cricket Bat: Cricketers Guide [2023]

Best Cricket Helmets: Cricketers Guide [2023]
****
Thanks for reading…while you're here…. did you enjoy this guide? Sign up for our newsletter!
Latest posts by John Fuller
(see all)