Freddie Chatt and George Simmons, founders of Village Cricket Co, are on a mission to make cricket bats more affordable.

The more you learn about their story, the more remarkable it seems. The pair launched their cricket bat business in 2020 when the global pandemic struck.

Brave, nuts even, but by then they'd spent years researching how cricket bats were made and were convinced there was a genuine need out there.

Disclaimer: If you click through links on this page and buy from Village Cricket Co, we'll earn a commission (no cost to you) which helps towards running this website – so you'll be supporting grassroots cricket journalism too.

🏏 Thanks to Village Cricket Co, you can use CY10 at checkout for 10% off your order! 🏏

The rising price of cricket bats

If we rewind the clock, it all began when Freddie broke his cricket bat a few seasons back. Shopping around, it seemed that many English willow cricket bats were over £250.

A lot of money for the amateur cricketer – and prices are only going up.

That got the cogs turning and became a happy obsession for these two village cricketers who play for Great Baddow CC in Essex.
---

What they came up against was the unshakeable belief that English willow was miles ahead in every way to Kashmir willow.

---


At this point, you can do a quick Google yourself for Kashmir willow. You'll struggle to find anything positive written about it online.

It's worth pondering why that is. In fact, some major cricket bat brands do sell Kashmir cricket bats – but for junior cricketers.

In the UK, we're naturally used to English willow but Kashmir willow underpins grassroots cricket in other parts of the world.
Are Kashmir willow bats any good?

Village Cricket Co sell Grade 1 Kashmir willow bats to ensure the best quality products while keeping costs down.
When Freddie and George tested their Kashmir willow bats, they were astonished at how good they were, compared to other bats costing double the price or more.
---

The feedback from their clubmates was equally glowing.

A satisfying pick-up and ping.

---
Cheap cricket bats don't have to mean a compromise on quality. Sure, they won't always rival English willow – but the focus here is on price and making cricket more accessible.
There is room for both ends of the spectrum obviously.
I've nothing but respect for those who hand-make cricket bats, here in Yorkshire and across the country. I've seen the process from start to finish a few times and it's remarkable but the cost of raw materials, time and production mean a bat can be £200 to £600.
Village Cricket Co sell their adult cricket bats (short handle or long handle) for just £97.

I know. Ridiculous.

The demand has gone through the roof and they've been able to launch their junior cricket bat in a variety of sizes (from £47).

They now sell cricket pads too (£47) so you can get kitted out in their orange minimalist branding for relatively little.
🏏 Thanks to Village Cricket Co, you can use CY10 at checkout for 10% off your order! 🏏
How are Village Cricket Co bats so affordable?

Using Kashmir willow from India is cheaper to source but Freddie and George have been smart in keeping choices lean.
You don't get lots of different weights, profiles and lots of customisation. But then, many cricketers aren't that particular and wouldn't know the difference. It depends on what you want – and what you can afford.
It also makes shopping for a cricket bat super simple.
---

Their adult cricket bat has:

🏏 One shape and style
🏏 2lb 9oz
🏏 One-year warranty
🏏 Pre-knocked-in

---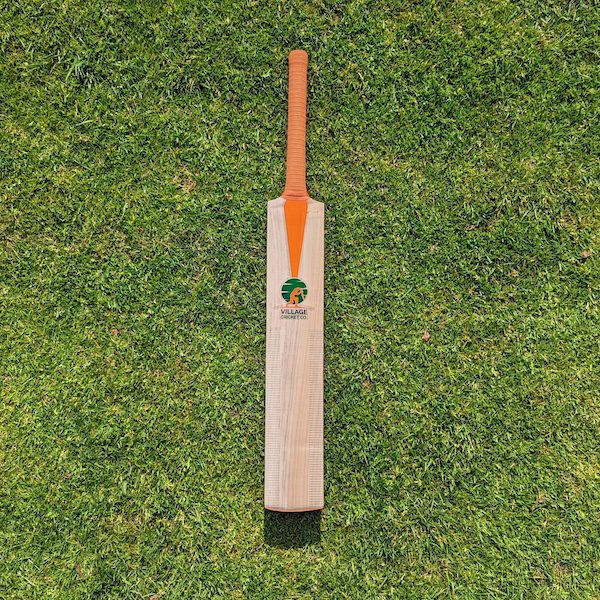 The one-year warranty is a sign of confidence in the quality of their Kashmir willow – as Village Cricket Co will replace a bat for free in that time.
Touch, er, wood, that hasn't happened yet – but all cricket bats can get damaged or break.
Again, simplicity and ease is the theme here. There's no need to knock in their cricket bats which means they're ready to play.
If anything, the challenge that Village Cricket Co have is reassuring village cricketers (those from towns and cities equally welcome) that less is actually more!

Want to buy a cricket bat?
🏏 Thanks to Village Cricket Co, you can use CY10 at checkout for 10% off your order! 🏏

Visit villagecricket.co to read village cricket bat reviews and buy online. If you have any questions about the bats then you can email the guys via [email protected].

They're @VillageCricketCo on Twitter and there's a VillageCricketCo Facebook page.

If you prefer Instagram, check out @VillageCricketCo.
So there you have it, an affordable cricket bat created by two village cricketers looking to support the game.

This is a sponsored article for Village Cricket Co – if the mood takes you, click to read Cricket Yorkshire's policy on sponsored content*


Latest posts by John Fuller
(see all)