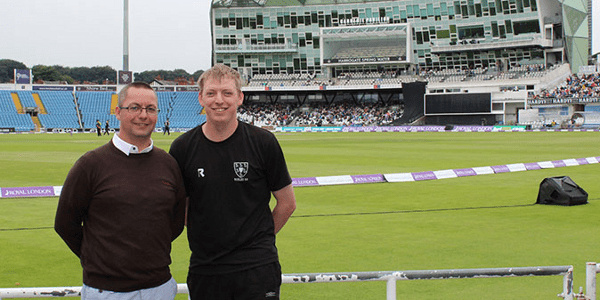 Folk don't half undertake some daft, ok, admirable challenges for a good cause.
By the time you read this, Mark Sugden and Daniel Hill, who play and coach at Rodley Cricket Club, will have completed their charity walk from Headingley to Scarborough in aid of Yorkshire Cancer Research.
That's eighty miles over four days with the intention of arriving, sweaty but triumphant, during the 130th Scarborough Cricket Festival at Scarborough Cricket Club.
When I catch up with them on the evening of the second day, they are resting up, having wolfed down plates of pasta and are in good spirits despite the punishing mileage.
The idea for a charity walk made a lot of sense given their love of cricket allied with their own personal experiences of the impact of cancer (more of that later).
With the Rio Olympics and the elite side of sport still fresh in the memory, you might imagine that such an endeavour would include a training schedule, support team, nutritionist and travel experts – but nothing could be further from the truth.
In fact, they admit their initial enthusiasm for what is a serious amount of walking, we're talking marathon distances over multiple days, dwindled and it was only when the charity asked how preparations were going that they fully committed to the idea and presumably went into a flap with three weeks to go.
Day 2 done 24.6 miles today 47 miles done in total @yorkshirecancer https://t.co/xQFEq2W7NW pic.twitter.com/zvPijaMyD3

— Mark Sugden (@sugden_mark) August 22, 2016
Ominously, the routes that they planned using Google Maps keep ending up longer than they first thought: the first day was meant to be 17 miles but turned out to be 22.5 with the second today a teeth-gritting 24.6 miles.
With mapping malfunctioning, Mark admitted between laughs: "That really scares me as Tuesday is actually mean to be 24 miles…I'm absolutely terrified about tomorrow!"
So how fit are they given it's not something you wake up and do without a certain level of mileage in the legs? Dan is the springer spaniel of this duo at 27 whereas Mark is 40 and in his own words is "copping for it a bit more."
They also didn't do any training for this. At all.
In fact, just before setting off on this cricketing walk between Yorkshire's two county grounds, rather than rest up, they were asked to turn out for Rodley CC second team in the Bradford Premier League's 2nd XI Conference against Buttershaw St Pauls.
Dan bowled eleven overs and Mark put in a twelve over shift with the ball which was not exactly ideal preparation but then they're laughing about it and still upright so maybe the cricket did some good.
Dressed in whites with hi-viz jackets and the number to text to donate, they've been getting their fair share of attention with horns tooting away in support, passers-by texting their donations for Yorkshire Cancer Research, the social buzz on Twitter and requests for interviews including BBC Radio York.
While powering along, they've nipped into various cricket clubs for a photo opportunity and to say hello from New Rover to Wetherby and Thornton Le Dale to East Earswick.
We get to talking about the reason for doing the charity walk and for Mark, it's been fifteen years since his father-in-law Kevin Walton died of a grade four brain tumour:
"I remember how much my wife was affected. There was nothing you could do to change anything. It was quick – eight weeks from being diagnosed. I got on with my father-in-law really well, we had a really good relationship so that was part of the inspiration."
He also spent over twenty years at Calverley cricket Club where popular scorer Wendy Nash was the life and soul of the club until losing a battle with cancer: "She had the Calverley boys in the palm of her hand and we all loved her."
These personal connections added to the fact that both of Mark's parents are also going through treatment currently was a powerful motivation.
The fundraising element is welcomed but he feels it's just as key to spread word that there is a Yorkshire cancer charity and to inform those in the county and wider public of the work they do.
The phone gets passed over to Dan while Mark tucks into a well-earned and nutritionally balanced chocolate brownie with custard.
Dan's story saw him move to Leeds just over three years ago where he came to the city on the Sunday, started a new job on the Monday and his mum was rushed into hospital on the Tuesday.
She was struggling to breathe and they found the cause was cancer which led to a hospital stay over a few months with a cancerous tumour impacting on her windpipe.
Thankfully, there is a positive outcome in that Dan's mum is now fully recovered but he's in no doubt why that is:
"Cancer research is the reason why she's still alive."
At Yorkshire Cancer Research, they're committed to funding research and investing in research-led innovation at each and every stage of the cancer patient journey from initial diagnosis through to treatment, clinical trials, palliative and end of life care.
It's by no means everything the Harrogate-based charity does but funding cancer research, clinical trials and drug development are all vital steps to building the solutions of tomorrow.
There will be many Cricket Yorkshire readers who have been directly or indirectly affected by cancer and we must do everything collectively to make a difference.
If you don't know much about Yorkshire Cancer Research, the video below will give you an idea but they work alongside researchers, scientists and clinicians, the NHS, Public Health bodies and other charities to make life-changing improvements to cancer outcomes across Yorkshire.
Their goal is to ensure that by 2025, at least 2,000 more people in the region survive cancer every year and they exist to help the people of Yorkshire avoid, survive and cope with cancer by funding world-class research.
Meanwhile, back on the walk to the coast, Dan and Mark successfully reached North Marine Road as planned and have smashed their £1,000 target. Thanks to everyone who donated – in fact there was £842.27 just from the Scarborough CC bucket collection.
At the time of writing, the total was over £2,000 so very well done indeed to both walkers who deserve a bit of a rest before getting back to league cricket. It's all happening at their cricket club, Rodley CC, who recently claimed a world record for bowling 734 overs in eight hours!
It's a club with plenty of get-up-and-go and you may want to read Cricket Yorkshire feature article – On the Up at Rodley CC.
Congratulations to Dan and Mark who have just walked 96 miles from #Headingley to #Scarborough. Time to enjoy some ? https://t.co/ckGIYf09ek

— Yorkshire Cancer (@yorkshirecancer) August 24, 2016
STILL TIME TO DONATE!
If you're inspired by what you've read and would like to support and donate to Mark and Dan's cricket charity walk, click for photos, updates and online payment details: http://yorkshirecancer.everydayhero.com/uk/headingley-to-scarborough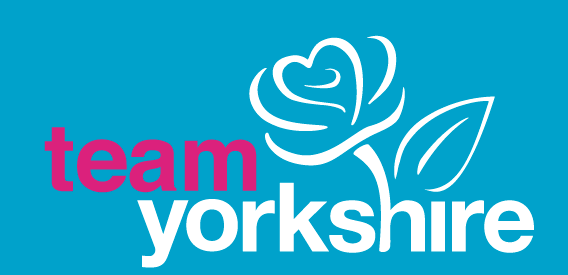 Equally, if you're interested in getting involved in some way for Yorkshire Cancer Research whether that's fundraising, volunteering or sharing your story, I know they'd welcome your efforts. Why not join Team Yorkshire, have some fun along the way and make a difference.
**This is an article as part of the partnership with Yorkshire Cancer Research – if the mood takes you, click to read Cricket Yorkshire's policy on sponsored content**
Latest posts by John Fuller
(see all)