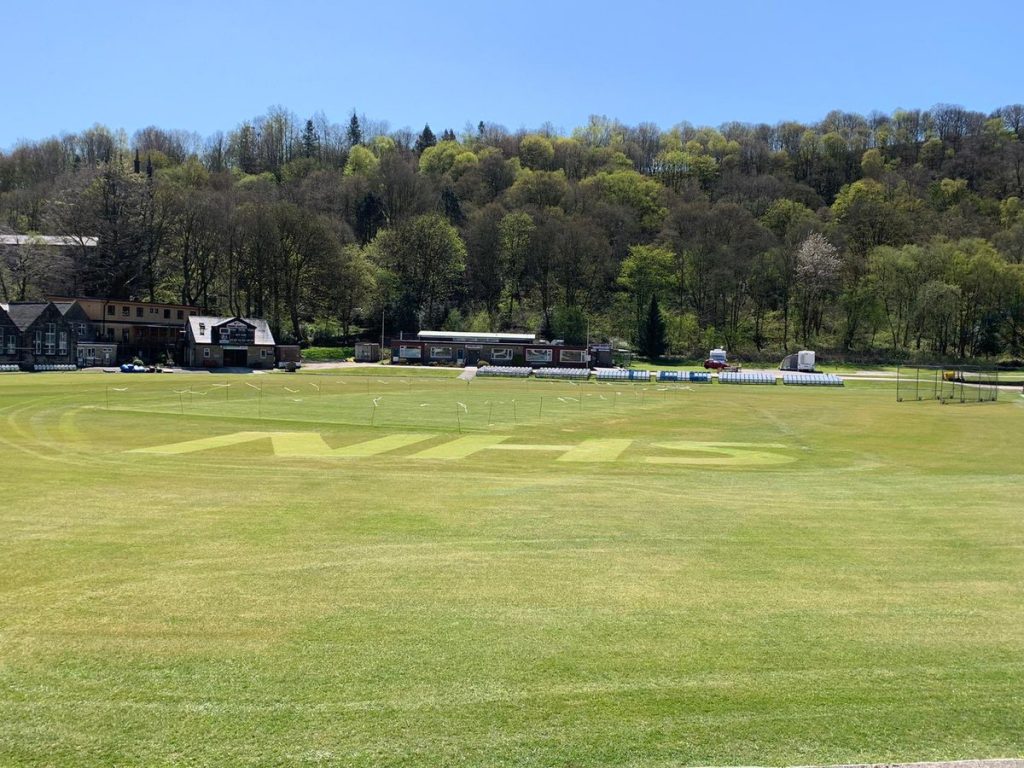 The weekend of 18-19 April 2020 was meant to be the starting blocks for a glorious summer of club cricket.
Due to the suspension of all recreational sport and coronavirus lockdown, cricket grounds across the country instead lie dormant and empty.
I thought the work that groundsmen and cricket clubs put into their facilities and the treasured square/outfield was worth celebrating anyway.
Partly to document an extraordinary time in all of our lives and partly to showcase the pride of grassroots cricket.
Well done Todmorden Cricket Club groundsman Nevil Sutcliffe for championing the NHS on their outfield.
So, I put a shoutout on Cricket Yorkshire's Twitter and Facebook accounts, asking for photos of Yorkshire cricket clubs, as they are ready for whatever season we may or may not end up having.
Here's a selection below but if you want to see all of the submissions (many thanks to those who responded) then check out/Like Cricket Yorkshire on Facebook and here's my original tweet.
? CRICKET GROUNDS: Have you any photos of a ground in Yorkshire as it looks for the 2020 season?
? Tweet @cricketyorks your pics & tag the club
?️ I'll feature as many as poss in an article soon!
? Yes, there's no cricket but let's celebrate all the clubs out there anyway. pic.twitter.com/khIoauuCxv

— Cricket Yorkshire (@cricketyorks) April 17, 2020

Bridgeholme Cricket Club
Even before coronavirus struck, Bridgeholme Cricket Club were fighting for their future. Raging winter floods had ripped up their defences and devastated the ground.
I've watched with awe as groundsman Keith Hudson and other volunteers have gradually put that battered club ground back together again, one wheelbarrow of silt at a time.
Keith remarked: "Not at its best but ready at least. I didn't think for one minute it would be ready for the season. It's been hard work for sure."
The before and after photos tell their own story…and if you want more context, I visited the club last season.
Alne Cricket Club
Thanks to Chris Beaumont for sharing this view of Alne Cricket Club in the Nidderdale Cricket League. It is the home of the Magic Circle Men apparently which the photo cannily de-mystifies for us.
Not been to Alne yet but judging from their website, they do a decent cricket tea and the North Yorkshire village can be proud of how their cricket ground looks.
Low Moor Holy Trinity Cricket Club
Martin Jenkins sent Cricket Yorkshire this snapshot of their ground with an update: "Normally still underwater this time of year. Clay capped ground with poor drainage (despite years and years of adding channel after channel).
A dry March/April and ironically, probably one of only a handful of occasions when the ground was fully prepared and ready for the original starting date of the season. Typical."
Low Moor Holy Trinity have lots of be excited about after new cricket nets and a successful few years building up their junior section.
They had launched a fat tax scheme to encourage members to lose weight and get a benefit discount for 2020. Not sure how that panned out in lockdown!
Marsden Cricket Club
I've visited and walked around the village of Marsden a fair few times; excellent place for a countryside trek with the Huddersfield Narrow Canal and Marsden Moor both accessible adventures on foot.
I've yet to make it to the home of the Cuckoos but look at those views (cheers Gareth Ackroyd).
The cuckoo nickname is linked to the tradition that the first cuckoo is heard in the Colne Valley in late April at Marsden Spring Cattle Fair.
The village has an annual Cuckoo Festival although this year, tellingly, it has been postponed – possibly until September when it will be more of a departure call than a welcome.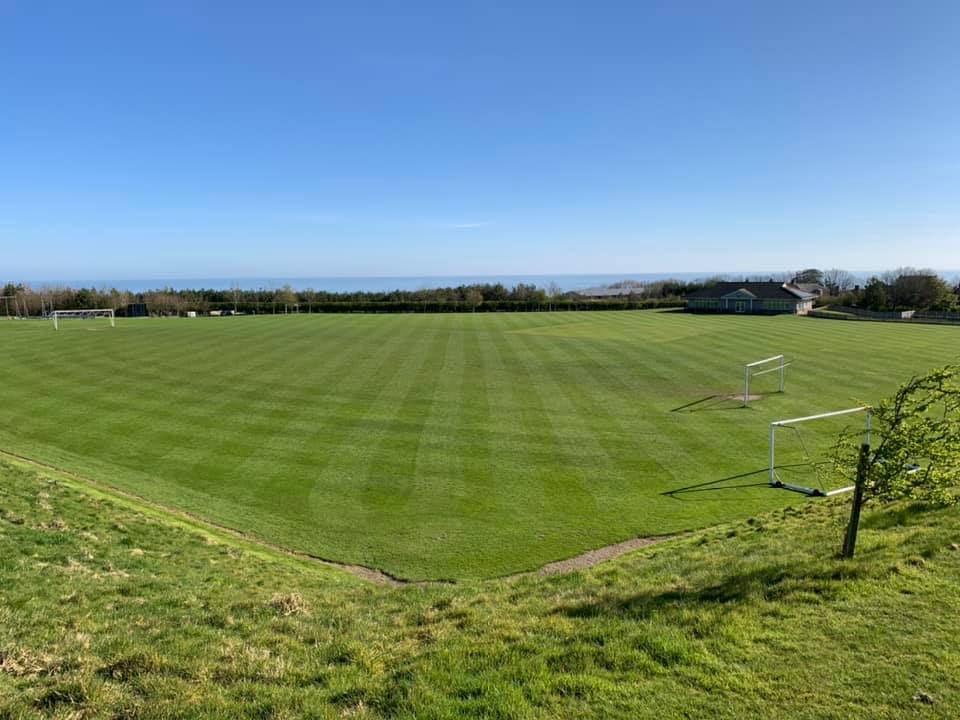 Mulgrave Cricket Club
If the shuddering fallout from coronavirus has taught me anything, it's that I absolutely revel in travelling around Yorkshire visiting cricket clubs.
The absence of exploration is hitting like a hammer at present and so photos like this from Andy Raw are like a calling card.
Check out this gloriously manicured, patterned outfield and sea views from this Whitby-based cricket club.
Coastal cricket clubs are a major attraction but I've not been to many; the likes of Sewerby at Bridlington and Saltburn-by-the-Sea spring to mind (other than Scarborough).
You can almost smell that sea breeze. Imagine it's a two-sweater strategy in April and you don't want to be bowling into the wind.
Driffield Town Cricket Club
As views from a bedroom window go, Andy Inns' is a lucky man. Never late to a cricket match ever again!
Driffield Town Cricket Club 1st XI compete in the Yorkshire Premier League North and would have been at home to Acomb on 25 April.
It looks as if you could eat your dinner off that outfield or host a Wimbledon Final.
Kirkstall Educational Cricket Club
Those that know the Aire-Wharfe Cricket League will be familiar with David Hodgson's efforts at Kirkstall Educational. I've interviewed Hodgy before as well as reporting on the vandalism that has blighted the club.
In time for the 2020 season, he sent this update: "The Field of Dreams yesterday…still under repair and being watered (can't get enough on) after the horrifically wet Autumn and Winter. Interesting note, the water pressure low as everyone is at home using loo and making tea!"
I've actually used a photo emailed from John Heald who cycled around a brace of Aire-Wharfe League grounds on what would have been the start of their 2020 season.
That'll probably make for a separate article but KECC looking well coiffeured as usual.
Houghton Main Cricket Club
The 2019 National Village Cup Finalists are ready to rock if this pic from Vice-Captain Michael Bates is anything to go by. Clearly patterned outfields is a thing in Yorkshire.
The club, based at Little Houghton to the East of Barnsley, were set for the fruits of their winter rebuilding; a process you can read about on this very cricket website, if the mood takes you.
Liked this article?
Using the Facebook and Twitter buttons below, please share it with cricketers, clubs, leagues or anyone who might be interested.
Latest posts by John Fuller
(see all)