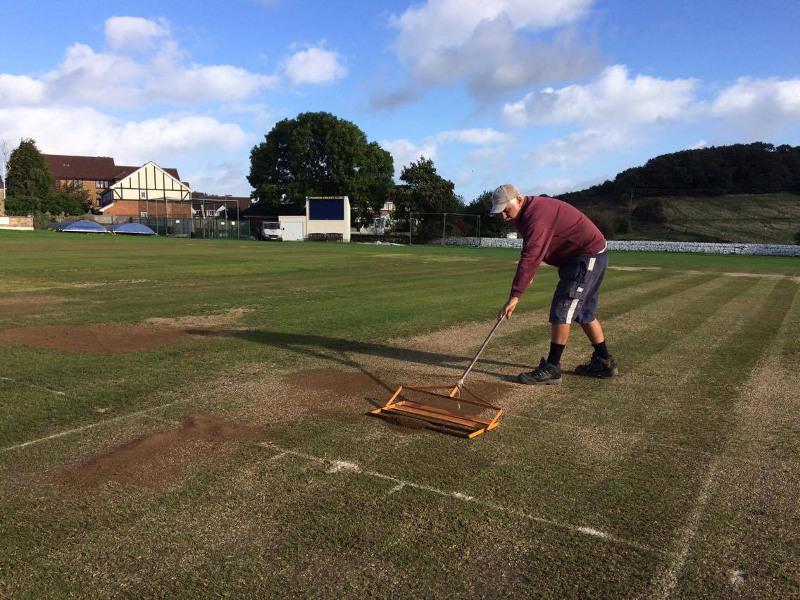 The phone chimes up just at the moment that I am making a conscious effort to burn dinner.
It's groundsman David Hodgson – universally known in cricketing circles as 'Hodgy' – who has returned my call around an interview after a day at a turf management exhibition in Harrogate.
Discarding carbon-infused chicken in favour of a natter about all things loam, seeds and the world of grass turns out to be three-quarters of an hour very well spent.
Now, Hodgy can talk the hind leg off a donkey, he readily admits himself, and flits from subject to subject like a worker bee diving for nectar among a flower bed, but exudes an undistilled passion for his craft.
To understand how decades tending to sports grounds came about, we must re-wind to 1987. He was playing down at Woodhouse Cricket Club on Meanwood Road in North Leeds and helped out the groundsman there.
In 1988, Nostell Priory CC brought Australian Test batsman Dean Jones to play for them and their Sunday cup fixture at Kirkstall Educational Cricket Club (Hodgy's home club) caused some controversy:
"The pitch disintegrated and Dean Jones thought that we'd done that deliberately to level up the game…it wasn't that. The square had not been looked after as they are nowadays."
Afterwards, Hodgson took a grass sample across to Keith Boyce who was Yorkshire County Cricket Club's groundsman at the time and that's when the keen interest in groundsmanship blossomed.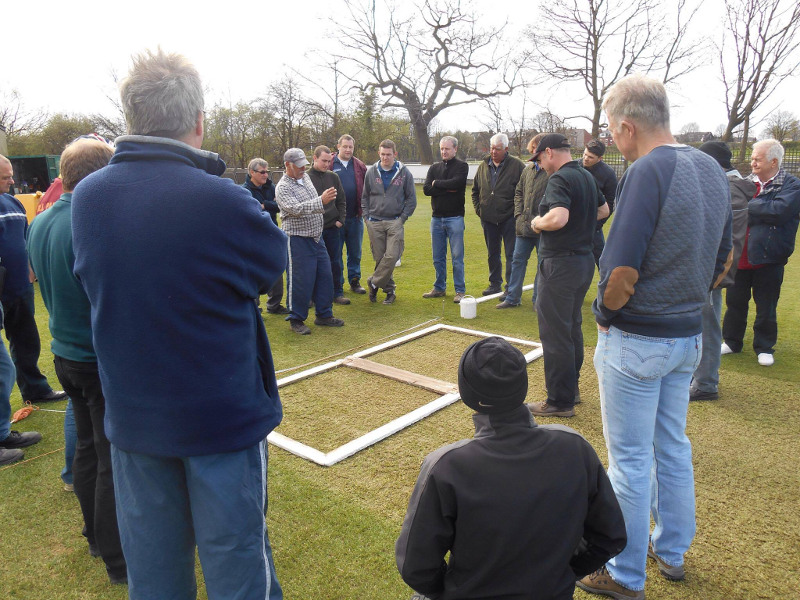 If we fast forward to present day, Hodgy is a self-employed groundsman who now runs courses to knock cricket grounds and squares into shape, years after he first began facilitating training at Alwoodley and Kirkstall Educational cricket clubs.
HNY all, wishing you Health and Happiness for 2017 soon be April and Cricket can't wait @KECC1853 pic.twitter.com/Y3k3mP1yKA

— David Hodgson (@Hodgyleeds) December 31, 2016
One of the striking things about him is how he totally embraces social media in a way, unfairly or not, you wouldn't associate with a typical groundsman…so he's active on Twitter and Facebook and has blogged about his cricket experiences in the past. Why?
"It's absolutely to share knowledge…Keith Boyce taught me alot…it's my responsibility to share that knowledge. You know when you go to these nice grounds when you know you can go on the front foot without fear of it taking your head off….I strove to get pitches you could trust."
The Hodginator (well, I'm freestyling a bit around nicknames) then launches into heart-on-sleeve praise of all those volunteer groundsmen out there who manage to whip their grass into shape…so to speak…around their jobs and life commitments:
"Somehow, in that time with very poor resources and machinery that sometimes doesn't start, they've got to produce good surfaces…I take my hat off to those guys who beetle away under really difficult conditions."
His soliloquy taps into something I've often wondered and muttered about from time to time. Given the state of a cricket pitch is a fundamental component to a match, how important does groundsmanship rank in a cricket club's priorities?
I've travelled around enough cricket clubs across Yorkshire to have witnessed knackered mowers aplenty being magically teased into life and coaxed through another season.
Witnessing groundsmanship equipment on life support is a strange notion given the amount of grants available and the inescapable fact that though cricket clubs are 'amateur' in one sense of the word, many also operate with a budget an SME would be delighted with.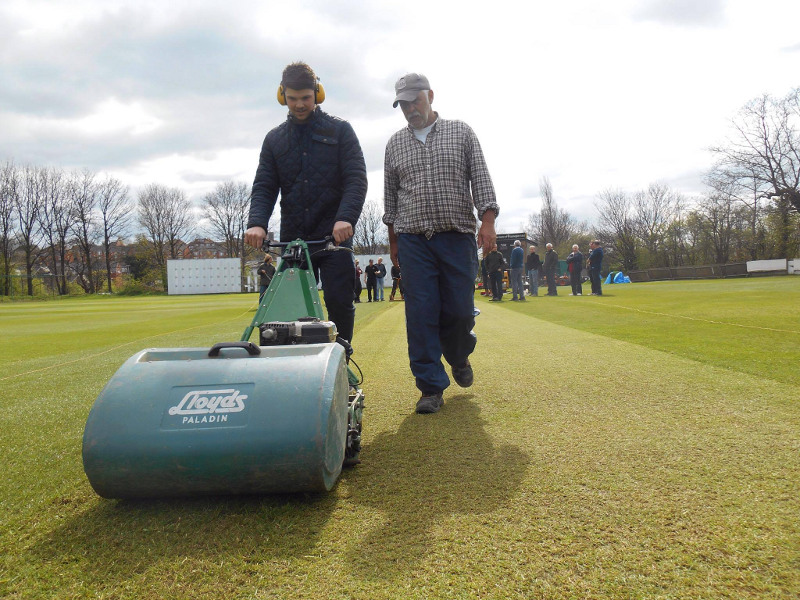 We get on to chewing the fat around groundsman training which opens up a whole new area of debate particularly around continuity and expertise.
After all, there's little point in splashing out on digging up a cricket square, researching and investigating water tables, soil acidity and local geographical quirks, if the groundsman who'll be overseeing it in future has no particular knowledge.
It's important to stress there is no criticism here as volunteers park their bums on mowers and go round and round in circles all-year-round for…what?
The love of cricket of course as the majority of them aren't paid or get by on a token sum that in no way equates to the hours they put in.
But should all groundsmen go on courses to improve? Many would feel they don't need to and then there's thorny issues of if the courses are available, convenient and cost-effective.
Hodgson is unequivocal that training of cricket groundsmen should be obligatory and in an ideal world, funded in such a way that they are free to individuals at the point of delivery.
You may or may not agree with that but there is the constant drum-banging about participation and how to drive up numbers and investing more in grass and know-how than just bricks and mortar has its merits.
Now before I get emails from disgruntled of Dewsbury or peeved of Pannal, there will be funding streams alongside sponsors and generous benefactors for ground maintenance across the land already but step back a moment and ask: should and can we do more?
To give some Yorkshire-specific context, a mention too for the Yorkshire Cricket Grounds Association whose stated remit is to promote the development of cricket groundcare and groundsmen throughout the county including through education.
Playing devil's advocate, I ask Hodgy, let's assume money is there and a plethora of courses for all groundsmen to sign up for wherever they live…is there realistically enough people out there who want to be groundsmen?
Being a half-glass-full kind of guy, he believes so though the method to encourage them – and also motivate the next generation of grass magicians – is by embracing social media given its massive reach and active audience.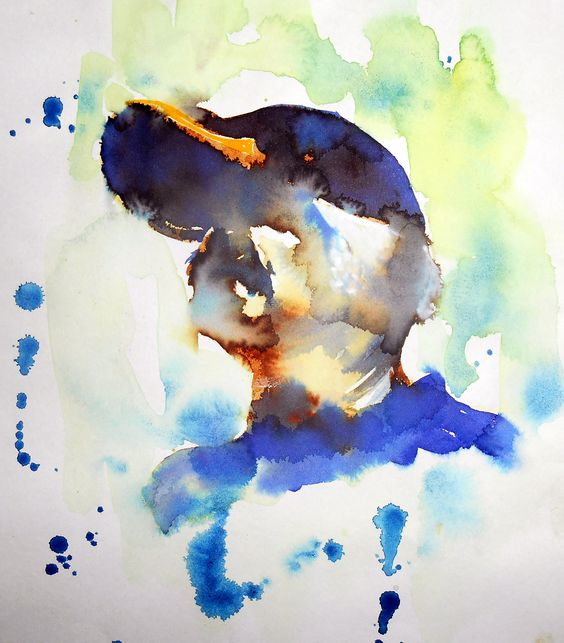 We move on to life away from cricket…Hodgy noticed a watercolour landscape course down in Meanwood so for something to do in the winter months, two hours a week on a Tuesday ignites a new hobby: "I thought 'you know what…I could cope with that because I could do that in the winter-time…' "
I can't help but smile at the turn of phrase because the inference is that cricket becomes before everything else and I hear that SO often across Yorkshire.
A little like with groundsmanship, where he has qualifications aplenty that sit along 29 years of experience, the watercolour painting was infectious and it lead to an A-Level and a degree. You get the sense that when Hodgson goes for something, he commits and then some.
Again, his openness to online platforms returns to the conversation when he casually asks if I'm on Pinterest (I'm not) because his paintings are all up on there. How many groundsmen do you know that use Pinterest?!
The most timid part of the inteview comes with the admission that he's also taken up the ukulele – I'll admit to struggling to spell the word, let alone having the foggiest how to play the instrument.
Inspired by the 'Music from the Attic' initiative at Kirkstall Educational Cricket Club (established last year by Chairman Nick Davis with Hope & Social band member Rich Huxley involved too), Hodgy's ukulele has been dusted off for this weekly music club to encourage lapsed musicians.
After a musical division and artwork diversions from groundsmanship, we ring off and I return to tentatively prod the evening meal for signs of life.
Over the next half hour, my phone pings with Facebook Messenger notifications as photos for the article announces themselves like a microwave oven on the blink.
I talk to many plumbed into Yorkshire cricket and Hodgy was as entertaining as they come.
He certainly knows his onions, or should that be varieties of grass seed? You would also struggle to find anyone more upbeat and exuberant about his profession despite the obvious challenges.
If you want help with cricket pitch advice (or are looking for a venue to jam on your ukulele), then I can think of no greater sage to offer encouragement and speed you on your way.
Join the Cricket Yorkshire debate below and connect up with him on social media, handy bloke to have on speed-dial when your scarification goes awry…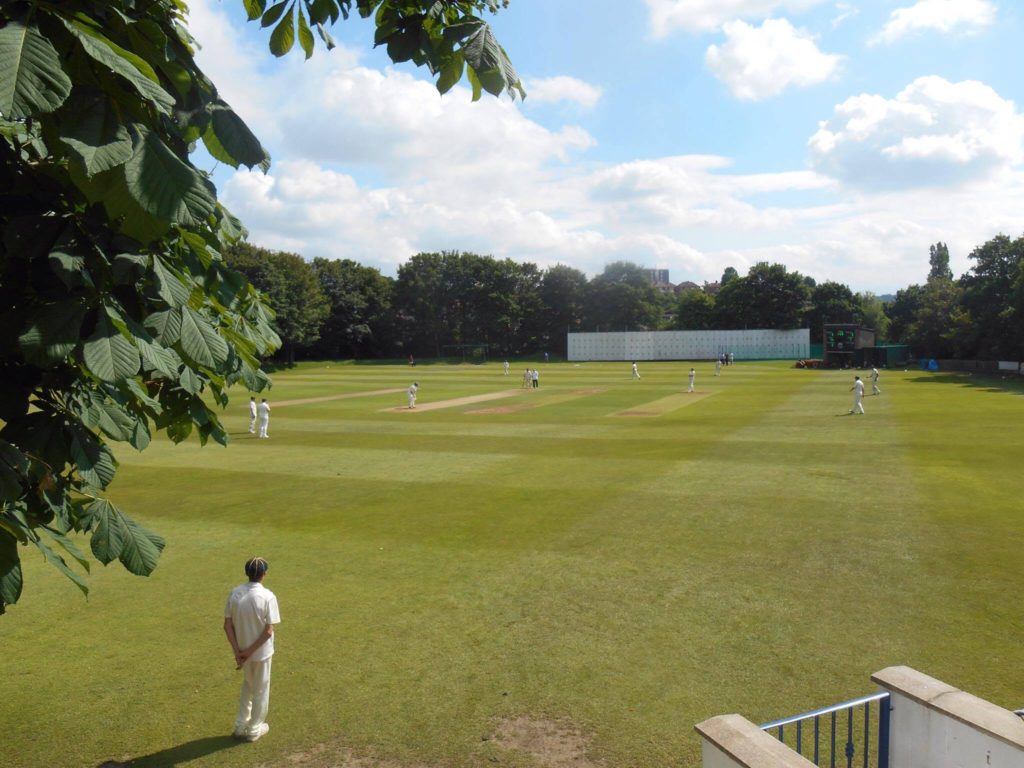 THE GROUNDSMAN DEBATE…WHAT DO YOU THINK?
Please share this article (top or bottom of the page) if this was a fun read and the first time you've read about a watercolour-painting, ukulele-playing Yorkshire groundsman.
Now…over to you…is there are shortage of groundsmen? Is training a problem? Is your own cricket club's groundsman the best thing since sliced turf?
Positive or controversial..let's hear your views.
Don't be shy…Tweet @cricketyorks your thoughts or add your comments on Cricket Yorkshire's Facebook page.
ALSO SAY HELLO TO HODGY…
@hodgyLeeds
http://hodgygroundsman.blogspot.co.uk/
Pinterest artwork – https://www.pinterest.com/hodgyleeds/art-by-david-hodgson

Latest posts by John Fuller
(see all)