As I write this, the November rain is peppering the windows of the Cricket Yorkshire office. 
A journey into town for supplies had meant I returned home resembling a deep-sea diver who'd just returned to the surface.
It's a funny time of year. There's a smattering of indoor cricket leagues starting up and pockets of pathways coaching but only the committed badgers are thinking about cover drives before Christmas.
So, what better time to transport you all back to the late summer sunshine of the Halifax Cricket League with one of my season highlights, a visit to Bridgeholme Cricket Club?
I'd never been before but it was on my very long shortlist after email correspondence with Keith Hudson (above), Bridgeholme's groundsman and tour-de-force.
Bridgeholme Cricket Club is just off the A646 between Todmorden and Hebden Bridge, with a perfect view up to the stone obelisk of Stoodley Pike.
If you've read All Wickets Great & Small, you'll know I often head off on adventures by car with a friend of mine, Brian, who is a walking encyclopaedia of Yorkshire cricket.
As I don't drive, Bridgeholme required some careful logistics (Brian's cricket diary is more congested than the county calendar) but fortune favoured us as we had picked a gloriously sunny afternoon.
To arrive at Bridgeholme is to notice the various welcomes in different fonts (Keith has a signage business) as well as bursts of colour from flowers everywhere; the skilful domain of Keith's partner, Sharon.
Talking to Sharon is to understand that she has a passion for flowers but also the skill and drive to grow thousands of them from seed and the vision to embed them with impact around the place.
I can't think of many cricket clubs that have a polytunnel to ensure a steady production line of floral firepower all year round.
Apparently Sharon (who wears other hats like Secretary & Welfare Officer) is not averse to a bit of guerilla planting either. She once sowed some crocuses to form the letters 'BCC' without telling Keith.
There is a chuckle in her voice as she tells the story of when two fielders spotted the floral signage and stopped to gawp, allowing a ball to pass between them on its merry way for four.
There is a steely Yorkshire competitiveness there too though. A merit award in a Todmorden in Bloom competition led to the idea, ahem, germinating further plans to help transform Bridgeholme into a kingdom of flowers.
In fact, Sharon scooped up a Yorkshire in Bloom Gold award in 2018, so impressed were the judges with the Halifax Cricket League club and she's now on an award-winning roll, having won this year's Volunteer of the Year at the YCB's OSCA presentation.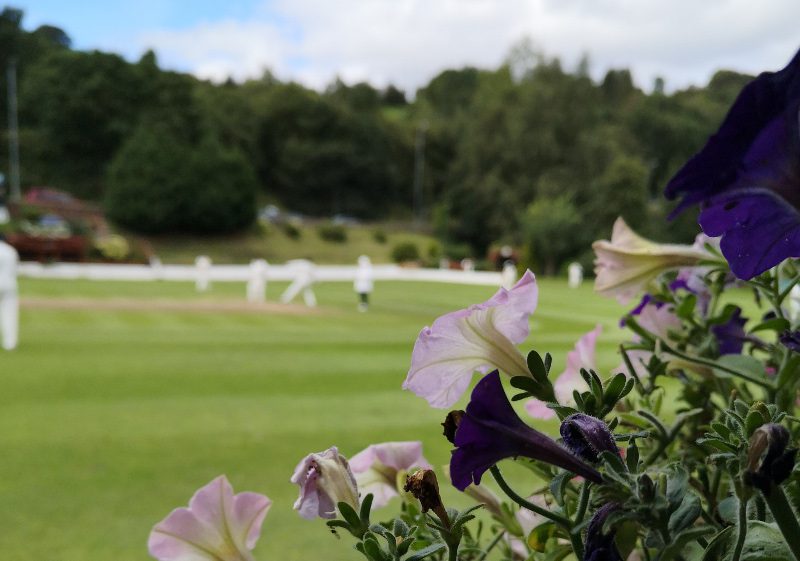 There is nothing more satisfying than seeing a cricket club where the obvious care and attention put into every decision is all around you.
It was early September for my visit and Keith had kindly swapped teams, having been originally slated to turn out for the seconds. Instead, he was required to strap on his pads and open the innings at home to Southowram.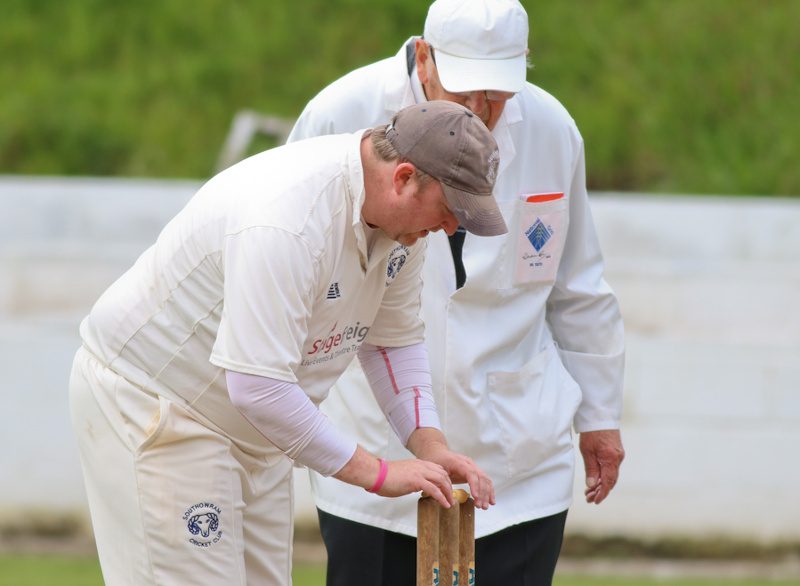 Before the players took the field, they lined up to applaud umpires Robert Huck and Philip Gatehouse out into the middle as it was Robert's last match after many years of service. A nice touch.
We then had a brief interruption in play as Keith's dogs decided to dash on and field at silly point and deep leg slip. 
Tasha (a black Jackpot) and her daughter Poppy (a cream-coloured flirt with soulful eyes) are a popular part of the furniture in these parts.
The wicket played well given it had been so incredibly wet the day before.
In fact, Bridgeholme is flooded each year with its location right next to the River Calder. It was one of the worst affected cricket clubs in Yorkshire during those horrendous floods around Boxing Day 2015.
I thought it must be galling to watch your pride and joy become an impromptu swimming pool time and again but Keith's optimism is infectious.
He has lived next to the ground since he was a baby and been a player and groundsman at Bridgeholme for decades. 
The competitive fires still burn, that's sure enough. When he is bowled by a beauty from Jawad Mahmood, Keith comes round to sit next to us, cursing at missing out on big runs.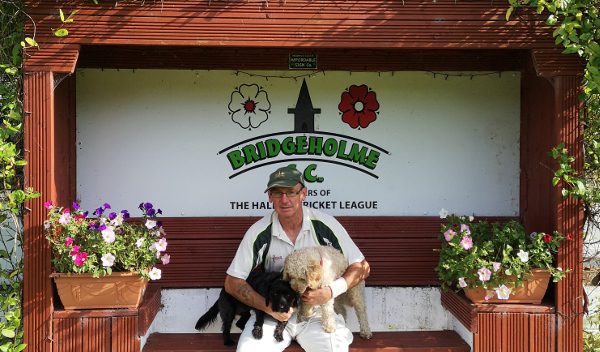 We are in one of the wooden gazebos that punctuate the ground and allow spectators fine views from a variety of angles. It's a small ground so you feel as if you're umpiring from square leg, due to the proximity.
We gradually make our way round a lap, pausing at various benches to park ourselves and watch a chunk of overs as the home side made merry hay en route to 254-8 off 45 overs.
Brian and I opt to catch the last portion of the innings from 'Arthur's Seat' – not the inactive volcano in Edinburgh but an elevated viewing point, accessed from where we had parked on Halifax Road.
When tea comes, it is a belter. I buy a plate for the vast buffet of goodies, choosing to stack curry and fiesty pakoras alongside a wall of chocolate biscuits, covering all the major food groups.
In a year of many treks to clubs for the first time, this had to be one of my favourite visits of 2019 because of the location and incredible efforts to make it a distinctive home of cricket with bags of personality.  
The measure of a place is when people not remotely interested in cricket are magnetically attracted to the club as a pleasant spot to sit and pass the time.
There was just time to check out the attractive stone packhorse bridge straight out of Lord of the Rings before we had to bid farewell and begin the journey back towards Leeds.
There are many cricket clubs in Yorkshire that have a visual charisma. I have lofty ambitions to visit all of them but for now, Bridgeholme had made a lasting favourable impression.
Latest posts by John Fuller
(see all)