Recently, I spotted news on The Stray Ferret about the fact that Glasshouses Cricket Club in the Nidderdale Cricket League was in danger of folding.
I was horrified.
'No, this will not do!' I said out loud to no-one in particular. Our cat looked up a little concerned.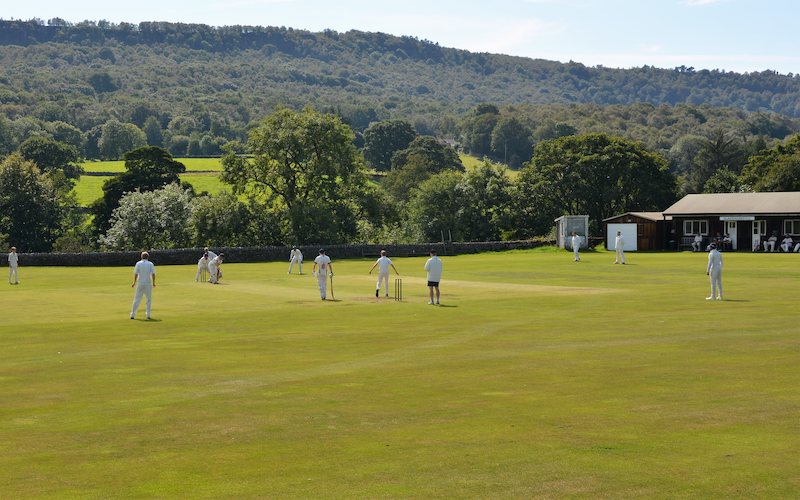 You see, Glasshouses Cricket Club is one of my favourite cricket grounds in Yorkshire. Admittedly, it's a long list but even so, this beautiful village near Pateley Bridge left a lasting impression on me.
I even wrote about it in my first cricket book, All Wickets Great and Small (forgive the plug). It is a leafy, peaceful idyll.

Ken, who I'm told still tends to the ground in his eighties, lives right on the edge of this Nidderdale postage stamp and we met back in 2015.
It has bags of character; a ladder off the back wall at the far end seemingly drops someone into an abyss (actually a steep drop to the River Nidd) and you can sit on an elevated section and field at point, just off the boundary.
Why is Glasshouses teetering on the edge?
I caught up with Stephen Boyden who is Secretary there to find out. With thanks to Graham who 'helps out a bit here and there' and was also very kind to offer some background.

Glasshouses were proud founder members of the Nidderdale Cricket League back in 1894 and they've won it 19 times. Unfortunately, history counts for nothing if you can't field an XI.
Plenty has changed in the 100+ years where once cricket was a central theme of village life everywhere in Yorkshire. There is now more choice, opportunity and horizons have expanded.
Sounds good? Not always.
Small cricket clubs like Glasshouses, who have one team and no juniors are discovering there is less desire to play all day and so sourcing players is tough.

Of course, this is nothing new, plenty of clubs struggle for players in villages, towns and cities across Yorkshire. But it's worth diving into the cause of Glasshouses' plight exactly because it speaks to a broader challenge that cricket has.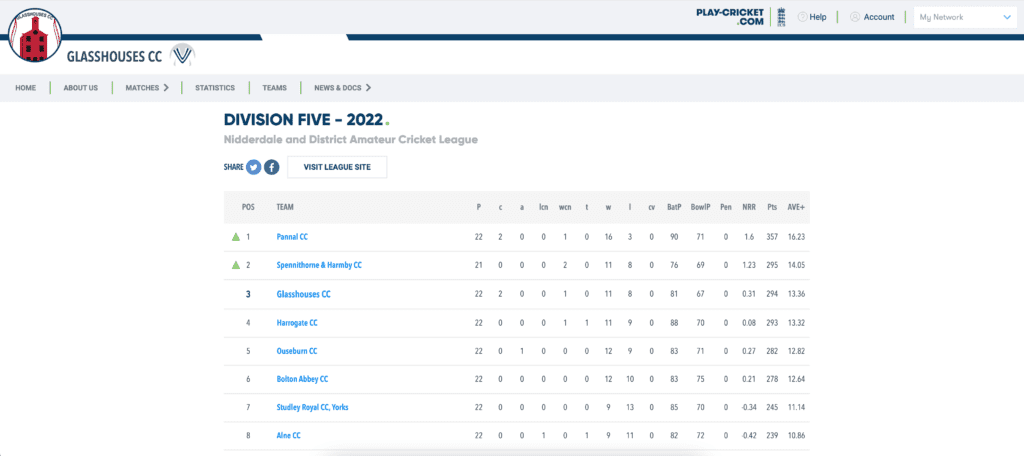 Glasshouses flying high

As Stephen told me, it's certainly not results that have put been the problem: 'We had a great season last year; we finished third in our division, the best performance for many years. Despite our success though, it was always a struggle to get a full eleven out each Saturday.'
They were even offered promotion by the League for 2023 as the third-placed team – but Glasshouses didn't feel confident going up a level with so few players.
In 2022, Glasshouses found that they had a core of six players, none of whom lived locally. One of the regulars had links with Harrogate Cricket Club and was able to 'borrow' some of their juniors. Unfortunately, he has now retired and so that inter-club collaboration has fizzled out.
---

A shame, because those young players flourished in the relaxed environment of Division Five of the Nidderdale Cricket League. One scored his first fifty in senior cricket while another picked up 20 wickets, including a first five-wicket haul.

---
I'd imagine it's certainly worth a call to Harrogate to explore the art of the possible. It serves bigger clubs just as well to loan out players to give game-time to those who can't get in weekend teams ordinarily.

I've also been a captain of a cricket club that had a small pool of regulars. It's no fun, always scrabbling around and diving deep into your phone's SIM card for anyone with a pulse.
Stephen reckoned without those eight or so regulars to support the Saturday team, everything feels so fragile.
Jack, the Glasshouses skipper gave me his perspective too: 'Getting the team together has been tough ever since I took over. It's amazing how many people can ignore a simple text! Last season was tough, I tend to start looking for players on the day of the game the week before and normally finish on the Saturday morning of the game!'

Apparently, player loans and leaning heavily on favours from friends and family was a common tactic and there was just enough goodwill to make it work.

Without juniors, (they tried Dynamos but didn't get enough sign-ups), the continual cycle of players is a lot like routlette.

It feels a little like Glasshouses is on borrowed time, Jack told me:

---

'In full honesty, I sadly don't see us entering a team this season, I'm still at this time only at 3 full-season players and have picked up only a handful for part-time players. The numbers are around 10, which just wouldn't make it viable.'

---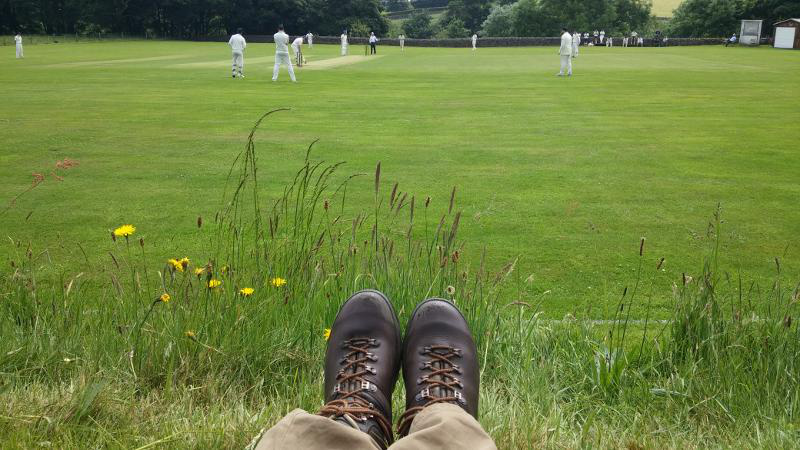 Mixed results with recruitment

Stephen noted that Glasshouses' success has usually come from word of mouth – friends, friends of friends, family, and cousins. While this latent support is always appreciated, it's a surrogate form of stability.
---

Glasshouses have put out sides by grabbing a player from here and there but none have become regulars. In fact, they have five members at last count with the 2023 season coming into view.

---
Amid the gloom, there are stalwarts though: 'We are very fortunate to have Jack Edwards as our captain; he came to us when Galphay CC folded years ago and brought Henry Wilcox with him. Without those two and all their contacts, we wouldn't have got through the last years.
'Amy Burton has been a rock for the club, turning out every match day for the last 14 years – the first Lady Player to score a century in the Nidderdale League. She plays ladies cricket as well, for Sessay, and if you look her up on Play-Cricket she has scored more than 10,000 runs and taken more than 400 wickets.'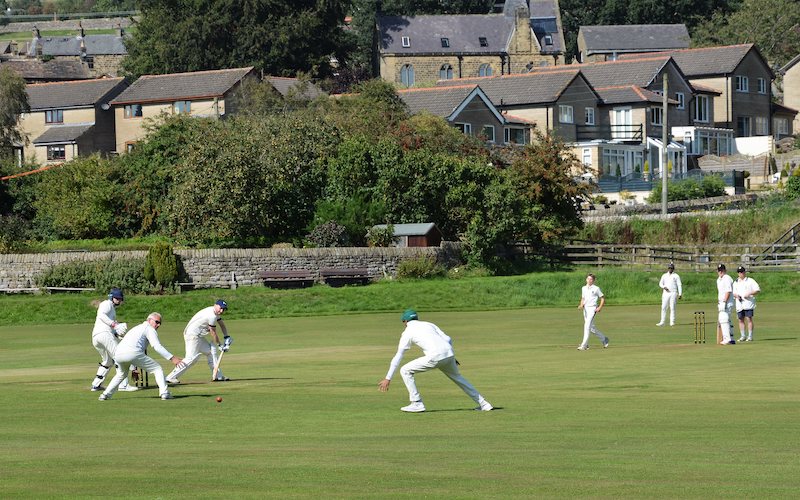 Where do Glasshouses find their players?
People in Glasshouses shouldn't…throw stones (they probably don't because it's a genteel part of the Nidderdale countryside). But they don't bowl cricket balls or wield willow either.
The village, population of around 500, doesn't supply any players to the cricket team. Nor are any of the children involved who grew up in Glasshouses, as once would have been the case.
Stephen said: 'The local primary school has had a drop in the role call from 75 approx to 50. The old mill by the river has been converted into flats. As far as l can tell no youngsters live there. The average age is 25 – 30; for every colt, there is a senior club member dragged in to make up the numbers. Our players come from Harrogate and Ripon mainly with one player who treks up when he can from Bradford.'
It can't be easy in a small village where there is no obvious supply of juniors. Cricket is no longer as universally attractive to many as it once was. There are competing interests, shorter attention spans and all the usual arguments I'm sure you've heard before.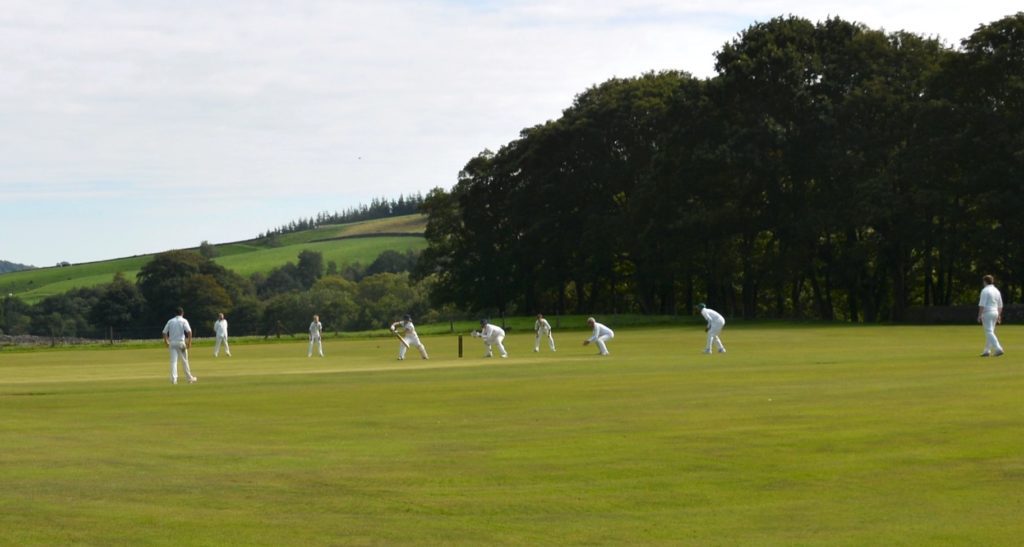 A glimmer of hope…or a last hurrah?
I said to Mrs Cricket Yorkshire last season that we must get to Glasshouses now that we can drive – but things came up, the weather misbehaved once or twice and suddenly it was October.

I sincerely hope, with digits firmly crossed, that there's another opportunity in 2023.
Glasshouses Cricket Club's committee were commendably bullish as they've committed to putting out a side this season.
Since news started to filter out of their player crisis, there was been a stirring response.
Not least from a very large white sign on the roadside that simply reads 'Players Wanted, Ring Graham' – several new players have shown an interest, as have former cricketers.
Stephen ended our amiable catch-up with a reason for cautious optimism:
---

'I am hopeful that we can put a team out; Stray Ferret has brought some response, the sign on the Pateley Road worked, old players have made contact. All in all, possibly 8-10. With further coverage pending, l think we will get there. But… like all clubs, we are looking for players who stay.
Will we have the same problem next season?'

---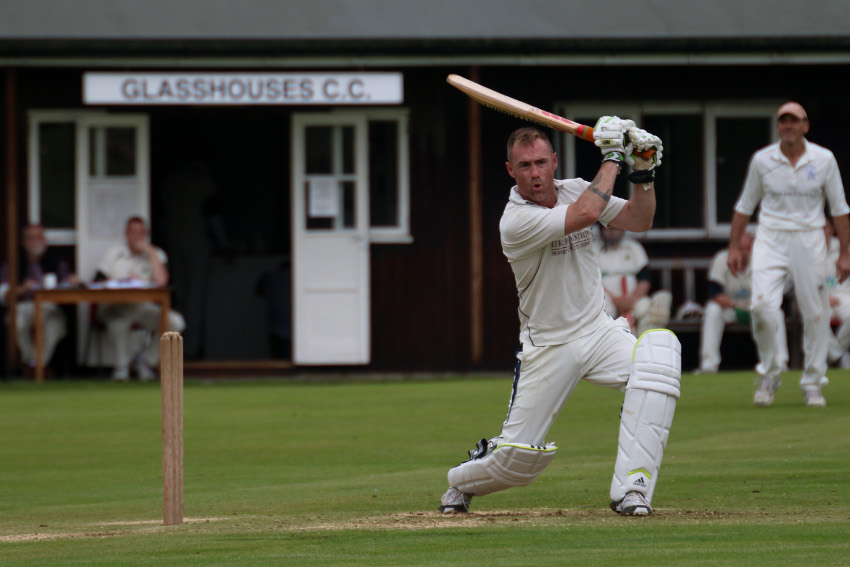 How to play for Glasshouses Cricket Club
Were it not for a persistent rib injury from bouncing down a flight of stone steps at Kilburn tube station, carrying my cricket kit as it happens, I would be tempted to shuffle disgracefully out of retirement for a guest appearance.
Except that may just paper over the cracks. And I'm not entirely sure if I could bowl a ball down the other end.
Besides, Glasshouses Cricket Club needs regulars.
It is a stunning cricket ground and you're guaranteed a very friendly welcome. If you like hitting sixes, you'll launch loads here. Bowler? Gets decent lift, accompanied by an appreciative moo from the adjoining field.

If kicking back with a brew and a fine cricket tea on a summer's day at one of Yorkshire's finest grounds appeals, get in touch with Glasshouses Cricket Club.
Contact Glasshouses' Secretary Stephen Boyden via [email protected] or, like the large white sign, call Graham on 07740 786588.
📸 Images of Glasshouses CC in this feature are by David Major – see this feature on his photography of Yorkshire club cricket.
Latest posts by John Fuller
(see all)