In this collaboration with Pitchero, we'll look at websites for cricket clubs and talk to St Chad's Broomfield Cricket Club about how they use the platform.

There's no other subject that gets me more animated than cricket club websites (ok, perhaps cricket teas) because of the sheer potential.

The growth of St Chad's Broomfield Cricket Club, off Otley Road in Headingley, over the last decade has been nothing short of remarkable.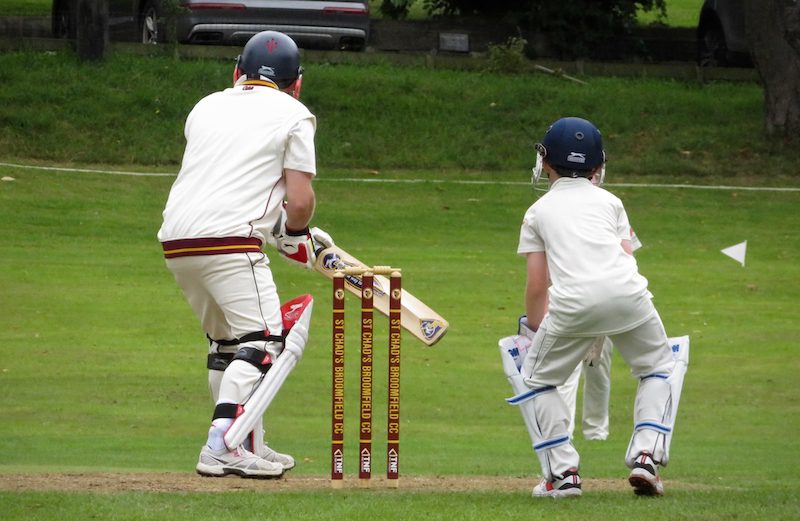 They now have eight weekend or midweek senior league teams and can offer cricket to players of all standards.
Recent developments include a new women's league team for hard ball and soft ball cricket, a senior friendly team, seven junior sides at various age groups from 5 years old and a new girls' team in soft ball cricket festivals.
St Chad's have also welcomed over 200 local children to their All Stars & Dynamos Cricket sessions in the past four years and ran the largest girls-only Dynamos cricket sessions in Yorkshire last season. For those who just can't get enough, two indoor league teams complete the picture.
I give you that overview because impressive though it is, St Chad's Broomfield are not unlike many clubs with a wealth of cricket to deliver – and therefore a need to support members, manage availability and selection, get match fees paid on time and all the admin that comes it.
Get started with everything you need for a multi-team cricket club from £30/month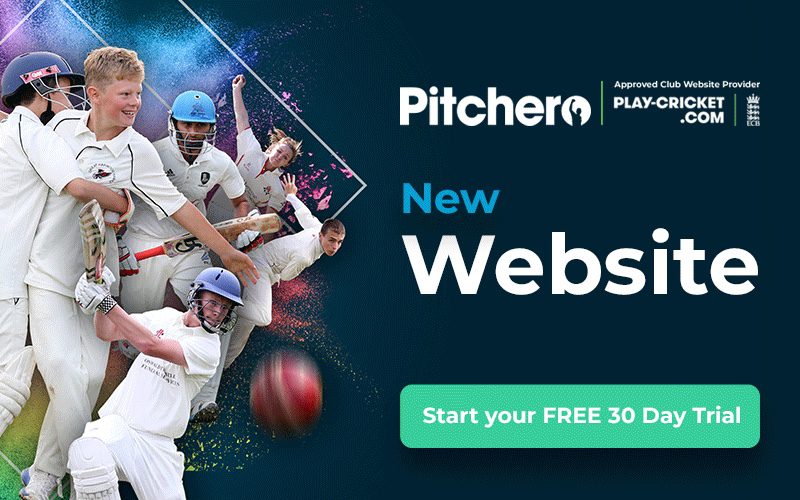 With a cricket club website, you have three broad routes:
Website builder (Pitchero)
Content management system (WordPress)
DIY/Web designer
Pitchero currently has 10,000 sports teams using the platform for their club website and free apps. Though you can Google away for alternative cricket website builders promising the earth, they are the only one whose laser-focus is just on grassroots sport.

In the previous cricket club website article in this series, we looked at how to review your current site, consider new features, reduce admin and aim to earn more online.

To take it back to St Chad's, I caught up with Paul Berry, their Chairman and the very definition of 'stalwart' when it comes to volunteering in grassroots cricket.
We kick off our discussion of websites for cricket clubs with why he moved St Chad's to Pitchero?
---
'We joined Pitchero in 2014 as it looked a better option than what we had available on Play-Cricket.
Even with limited knowledge, we were able to build a website that looked professional and something we could all be proud of.'
---
Technology is as fast-moving as a Pat Cummins bouncer. Pitchero is constantly adding features and updates from a revised cricket website template to clubs collecting match fees online via the free Manager App.
As Paul puts it: 'As the years have passed and more functionalities have been introduced, we have studied how these can benefit the club and its members.'
'We regularly change our old ways of doing things to incorporate the tools we have at our disposal through Pitchero. To date, we have not gone back to any of the old ways.'
Their Pitchero cricket site regularly ranks in the Top 20 on the platform and had 38,000 page views from the last year which amounts to nearly 20,000 unique visitors!
How cricket clubs can use Pitchero
While Pitchero offers a fast, professional cricket website that will be appealing to potential members and sponsors, it can do so much more than Play-Cricket.
Paul tells me: 'We use Pitchero as the go-to place for all information on our club, whether this is the latest news and events, fixtures and results, photos and videos, sponsors, or contacts.'
A look at St Chad's Broomfield CC's website is to see how they maximize selling opportunities for members and sponsors. They're a cricket club that are always innovating.
---
'We have collected our annual membership fees through the website for several years and last season we also used it to collect our match fees.
This has reduced the workload for those who were responsible to collect these in cash.'
---
Match fees is an enormous opportunity for any cricket club.
No need for your captains to collect subs on the day, or your Club Treasurer to spend evenings working out who's paid, chasing players and drive to the bank (if theirs is still on the high street).
Clubs can collect subs with the Manager App and players or parents pay in the Club App. It's fast, convenient for both sides, the club saves massive stress and time while getting in money faster.
What St Chad's Broomfield earnt through Pitchero in the last year
They collected nearly £25k in membership fees, fundraising, etc through the website. The Go Cardless fees for this were about £1,500.

St Chad's Broomfield brought in about £6k in match fees through stchadscc.com. The Stripe fees for this were around £500.
Here's Paul's view:
'When we used to collect annual membership by cash, we would regularly get to the end of the season having to write off those who hadn't paid. That's not the case now. I expect that in year 1 of direct debits, we increased the amount collected by at least a third.'
He added: 'One other point is that the quarterly payment option we offer not only helps our members spread the cost over the year, but it also spreads our income over the year. For example in January and February, we collected a total of £5k which in the cash days would not have been seen until April onwards, if at all.'

Pitchero websites get Play-Cricket stats

Cricket clubs involved in any leagues have to input their fixtures and matches onto the ECB's Play-Cricket system.
It's understandable that many choose to just use Play-Cricket as their default website for ease and because it's free.
While it is strong on the stats side for a cricket club, Play-Cricket was never designed to offer all the things that a cricket club typically needs help with online.
Selecting teams, selling sponsorship, hiring out the clubhouse and much, much more.

The good news is that Pitchero is an approved partner of Play-Cricket which means that league fixtures, league tables and match scorecards all appear on Pitchero within 24 hours.
Yes, Play-Cricket is free but it forces clubs to do so many other parts of running a cricket club elsewhere.

This neatly brings us onto the subject of Pitchero pricing and how St Chad's approach it.
Paying for a cricket club website

Why would you when your club has a free option via the ECB? It's a fair question but even if you're a one-team club then Pitchero has a free cricket website option with most standard features including online payments.

Talking to Paul at St Chad's, paying for their Pitchero website was a bit of a no-brainer.

---

'Cost shouldn't be a barrier. The annual fee we pay Pitchero is roughly the same as three of our annual playing memberships, so all we need to do is attract three new players each season on the back of them visiting our website, and the cost is covered.'

---
He adds: 'Likewise with the collection of our annual membership and match fees. Yes, there's a cost to this, but it is far outweighed by the fact that we now avoid any lost income from those who used to slip through the net when collecting cash.'

Ok John, that's fine but we're a small cricket club with a very tight budget – what about us?
I get that point of view completely – but then it should be about finding that extra money (with a digital/website sponsor) rather than missing out.

Smaller clubs can feel like they get left behind but there's no reason at all for that to happen online.

A website can (and should) significantly boost income in all kinds of ways. With St Chad's, they have a well-organised shop selling flexible memberships, sponsorship and merchandise.
Pitchero can do so much – and crucially – it's all run from one Club Control Panel. That cuts down time for volunteers and presents an overall picture.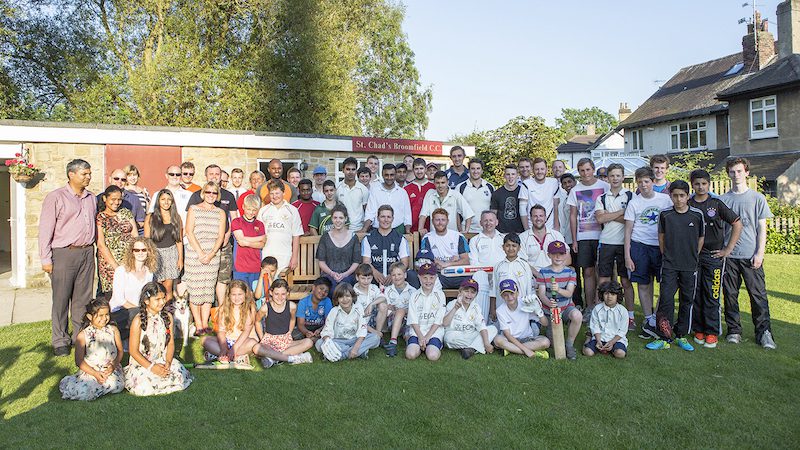 A final word on St Chad's Broomfield Cricket Club. It's been a difficult 18 months for grassroots sport, including the club cricket community. I'm curious to know their goals/plans for 2022 and how Pitchero's website/apps will help?
Paul said: 'It certainly has been a difficult 18 months, but we are using this to drive us forward and we see 2022 as the start of a new chapter in the club's history. With a new (mainly young) Management Committee in place and a new 5-year Development Plan due to be published imminently, we have some exciting times ahead of us.'
He mentioned that they start building their new pavilion later this year which will open up so many new opportunities, both as a cricket club and as part of the local community.

Thanks to Paul for sharing how they operate online and use Pitchero. All the best to St Chad's for the coming season. You can check out other cricket club websites in the Top 100 Pitchero Rankings for Cricket too.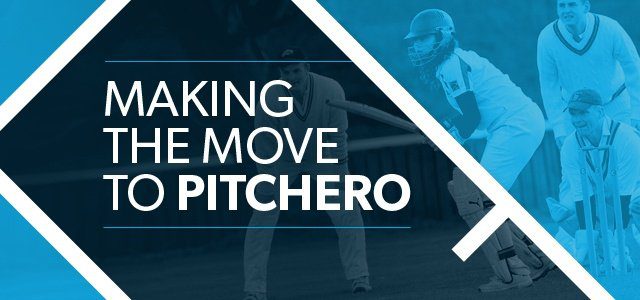 Thinking about switching to Pitchero?
Transferring your cricket club website to Pitchero is easier than you might think.
All cricket clubs can have a free demo to explain features, answer questions and get you up and running with Pitchero.
Why not try their 30-day free trial to roadtest Pitchero, dive in and use some of what it's capable of. Their support team are also on hand to guide you through.
There's also this Free Cricket Club Website Guide that I wrote for Pitchero which explains the type of website software, what functionality to consider and the benefits.
So… ready for your next website adventure?
Get a free 2-month trial of the Elite Package on Pitchero!
Just sign up via pitchero.com to roadtest the features and use code CYWEB22.
*This is a sponsored article for Pitchero – if the mood takes you, click to read Cricket Yorkshire's policy on sponsored content*
Latest posts by John Fuller
(see all)