A cricket club website can be one of your most important assets. Beyond the usual news, scorecards and league tables, its potential to promote your club, boost membership, manage team selection and make match fees easier is really exciting.

Through our partnership with Pitchero, this article will look at how to make the most of your website to save hours of time and increase revenue.
The goal is to get you thinking about what the best cricket club websites do and how your own can improve this year.
Get started with everything you need for a multi-team community cricket club from £30/month
Websites for Cricket Clubs: The Vision
Whether you want to create a club website with a new provider or simply aim to do more with what you have, a review is essential.
This can be quick and involve a few key decision-makers but in doing so, will set up your club for its next chapter online.
Whatever the size of your cricket club, financial circumstances and number/expertise of volunteers, there is always room for improvement.

Which is exciting when you think about it…

Review: Questions to think about…
What can't you currently do that you'd like to as a club?
What does success look like in 1, 3 or 5 years?
How much did your website earn your cricket club in the last year?
How easy is your website to use? (Visitors and volunteer updating it)
Is it fast to load, simple to navigate, work well on all devices and secure?

Who should be running your cricket club website?
The short answer for many clubs, of course, is whoever volunteers! As part of this audit, your club might look at who takes responsibility for the website at present? Are they the best fit for the role (or was it another job thrown their way at the AGM?)

If you enjoy content, technology, building an audience and sharing all that a cricket club does then it's an opportunity to take ownership of a hugely important role.

Whatever your background or know-how when it comes to websites, updating one has to be simple, intuitive and not give you sleepless nights.
A cricket club website is where everyone heads to learn about what you do week-to-week, potentially join up and get involved.
It has to serve lots of purposes which is where we get to Pitchero and why Cricket Yorkshire has partnered with them.

I've been working with Pitchero for nearly a decade; their growth and expertise continues to impress. The club website template, with complementary mobile apps, combines a modern design with all of the tools to succeed.
Get started with everything you need for a multi-team community cricket club from £30/month
Trusted by 10,000 clubs
There are plenty of choices for building a cricket club website out there – but only one who really knows grassroots cricket.

Pitchero's mission is to increase cricket club membership, raise a club's income and reduce club admin for volunteers.

Over 1.5 million players, parents, coaches and supporters are active across Pitchero. That includes many cricket clubs – check out the Top 100 cricket club rankings on Pitchero to explore their websites.
St Chads Broomfield, (image above) from the Bradford Premier League, is a fine example of a website that regularly ranks in the Top 5 for cricket.

In my opinion, Pitchero is the market-leading choice, particularly if a club wants to do more than just publish news, fixtures and scorecards.

Just one example of their quick thinking came when Covid-19 hit and clubs' finances were threatened:
They designed a Track and Trace feature to help clubs

Clubs raised £250k+ with Pitchero's new fundraising feature
How will using Pitchero help your cricket club?
If you're open to the idea of getting more from your club website then let's dive into how you might use Pitchero to get better results. Off the pitch obviously, I can't guarantee ten-wicket victories or double-hundreds sadly!

I like the way that on Pitchero, everyone registers a free account, gets their own profile then 'joins' a club website.
It means cricket clubs can set up custom registration forms to capture info at the start of a member's journey, they get a full record of a member or parent over time and can allocate roles with differing levels of access.
In terms of running the website/club admin, it's easy to spread the workload as a Coach, Team Admin or Webmaster can do what they need to for an individual team or area of the club.
Pitchero is also aimed at those who don't have (or don't want to learn) the technical side to running a website.
Pitchero is always online (no downtime)
You can't break Pitchero
Acing Club Membership
Looking after membership records online is the way to go. A new member decides to join your amazing club and they can be with you for many cricket seasons to come.

At the moment, a cricket club secretary or treasurer might use Google Docs for admin, Zero for accounting, Whatsapp for team messages and lots of other software with those pesky logins to keep track of.

Pitchero has one system that runs across its club websites and free mobile apps. A fully hosted, easy-to-use club control panel to run all aspects, week-to-week.

If they have the right access, cricket club officials can quickly see:
Membership records (incl renewals and how long someone has been with a club)

Player availability & team selection

Who has paid / who still owes
In one place, those managing a cricket club's affairs get an immediate snapshot of each member in order to better serve them in future.
Get started with everything you need for a multi-team community cricket club from £30/month
What does your website earn for your cricket club?
Managing teams and communicating news is a major part of club life but that's not all…
Your club website really should make money each year. We all operate online and it's crazy to still rely on paper records, handling cash, bank visits with all the hassle that brings.
With Pitchero, you can:
Sell products like membership packages or teamwear

Collect match fees via the website or apps

Run a fundraising campaign

Sell sponsorship and advertising

Offer venue bookings online all year
Reducing daily admin at your cricket club

If you're a cricket club volunteer, I don't need to tell you of the hours involved or evenings and weekends given over to the countless jobs.
I'll be honest. Choosing Pitchero for your website won't make all those tasks disappear but then no-one can promise you that.

Wouldn't that be great?!
You'll need to learn how it works, just like Play-Cricket or another other online software, app or programme.
What I'm confident it will do is absolutely save your cricket club time, make it easier to run things efficiently and help you bring in more money.
Here are a few more time-saving features:
Import league fixtures, results and tables automatically

Send reminders with a link to pay in seconds

Auto-post club updates to Twitter and Facebook
How do I create a free cricket club website?
No doubt a popular question but let me ask you one straight back: why would you want to?
While I appreciate that cricket clubs have limited finances, there are few expenses more important than running the best possible website you can.

We will discuss how Play-Cricket integrates with Pitchero shortly but the governing body's free website offering has probably meant many clubs now expect a service for nothing.
---

I'll stick my neck out and say that most cricket clubs should pay for their club website.

---

Why make do with a potentially limited service when you can take advantage of lots of other features?

As someone who has spent over a decade running a cricket website business, I can honestly say that once you factor in all of the costs from hosting to web design included, Pitchero is incredible value.
My message to any cricket club out there: it's better to find a website sponsor to cover £360 a year (Elite package) or £840 (Ultimate package) than run your website on a shoestring.
Incidentally, if you are a cricket club with a single team then Pitchero offer a free cricket website with many features (just more adverts and higher transaction fees if you're selling online).

Ok, but we have to use Play-Cricket…
If you're part of a cricket league and affiliated to a county board then you'll need to submit your scorecards and results to Play-Cricket, the ECB's website network.

Many cricket clubs use Play-Cricket as their default website because a) it's free and b) they have to use it anyway.

Play-Cricket does the statistical side of managing teams like averages, results and the data-crunching joy of cricket stats very well.

Well, good news….Pitchero is an approved partner of Play-Cricket!
It means that all cricket club websites on Pitchero benefit from official Play-Cricket integration which pulls across the data from Play-Cricket league sites within 24 hours, including:
League fixtures (fixture date, home and away team name and start times)
League tables
Match scorecards
It's not a question of either Pitchero or Play-Cricket – you can have both!
What you'd be gaining by switching to Pitchero is a fantastic cricket club website builder that includes everything you need to manage teams.
Elite or Ultimate packages with Pitchero include:
Unlimited teams
Premium website template
Less advertising
Lower transaction fees
Pitchero offers:

+ Unlimited hosting
+ Domains & emails
+ Team management
+ Membership database
+ Online payments
+ Venue management

What can your club use it for?

+ Membership
+ Availability + selection
+ Competitions + fixtures
+ Venue bookings online

+ Match reports
+ Photos + videos
+ Match statistics
+ Match fees

Plus, your cricket club gets two amazing mobile apps

All cricket clubs using Pitchero can benefit from their own free iOS and Android mobile apps.

Coaches can pick organise training, pick teams and inform players or parents; they can request match fees and everyone can pay in seconds via their phone.
Leeds & Broomfield Cricket Club:

"'Our old website did the job but it looked like it was made in 1990! This looks so much more modern. I'm not amazing at technology and I find it very easy. My advice to other clubs who haven't used Pitchero would be that it almost does the work for you!"
Didsbury Cricket Club:

"We practically use every possible element of Pitchero functionality: Membership, selection and a huge amount through Shop and Payments."

Reading Cricket Club:

"Not only is Pitchero a simple way for players and captains to pay and collect match fees, but it also saves a huge amount of time."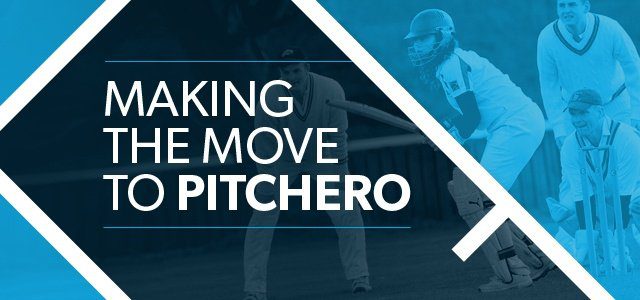 Thinking about switching?

Moving a cricket club website doesn't need to be a huge job. If this article has got you thinking about what's next then you'll probably want to discuss it with your committee first.
All cricket clubs can get a free demo to walk you through the features, answer your questions and show you how clubs are using Pitchero.

A good idea is to try their 30-day free trial to roadtest Pitchero, dive in and use some of what it's capable of. Their support team are also on hand to guide you through.
So… ready for your next website adventure?
Get a free 2-month trial of the Elite Package on Pitchero!
Just sign up via pitchero.com to roadtest the features – use this exclusive code CYWEB22.

Get started with everything you need for a multi-team cricket club from £30/month

*This is a sponsored article for Pitchero – if the mood takes you, click to read Cricket Yorkshire's policy on sponsored content*
Latest posts by John Fuller
(see all)