The demise of a cricket league is always a moment to pause. There's usually a lot of history and memories jumbled in with that reluctant decision to call time.

Inevitably, there's also reflection on whether another league gone is a sign of a wider shrinkage of club cricket and what the landscape will look like in the next decade.


The Leeds & Wetherby Cricket League celebrated its centenary in 2020 – but will only be fielding junior teams from 2023.

Madan Basavarajaiah (Scarcroft) banked 904 runs and James Todd (Barwick-in-Elmet) collected 40 wickets to top the charts in the final senior hurrah of 2022.
I caught up with Alistair Maiden (whose club is Scarcroft and who has been involved in the administration of the league for years) to find out what happened.

The Wetherby Cricket League (as everyone will know it, the name change to incorporate Leeds was a recent change) has been both the beneficiary and victim of its geography.

Wetherby, in case you're wondering, is a West Yorkshire market town, bang in the middle of an area between Harrogate, York and the Northern fringes of Leeds.
---

So, it's always been a league that could either attract teams from numerous other leagues or lose them. There are, it has to be said, a load of cricket clubs in a relatively tight area.

---

That congested competition is something that Halifax, Huddersfield, Bradford, York, Sheffield and other Yorkshire hubs can relate to.

Just to take the area around Scarcoft, East Leeds are in the Bradford Premier League, Bardsey are in the Aire-Wharfe Cricket League and others play in the Yorkshire Premier League North.

These shifting sands of who makes up a cricket league have seen the Leeds and Wetherby Cricket League attract teams from further afield which was more of a short-term gain.

'Over time, you have had clubs drifting away. A load of clubs like Green Hammerton and Church Fenton (east of Scarcoft) have joined but they were always out on a geographical limb.'

Once they left a few years back, almost en masse, to join what was the York & District Senior Cricket League, Alistair reckoned it was always going to be a struggle to keep the Leeds and Wetherby Cricket League going.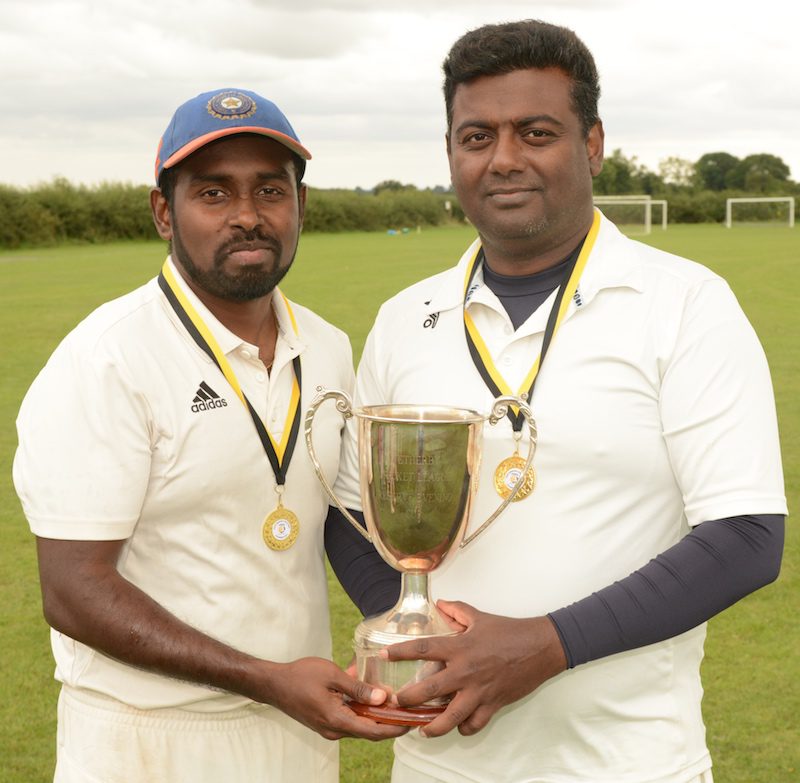 Hyper-local: Why clubs stayed

Alistair's view is that 'the reason clubs like Scarcroft and Barwick-in-Elmet continued to battle it out in this League was primarily because it's fantastic to play local cricket clubs against players you know. There's a lot in that.'

He added: 'I think it'd absolutely ludicrous that Scarcroft, for example, don't play Bardsey. (1.8 miles apart via the A58). Similarly sized…most people know each other….completely different leagues and no opportunity to play. Doesn't really make any sense.'

Local rivalries in club cricket are a big deal and length of travel continues to be a key consideration but as there are less leagues, and teams naturally move up and down divisions, it can be tricky to keep things orderly.

In 2021, the Leeds & Wetherby Cricket League became an affiliate league for the Yorkshire Premier League North, as part of the pyramid system. Alistair told me it was with one eye on clubs being able to join another league and have a pathway up if they wanted.
---

'That set up the conditions for us to then fold the League. It's my hope over time, and they've already shown some positive intent in this respect, that the YPLN might decide to set up a new divisional structure that reflects that a lot of teams are in this area.'

---


He made the point that for those turning out for sides in the outskirts of Leeds, a high percentage of the players live in the city, they're not based in the villages they play for – so extra travel out into the countryside matters and will lead to a drop-off.

As for the teams who played in the Leeds & Wetherby Cricket League, they have either joined the Yorkshire Premier League North or the Dales Council Cricket League, broadly depending on whether they are West or East of Leeds ring road.

So, a re-distribution in effect rather than a mass loss of cricket but the ripple effect of another cricket league disappearing does have consequences.

Are less leagues a bad thing? Well, it depends on who you talk to and whether the history of the game matters to you.

In the case of the Dales Council Cricket League, a new division for 2023 has reinvigorated that competition. New teams, new grounds, as long as it isn't too much of a pain to get there is usually a plus.
The teams joining from the Leeds-Wetherby League include Headingley Bramhope (two), Meanwood (two), St Chad's Broomfield (two), Leeds Gladiators (three teams), Leeds Superkings (who were Scarcroft Seconds), and Leeds Caribbean.

For the Yorkshire Premier League North, a huge league gets even bigger, not that I'm necessarily opposed to that. You could argue it's ultimately a reduction in admin and committees. I'm sure it's no small feat to organise across each year.
You might ponder whether any one cricket league with so many teams is a good thing. Those working tirelessly behind the scenes to facilitate so much cricket doubtless have a thought or two on that.

Either way, the Leeds & Wetherby Cricket League, for adults at least, is no more. There has had to be a considerable reshuffle to accommodate everyone elsewhere; it's to the credit of everyone involved that this has happened.
The remaining juniors fixtures will range from U9 to U18 (boys) with a U12 girls section.

If you'd like to read further, here are a couple of related Cricket Yorkshire articles.

I wrote about the chess moves that come with switching cricket leagues.

Plus, Andrew Gallon headed to Scholes in 2021 to watch Leeds Caribbean, Scarcroft and St Chad's Broomfield in the Leeds and Wetherby Cricket League's 100-ball competition.

Latest posts by John Fuller
(see all)