It was absolutely bouncing it down, siling it down, chucking it down. 
Saturday afternoon and the prospect of cricket was very low. I'd already decided to postpone a visit to York and check out the West Yorkshire Women and Girls' League from Skipton Cricket Club on the Sunday.
We headed out for a walk to a local cafe, and after a while, it started to hammer it down. Biblical stuff. So Mrs Cricket Yorkshire and I sheltered under a tree as it got heavier and heavier.
We were just pondering our next move when a white BMW drove down the lane and deliberately soaked us both with a tidal wave of water.
You have that moment when you quite can't quite believe what just happened.
I look round and Mrs Cricket Yorkshire is furiously waving her arms behind me like a cricket umpire signalling a six. Pretty sure that wasn't what she was doing.
I like to think that driver got a puncture and had to walk for miles in the rain. Karma, baby.
The rest of the way was pretty wet but uneventful. Yet it got me thinking about rain and how much it dictates what we do with club cricket.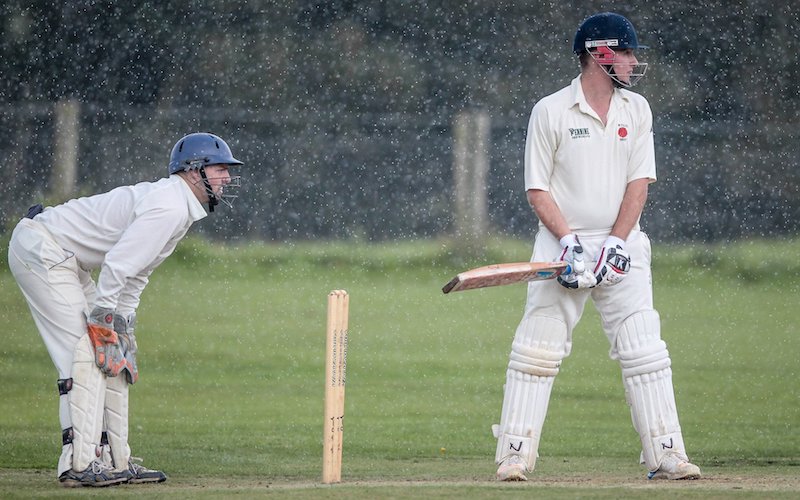 It's that absolute nightmare for clubs, players and umpires everywhere. So many things that you need to think about, situations you need to consider: whether it will go one way or the other.
For those looking after the club cricket ground, it's trying to do the best you can, even though you may know a monsoon is on the way.
Covers can only do so much if it's oozing up from under the ground because of a high water table. Hope for the best and plan for the worst.
---

On the day itself, there's that classic will we, won't we? scenario that everyone faces while the host club are doing their best to keep the game on. 

---
Covers might be on, we're all checking out weather apps and soaking up what rain that has fallen so far with makeshift sponges or the Super Sopper.
Let's just call it how it is and say that cricket in the rain is rubbish. Let's assume we all want to play, but speaking as a bowler, when you're out in the field and there's been heavy rain, the cricket ball swells up like a swollen eye and starts staining your whites red.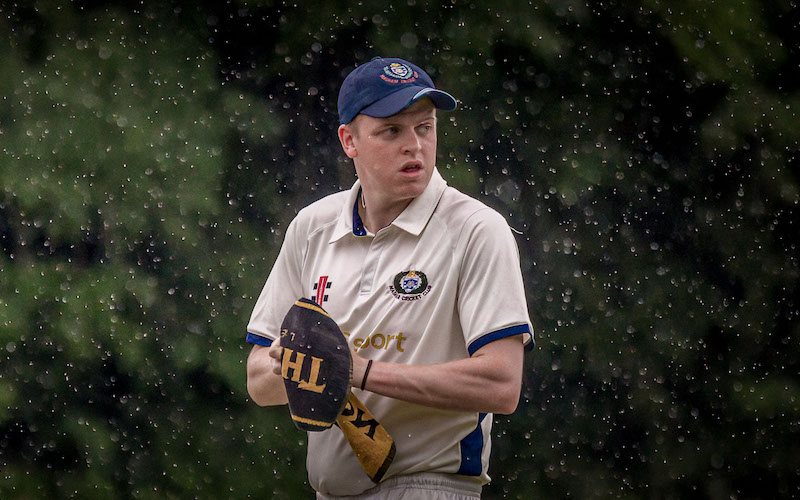 The obligatory beer towel comes out for damage limitation.
It's slippy, the seam becomes soggy and useless. You're worried about where your foot will land. Out comes the sawdust. It's a weird thing to watch us all go through the pantomime of getting the game on while ducks are sploshing around on the outfield.
In fairness, batting isn't a whole heap of fun when the raindrops are blurring your vision through the grille of your helmet and the prospect of a sharply taken single requires spikes with the grip of a tractor.
So on the morning of a game and when you get to a ground, you're actually hoping for a quick decision. 
If we're going to play, let's crack on and get started. If it's going to be cancelled, let's do that quickly so everyone can get on with their day. 
But of course, cricket isn't as simple as that and never has been. There are rain regulations in club cricket around when you can start, when you have to come off, how many overs are lost during rain breaks, and so on and so on. It can be incredibly frustrating. We've all been there.
The sun may be out but you're waiting for the ground to magically suck up the last two hour's downpour and as a player, you want to get back on the field and start again.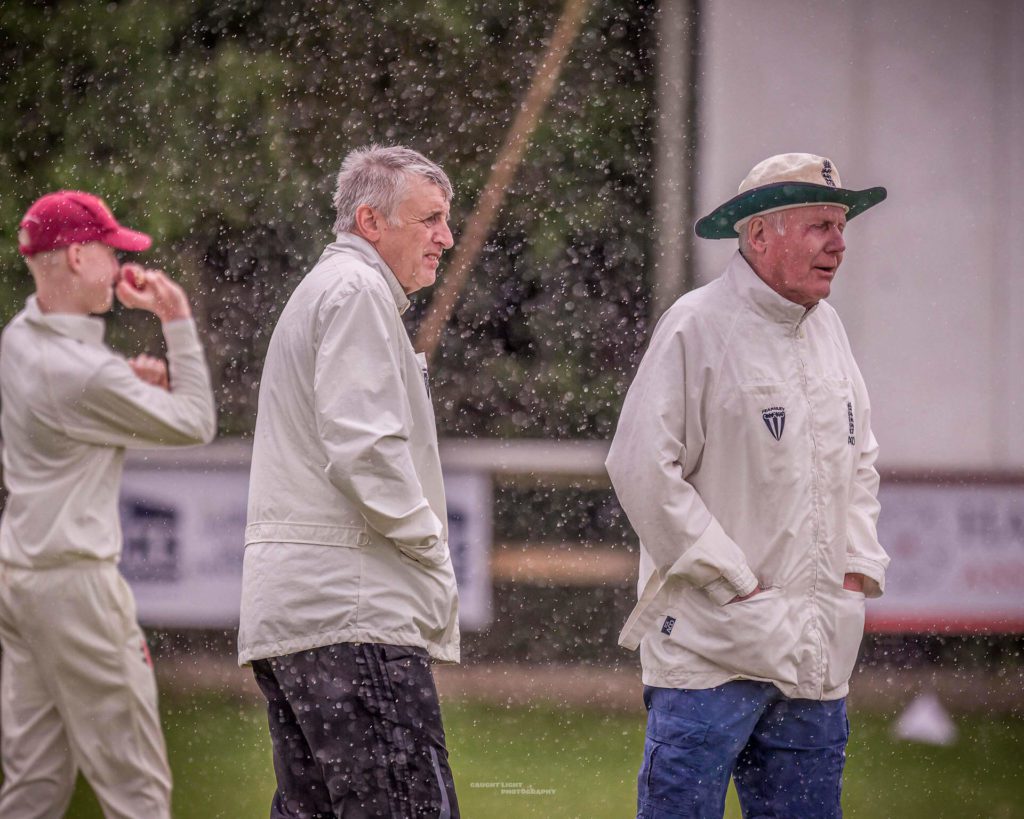 But the umpires, well within their right, are waiting until a certain amount of time has passed. Equally, if it's obvious to everyone that the game should just be called off due to rain, there can often be those frustrating hours where you go and check, you wait a bit longer, you check again.

Maybe it rains, maybe it stops. On, off, on, off. And suddenly it's 5 p.m. and either you've not played at all or you've had a handful of overs, but nothing really of any note.
The weather loves to mock us too. You call it quits for the day and then the sun breaks out.
Saturday here at Cricket Yorkshire HQ saw heavy rain followed by bright sunshine, followed by heavy rain.
Repeat. Rinse and repeat. I imagine cricket clubs across Yorkshire had the usual dance and hopefully either got games in and results sorted or points shared early when it was appropriate.

When I looked, Bingley Congs 1st XI had Rodley 1st XI 46-4 off 11 overs of their Division 4 encounter in the Aire-Wharfe League. It was a neat piece of symmetry as I visited the same teams at Rodley in May.

At Wagon Lane, Bradford & Bingley 1st XI had shared five points each with Hanging Heaton in the Bradford Premier League with the game abandoned. It had thrown it down on Friday too and that area of Bingley is no stranger to flooding.
At the rough midpoint of the season, lost points due to rain and rivals getting wins to sneak an advantage isn't as big a deal – but come September with titles and relegation on the line, it certainly is.
When it rains, it's always difficult for the umpires too. There are rules and then sometimes there is common sense. It can be tricky to balance the two and to please everyone when you want to get the game on.

Getting some cricket in is important obviously but there are issues of player safety and also the host club doesn't want a ruined square.

It made me think of the start of the season and one of Cricket Yorkshire's most popular articles ever.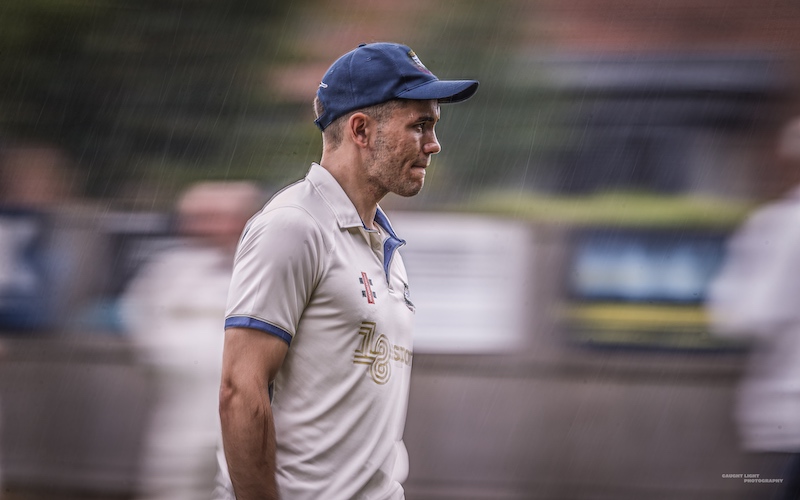 I wrote about the fact that the NYSD season opener was cancelled beforehand completely across all teams and all divisions because of rain. This was pretty extraordinary, given the size and scope of that cricket league – but many leagues followed suit.
It was also in stark contrast to the start of the 2022 season when we had settled weather and freakishly hot temperatures right from the start.
Hopefully this meteorological blip that we're seeing in July is just that; a comma in the season as opposed to a full stop.
It feels a little like summer has been put on pause but surely there are warmer, drier times around the corner?
📷 With thanks for the photos by Mark Doherty of Caught Light Photography – check out his website here: caughtlight.com.
Latest posts by John Fuller
(see all)