The Archer Cup (named after Steve at the Yorkshire Cricket Board, not Joffra) delivered the hat-trick: skills, sunshine and spectators.

After last year's event had been rained off, this was a chance to bring together the six teams from the inaugural West Yorkshire Women & Girls Cricket League.

The drive over set the scene with warmer temperatures and that mysterious fiery orb in the sky showcasing the views as we climbed and climbed.
---
It's been a while since we've scooted up the A629 through Cullingworth, the Grand Prix chicane at Denholme, the expansive wilderness at Keelham, onto places like Stone Chair and Mountain hinting at the other-worldly ruggedness up here.

---

Northowram has been on my list for a few years now. Today's joint venue was Northowram Fields Cricket Club and Shelf Northowram Hedge Top who are neighbours that play in different leagues.

Today, Pudsey St Lawrence, Menston and North Halifax (formerly Lightcliffe) were competing in Group A on the Fields square, while Bradford Park Avenue Ladies, St Chad's Broomfield and Crossflatts were in Group B on the other pitch.

First impressions were of a mild, bright day with barely a whisper of a breeze. Pudsey St Lawrence buzzed about in the field and beyond, I could pick out the speckled horses lazily munching and the St John the Baptist's church in nearby Coley.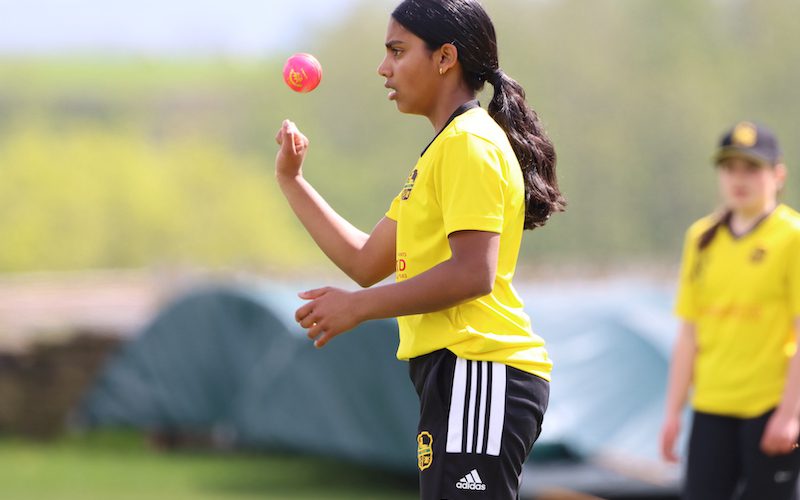 Pudsey's leg-spin bowler Venus Weerappuli (above) had a fluid bowling action with lots of revs on the ball. She was in the midst of a three-over burst that yielded 2-7 against Menston who finished on 91-5 from 16 overs.

Pudsey St Lawrence won the league last year and captain Sarah Wood was instrumental in that. Her batting (24) at the top sets up their total here and though Menston rotate seven bowlers, Emily Hall (26) and Emily Dickson (18 not out) negotiate safely towards a winning score.

With a three-over spell, economy is just as welcome as wickets and Menston's Emily Fowler (1-3) achieves both.
A bacon roll is calling us from the Northowram Fields clubhouse so we climb the stairs, past the buy-a-brick sponsors, and put our order in while talking to Chairman Steve about a handsome 2nd XI batting trophy in the window.
---

A poster on the noticeboard says something like: 'If you're having a moan, have you volunteered yet?' Never a truer word spoken or written.

---
As we chomp away and watch the cricket, a conversation wafts over from the bar where the wifi is playing up. I can't help but hear one side of the call. No, we haven't touched anything. Yes, we've tried switching it off and back on again.
After lunch, it was time to head over to Shelf Northowram Hedge Top to catch some of the action from Crossflatts' (128-2 off 16 overs) innings against St Chad's Broomfield.

One thing that always strikes me about women and girls' cricket is the camaraderie and support. There is a variation in ability on show here but supporters and team-mates encourage and reassure if someone goes for a boundary or bowls a wide.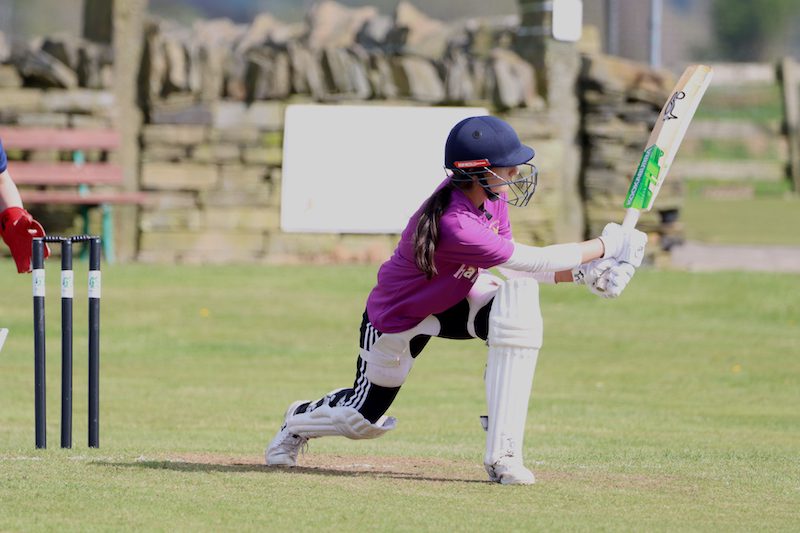 St Chad's find the going tough but they stick at it and it's good to catch up with Lorna, their Secretary, later as she sits on a roller at the end of the game.

Batters retire at 30 in the Archer Cup and Costa del Flatts, in their purple kit, have Qanita Inayat (32) and skipper Charlotte Boulton (30) who tuck their bats under their arm and stroll off to applause. I interviewed her last season after a phenomenal season in the Bradford Premier League.
I have wondered what that might do in men's cricket. I guess I'm thinking in the lower divisions or leagues. It could be 50 and return at the end if required. Traditionalists will doubtless be horrified but what that does is spread the load so a few performers in each team can't dominate every week.

Once upon a time, I used to play for a team down South and opened the bowling. It was 100 overs a day with no limits on bowlers so I'd sometimes crack through 20-26 overs. Great for me (though I used to be much taller); not so fun for those wanting to get involved, having given up their weekend.

Anyhoo, St Chads conclude on 53-3 in reply and while the defeat means they don't progress, they stick around to support, drink and tackle the samosas.

There is curry available at Hedge Top and I am always on the lookout for new delicacies at the cricket but I have a toothache and opt for a cake and a brew instead (yes, I know that makes little sense).

When photographing, I like to walk the boundary a few times, chat with spectators and take it all in. It's easy to be sucked into a very confined world of pixels and shutter speeds but you miss the gossip, sights and sounds that make a day like this all the richer.
On the far side is a little cut-through to Hedge Top Lane and I fire off a few frames from the wall. The ivy covering makes for a pleasant, out-of-focus barrier, if you care for such things.

Another photographer is there too; who I later realise is Joe Bognar; who hails from Sydney but nowadays snaps the action at this ground. Near him is a dog; maybe a border collie, who has dreamy eyes and a coat somewhere between cappuccino and chocolate buttons.
---

The two cricket clubs are not separated by a hedge, as I had imagined, but a typical Yorkshire wall, beautifully robust, meandering along like a rocky river with stones jutting out. On foot, you can cut through at the top from Fields to Hedge Top or vice-versa.

---

In the evening final, Crossflatts (66-1) were ultimately victorious by nine wickets against Pudsey St Lawrence (65-4) to lift the Archer Cup. (Full details of all matches here)

Crossflatts are an impressive outfit who huffed and puffed against Bradford Park Avenue Ladies (the last fixture I saw before we headed home) but they found a way to win in the play-off for the final.

A few random thoughts as I bring this to a close.

But first and foremost… the quality of the cricket just confirms that the women and girls' game in West Yorkshire is in a good place.

If you want to read about the overall picture across Yorkshire from which clubs are in which leagues and plenty more besides, there's only one place you can read that.

Spoiler alert, it's right here. Check out the exciting transformation of league cricket.

As for West Yorkshire, the league this year has expanded to welcome two new hardball teams in Skipton and North Leeds while softball cricket and indoor leagues are proving so popular.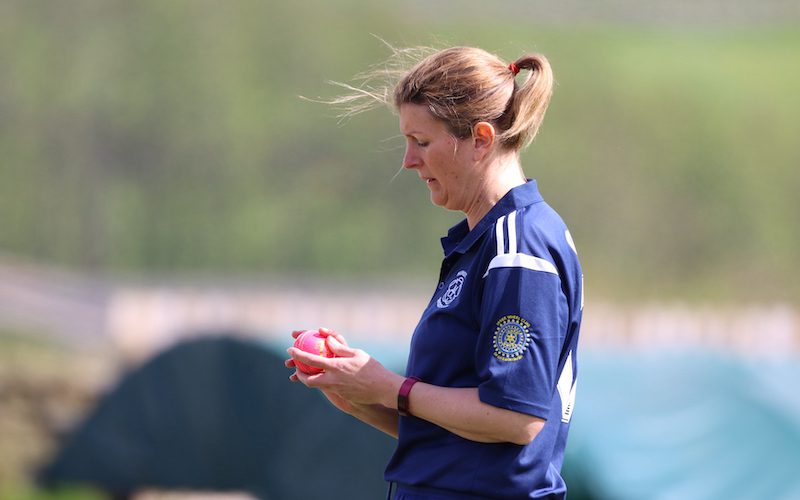 Let's end on the fact that this really was a life-affirming day and good for the soul in any number of ways.

Professionally organised from host clubs offering food and hospitality to umpires and scorers, the sound systems and announcers to the one-man organiser/dynamo who is Phil Sharples.

Before I forget, kudos to announcing (via the PA) each incoming batter, often with their own tune. There was also a call for music requests and we had an eclectic mix. I clocked umpires and players compelled to boogie during games.

It wasn't just the novelty of applying suncream that made the Archer Cup memorable. It had that inclusive, feel-good factor and best of all, made me want to seek out more games and teams in future.
Archer Cup album
Just select a photo and scroll left and right.
Want to read more?
Here are a few articles to dive into:

League cricket transformation for Yorkshire's women and girls

Grace Hall: Chance to Shine to Northern Diamonds Academy

Mollie Ovenden: From the Nidderdale Cricket League with Raskelf and Alne to Bengaluru
Latest posts by John Fuller
(see all)