The Pudsey St Lawrence Ladies team, captained by Megan Fleming, have won the West Yorkshire Women & Girls Cricket League.

The hardball league was in its first year with the other teams involved: Crossflatts, Menston, Bradford Park Avenue Ladies, Lightcliffe and St Chad's Broomfield.

15-year-old Sarah Wood has been a standout performer with the most runs in the league (384), highest individual score (115 not out) and was voted Players Player of the Year by her club, Pudsey St Lawrence.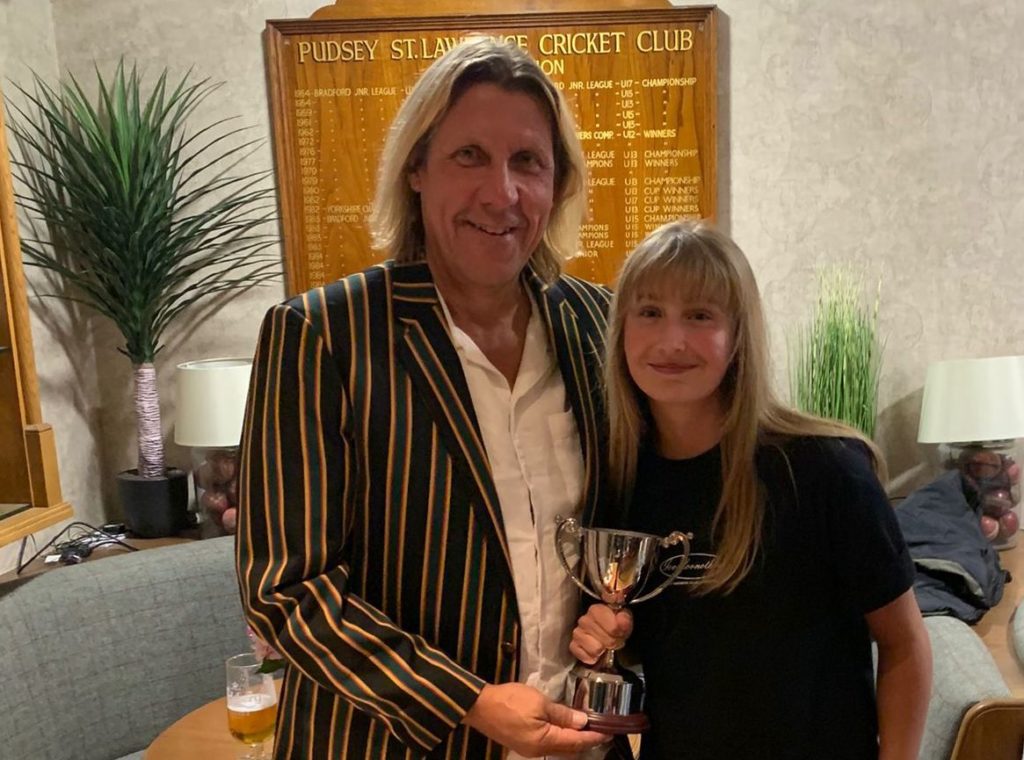 I caught up with Sarah (above) to hear how her season has gone. Apparently, she's been playing cricket for five years after asking her dad if she could give it a go.

She joined Pudsey St Lawrence and has never looked back. According to Sarah, she struggled with her batting to begin with but grew in confidence and has certainly kicked on since.

John Wood credits the one-to-one coaching Sarah has been having with Mohammed Salim at Woodlands Cricket Club for the last couple of years as being transformational.
As for this season, how has it been playing hardball cricket against other women's teams?
Sarah told me: 'Batting in the new league has challenged me in many different ways, the bowling has been very varied at times and it really makes you concentrate more as you never really know what to expect.'

The hardball league might be in its infancy but it's a stepping stone both from softball to hardball but also the experience of cricketer players might face.

A run-laden season in 2022 was capped by an unbeaten century at the top of the order against Lightcliffe.
---

'The main thing I remember about that innings was getting to fifty and my batting partner Venus saying to me "100 next" and I genuinely believed she'd jinxed me from that point. It was just a case of working in tens and not thinking too much about what score I was on.'

---
All batters need a slice of fortune along the way and Sarah got hers at a crucial moment. She was nearly bowled on 99, jamming her bat down on a yorker at the last minute, relieved to see it deflect off.
'I had no idea where it had gone but luckily Meg, our captain, shouted "yes" from the non-striker's end so we got the run!'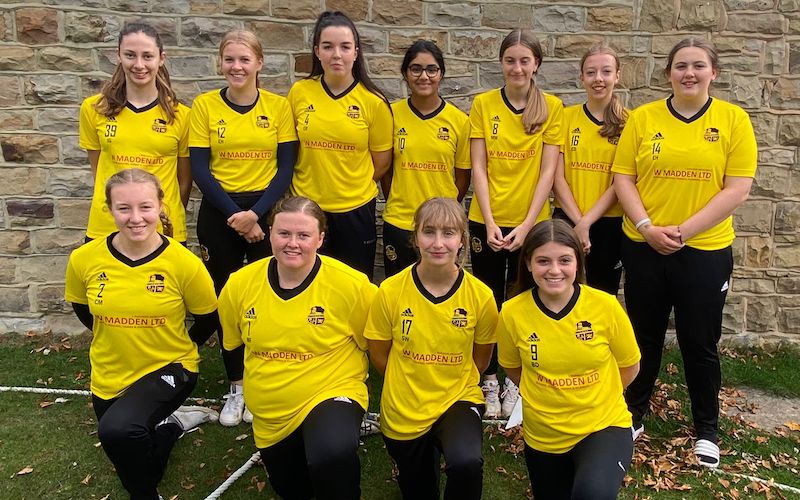 Appetite for women's and girls cricket has shown to be enormous with more opportunities to play opening up across Yorkshire.

That demand outdoors is also transferring itself through to indoor cricket as shown by the number of teams in South Yorkshire who signed up this autumn.

In West Yorkshire, a new indoor cricket league for women and girls has attracted interest with teams ready for games from October through to Spring.

Meanwhile, Sarah will be training with West Yorkshire Girls, based at Woodlands Cricket Club, and coaching with the MCC Foundation.
'I'll just be carrying on working on my batting and developing different shots that I'm not as comfortable with. For the 2023 season, I'll be playing with the Pudsey St Lawrence Women's team again and hoping we can have as good a season as we've had this year, and win again.'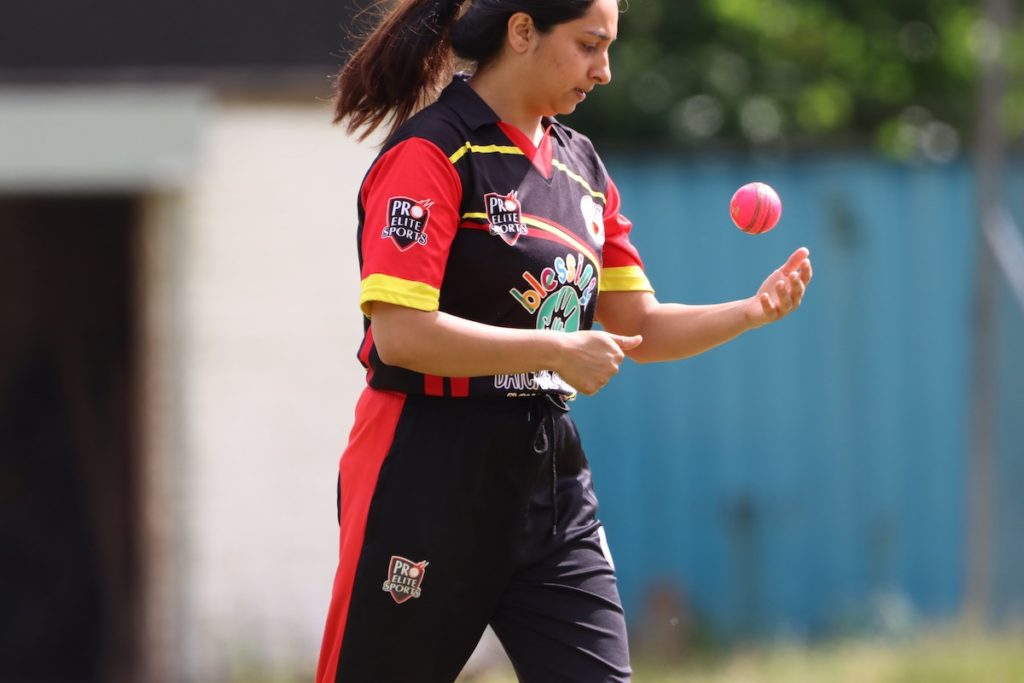 From the Yorkshire Cricket Board perspective, there's a sense of traction, particularly in the way these leagues are encouraging girls in their teens to stick with cricket.
As Katie Stewart, Women and Girls' Club & League Development Manager for West Yorkshire, explains:
'This first year of the West Yorkshire women's league has gone better than we could have hoped. We've seen exciting, competitive matches and record-breaking performances.
'The league has given young female cricketers a fantastic platform to show what they can do. In the past, cricket as a sport has suffered from girls sometimes dropping out around the age of 15 or 16 because of lack of opportunities for women, but leagues like this are keeping them in the game.
For many players, they're involved in games with big crowds for the first time: 'Clubs who have put teams forward have reaped the benefits with the vibrant atmosphere at home matches, some say they've witnessed bigger crowds than ever seen at their men's games!'

Of course, this doesn't happen overnight. Conversations, meetings and probably many emails between clubs and volunteers who all deserve credit for their part in making this happen.
One such name is Phil Sharples who has driven the league and made it a reality. He has brought the teams on board, acquired funding, organised the admin and umpires. According to Katie, it wouldn't have happened without him.
Phil gave his thoughts on progress and plans: 'Women and Girls' cricket across West Yorkshire now has a framework that will enable us to create a clear development pathway over the next five years.'
'It also affords us the opportunity to provide a flexible offer at all levels from those just starting their softball journey at 9 or 90, to more accomplished players who want hardball cricket without the need to travel long distances to get it.'
The aim in West Yorkshire, and elsewhere, is naturally to increase the number of participants, teams and clubs who want to begin, continue or re-start their cricket journey.
An excellent resource is the West Yorkshire Women and Girls' Development Website with all the information on current clubs. It acts as a one-stop shop for all events, opportunities, club locations, rules, success stories and future initiatives.

Want to know more?
Thanks to Sarah & John Wood for their contributions, as well as Katie Stewart and Phil Sharples.

Katie is the Yorkshire Cricket Board's Women and Girls' Club & League Development Manager for West Yorkshire.
If you've been inspired to start or expand women and girls cricket in West Yorkshire (or want to find a team to play in), contact Katie via email: [email protected]. As mentioned, there are opportunities to play indoors this winter too.
Alternatively, if you're based elsewhere in the region, there are YCB staff available to help. Explore the YCB Website for contacts and other resources.
*This is a sponsored article for Yorkshire Cricket Board through our partnership – if the mood takes you, click to read Cricket Yorkshire's policy on sponsored content*
Latest posts by John Fuller
(see all)