Get £100 Off your FrogBox Streaming kit by Sportradar – use 'CricketYorksFB23'
(*Offer extended to the first 15 orders and runs until the end of May 2023)
It's official. Live streaming club cricket games with FrogBox by Sportradar has gone mainstream – and with good reason.

As we've explored here since the partnership began, it combines professional broadcasting quality with Play-Cricket integration and a YouTube channel.

But once the thrill of seeing yourself pinned LBW for a duck or reverse sweep a six into the car park recedes – what next?
---

In this feature, we'll be exploring what leagues and clubs are using FrogBox, with a reminder of some of the key benefits to investing in the technology.

---

Plus, we'll turn our attention to monetisation.
How can you attract live-streaming sponsors, build an audience and get to a point where FrogBox pays for itself?

All will be revealed…

But first, a Google Map to give a snapshot of the growth of FrogBox in Yorkshire (with a few clubs around the fringes included too).
As you can see, that early intrigue from a year or two ago has turned into momentum across the region.

Yorkshire leagues using FrogBox include:
Halifax Cricket League
North Yorkshire & South Durham Cricket League
Yorkshire Premier League North
Scarborough Beckett Cricket League
Bradford Premier League
Airedale & Wharfedale Senior Cricket League
Yorkshire Cricket Southern Premier League
Cricket clubs love live streaming with FrogBox! Why? It's high-quality, easy to use, interactive, and affordable. 🙌🏼🐸👍

Check out what UK clubs 🇬🇧 @swindoncricket, @otley_cc and @WLDCricketClub have to say about FrogBox.

Visit https://t.co/7WRvkeb48C for more information pic.twitter.com/jZwL1e7WHW

— FrogBox Live (@Frogboxlive) March 23, 2023

Why choose FrogBox?
Clubs are using FrogBox for a host of reasons so here's a quick round-up – if your club doesn't yet live stream and is open to it.

🏏 Professional quality – Everything about FrogBox is pro level from the quality of the footage to the hardware.

🏏 Promote Your Sponsors – Sell live streaming packages and show sponsor graphics during live games.

🏏 On-screen graphics – Automated on-screen graphics are the slick polish viewers expect to see with team line-ups or sponsors sliding in.

🏏 Play-Cricket Integration – Display your live stream and your scores from Play-Cricket, as they happen, for the complete package.

🏏 Automated match highlights – If you've ever done it, editing video can take an age. FrogBox does it for you so you can share a highlights package or a short clip of a particular highlight, say, a batter hitting his own car windscreen with a six!

When all's said and done, it's a lot more than a fancy toy to see your cover drive on a giant telly. Though naturally you can do that and if I still played, I'd be beaming my bowling onto the side of a hill.

It's a professional (there's that word again) asset your cricket club can use for decades to come. It's also a reason why a player might choose to join your club over another one.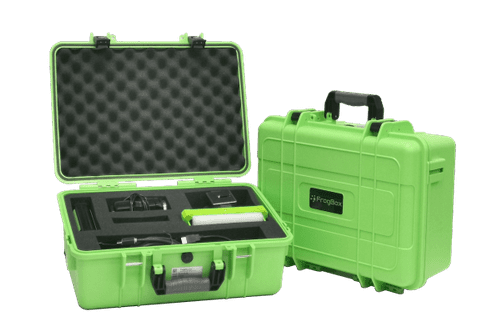 What's included?

Clubs generally fall into three camps. They can afford it outright: 'Love it, where do I sign?'

Or, they want to buy – but need to run a fundraising campaign first. I highly recommend crowdfunding, if that's your circumstances.

Or, the overall cost of £1,400 for the first year (which drops to £250 in subsequent years) is too much.

(Option 3 is an economic reality for some but is a huge shame, as every club should get the chance to do live streaming if they want to.)

Incidentally, here are those costs broken down:

A) Streaming kit (£1,150, one-off) – includes a FrogBox camera, mast, rechargeable battery and carry case/cables.
B) Streaming licence (£250 per year) – live streaming all matches, automated on-screen graphics, automated match highlights, integration with scoring apps.
Get £100 Off your FrogBox Streaming kit by Sportradar – use 'CricketYorksFB23'
(*Offer extended to the first 15 orders and runs until the end of May 2023)
From order to first match in a week!

Ok, let's play out a scenario. You serve on a cricket club's committee, have done your research and got agreement to go ahead.

How long can the process take and what does it look like? FrogBox aim to send out your streaming kit in 3-4 days.

There is then an onboarding webinar which is usually a live Zoom call where your club will be walked through the set-up and can ask questions. Alternatively, you can watch a recording of the webinar if that works better.

It doesn't take long to set up the kit, test broadband and live-scoring (ideally the day before a game to sort any gremlins).

Some clubs have bought a FrogBox on a Monday and been live-streaming their first match on YouTube on Saturday.
How does FrogBox pay for itself?

There are no guarantees but if you think about it: This is a new way to attract sponsors that your club doesn't already have.

FrogBox can promote multiple sponsors on a single live stream and you can say exactly how many viewers have watched over a game, month or year.

1) Sponsorship

Signing sponsors is no walk in the park but many clubs agree multiple deals across a year.

How about 6 new sponsors each paying £250 a year? That entirely pays for FrogBox with money left in the kitty.

What I like about a live streaming or digital sponsor package is that it is very specific. A sponsor is helping to fund live streaming for a year – or buying exclusivity outright.

They can see where their money is going and also what exposure they get in return. It's also something a bit different.

Your cricket club could bundle in social media mentions across the season with links to their website or sharing news and special offers.

2) Crowdfunding
This is consistently the fundraising choice for many cricket clubs who often raise huge sums in a short space of time – £10,000-30,000 in a month!

It needs planning, arranging lots of superb rewards at multiple price points and a plan to promote relentlessly over 30 days.

If you decide to crowdfund to pay for a FrogBox – you could aim to sell live streaming partnerships as a 'reward' or coaching sessions where the person gets a video recording afterwards (or private YouTube URL). Ideally, you sell a couple of years' worth of rewards so your club knows it is funded for some time.

3) YouTube

It is possible to earn advertising revenue from your live-streaming adventures on YouTube.

A few things to note here. This is a slow-burner and don't expect to be earning thousands of pounds. You'll need to build your followers over time and get as many views as possible.

The current threshold before you start to earn is 1,000 subscribers with 4,000 valid public watch hours in the last 12 months.

Naturally, this will suit the largest clubs better and those who are putting up lots of videos – either of full matches, highlights or 'shorts'.

I mention it only really as a complementary option – which brings in some money in the longer-term. Selling sponsorship as a digital package is the principal way to go for immediate reward for sponsor and club.

How do clubs monetise live streaming?
Luke Brooksby shared his thoughts on the evolution of FrogBox at Illingworth St Marys, an early adopter whose clips go viral from time to time.
How is the club ensuring FrogBox pay for itself? They've managed it through a combination of sponsorship and a fantasy league.
---

"We acquired a digital partner that would feature on all social media posts, e.g. team sheets and milestones, as well as heavily on any highlights and video clips taken from FrogBox. They also have a sponsor board at the ground. This was a two-year deal, which would cover around half of the cost of the streaming pass over those two years."

---


Luke told me the rest comes from the club running a Fantasy Club Cricket competition (a Cricket Yorkshire partner no less). It's a smart way to compete against mates and fundraise. In future, FrogBox sponsorship could be a selling point for a principal club sponsor or paid for in other ways.
Just to return to YouTube briefly, Illingworth St Mary's are just shy of that 1,000 subscriber threshold that will start enabling them to earn. (They are not a club with a huge membership but have just worked really hard to be consistent and publish content regularly).

When they do hit that, they could earn up to £1 per 1,000 views which could comfortably pay for FrogBox on its own. (The video above of the dad and son dismissal could be worth around £900 on its own.) There are however caveats galore with YouTube earnings so clubs should just focus on sharing eye-catching content.
📸 @Frogboxlive is coming to The Lane this season!

We are delighted to confirm we have secured 3 new sponsors who have kindly helped to make this happen 👏

All senior home matches will be streamed live on our YouTube channel in 2023 and beyond!#SayCheeeeeeese #UTL🟢🟡 pic.twitter.com/ss7H3t7xuE

— Green Lane Cricket Club (@GreenLaneCC) April 17, 2023
Meanwhile, Green Lane Cricket Club in the Aire-Wharfe Cricket League are newcomers to FrogBox for 2023. Tom Goodings is 3rd XI captain and a committee member at the club: "We chose FrogBox after seeing other clubs in our league using it and saw the potential it could bring to us."

Tom approached local businesses directly with a package that combined social media advertising, along with advertising on their FrogBox match-day broadcasts. His proposal (which I've seen) was clear on how many games there were across teams, how long games typically were and the extra exposure from clips on social media channels.
Hawkhill Tavern – a local pub, OneTwoThree Dental – a dentist firm and Tom Melrose Tiling – a former player who has chosen to help the club – were the three FrogBox sponsors for 2023 and will share equal billing.
In future years, having bought the FrogBox camera, the live streaming cost will only be the streaming pass which makes it easier to sell and prices can potentially come down too – or maintained (as the value to sponsors hasn't dropped) and the extra goes towards coaching, teamwear, energy costs or good causes.

Want to find out more
If you want to learn more about FrogBox, see a demo and have your questions answered then call Chris Watling on 07467 863051 or email him at [email protected].
Get £100 Off your FrogBox Streaming kit by Sportradar – use 'CricketYorksFB23'
(*Offer extended to the first 15 orders and runs until the end of May 2023)
For the latest on social media, follow @FrogBoxLive on Twitter or FrogBox on Facebook.

You can also check out FrogBox on TikTok & they're @frogboxlive on Instagram.
Cricket Yorkshire is partnering with FrogBox for 2023 and will be sharing advice on the technology including interviews with clubs.
This is a sponsored article for FrogBox – if the mood takes you, click to read Cricket Yorkshire's policy on sponsored content*
Latest posts by John Fuller
(see all)