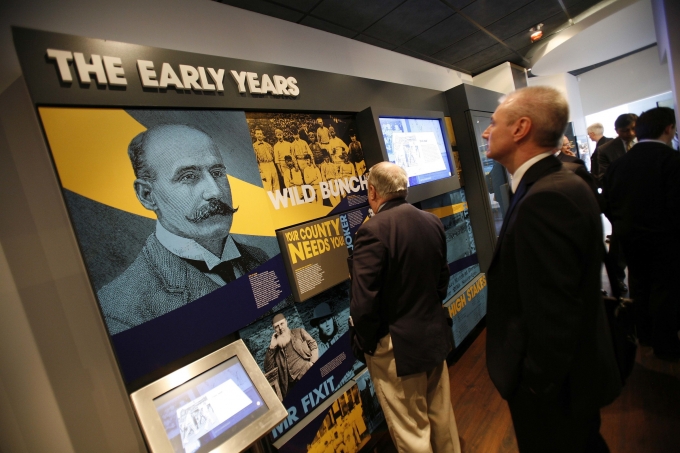 Until now, I'd never set foot inside the Yorkshire Cricket Museum but as the electric shutters juddered up, a world of memorabilia led me through Yorkshire County Cricket Club's esteemed history.
@YCCC_YCF to celebrate Yorkshire day the great man is bedecked in the colours he created #HappyYorkshireDay pic.twitter.com/XxjTvqklm0

— Melway42 (@Melway42) August 1, 2016
It was Yorkshire Day and also the first day of the Specsavers County Championship match with Warwickshire at HQ.
I was at Headingley to learn more about the work of the Yorkshire Cricket Foundation (YCF), specifically their projects to improve the mental health of over fifties.
In that regard, the Yorkshire Cricket Museum felt like the ideal base, given the charity often uses the theme of Yorkshire cricket and its heritage to unlock some of its work across health and wellbeing.
Talking to Project Officer Beth Cook, the YCF has offered around 140 free tickets this summer to Elderly Action Groups from Leeds and surrounding areas, inviting them to see a match for free, walk round the museum and take part in sporting reminiscence sessions.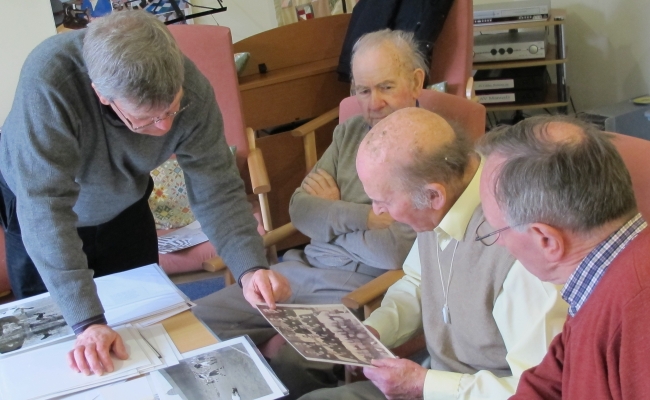 Research shows 42,000 people in Leeds aged over 60 years live alone. Aspects such as social isolation, ill health and poverty make life very tough indeed.
The Yorkshire Cricket Foundation is partnering with the social enterprise Sporting Memories Network and staff at the cricket charity are now trained and facilitate sessions at Headingley.
By using the power of sporting stories to unlock recollections, it is possible to help combat the effects of loneliness, depression and dementia.
Talking about sport can be a catalyst but it's really just an introduction whereby the elderly feel comfortable talking about their lives, meeting new people and feeling connected.
Beth believes the passion for all things Yorkshire has real resonance and ultimately can be a power for good:
"People love the White Rose and everything it stands for. There's so much history with Yorkshire cricket.

Whether someone's been interested in cricket or not, they'll have had a brother, a dad or an uncle or somebody who has been to the stadium."
The Foundation has recently launched Memory Lane Mondays (at Headingley stadium every second Monday of the month starting at 1.30pm) with a new theme each time to help engage and entertain attendees.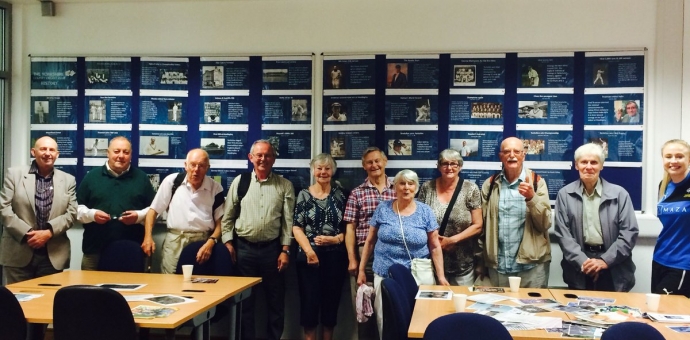 Whether it's use of food, music or pieces of memorabilia, the aim is to nudge memories, provoke interest and get the group talking on their own terms.
Yorkshire Social Club – The Foundation's use of Yorkshire County Cricket Club's match days to encourage those who are identified as socially isolated, or at risk of becoming so, to sample live sport in a safe environment – has already proved a success and looks set to continue in 2017.
In association with Leeds Peer Support Services, Adult Social Care, Catch Up Club is another YCF initiative bearing fruit whereby men over fifty suffering with dementia and their partners can connect with cricket.
Through the medium of activities involving quizzes, photos and visual prompts, progress and support is there to see and there's larks along the way, as Beth points out:
"The other week we had someone get dressed up in old cricket kit in front of a set of stumps which made his day!"
Meanwhile, another success story is Lads Lunch; aimed at men over fifties in Leeds who could be struggling with mental health conditions and/or socially isolated.
Established with the help of Bramley Elderly Action OWLS, a group of lads meet at Stumps Café on St Michael's Lane every other Friday for a pot of tea and to get stuck into fish and chips.
Afterwards, there's a sporting reminiscence session and over the summer, the core attendees have been given access to parts of the stadium the public don't usually get to see.
Many of the issues facing these men and women could happen to any of us at some point of the future.
My own very immature way of dealing with the terrifying prospect of maybe one day fighting a faltering memory is to push that from my mind.
There's the sad irony to that given dementia strips away what we all take for granted around language, communication and the ability to think clearly.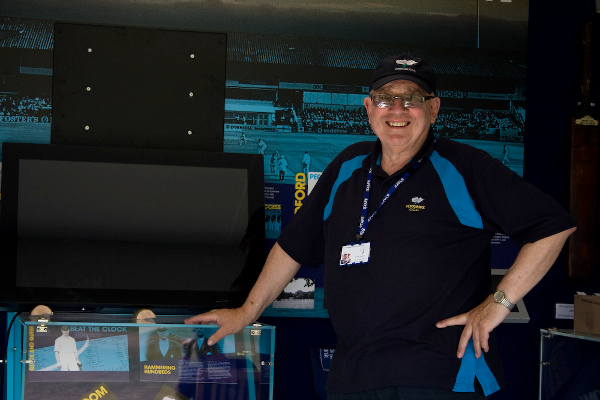 With the Museum open and Yorkshire CCC members steadily arriving to get their scorecards, I sat with Mel Reuben, a Tour Guide for Yorkshire Cricket Foundation, who helps facilitate the Lads Lunch sessions.
He recalls the session at Sheffield Collegiate Cricket Club where Joe Root was announced as the charity's ambassador.
Sat in the pavilion with others including Joe and his grandparents, Mel asked each for their first sporting memory.
Joe's grandmother's input is equally intriguing. As a girl, her father announced they were going to travel down from Newcastle to watch a Test match at Headingley.
It was Fred Trueman's first ever Test match, he took three wickets and India were 0-4…what a first Test match to witness!
Mel, himself in his seventies, is full of stories and while he admits he sometimes can't remember what he had for breakfast, his longer-term memory comfortably beats my own.
He believes in the work the Foundation does, can see the results first-hand and vividly recalls a tale about a sporting memory session north of the border where an attendee admitted he used to play for Celtic and Scotland.
Naturally, that was met with some incredulity but the ex-footballer's reply, when asked why he hadn't mentioned it before, was really striking: 'Nobody's ever really bothered talking to me. I just sit there.'
We conclude the morning with Mel's thoughts on dementia which unfortunately he's seen first-hand with the health of mates wilting and withering: "It's the cruellest affliction…I've seen it happen to friends of mine…it's heartbreaking."
I left that museum struck with a sudden rush of vulnerability but also heartened to know there are those striving to make a difference.
It was only at the door that I realised I'd forgetten my rucksack and had to go back for it. I felt momentarily foolish, particularly given the context of our conversations, but it was the smallest window into the difficulties these YCF programmes assist with.
What is your own memory like? I rely entirely on diaries and online reminders for meetings, birthdays and anything that suddenly appears at the recesses like a wisp of smoke you can't clutch for long.
The idea of dementia terrifies me and the inclusive work the YCF are doing to tackle this and other health concerns in Yorkshire are worthy of a wide audience.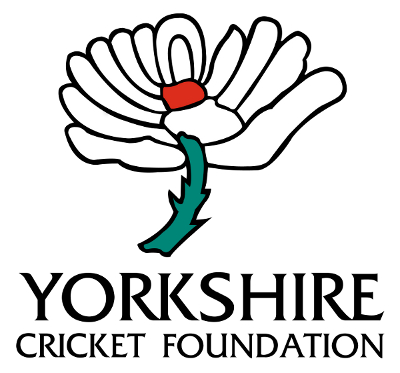 If you do anything today, please share this article via social media (see the top buttons or just copy this shortlink: http://wp.me/p4vNsV-2aM), this is a charity doing impressive, important work and with your help, it can reach, and therefore help, many more people.
For further details of any of the projects mentioned in this sponsored article, by all means contact Beth on email: [email protected] or via telephone on 0113 203 3662.
The Yorkshire Cricket Foundation commit to a real range of projects throughout the year across their key areas of Participation, Inclusion, History & Heritage, Education and Health & Wellbeing. To find out more, visit: http://yorkshirecricketfoundation.com.
*This is a sponsored article for Yorkshire Cricket Foundation – if the mood takes you, click to read Cricket Yorkshire's policy on sponsored content**
Latest posts by John Fuller
(see all)