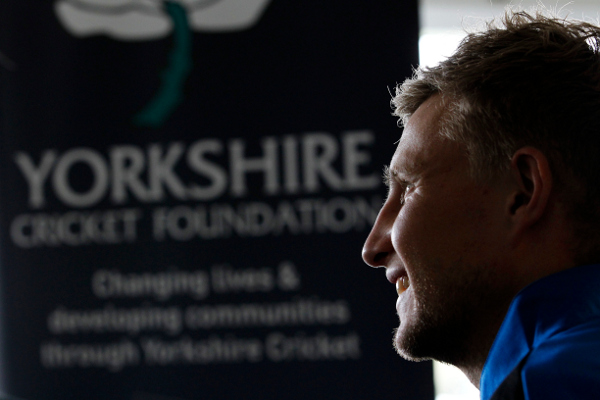 The train from Sheffield to Dore and Totley bounced along the track as we huffed and puffed along the Hope Valley line.
It's only a short walk from the railway station to Abbeydale Sports Club, with the path leading uphill past the shock pink and blue hockey astroturf and a building on the left that houses the table tennis club.
This sporting complex is home to Sheffield Collegiate Cricket Club where the Root family has played for years.
I dug out a scorecard from 2009 where Joe, representing Yorkshire Academy on this occasion, scored 51 and bagged 5-40, including the wickets of both his brother Billy and father Matt.
Today is all about Joe Root becoming the first ambassador for cricket charity The Yorkshire Cricket Foundation.
It is some signing to have the endorsement of one of the world's best cricketers and an excellent reason to hop on a succession of trains and come to South Yorkshire.
Before Joe arrives, there's chance to be brought up to speed by the Yorkshire Cricket Foundation (YCF) about the format for the morning.
The day will be a useful snapshot of a selection of activities that the Foundation are engaged in from Cricket in the Classroom to a sporting reminiscence session in the pavilion and health checks from One Medicare in Sheffield.
Meanwhile, the staff at Abbeydale Sports Club ferry out coffees and I am suddenly surrounded by plates of biscuits.
I offer to be a guinea pig and go in for a health check by nurses from the Sheffield NHS Walk In Centre for whom this is the first of numerous collaborations planned with the Yorkshire Cricket Foundation.
Encouraging men to be more open about their health and get themselves checked out is a continuing theme and the plan is to visit cricket clubs and do the health MOTs there in an environment where blokes feel more at home than a GP surgery.
My blood pressure is fine, drawing a laugh from the nurse for the way I quiz her about what the two numbers on a blood pressure reading mean. Well, once a journalist…
The top number (always higher) refers to the pressure in the arteries when the heart contracts and the bottom number is the pressure between heartbeats. So, now you know…
Having given up a previously out of hand sweet tooth fuelled by countless cricket teas last summer, cholesterol and blood glucose was all ok.
You know, I don't think I've ever had this checked before. The readings would have been off the chart last year when powering through cake but it was a welcome reassurance. If you get a chance to do one of these health checks, they take only a minute.
Local schoolchildren arrive – the excited chatter reaches us before they do – and they disappear upstairs to be split into groups for classroom-based learning and a separate cricket session outdoors.
Beth, the Yorkshire Cricket Foundation's Project Officer, revealed that booking slots by schools have almost all been snapped up for this academic year that ends with summer term.
Little wonder given it's a full day of learning and a Headingley stadium tour by Mel Reuben, who has many a story as to the diversity of backgrounds with school groups.
While some kids will be conversant with cricket, others have never visited Leeds and these day trips will be the first time they ever pick up a cricket bat.
That they can do so at a historic, international sports venue is a wonderful opportunity for them – though at the time, it may be judged solely through the prism of not being in school!
The rest of the media filter in with Harry Gration here to do a TV stint for BBC Look North. Despite the fact that Yorkshire County Cricket Club are playing down at Warwickshire in the County Championship, there is still healthy interest in what the Foundation is up to, aided by Joe Root's celebrity status.
On the way here, I pondered how Joe could best benefit the charity as an ambassador – a question I would put to him later that morning – and the answer ultimately lies in his universal appeal.
Root recently joined Ben Stokes for a knockabout in London's Carnaby Street at an event organised by his bat sponsor New Balance.
In video clips since shared all over the internet, he bowled the Durham allrounder, cue a Jack Brooks-style charge off into the distance, arm raised) .
When not playing an integral part in England's impressive showing in the UAE and World T20, the top-order-batsman from Sheffield has opened a cricket store and brought out his autobiography.
He has a global fanbase and whopping 344,000 followers on Twitter so whether through social media or personal appearances, should be able to help market all the worthwhile projects that the YCF does to a new audience and encourage as many as possible to get involved or financially support the charity.
To watch the whirlwind surrounding Root off the field is to be impressed by his patience, taking everything in his stride, being pulled from pillar to post as everyone naturally wants a piece of his time.
I recall an altogether quieter and more timid young man at my first press day as Cricket Yorkshire, the year Joe made his first-class debut which is only 2010.
Dressed in Yorkshire CCC's blue tracksuit top and jeans, he's thoughtful and assured during our interview as we sink into a sofa while the coffee machine behind the bar splutters into life and laughing conversations float through the room.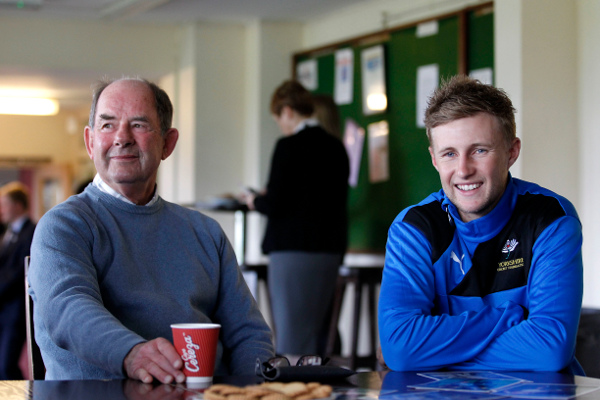 Afterwards, Joe sits down and takes part in a group discussion (including his grandparents who have come along as well as members of the bridge club), which is a short version of the Yorkshire Cricket Foundation's 'Older People's Project.'
The project began earlier this year with the intention of making a difference to those in Yorkshire who are suffering from dementia, living with depression and/or are prone to isolation.
Through fuelling conversations and encouraging recollections, using the context of cricket, it can stimulate both memory and confidence.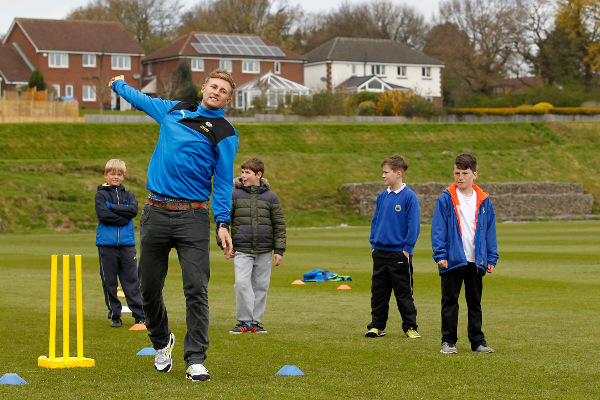 Next, it's a dash outside onto Sheffield Collegiate Cricket Club's outfield for Joe Root to take part in the cricket of Kwik cricket with the kids. He has a bit of a bowl, all smiles, and lofts a straight drive into the hands of an eagle-eyed boy who takes a nonchalant catch.
Ironically, Joe's status in cricket could largely be lost on these school children and it may take a few years before that lad recalls catching the future England Test captain out at school.
The rain returns and drives everyone indoors and when I last saw him, Root was grabbing a marker pen to sign some autographs, having extended his stay beyond what had been promised.
LISTEN TO JOE ROOT'S INTERVIEW:
FIND OUT MORE…
To learn all about Yorkshire Cricket Foundation, visit http://yorkshirecricketfoundation.com/ or follow them on Twitter as @ YCCC_YCF.
Latest posts by John Fuller
(see all)