Yorkshire Cricket College is an incredible opportunity for 16-18 year-olds to study and train at Emerald Headingley stadium.

In this content collaboration with Yorkshire Cricket Foundation, we'll share some of the student stories and why the college is unique.
Imagine having college lessons in the Carnegie Pavilion and looking out at the spot where Ben Stokes hit 135 not out to level the Ashes.
I studied A-Level English in a classroom masquerading as a cupboard. We agonised over every line of Paradise Lost by John Milton.
The irony was I was studying a poem for an English exam by scrutinising a text from the 17th Century. It felt completely irrelevant and put me off the subject.
By comparison, what's exciting about Yorkshire Cricket College is the total immersion in an elite sports environment.
You get to learn in a famous cricket stadium while rubbing shoulders with the players, coaches and staff who run this iconic international venue.
Another special session for the Yorkshire Cricket College today as we had @YorkshireCCC player @harry_brook88 joining us 📚🏏 #YCCollege #OneRose

➡️ https://t.co/OrKadEJbH3 pic.twitter.com/WFivyrPK3X

— Pro Coach Cricket 🏏 (@ProCoachCricket) November 5, 2020
Train with the professionals
Part of the buzz of choosing Yorkshire Cricket College is access to professional sports stars and first-class facilities.
Alongside course units covering leadership, nutrition and psychology will be guest coaching with Yorkshire County Cricket Club.
In the past, there's been Masterclasses with Tom Kohler-Cadmore and sessions with Andrew Gale, Rich Pyrah and Harry Brook.
Lauren and Courtney Winfield-Hill have also added their experience from England, the Big Bash and Northern Diamonds for students to get their teeth into.
With the launch of the Northern Diamonds, the women's game now has more career opportunities as players and in team management than ever before.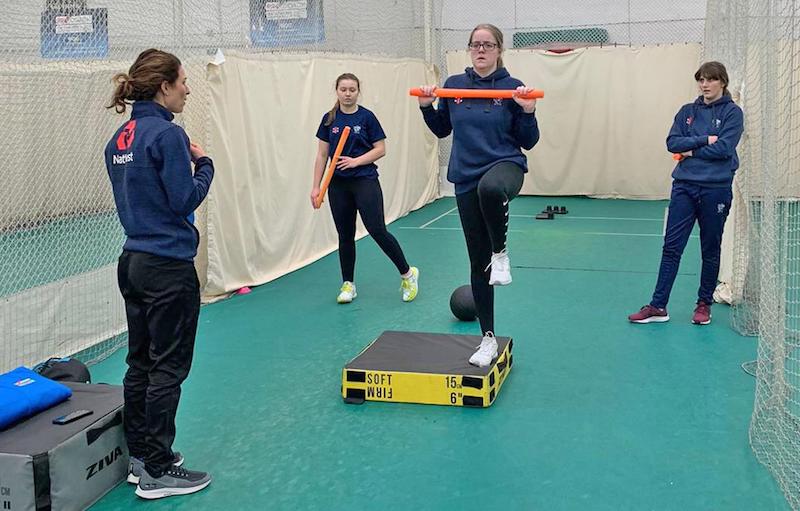 Student achievements in cricket
Graduates have been teenagers with a range of abilities in cricket. You don't have to be the next Joe Root or Katherine Brunt.
The focus is very much on a rewarding time at college, getting a meaningful qualification, rather than just the quality of your cover drive.
SCL Education & Training is the college's partner and the UK's leading independent provider of education through sport. The tutor is the same throughout the year and gets to know and support each student.
That said, three Yorkshire Cricket College students made their senior county debuts in 2020. Jess Woolston, Grace Hall and Phoebe Turner all represented Yorkshire Women's first-team during the season.
This season, Sam Wisniewski became the first student from the college to represent Yorkshire at men's first-team level when he played two matches in the T20 Blast.
Representing Yorkshire Cricket College
Yorkshire Cricket College students get to play matches against other colleges and opposition including the Marylebone Cricket Club (MCC)
They can even represent Yorkshire Cricket overseas with an optional tour to South Africa for second-years. The class of 2019 headed to Cape Town for warm-weather training and fixtures against local teams.
While observing Yorkshire men's side who were there at the same time, one student, Harry, donned the gloves to keep wicket for the White Rose in a two-day game.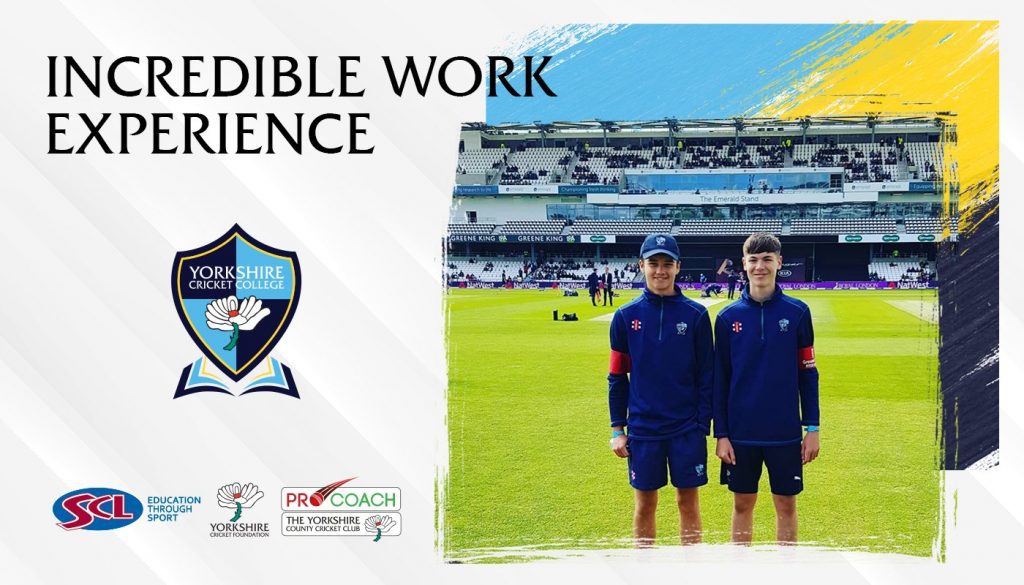 Epic work experience
Opportunities to blend study with work experience at Yorkshire Cricket College come thick and fast.
After all, Yorkshire County Cricket Club is a diverse business with many strands. From gaining coaching badges to helping out in the club shop or on match day, students can get an understanding of different job roles.
Whether it's marketing, hospitality, customer service or catering, there are routes alongside playing and studying.
At 16, I spent a week at a local newspaper collating clippings from 50 years ago. Literally the cutting edge of journalism – but not how I envisaged.
There's really no point to work experience if it's not relevant and engaging.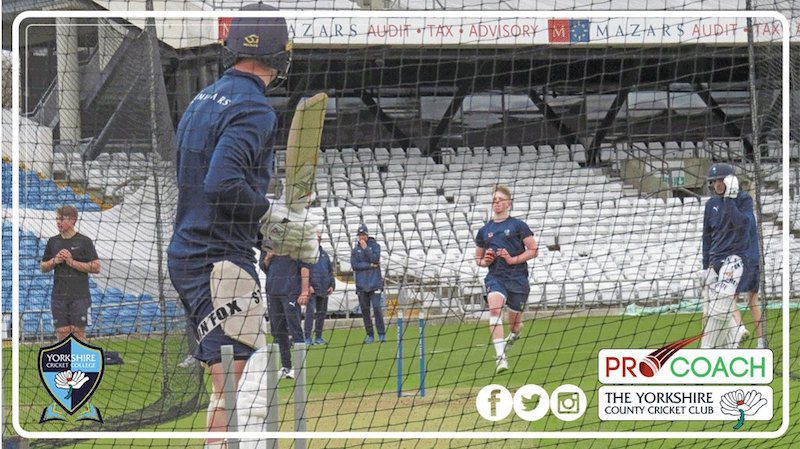 Yorkshire Cricket College students got to net with the ICC World Cup squads and one bowler had the Chris Gayle treatment, as a delivery was swatted out of the ground!
When the Ashes came to Headingley, college students bowled at the England and Australia squads. Hopefully they had more luck getting Steve Smith out than England did.

There has also been the chance to aid the groundstaff on major match days in the World Cup, Ashes and England vs Pakistan ODI.
On the county circuit, those from the college have supported the strength & conditioning team with fitness testing and first-team warmups.
What happens after students graduate?
Yorkshire Cricket College were proud of all their students who achieved a 100% pass mark in the last academic year.
With 54% of the grades either at distinction or distinction* level, the nationally-recognised qualification is the platform for university, an apprenticeship or move into the job market.
Students are helped with career choices and next steps so they don't just graduate with a certificate – but no idea what to do next.
Recent examples include sports coaching at University of Hull, playing cricket in New Zealand and winter coaching in Cape Town.
Regular access to such a breadth of cricket-related activities means students start to build their own network for life after college.
What do parents and students think?
A sports-focused college is not the mainstream educational route but it can provide the grades and a wealth of exposure to what it's like to work in sport.
You can watch the brief video for some comments from students while here's a parent's observation below.
"The fact he received DDD (triple distinction) was super as it shows he managed to turn his life around in 2 years. From leaving school with just enough to get into Yorkshire Cricket College to now be going to Lincoln University is fantastic."
How can you find out more?
Yorkshire Cricket College welcomes enquiries about the 2021/22 academic year.
Click to register for the Open Day on 24 November at 7pm where you can have any questions answered.
Here is the prospectus if you'd like to have a read in your own time.

Alternatively, you can email Nick Robinson at the Yorkshire Cricket Foundation or call him on 0113 203 3632.
Follow Yorkshire Cricket Foundation on Twitter or YCF on Facebook for the latest developments from Yorkshire Cricket College.
*Thanks for reading! This is a sponsored article for Yorkshire Cricket Foundation – if the mood takes you, click to read Cricket Yorkshire's policy on sponsored content**
Latest posts by John Fuller
(see all)