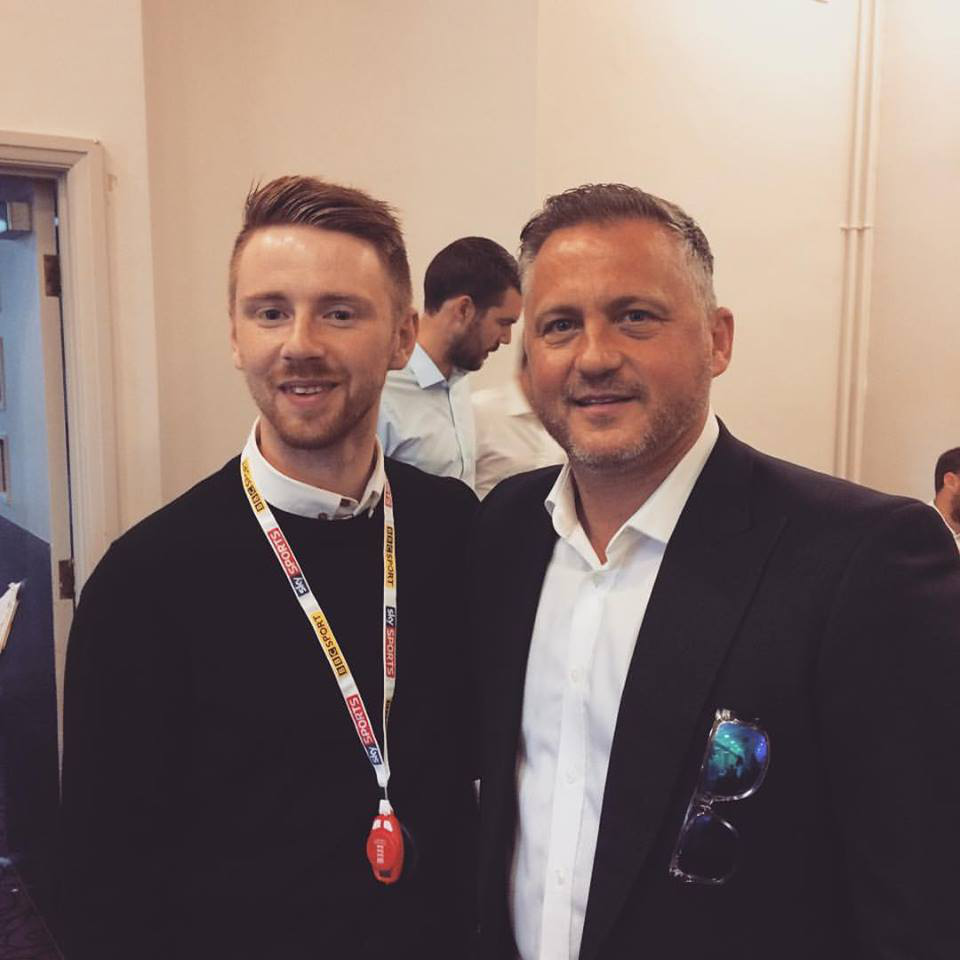 Head Brewer and Brewery Manager Ryan Truswell sounds right at home as we discuss two of his passions in life – Yorkshire ale and cricket – in an interview that nonetheless has a deadly serious twist.
The Old Mill Brewery, in the East Yorkshire town of Snaith, have created a charity beer called '12th Man' in partnership with Opening Up Cricket and Campaign Against Living Miserably (CALM) with 5p for every pint sold going to CALM.
It will be available from April just as the UK's 2018 cricket season gets underway outdoors.
Statistically, if you are male and under 45, the most likely way you could die in the UK is by suicide.
It really doesn't get starker than that and early on in our conversation, Ryan reveals that he lost a friend to suicide when he was 18 and it has been a cause close to his heart ever since.
When all's said and done, the goal with any charity beer is to make a difference. As he puts it: "If you can help someone…it's the idea of 'pay it forward' and you try to do what you can."
Brewing a Yorkshire ale to sell in epic volumes and turn the fundraising wheels is like any well-meaning initiative: it needs momentum…but it's off to a positive start.
Dutch brewing giant Heineken have selected it as one of their monthly specials to feature in their magazine so with any luck, it will appeal to landlords to buy in bulk and help a vital cause to boot.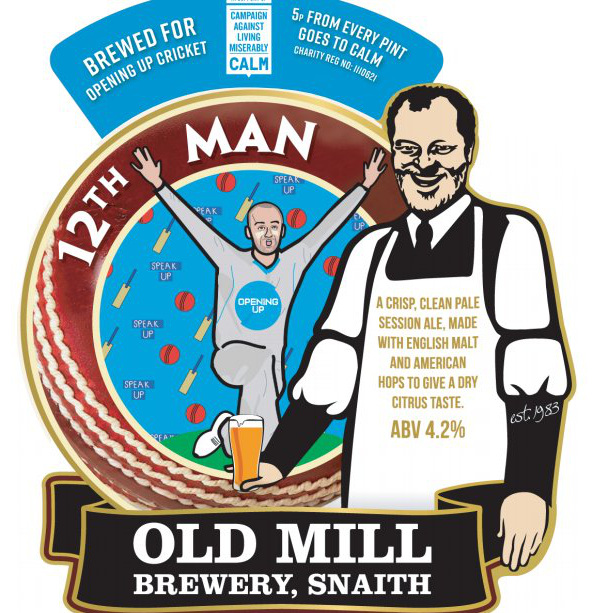 Who's the cricketer on the front of the beer tap?
It is none other than Australia spinner Nathan Lyon who might have bowled well in the Ashes but did himself no credit whatsoever with talk of ending careers. When did Test cricket descend to the theatre and farce of a heavyweight boxing weigh-in?
The graphic of Lyon down on knees appealing has been incorporated by Old Mill Brewery from Opening Up Cricket, the not-for-profit, community interest company based in Liverpool who promote the themes of mental wellbeing and suicide prevention.
The name is a tip and a wink to both the actual term of a 12th Man who acts as substitute but also drinks chaperon. It also refers to the the harrowing fact that 12 blokes under the age of 45 commit suicide every single day.
We turn to a lighter note by dipping into the world of Yorkshire club cricket.
Describing himself as a 'cricket badger' (Brewery Manager Ryan, not international cricketer Nathan), Truswell is a wicketkeeper for Osbaldwick Cricket Club in the York & District Senior Cricket League and is also partial to a day at the Scarborough Cricket Festival to support Yorkshire CCC.
At 24, he's one of the oldest in the York-based cricket team with the lion's share of Osbaldwick's squad having grown up together across the junior age groups and now getting their chance at senior level to develop and push up the divisions.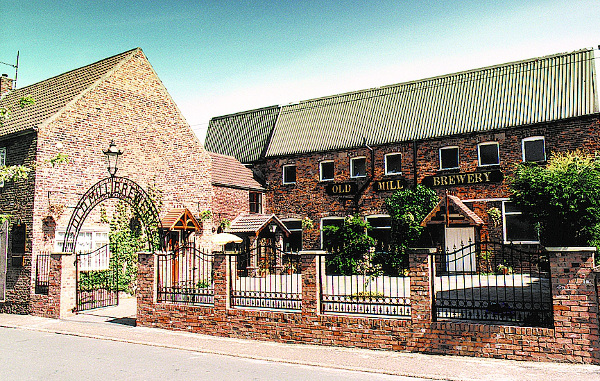 What's the process of creating a new beer?
The 12th Man is a crisp, clean and pale session ale made with English malt and American hops to lend it a dry, citrus taste.
Ryan admits that the decision-making process was steered by his own taste buds: "It's basically what I like! With it being a summer beer, you want it to be something everyone's going to drink. So, you know it's a light, pale beer and you can work back from that."
I know my Russian Caravan and Earl Grey more than brewing jargon and IPA but imagine you don't want to go too left-field. A beer with the scent of a badger and the consistency of North Sea oil has a limited audience, however appreciative.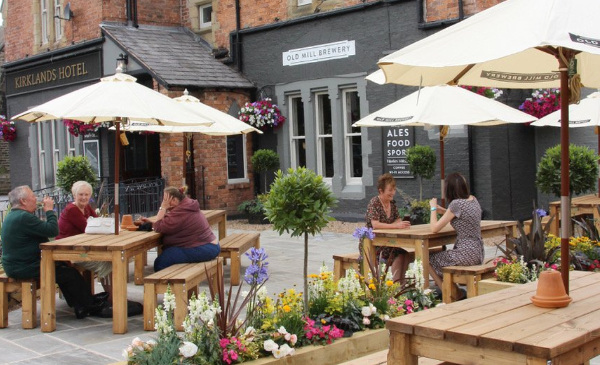 A tour of pubs and cricket grounds?
Attention turns to learning about the Old Mill Brewery's 17 pubs where you can sup Yorkshire ale to your heart's content; all but three are scattered across Yorkshire from Barnsley to Bridlington.
That would be a messy pub crawl to incorporate a visit to each hostelry preceded by the nearest cricket club.
So, before a pint of 12th Man at the Kirklands Hotel in Outwood as an example, the world is your oyster with East Ardsley, Wrenthorpe, Altofts and Wakefield Thornes just a snapshot of the league cricket within easy reach.
As it happens, I've been to an Old Mill Brewery establishment before without realising it.
After crossing the breadth of York on foot to a Foss Evening League game between The Retreat and Tang Hall Tigers, I staggered inside The Victoria Hotel on Heslington Road.
From memory, it wasn't beer I turned to that day but a gallon of lemonade on a sapping summer's evening. It was all I could do not to tip the glass over my head to cool off but I do recall their striking wooden-clad bar that lent a feel of an unlikely Alpine ski lodge.
The earlier reference to a pub crawl was precipitated by remembering an 18-pub effort I used to do many moons ago around South West London that started because of cricket.
I once captained a pub team, the Crown CC, and one of our bowlers famously took 18 balls to complete an over and it had to be duly recognised somehow.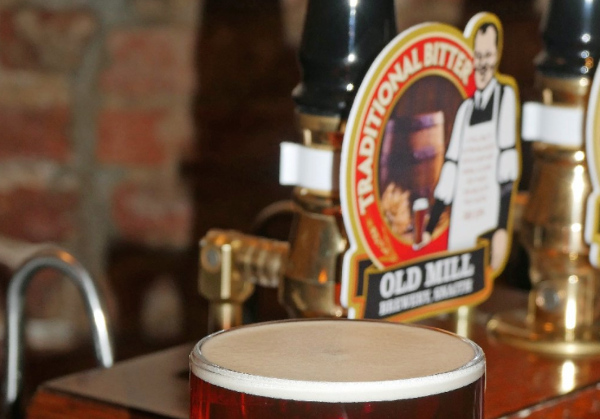 Old Mill Brewery Beers
We shouldn't ignore all the other thirst-quenching offerings that Ryan and his team have assembled to tempt beer drinkers from their Snaith HQ.
There are six permanent, all-year-round choices such as Old Mill Brewery's Yorkshire Porter with roasted chocolate tones or the malty ale that is Old Curiosity.
Our chat about beery beverages then turns back to the core message and reason for the charity brew initiative: to raise money, boost awareness and encourage dialogue and discussion around suicide and mental health.
For Ryan, there is real potential here: "The thing about the partnership with Opening Up Cricket is that in a changing room environment, it would be brilliant if more people did start talking about mental health rather than just what they did on Friday night before playing."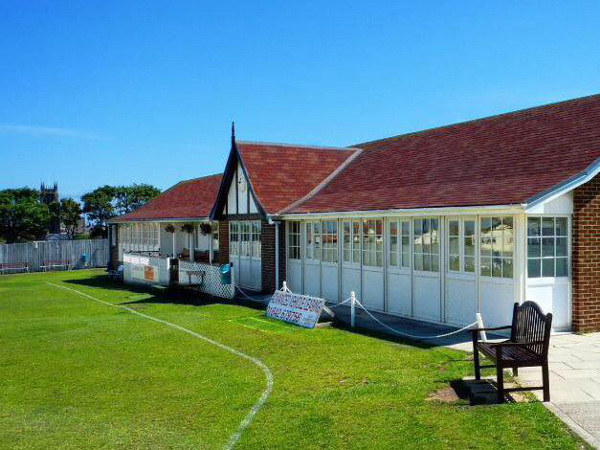 OK, so how can I help?
Seek out a 12th Man pint at one of the

Old Mill Brewery's sites

Get your cricket club to stock the charity beer (

Email Ryan or ring the Brewery: 01405 861813)

Share this article using the Twitter/Facebook buttons below and help it go viral
So, consider stocking the 12th Man beer in your clubhouse this year to change up what you serve from the pump and do some good for a life-threatening issue that affects far more men than you will ever realise.
A 36-pint pin will get the party started or if you want to take it to another level then 72-pint or 144-pint options are available too. I have a hunch that once one or two cricket clubs start having it on tap at their HQ, others will follow.
Old Mill Brewery also have a monthly special on rotation to wet the whistle and lead you from the depths of February currently (Springs Eternal) to another nod to cricket with Willow's Wood in May and beyond.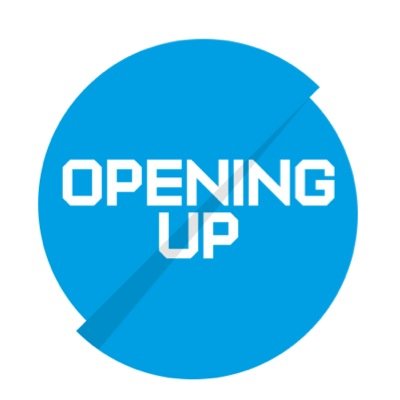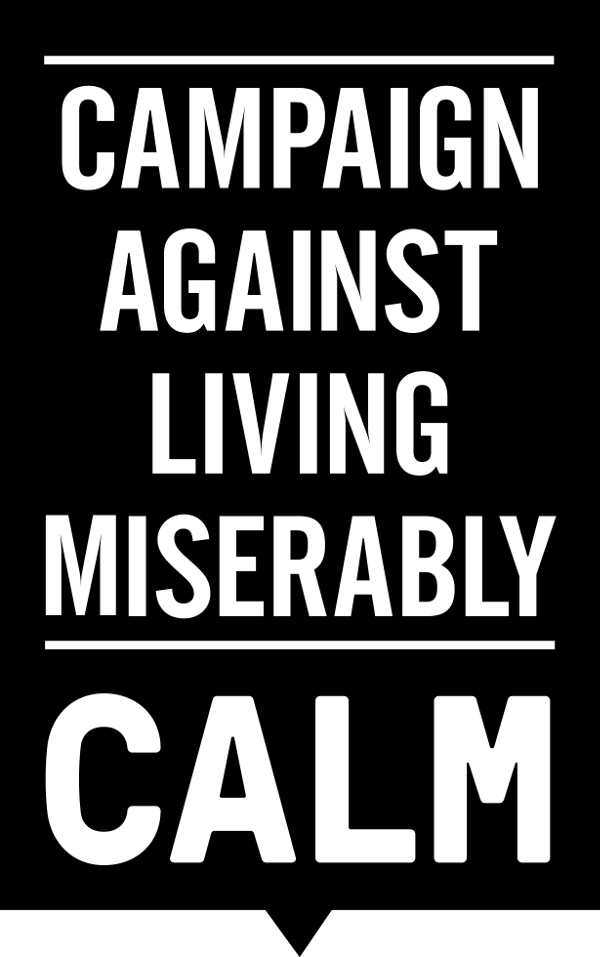 Now…share these resources!
Visit Opening Up Cricket to learn more about their mind and body sessions for cricket clubs and other services. Plus, read my article about them with their founder Mark and the tale of Charlie Roebuck who gave a courageous interview for Cricket Yorkshire.
CALM (Campaign Against Living Miserably) has a wealth of resources to tap into. Their #BestManProject is a great way of celebrating best mates and encouraging us all to be there for our friends more.
If you ever need someone to speak to, or are worried about someone else, please contact CALM on 0800 58 58 58.
They have a web chat service available every night from 5pm to midnight on www.thecalmzone.net.
Thanks for reading and by sharing this article, we can get the important resources around mental health and suicide prevention rocketing across the web!
Latest posts by John Fuller
(see all)