Back in August, twenty or so groundskeepers from cricket clubs across the region met at Kirstall Educational Cricket Club.
(What is the collective term for those who maintain cricket grounds? A 'loam' or a 'topsoil' perhaps? Answers in the comments below!)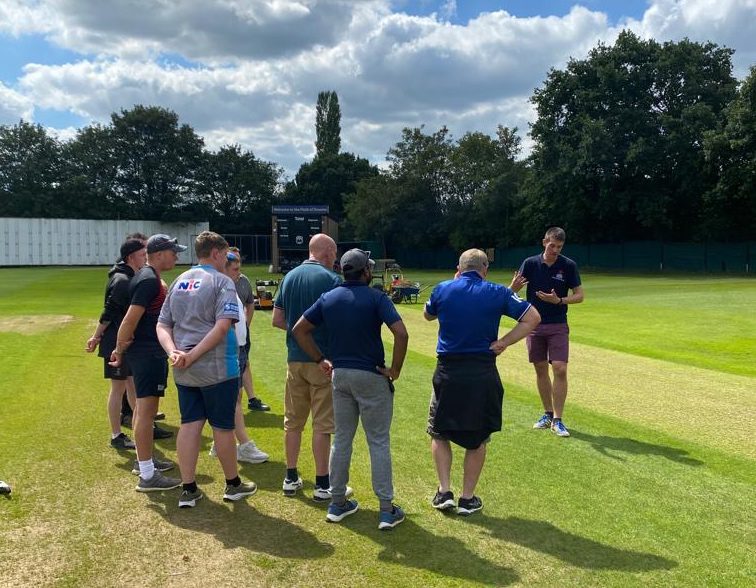 So, as for this latest deep-dive into scarifying and seeding, those from Settle, Shelley and St Chad's Broomfield (to name a few clubs) assembled for an Autumn Renovations Course, with David Hodgson covering the elements of pitch preparation and maintenance.
Andy Welsby, the GMA's Regional Pitch Advisor, Cricket (North & Midlands) was also on hand to answer any questions and offer his expertise.
The Autumn renovations course covered:
• Mowing, scarification, and brushing
• Pitch repair and renovation
• Fertiliser and Top-dressing application,
• Winter maintenance
• Turf problems; weeds, pests, and diseases
There was also the unique opportunity of having Richard Robinson and his Yorkshire CCC team visit from Headingley.
Rich was able to give the group insight into his new role as Head of Grounds at Yorkshire County Cricket Club. He discussed his first International Test and Ashes experience and shared the common issues faced with recreational cricket and grounds management.

The event, organised by the Yorkshire Cricket Board with support from the Grounds Management Association (GMA), was the fourth of the year. The first three were Spring Preparation courses that were held in March/April at Kirkstall Education Cricket Club in Leeds, Bradford Park Avenue and Bawtry Road, Sheffield.
There are 2 x @Yorkshirecb Grounds Support Workshops with @Hodgyleeds covering basics of pitch preparation and maintenance.
Thurs 30 March – Sheffield United CC:
🌱 https://t.co/UlQYacRRaG
Thurs 6 April – @KECC1853
🌱 https://t.co/Niy35M9Huw
📹: @CcCongs pic.twitter.com/8FUyOmImB2

— Cricket Yorkshire (@cricketyorks) March 28, 2023
Spring Preparation
• ECB Guidance on pitch care
• Practical preseason preparations
• Setting out squares
• Identifying pitches
• Preparing pitches
• Maintenance of pitches and foot holes.
• Setting machinery and maintenance of machinery
The Leeds and Sheffield courses were led by David Hodgson (Hodgy) with his incredible wealth of experience.
They were fully supported by Andrew Welsby (GMA) and at Sheffield, the South County Pitch Advisor Mark Pearson attended. The Bradford course was led by Nasa Hussain, who is also a County Pitch Advisor, and also Andrew Welsby from the GMA.
Find out about YCB Grounds Support
Visit the Grounds Section of the YCB Website for contacts, courses, support and advice.
This is a sponsored article on behalf of Yorkshire Cricket Board – if the mood takes you, click to read Cricket Yorkshire's policy on sponsored content.
Latest posts by John Fuller
(see all)