What does the Nightwatchman conjure up for you? Is it the past phenomenon of England's least capable batsmen shuffling out to face hostile fast bowling in the gathering gloom?

Well, for seven years and over 1.5m words, Wisden has been publishing a quite brilliant quarterly collection of essays, called The Nightwatchman, on every corner of the game.
Instead of Phil Tufnell dragging himself to the crease like a sacrificial pawn, think of this curated literary gem as a window into the minds of cricket writers from across the world.
Given free rein and an untapped word count, authors, poets, journalists, players, musicians, broadcasters and historians serve up originality, wit and incisive commentary.

Wisden has long since dominated cricket publishing from its Wisden Cricket Monthly (WCM) magazine to the hallowed pages and iconic yellow dust jacket of the Wisden Cricketers' Almanack.

As someone not afraid to wax lyrical on the merits of a cricket tea or limitless views from a craggy cricket square, The Nightwatchman ticks all of the boxes.

Reading it feels like a luxury; a pause button where all that matters is a comfy armchair, a mug of Malawi English Breakfast and a choice of topics from Test match to village green.

I used to shirk e-readers, preferring the heft and feel of paper stock to another electronic screen but the Amazon Kindle has won me over.
I will now happily flick through a digital version of The Nightwatchman rather than wait for the postman to leave the A5 cardboard present poking precariously out of our mailbox.
This collaboration with Wisden is partly to introduce you all to their Special Editions with three that caught my eye on club cricket, Roses cricket and a 'Best of' compilation.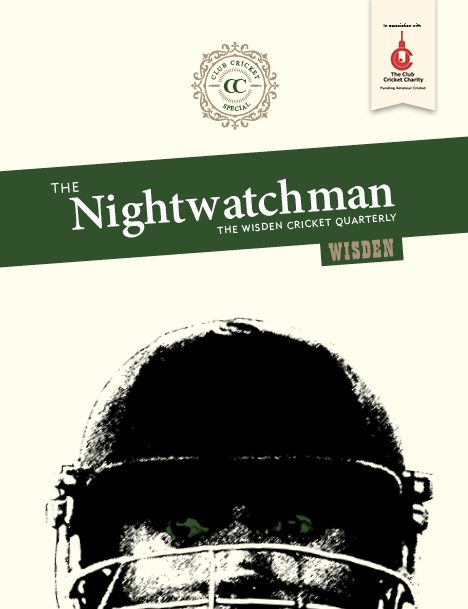 The Nightwatchman – Club Cricket Special Offer (Digital-Only)

Save 10% and get the Club Cricket Special Edition (digital only) for just £4.50 with coupon code CYCLUB.
Apart from the astute articles that had me nodding away, 50% of all proceeds from this Club Cricket Special Edition go to The Club Cricket Charity whose work includes facilitating portable defibrillators for cricket clubs.
If you have any interest in club cricket then I'd recommend you buy this digital club cricket edition for yourself or as a present for a cricket-mad relative.

With the CY offer, it costs a mere £4.50 and is available for Kindle, Android, iPad and iPhone devices. This will certainly appeal to players, umpires, scorers and spectators alike.

Roger Morgan-Grenville's observations of the last match of the season chimed from mid-September cricket as 'a game of meteorological roulette' to his kit with 'its cargo of dreams.'
For wicketkeepers out there, William Fiennes reflects on his own days barricading byes. Spiky gloves to the evolution of the role of the keeper into vocal cheerleader: 'calling everyone "buddy" and filling the pauses – "Good areas, Frankie!" – like a radio DJ scared of dead air.'
Fiennes touches on the proximity between keeper and the batsman he's trying to oust. Hearing them talk to themselves and go through their micro rituals:
'You're so close to the batsman's talents and shortcomings, it's hard not to feel solidarity as well as opposition.'
Ben Falk dives into the compulsive behaviour that surrounds batsmen; those bat twirls, flinches and touches of each pad before every delivery.

Liam Cromar analyses the curious unwritten law of buying a jug of beer for team-mates when you get 5 wickets or hit a 50. As he so sagely puts it: 'Celebrate serving your teammates on the field by serving them off the field.'

What The Nightwatchman achieves is to unveil all manner of subjects you never knew you'd be interested in, as well as contributors to keep an eye out for.

David Hopps on the depths of his cricket bag; Paul Edwards' look at Liverpudlian fortunes and Harry Pearson's views on the state of club cricket in the North East also feature.
The Nightwatchman – Roses Cricket Special
Save 20% off the The Roses Cricket Special (print or digital) by using CYROSE.
Anyone else as acutely disappointed that this year's Roses cricket match at Scarborough was cancelled can at least find some solace in The Nightwatchman's Roses Cricket Special.

Over the years, around a quarter of England's players have come from either Yorkshire or Lancashire and the battles between the two counties are legendary.

This issue looks at the players and performances; why it matters so much and includes a raft of perspectives from Katherine Brunt's route to the top to David Byas crossing the trans-Pennine Rubicon.

Writers for whom I have enormous admiration and a smidge of envy at the artistry of their language assemble like a Roses cricket writing version of The Avengers.

David Warner remembers a cacophonous reception at North Marine Road for Lancashire captain Jack Bond on his last appearance in the Broadacres.
Scott Oliver heads to Todmorden; so perched on the fault line between Red and White Rose that 'Tod' includes both in its emblem.
Ian McMillan is also on hand to marvel at the word wizardry and verbal boundary ropes between Yorkshire and Lancashire.
The Best of the First Five Years
If you're new to The Nightwatchman, an excellent introduction might be this bumper edition.
A few personal favourites: Tanya Aldred heads on a very personal Fred Trueman adventure, Emma John recalls a time when England only ever lost and Liam Herringshaw digs up the dirt on fast bowlers.
How to Buy The Nightwatchman – Cricket Yorkshire Offers

You can mix and match however you like with gifts, subscriptions, bundles or one-off purchases (in print or digital).
Save 20% on the Best of the First Five Years special edition (print and digital options) with coupon code CYBEST.
The digital-only edition of the Club Cricket Special costs £4.50 with the CYCLUB discount code.

Save 20% off the The Roses Cricket Special (print or digital) by using CYROSE.
Visit The Nightwatchman to read more and follow on Twitter as @NightwatchmanXI or The Nightwatchman on Facebook.
*Thanks for reading! This is a sponsored article for The Nightwatchman – if the mood takes you, click to read Cricket Yorkshire's policy on sponsored content**
Latest posts by John Fuller
(see all)