We'd done a Saturday walk to Saltaire – no cricket at my old place of Shipley Providence – they're down to one team and the square was cordoned off.
A shame to see that empty on a summer's day – an opportunity for the host club to earn by renting the ground and a chance for a local team to play at a former Yorkshire 2nd XI ground?
Got home hot and bothered and sagged in front of the telly. After catching up on Marcus Smith's match-winning try for England against Australia, I spotted a Halifax Cricket League live feed.
Why not? It was a game I'd considered going to anyway. I didn't expect to watch for long but somehow got sucked in for an hour.
First impressions and any opportunities?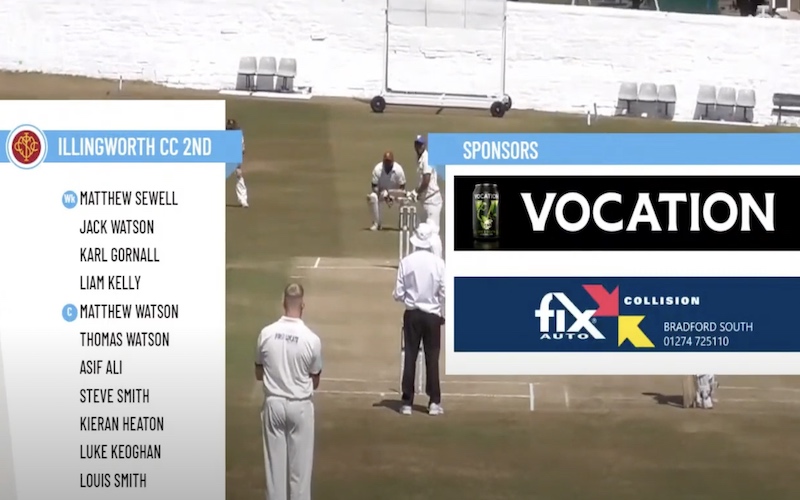 How great is live streaming club cricket? Mrs Cricket was impressed that the red-faced bowler steaming in was live action, not highlights, though you can do both of course with FrogBox.
YouTube is the biggest sports channel by a mile and it is a bit mad that I can watch a Halifax Cricket League game from home.
Without meaning to, an article idea formed – to watch and dissect the cricket from a viewer's perspective.
The FrogBox live feed and production quality were excellent. I know you'd expect me to say that. They're an official partner of Cricket Yorkshire after all.
But, I tend to watch a 30-second snapshot on Frogbox, often via Twitter, rather than a live feed over a longer period of time.
I've also caught plenty of live county cricket this season, via YouTube, and the quality of the feed and on-screen graphics often aren't as good. Which is nuts but there you go.
What counties also sometimes also do is to have a second camera that jerkily tracks the moving ball in the field.
It's a professional occupation for a reason and panning at speed only makes the viewer seasick.
I watched this Illingworth St Mary's home game without sound – partly because we had a sleeping cat in the living room and he's the boss.
Partly because the mic picks up background sound and the wind interference was coming through. FrogBox provide a small muffler with the kit to reduce wind noise which is worth using or seeking out alternatives.
They look like a lazy badger or a hairpiece but cut out background noise. Here are the best-ranked on Amazon to choose from.
Something else that struck me was watching club cricket from an elevated position, front-on, was a very different experience to normal.
With a fixed FrogBox camera, you get a better sense of line and lengths. Of course, we're used to this with watching England play on Sky Sport but it was a feature on FrogBox for cricket clubs too.
---

Oxenhope's Adam Horrocks was slamming down yorkers at will for the home side. Robbie Carling was similarly frugal with a tight stump line and full length, keeping the home batters honest.

---
As minutes ticked by, it began to draw me in.
Another thought. The standard of Halifax Cricket League 2nd XI cricket was better than I expected. Hard graft, very few gimmies on a baking hot afternoon.
The flies caught my eye on-screen. They looked massive and plentiful. Not quite IPL whoppers but noticeable.
Sponsors logos flashed up at the end of an over and it got me thinking about how live streaming differs from traditional advertising.
First off, it's fantastic, consistent exposure for sponsors who want to support club cricket. Potentially many thousands of viewers watch a live match and/or catch highlights on YouTube later.
That's value that is only going to grow over time for sponsors. Plus, the club is not relying on someone to be at the ground to see a brand.
It's not a binary choice. There is a place for ad boards but perhaps part of a wider mix of promotion your cricket club can sell.
Down the line, maybe design of banners is a chance for timely discounts by getting viewers to take an action too.
Illingworth St Mary's are one of the best examples I've seen on how to get the most from FrogBox. I've interviewed Luke Brooksby before and there's an innovation to much of how the club thinks.
Their popular YouTube channel shows what's possible with FrogBox if you embrace live streaming. The use of highlights and short clips makes the most of FrogBox's powerful editing potential.
Illingworth also use YouTube well by creating playlists and scheduling the next upcoming live stream.
---

This commercialism around live cricket streaming will evolve as more grassroots clubs use and learn with FrogBox but overall, it was impressive.

---
Like I say, I happily watched for an hour (one of around 350 apparently) and savoured taking in cricket and dissecting the game in a different way.
A scoot on Play-Cricket later told me that Oxenhope 2nd XI (189) beat Illingworth St Mary's 2nd XI (155) at Alloe Field by 34 runs in the First Division.
Another considerable plus with FrogBox – apart from live streaming on YouTube and simple highlights compilation is the Play-Cricket integration.
That overlays the scores professionally over the live footage – but also means video clips can be watched on Play-Cricket (in the Videos tab) for key moments like boundaries and wickets.
It's superb to see club cricket embrace live streaming and offer an extra perk for members and supporters. It can only grow from here…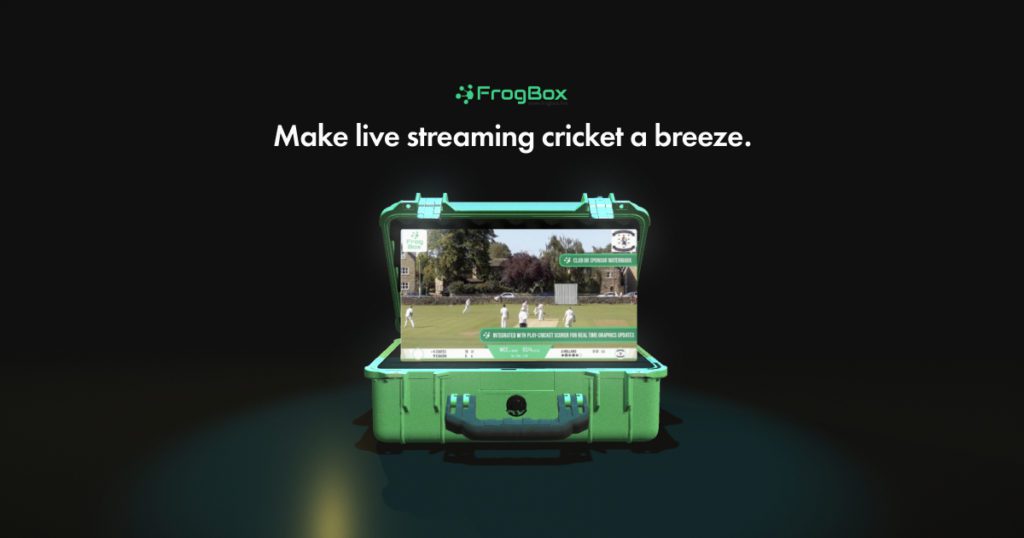 Want to find out more about FrogBox for your cricket club?
If you want to learn more about FrogBox, see a demo and have your questions answered then call Chris Watling on 07467 863051 or email him at [email protected].
If you can mention Cricket Yorkshire, it'll show that this round-up helped along the way.
Here's a short FrogBox summary for your cricket club committee to print/email, discuss and think about.
For the latest on social media, follow @FrogBoxLive on Twitter or FrogBox on Facebook.
You can also check out FrogBox on TikTok & they're @frogboxlive on Instagram.
Cricket Yorkshire is partnering with FrogBox for 2022 and will be sharing advice on the technology including interviews with clubs. Articles so far include:
This is a sponsored article for FrogBox – if the mood takes you, click to read Cricket Yorkshire's policy on sponsored content*
Latest posts by John Fuller
(see all)