The last time we visited Grassington, we'd stumbled upon their 1940s weekend. I thought something was a bit odd when an armoured car parked up; soldiers jumping down to queue for a 99 with a flake.

Our return was all about cricket at Upper Wharfedale Cricket Club, whose 1st XI are moving up the divisions, having switched to the Nidderdale League from the Aire-Wharfe a few years back.
The league change was partly fuelled by the departure of a number of key players (due to relocation and university) which meant they couldn't field a second team; a prerequisite to compete in the Aire-Wharfe.
Things have picked up since with a rebuild led by 1st team captain Joe Daggett for the last five seasons. 2nd team captain Sam Stockdale has led a mixture of youth and experience that sees the Rams back up to strength, allied with junior teams too.
In terms of player recruitment, 2021 saw Elliot Stockton join from Embsay and he became a key player, winning the Division 3 bowling averages.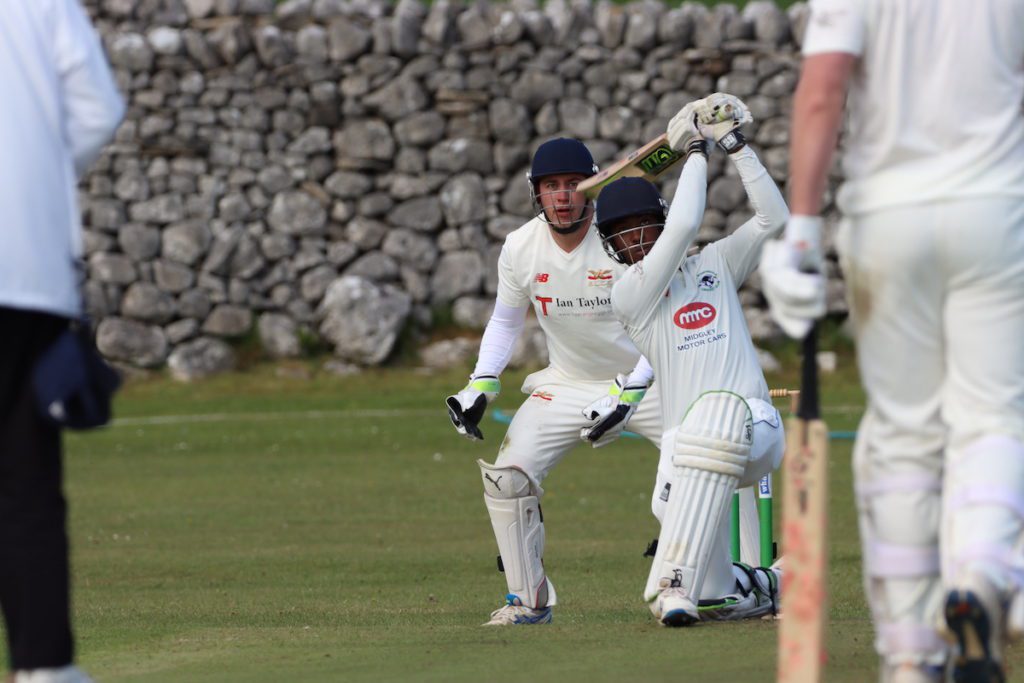 This year, Upper Wharfedale's overseas is Damar Graham (above) from the West Indies, talk about a change of scene. He looked very useful with bat and ball as the afternoon progressed.

Mrs Cricket Yorkshire and I are fond of Grassington and like to walk out of the top of this pretty town with a village feel and into Grass Woods; with LBW appeals wafting over from UWCC in the summer.

I'd promised myself I'd go then Covid hit and the best-laid plans went out of the window. It was finally time to put that right.
---

But, first a pitstop for lunch and where better than Corner House Cafe on Garrs Lane. We sat outside and supped loose leaf tea that comes with its own egg timer. A serious business is getting your brew just right.

---

As you might expect for this part of the world, a bacon sandwich proved an inspired choice. There's supermarket bacon and then there's Dales bacon, that's all I'm saying.
A wedding was happening nearby soon and the bride deftly walked past my chair over the cobbles in her high heels.
If you've never been, Grassington is a must; prime walking territory in the Yorkshire Dales National Park and independent shops including Dales Toffee Shop who do very good sherbet lemons.

Well, you weren't here just for the cricket, were you?

A cobbled square and attractive stone cottages up winding, narrow lanes offer that Dales snapshot many seek out and it has a real charm to it.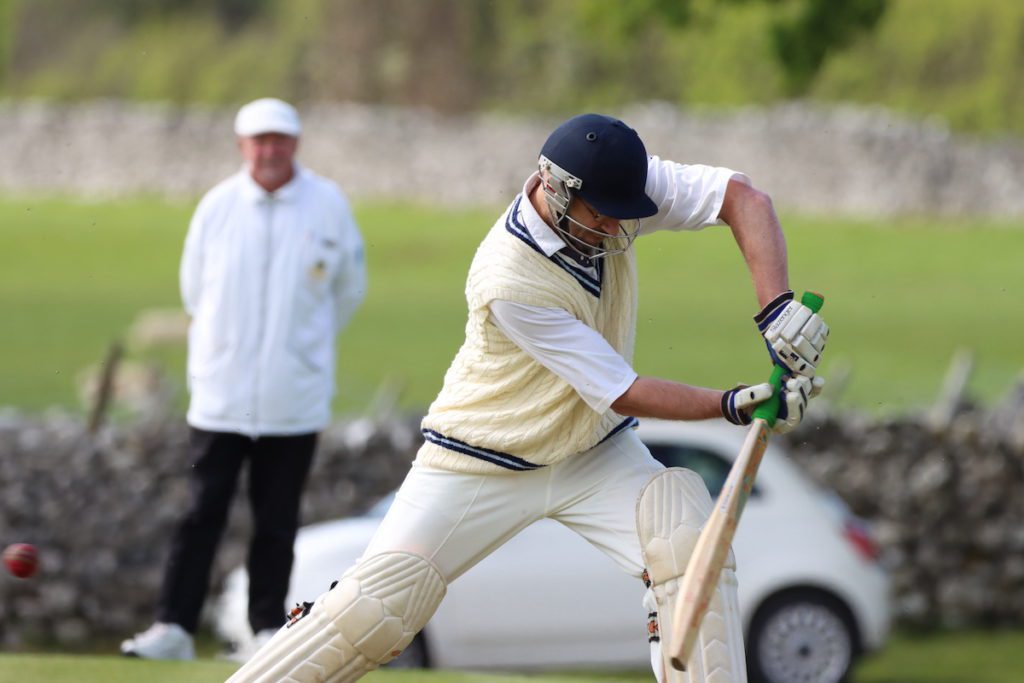 A short drive from the centre of Grassington along Wood Lane is Upper Wharfedale Cricket Club.
Their first eleven match against Burton Leonard, in Division Two of the Nidderdale Cricket League, is heading towards the innings break.
Elliot Stockton (5-25) is the pick of the home side's bowling unit but Tom Baines (2-3) and James Stephenson (2-3) are equally miserly (in a good way).
---

We park up and I start my circuits of the ground with camera and tripod at the ready. Part of the joy of covering club cricket are the conversations you strike up with strangers.

---
A gentleman is sat watching the dying embers of Burton's Leonard's innings at a picnic table. He tells me this is his first visit to the cricket club too.
'I didn't know it was here. I only live in the next village along, Theshfield!'
Being a rugby man, Wharfedale Rugby Club has become his spiritual home but he'd seen the cricket advertised on the Wharfedale RFC website and come along.
Further round, I sit by the boundary rope to fire off a few frames of the bowler at the 'stone wall' end. It is a striking scene.
The patchwork of fields are punctuated by dry stone walls; a scattering of black and white splodged cows munch at its upper reaches. It's an admirable skill to construct these free-standing sculptures that criss-cross the Yorkshire Dales.
---

There is even a Yorkshire Dry Stone Walling Guild, based in Thirsk, that offer courses across the region for those who want a try.

---


I am awakened from this reverie by the realisation that comes to me at many cricket grounds (see my Haworth report): I am surrounded by a maelstrom of flies. A buzzing cloud sits above my head watching the action unfold.

Despite the precarious state of the scoreboard, the Burton Leonard batsmen are not currently stonewalling. Catches loop into gaps as the aerial route is taken.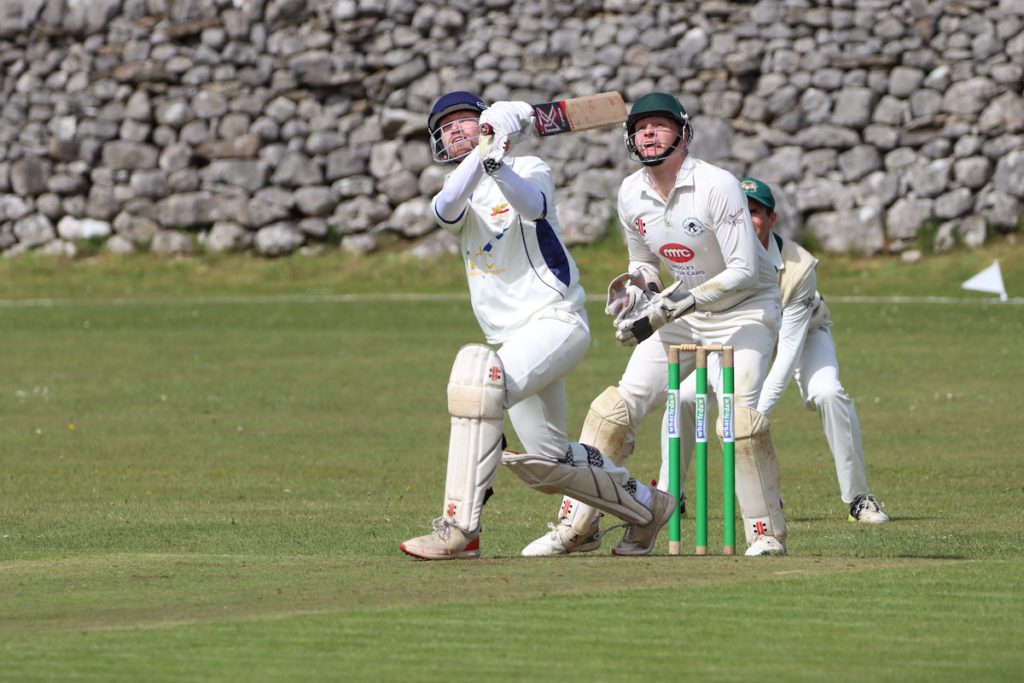 Both sides look the part in their kit. The visitors have a navy blue side panel in their shirts, their club crest is a golden eagle with its wings spread, sat on a red ribbon.

Upper Wharfedale sport the iconic Swaledale ram's head as their badge with Midgeley Motor Cars as their main sponsor and Yockenthwaite farm on the sleeve. Award-winning granolas, muesli and porridge in case you were wondering.

To complete the sponsor inventory, Wharfedale Brewery adorn the green stumps.

Burton Leonard's team amble around the boundary edge playing bowls with cricket balls; I wonder who started that but you see it everywhere.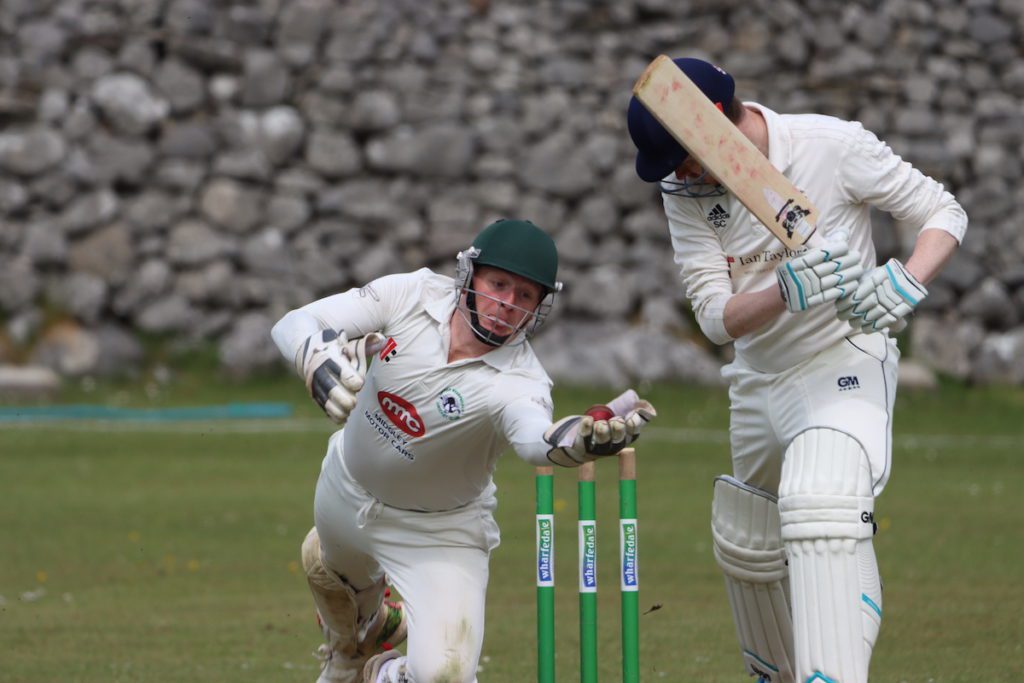 Jake Starkey (above) has a notable hat-trick of catches with the gloves including an edge that rebounds up and he takes diving forwards at the batsman's toes, gratefully clutched to his chest.

Burton Leonard 1st XI are bundled out for 89 off 37.3 overs; one of a series of low scores that will dog them during May in the Nidderdale League.
---

At the break, we wander round to get mugs of tea and sit outside the two-storey clubhouse. The burgers smell amazing but loaded up from lunch, we opt out this time, making a mental note to return for the BBQ another day.

---
Upper Wharfedale rely, as all clubs do, on those who volunteer behind the scenes. They count themselves lucky to have many match day helpers who keep the bar, BBQ and food running smoothly.
The umpires, David Barnes and Barry Nickels, are in the car park, munching on sandwiches and chatting. Though it's been years, we recognise each other and catch up.

The last time I saw Barry must have been a Nidderdale League rep game at Glasshouses and I've interviewed David on his umpiring before for the website.
I learn that Burton Leonard's overseas player, Jake Gascoyne, was involved in a car accident (thankfully not serious) on the way to the match. He could be forgiven for having other things on his mind, being bowled for 10, though he averages 50 for Burton Leonard since.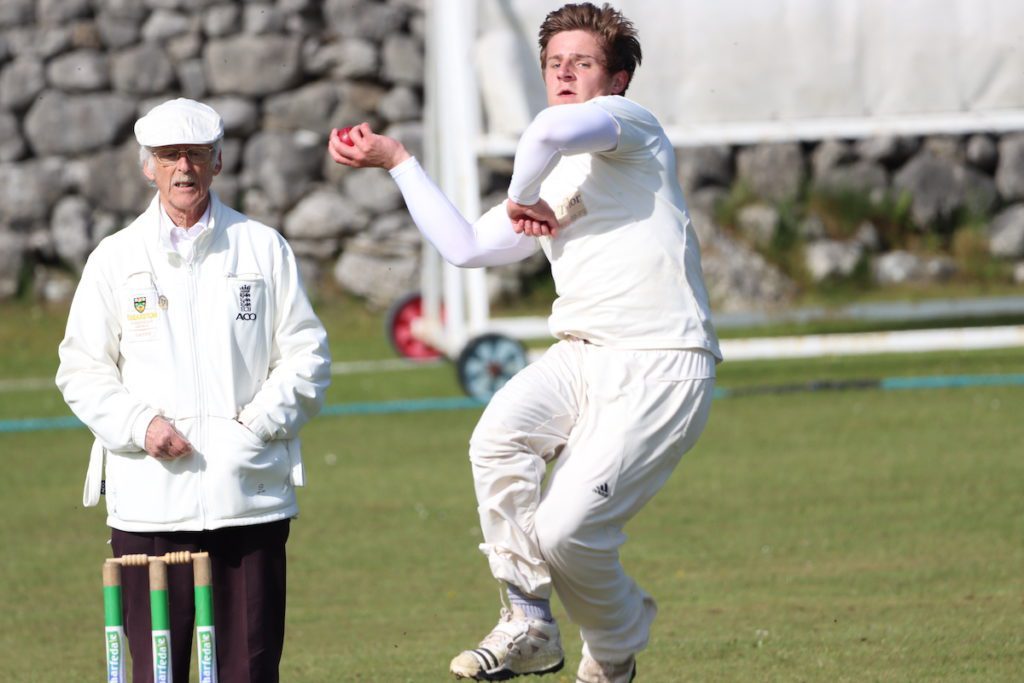 The reply sees the home side in a spot of bother as Sam and Max Crompton bag two wickets apiece. At 36-4, this could go one of two ways. A nail-biter or someone drops anchor and rides out the storm.

In the event, Callum Lockett (21 not out) and Damar Graham (22 not out) ease Upper Wharfedale to victory by four wickets. I take up positions around the boundary rope to catch some blazing sixes fired into the fields at the rugby posts end.
---

A rugby pitch leads the eye along and up to the view of the distant hills behind the village of Skirethorns. A ray of sunshine pierces a fluffy cloud and lights up a small section like a laser beam from a spaceship.

---


Here at Upper Wharfedale, the final rites are coming and a spectator catches my eye for the way he blends into the surroundings. Raymond, grandfather of current UWCC opening batsman Fred Fox, peacefully sits on a stone stile that juts from the wall like flinty teeth.

With grey trousers and white fleece, he is almost absorbed by the light grey and white flecked limestone, shielding his eyes against the afternoon sun.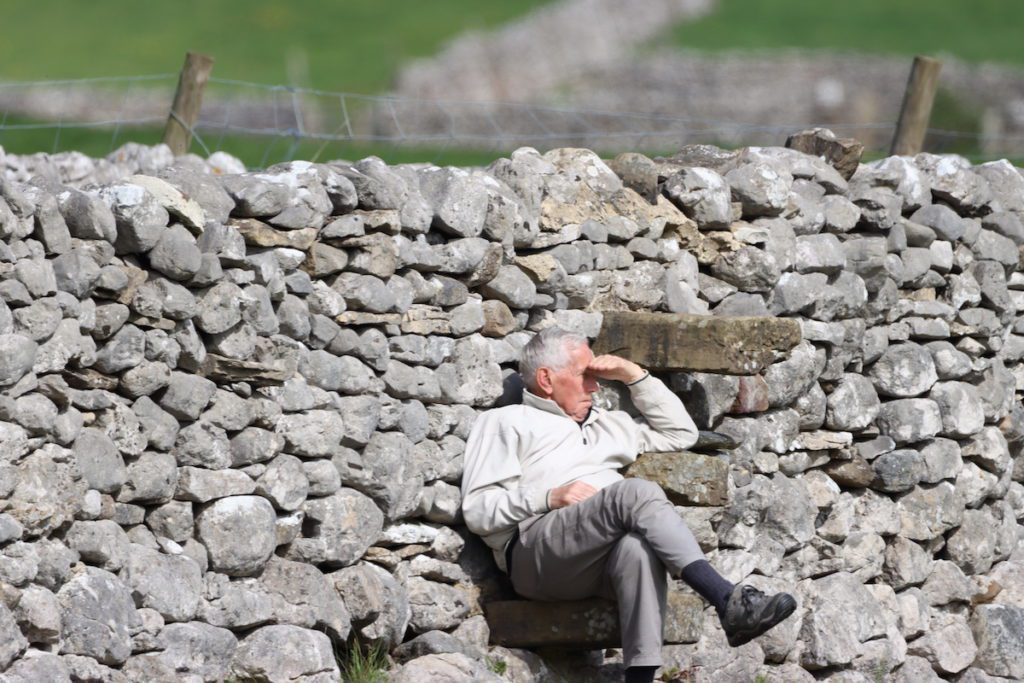 It is Burton Leonard who might want to look away as the momentum slips in a crazy flurry of wides. Max Crompton (2-44) concedes 25 wides; the majority in a helter-skelter two-over period that goes on and on.

I've seen a bowler get the yips before and it is not pretty. I've had spells myself where it feels like you suddenly forget how to bowl. Staring down at this bar of soap with a central seam.
---

It's the strangest thing. A series of biomechanical movements you've done for years feel alien; as if a hard drive somewhere has been erased.

---
You get a sense around the Wood Lane ground that there is a measure of sympathy, even from the home supporters. Hopefully it's a one-off and Max bounces back during this season.

It speeds up the result and we head to the car park having savoured cricket in the Dales. The umpires are thinking about a trip to catch the tail end of a match at Pateley Bridge.

Upper Wharfedale has been been on my radar to get to for years and like I mentioned, Covid hit. It reminded me that there are gems out there across Yorkshire waiting to be discovered – and I shouldn't put them off.

At the time of writing (late May), Burton Leonard (61pts) are in a cluttered midfield as Division Two begins to take shape. Upper Wharfedale are second (118pts), a single point behind Ouseburn with Alne (105pts) not so far off.

Loads of cricket still to come but Upper Wharfedale must be favourites to win promotion to the top tier of the Nidderdale League for 2023.
View Play-Cricket scoreboard here
Enjoyed the article?
Subscribe to the Cricket Yorkshire Newsletter for exclusives, competitions and reader offers throughout the year. You can also follow @cricketyorks on Twitter and Like the Cricket Yorkshire Facebook page for all the latest.
Latest posts by John Fuller
(see all)