A dapper gentleman shepherds us into a car parking berth in the middle of Haworth. It transpires he is an author and has set up a stall to sell copies.

It's £4 to park all day via the machine or £10 for a copy of his book and the parking included. Rows of cars have his latest literary effort on their front dashboards as an alternative parking ticket.

I should do something similar with the Scarborough Cricket Festival and Last of the Summer Wickets. I did wonder if it was legit or Edward makes a tidy living off the back of car parks across Yorkshire but it made me smile.
A quick Google later, Edward Evans is an established writer who raises many thousands of pounds for charity with his books. You can see for yourself here on Amazon.

Thanks to Edward, we had convenient, central parking in Haworth, no mean feat at a weekend when the sun is shining.

Haworth Cricket Club is on West Lane, heading out of the village, tucked behind a row of houses. They are the reigning Craven Cricket League Division One Champions (after their 1st XI beat my former club, Bingley Congs on the last day when they faced each other).
The visitors today were Sutton-in-Craven, looking to arrest a mini-slump of three consecutive defeats.

First impressions at Haworth are encouraging; their gate has an old cricket ball attached and the insistent baa-ing sheep from the field behind the clubhouse are in full voice.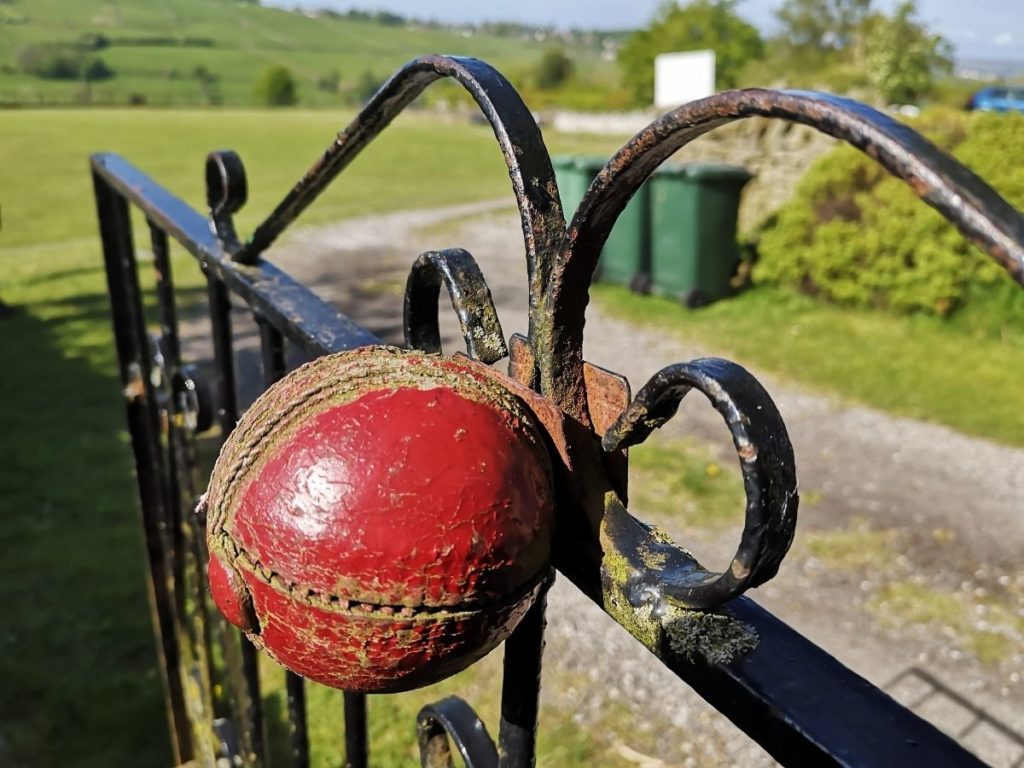 A visitor will see the blockbuster view immediately as fielders patrol the far square leg boundary; looking as if they're on the edge of the world.
It's an optical illusion of sorts. There's a steep field that drops away sharply at the back and a number of wooden gates to access it to look for lost balls in the tall grass.
A panoramic sweep from West to East starts with benches running just back from the boundary rope.
---
The slab of green opposite adorns a number of coffee table books on cricket grounds; the fields around Oakworth beyond the River Worth. On a day like today with a negligible breeze and the mercury nudging towards the late teens, it is a breathtaking vista.
---
Haworth's clubhouse is a white, single-story structure which was packed with spectators outside at tables.

Signs of improved facilities are in evidence with roll-on cricket covers and then an electronic scoreboard. It is a small but perfectly formed cricket ground.

At the far end are more benches where I sit and chew the breeze with some regulars as the dulcet tones of a singer come from the garden behind us. It is a curious combination.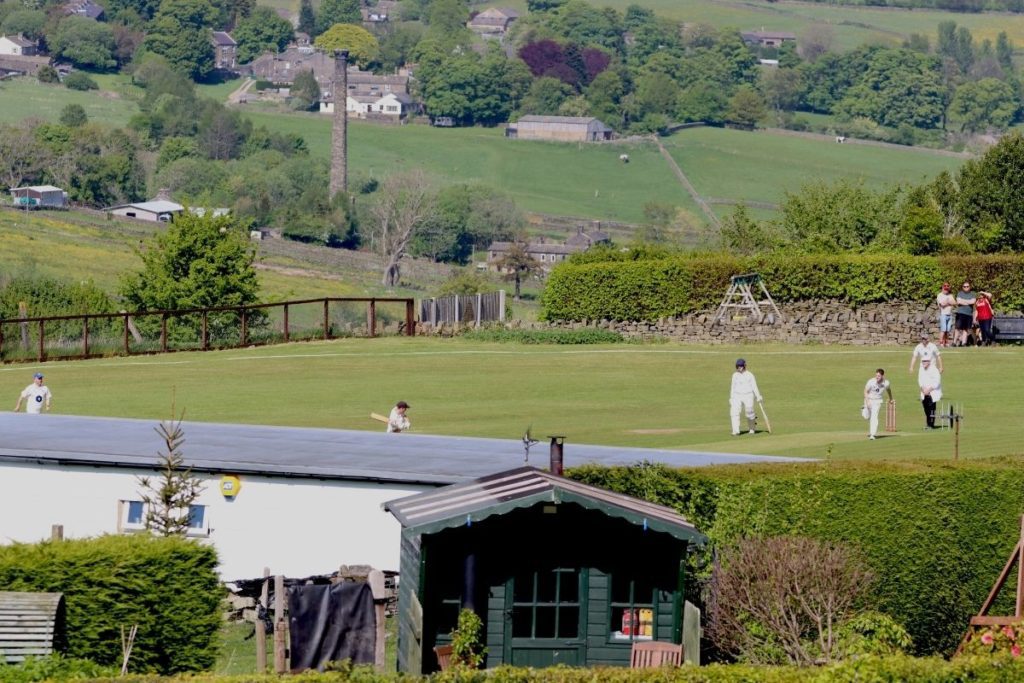 Graham has been coming to Haworth Cricket Club for over 50 years and has seen it transformed. It was once a tip and when the cricket club moved to West Lane in 1951, it needed digging out to make it fit for cricket.

The cricket club began life in 1887 as Haworth Wesleyans before it was Haworth Methodist and then finally, in 1992, lost its church connection by becoming just Haworth.

Graham tells me they sometimes struggle for players, as many clubs do, though Haworth field two senior sides and have that league title as a nod to what's possible.

When I arrive, Haworth are tucking into a tiring Sutton-in-Craven attack with the score nearing 200. Their final effort of 244-7 off 45 overs will take some beating, though I imagine some huge scores have been rattled up on this scenic postage stamp.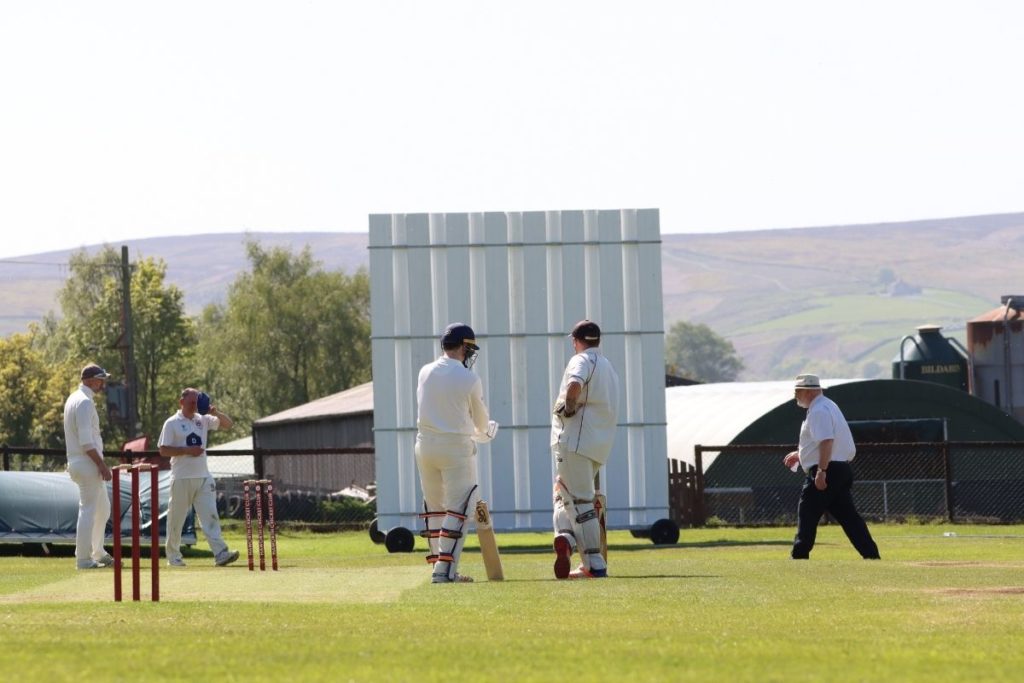 Cricket tea was £3.50 and Mrs Cricket Yorkshire and I sat out on a bench, attacking a lemon sponge each with mugs of tea, listening to birdsong, bleating lambs and the hum of conversation.

Not even a series of technical challenges could dampen the day.

At the tea break, my camera decided it was time to act up and stop working properly. The auto-focus refused to play ball; either that or it's time for a visit to Specsavers.

Ah well, I thought. I'll send a few photos out on Cricket Yorkshire's Twitter (@cricketyorks) but there was no signal. 
---
Apparently, Haworth Cricket Club is a bit of a black hole when it comes to 4G. Or any Gs for that matter. Which is strange given its position closer to the moon than ground zero.
---

No matter. Fortunately, I had already photographed every inch of the cricket while the human jukebox next door was mournfully belting out an Ed Sheeran number.

There was a memorable introduction to the locals when I first sat down and began clicking away. Within seconds, I was hit in the face.
Thud. 
Again. And again.
Then, an emerald jewel with wings crashed into the side of my head. What ON EARTH is going on?!
Believe it or not, the local wildlife – or bug life in this case – are what makes a visit all the more distinctive. Perhaps someone from Haworth can tell me what they were, a local squadron of flying beetles maybe?
Seeing a cricket ground from different perspectives is part of what I look for – so I did the obvious thing and climbed a hill. 
More of a steep incline with a craggy outcrop really but high enough to look back on the row of houses with glimpses of the cricket match poking through.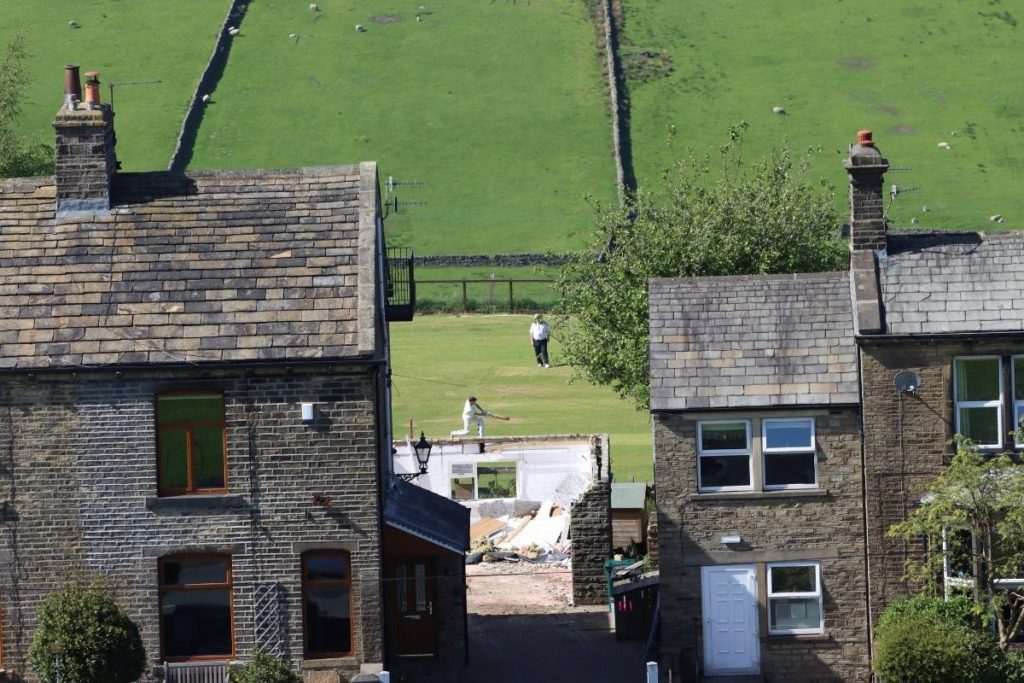 Up here, you get even more of a sense of being insignificant. The land just seems to go forever and, I know I'm biased here, but it is just gorgeous.

Beyond me somewhere a few miles away is Penistone Hill where Haworth West End Cricket Club used to be. As we reported a few years back, it remained a popular ground despite the club folding.

I was sad to hear that there was no cricket club using it this season. The Trustees of the club are in the process of deciding what to do with the ground. I hope it retains its cricket use – but it will all boil down to time and cost.
Someone told me that the former groundsman, another Graham, used to travel up from Kent to help look after West End. I don't know if that's true but it's quite some dedication if so.

I've been worried for a while about the loss of cricket grounds in Yorkshire. They all need funding and volunteers to keep them going and when those stop, often the cricket is lost forever.

Back at Haworth, the home side are bowling with pint-sized teen Thomas Rowell acquitting himself well. With the visitors having to attack from the off, he went for some sixes but fought back well to 1-31 off his 7 overs. Decent pace and bounce and only going to get better.

As we pack up and head back over the moors, Sutton-in-Craven collapse to 54-5 (scorecard) before Craig Thornton's 63 not out restores some respectability, albeit just delaying an 87-run defeat.
It is played in good spirits; competitive but not narky and both sides clap their opponents on landmarks.
It is 1940s weekend in Haworth coming up and the village will be stuffed to the gunnels with Churchill speeches, jive dancing and vintage vehicles. Haworth Cricket Club are offering up their ground as a car park; useful income and all hands on deck for selling bacon sandwiches.

As chance would have it, Haworth's firsts are away at Bingley Congs so I might get along to Beckfoot Lane. Congs are riding high in top spot and no doubt have that final match of 2021 to exorcise from their system.
So, what can I tell you? Haworth is an absolute gem of a visit for any cricket fan and is another reminder that village cricket in Yorkshire is alive and well.
Latest posts by John Fuller
(see all)