Stainland Cricket Club, founder members of the Halifax Cricket Club, have a wonderful tale to tell, and who better to share it than Trish Wood, our Winner of the Cricket Yorkshire Tea of the Year.
There's a long family connection to the cricket for Trish at Stainland: "Mum and Dad first pushed me round the boundary of the pitch, aged six months. Every summer weekend as a child was spent helping Mum and aunties with cricket teas while Dad, uncles and cousins from the Norcliffe family played cricket."
In later years, she would go on to score for the second team as a teenager.
---

After drifting away from the game, a call out of the blue in 2015 brought Trish back to Stainland Cricket Club after it had folded.

---

The SOS, from Dave Weston whose Grandad and Trish's dad Len were teammates back in the day, gave a strong tug on the heartstrings.
"The club meant everything to Dad (Len Norcliffe). He played from 14 years old and still had his cricket bag packed ready for next season when he died aged 75."
Trish said: "I wanted my kids and grandkids to have the happy memories and opportunities that the club gave me but most importantly, I also wanted the same for every other child in the village."

She describes the club and those who run it as a second family with those at Stainland whom she can call friends for life.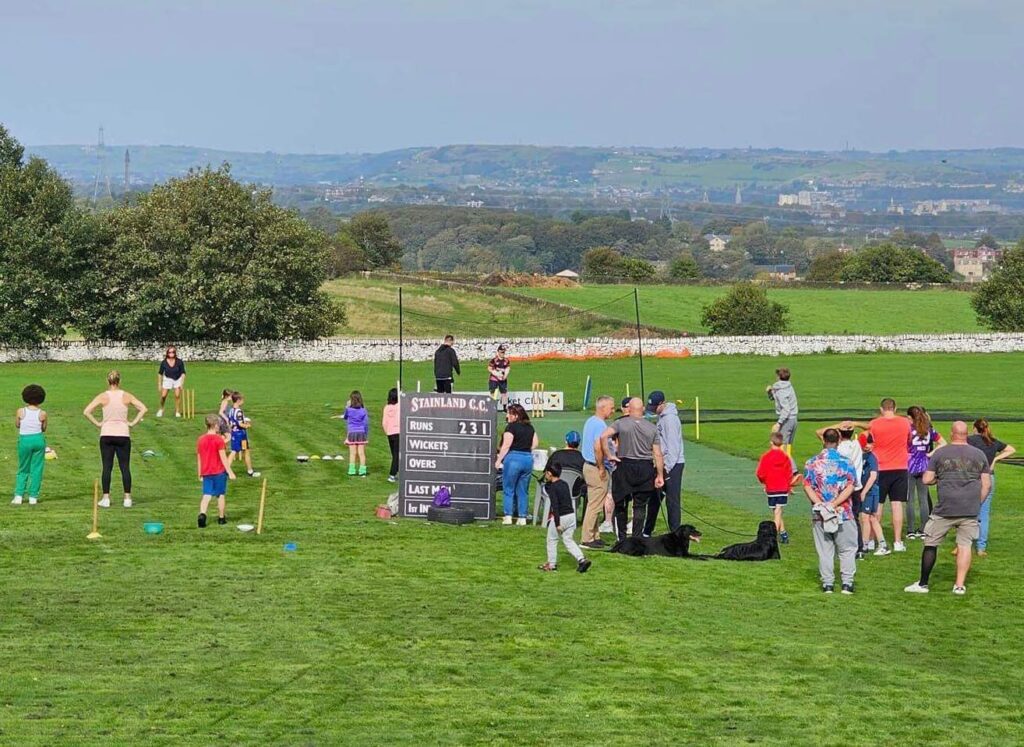 In time of need…

Good friends rally around in times of need and for Trish, that support network suddenly became vital.

Soon after she became Chair of Stainland Cricket Club, a diagnosis of narcolepsy and cataplexy changed her life completely.

Narcolepsy is a rare long-term brain condition that can stop a person from choosing when to wake or sleep. While cataplexy is an associated muscle weakness that can result in sudden slumping or falling over.
"The support I get from everyone at the club in helping me to manage my disability is phenomenal and no one has ever made me feel guilty or useless when symptoms get the better of me and I can't help out as much as I would like."
Trish continued her role as Chair for seven years before conceding defeat on health grounds. Stainland's next phase has been shepherded by Leah Proctor (Secretary) and her family, along with Dave Weston (Chair) and Andy Doran (Treasurer) with support from the YCB's Steve Archer.
She also thanks the Halifax Cricket League and its member clubs for their help and encouragement in getting Stainland back up on its feet.

How many cricket clubs come back after they have folded? Not many at all. It's been a heck of a renaissance story at Stainland.

"The club's amazing team of coaches, players, committee and helpers have worked so hard to make the club stronger than ever and they have exciting plans in the pipeline to grow even bigger and better over the next few years."
---

"To think that all these teams started from one U11s team with just six players and some very bleak years with no money, no senior players and no wins is really humbling."

---
It's why she insisted that the junior team logo should be a phoenix: the immortal bird that symbolises rebirth: "The kids certainly rose from the ashes of a dead club to make it what it is today – they're amazing."
While Trish has made a name for herself for her stellar cricket teas, there are other strings to her bow, she embraced coaching too:
"I gained enough confidence to undertake the All Stars activator course and love my weekly coaching sessions with my group of 3-5-year-olds (even though I sometimes think herding cats or putting an octopus in a string bag would be a much easier task!)"
Understandably, there is a pride in the development of Stainland's juniors and the role they've played in helping to lift this club back up.
"I have a huge soft spot for all the juniors who have stuck with us through the tough times but seeing two of the very first girls to join the junior section now playing for West Yorkshire and helping take Stainland Women and Girls Team to the Yorkshire Final at Headingley brings a lump to my throat every time."
Future plans…

Next on the agenda is generating the funds needed for an extension to the clubhouse, along with finding sponsors for their growing number of teams.
I saw that they'd held a Wicketathon fundraiser in October raising £1,000 and getting 1,000 wickets in the process. Yorkshire CCC bowler Ben Cliff lent his support on the day as did the whole community.
---
Stainland are not a club standing still, perhaps mindful of darker times thankfully now behind them.
They've had confirmation of Clubmark accreditation some nine years after the club folded.
---

This endorsement from the England & Wales Cricket Boards shows Stainland to be sustainable, well-run and offering the right environment for members.
As other clubs will know themselves, the in-depth admin of Clubmark is not achieved overnight (and has to be renewed every three years).
It demonstrates your club is 'a safe, rewarding and fulfilling place for participants of all ages as well as reassuring parents and carers that they are choosing the right option for their young people.'
Club cricket relies on the generosity, time and dedication of its volunteers. It would have been entirely understandable if cricket at Stainland was never seen again.
That it didn't have the same fate as the likes of Shipley Providence, who I wrote about recently, is a credit to everyone who pulled together.
Ever mindful of recruitment on all levels to drive their ambitions, they nudged me to mention that Stainland are on the lookout for new players, coaches, groundskeepers, scorers, committee members and those who can help with teas.
There are training sessions for kids from age 3 upwards from March to October while they have evening and weekend league squads, as well as a women's and girls' side.
To play, volunteer, sponsor or join Stainland Cricket Club, you can contact Leah Proctor at [email protected] and check out their Play-Cricket website.
To get a good snapshot of what Stainland CC are up to across the year, their Instagram @stainland_cc is a good place to start or search Stainland Cricket Club on Facebook.

I'll be there next season to present Trish and Stainland CC with a trophy for winning the Cricket Yorkshire Tea of the Year.

In the meantime, I can't wait to see what they do next…
Latest posts by John Fuller
(see all)