I was surprised to learn that Shipley Providence Cricket Club, who play at the Salts ground in Saltaire, are going to fold.

The West Yorkshire club, whose two sides were in the Dales Council Cricket League, have cleared their ground equipment and the trustees will be winding things up.
It's a historic ground that doesn't look like it will host cricket in 2024.
Photo: Dennis Ham
Before Shipley Providence, Salts Cricket Club had 59 years in the Bradford League on that ground, and can be traced back to the 1850s when Titus Salt built a model village for his workers (Saltaire) and wanted a cricket club for their leisure time.
---

Salts became five-time champions in the Bradford League and also lifted the Priestley Cup in 1958 but their fortunes declined until a final season in 2005. To read more on their history, see this excellent feature by Reg Nelson).

---
(Incidentally, I've referenced the Salts CC ground but there's also Saltaire Cricket Club, now in the Aire-Wharfe League but formerly of the Bradford League for many years, who play in Roberts Park on the other side of the river.)

When we moved to Yorkshire, we rented a place outside Saltaire and on a walk along the Leeds-Liverpool canal, I discovered the Salts cricket ground and resolved to see if I could get a game.

Back then, there was still a bit of the corrugated iron fencing on the towpath that was, I imagine, a piece of rusting memorabilia from the old Bradford League or Yorkshire 2nd XI days where fans would get in from that side.
Play-Cricket has me there for barely an instant but I fondly recall a season or two where I got wickets and was also effortlessly pumped for six into the canal a few times too.
I also have recollections of the year they did pre-season ground prep with weedkiller. The forecast was for heavy rain only for it to completely shift to a freakish dry spell for weeks and hey presto, our glorious outfield died and resembled the surface of Mars.

I saw the England players were concerned about the loose Dharamsala outfield at the HPCA Stadium for their World Cup fixture. I guess they've never experienced the hazards of a long barrier after a barren Spring in the Dales Council. Mouthguards were advisory.

I have another memory of that outfield actually. With long barriers.
---

While I was swotting up for my Level 2 cricket coaching course, I enlisted my wife to act as a willing fielder over a series of bleak January days outdoors while I taught her how to do various fielding drills.

Now, if that's not love, I don't know what is.

---


I recall that the fortunes of Shipley 'Prov' (as they're widely known, with the 'Providence' a nod to the way that some cricket clubs were once church sides) fluctuated and in more recent years, they went down to one team.

That changed when there was an influx of teams from former Wetherby League clubs that allowed Shipley Prov to start a second XI for 2022.
For what looks like their final season, Shipley Providence first XI finished sixth in Division B of the Dales Council and their second XI came third in Division D.

What happened, I imagine, you're asking?

Principally, it was time for the trio of long-serving volunteers to stand down and there were no replacements.

Volunteering to run a cricket club is not for everyone, after all.

I understand some of the current Shipley Prov squad members could migrate over to Green Hammerton to play for their second XI in the Dales Council.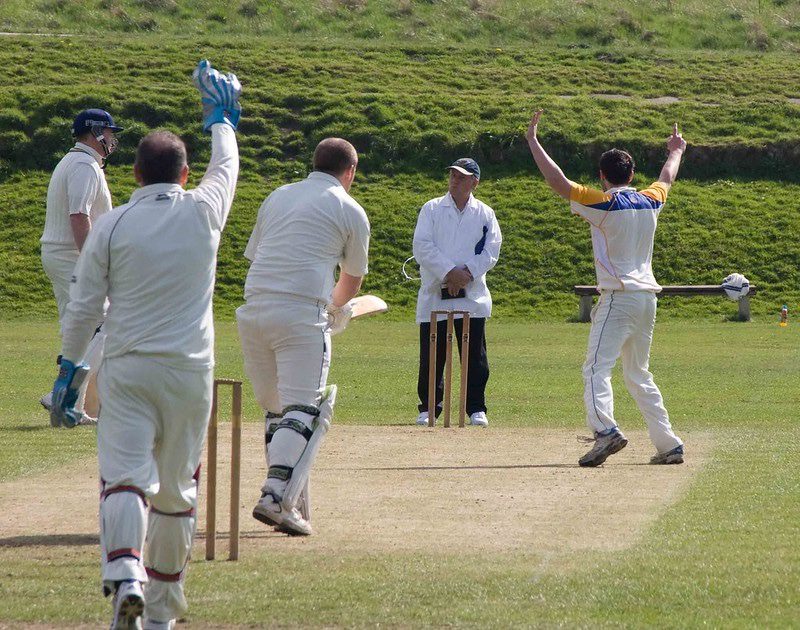 A cricket club coming to the end of the road is a moment for pause.

It's a credit to those who have invested so much time over many years and perhaps a sign of the times that there isn't always the back-up with volunteers.

I write that with no judgement by the way, having been both casual player and diehard committee member at different points over decades.
---

It would be a terrific shame if another cricket ground was lost in Yorkshire.
There is a widespread shortage, allied with a surge in demand and more teams coming along.

---


I was never much good at maths but even I can see that equation doesn't balance – but it's a complicated picture with many moving parts.

I understand that the trustees of the sports club at Salts have decided there will be no cricket in 2024, with an open mind to its return beyond that.
My observation?

When a cricket ground becomes something else, whether that's a horse pasture or a football field then it very rarely returns to its former life.

Unlike a club itself that might have naturally run its course, I am strangely protective of grounds. Surely Salts, with its history, may deserve the cricket equivalent of a UNESCO World Heritage Site?

Salts is a vibrant sports club in its own right with football, tennis and bowls – I hope it hears leather on willow again too.
Latest posts by John Fuller
(see all)