A North Yorkshire village cricket team have become the pride of the county after lifting this year's Davidstow National Village Cup at Lord's.
Sessay Cricket Club has continued the dominance of Yorkshire villages in the competition after a 119-run victory over Sibton Park from Kent.
It is the tenth time a Yorkshire-based side have won with Woodhouse Grange the previous prevailing force (four successive titles) before their elevation into the new ECB Yorkshire League North made them ineligible.
The headlines all went to Sessay's Simon Mason whose muscular innings of 138 off 110 balls proved the difference.
The searing knock with 19 fours and three sixes prompted flattering comparisons with Viv Richards who famously also hit 138 – in the 1979 World Cup Final at Lord's.
Make no mistake, this is a huge deal to Sessay after the slog of finishing ahead of 299 other teams from 32 regions; all of who have been competing across eight rounds since May.
They entered the very first year back in 1972 and according to Sessay Cricket Club's secretary Keith Houlston, it's a definite focus in every season:
"It's always been a massive competition for us. It's always been the one that people look to: When's the Village Cup? When's the first game?"
The winners certainly did it in some style to lift the National Village Cup trophy for the second time after their victory in 2010.
Sessay's 307 for 5 was a record total – while Mason's contribution with the bat eclipsed any innings from all of the 45 Village Cup Finals.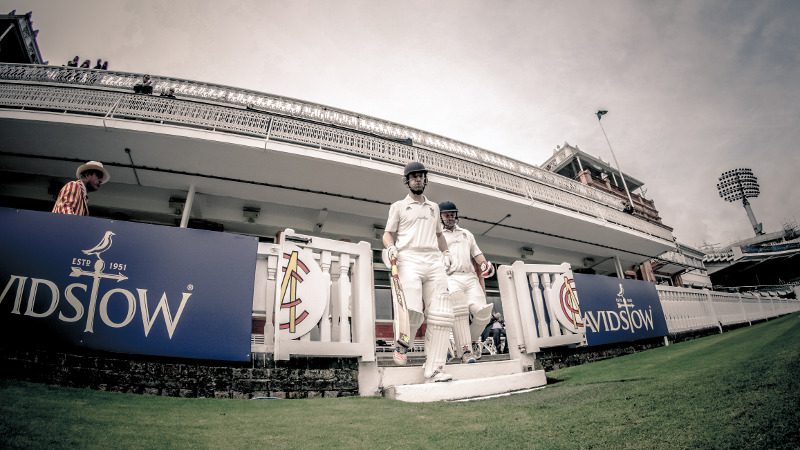 When Cricket Yorkshire caught up with Simon, he was back home and it was all starting to sink in:
"Surreal…unbelievable. It's an honour to play at Lord's but to do what I did yesterday was just the ultimate dream."
Those who know their league cricket will be familiar with Simon Mason who has been a prolific runscorer and is no stranger to trophies with both York, in what was the old Yorkshire League, and also Woodlands in the Bradford League.
Ok, so here's an experienced batsman but you might imagine he had fluttering nerves walking out to bat at the home of cricket:
"Funnily enough, I didn't have many nerves at all. I said to myself…'when you walk out…just look around and take it in because it might never happen again.' Even though the ground was nowhere near full, there was such a buzz around the place."
Having gone along to an earlier round of the National Village Cup at Streethouse, I understood that sentiment to soak it all up and it resonated with members of the Streethouse squad who reached the 2006 final but felt the whole day was a bit of a whirlwind.
Cherish the moments, @SessayCC. Runs piling up at @HomeofCricket. Sessay 265-3. pic.twitter.com/nPkQvh4rGS

— Ed White (@EdWhite2507) September 4, 2016
What was it like to reach three figures at Lord's? Did he allow himself a moment or was he too focussed on the job at hand?
The way Simon tells it, Nick Harrison, (who struck a powerful 69 and was at the other end for much of Mason's knock) reckoned the celebration unfolded in three parts:
"When I struck a six to get to a hundred, there was the initial relief and then Nick said, the applause just went on and on and on. Then it sunk in that I'd got a hundred at Lord's so I raised my arms again. Then Nick said, I went to stand to take the next ball and I stood back again. He said it was brilliant!"
It sounds like it is all still a bit of a dream but I prompt a laugh at the idea that maybe he can now have a celebratory fish and chip supper on the silver dish he received as man of the match.
If we rewind the clock, while an ambitious club playing at a strong standard of cricket, it was something of a coup for Sessay to snap up someone of Mason's calibre; his recruitment in 2015 a clear statement of intent.
Mason's transfer from Woodlands to Sessay came about because he lives and runs a gardening business in North Yorkshire and with a young family, he understandably wanted to cut down on the travel across to Bradford.
According to Houlston, it was the player who initiated the move and despite the usual rumblings about money when a high-profile player changes club, Sessay insist no-one is paid.
After all, the hard-hitting batsman sponsors the club with his name on the team shirts and prior to the move had netted with Sessay so there was a connection already in place with the power of geography a strong motivator.
Houlson admits he couldn't believe it: "He said, 'can I come?' and I mean, what do you say when you get that? It was absolutely fantastic."
As it happens, a number of Sessay batsmen have outscored Mason in the league this year with Mark Wilkie (566 runs) and Matthew Till (670) heading the club's batting averages to date.
Plenty of @SessayCC fans at @HomeOfCricket cheering on their side. Could well be celebrations long into the night. pic.twitter.com/fDkzqZeyn5

— Ed White (@EdWhite2507) September 4, 2016
To return to the euphoria at Lord's, both Mason and Houlston are quick to praise the travelling fans who went down to London as well as appreciating the messages of congratulations flooding in on social media.
After the five-star treatment at the iconic ground, it's back to business here in Yorkshire.
For Sessay's first eleven, their season isn't quite done. They have a final match in the Premier Division of the Yorkshire & District Senior Cricket League.
They've just fallen short of Clifton Alliance and Easingwold who are already promoted to ECB Yorkshire League North for 2017 – but that remains Sessay's target next season – even if it ultimately means they'll be unable to compete for another National Village Cup at Lord's.
For now, there's the intoxicating realisation that Sessay's playing squad, under the leadership of Mark Wilkie, have carved their own piece of history and made 2016 a year they'll never forget.
Scores – Sessay 307 for 5, 40 overs (S Mason 138, N Harrison 69, J Spencer 38*) beat Sibton Park 188, 36.5 overs (B Allon 70, Peirse 3 for 21) by 119 runs.
Sessay Cricket Club – http://www.sessaycc.co.uk/
National Village Cup – http://www.nationalvillagecup.com/
PHOTOS CREDIT: *Many thanks go to Mark at Caught Light Photography for providing the images in this article.
I met him recently during three cup finals in a day at Scotton and he's a top-notch professional snapper whose work is well worth a look.
Latest posts by John Fuller
(see all)