While not my final destination, the 9.54 Sunday service through to Knaresborough was swelled with Yorkshire fans off to watch their heroes against Surrey in the cup semi at Headingley.
As we all gathered waiting for permission to board, a man caught my eye for his commendable T-shirt with YORKSHIRE plastered across his belly in chunky, purposeful font with an image of rolling dales.
I didn't disembark at Burley Park or Headingley, as many did, but settled down for the pretty journey through to Harrogate and onwards.
Today was a hat-trick of cup finals in the Theakston Nidderdale League at Scotton Cricket Club (picture above).
Much like those music worshippers who took themselves off to Leeds Festival for the uninterrupted flow of bands, so at Scotton there was a feast of cricket covering multiple divisions from 11am through to the evening.
At this little village north of Knaresborough, once home to Guy Fawkes, six teams were ready to explode into life during the day to lift the Peter Bentley, Wath and Barrett Cups.
The forecast was a bit dicey, not doomsday, apocalyptic grim but enough to keep the host club and league organisers on their toes when they weren't crossing them.
Studley Royal fourths were just a handful of overs into their match against Beckwithshaw thirds when we parked up and took in the view on this overcast morning.
First impressions of Scotton Cricket Club, who have two senior Saturday sides that play in Divisions Two and Eight respectively, were of a sizeable open field without the features say of a Crakehall or Glasshouses but with all the facilities and a barbeque under a gazebo already firing on all cylinders.
Inside their clubhouse, the present and past fused; the Belgian Grand Prix was on the telly and next to it in a frame was the navy blue MCC cap and badge worn by Yorkshire & England cricketer Maurice Leyland from the1928/29 tour of Australia.
Straight ahead, a cluster of smiling ladies stood behind a table groaning with cake. I expected to awake from a sugar-laced dream at any moment.
Ever the professional, I took it upon myself to try all of them (coffee cake phobia notwithstanding) by the end of play. In for a penny and all that.
In the corner stood a minibar – not exorbitant tiny bottles in a fridge you'd find in your hotel room on holiday – but a small black counter with a beer pump offering Daleside Blonde from the Harrogate brewery.
Above the bar was a dartboard tucked behind a mobile scoreboard, the latter donated for the day, showing the live scores from the cricket outside.
I had no intention of hunkering down for the day inside but it was a convenient, comfy den to replenish stocks and put your feet up in.
Beckwithshaw's youthful third eleven, backed up by a few older heads, had looked ever inch the part as they arrived in smart branded blue polo shirts.
Out in the field, they were nothing if not committed with screamed encouragement as Studley Royal fourths could only cobble together 80-7 off their 20 overs.
This being the Sunday of the August Bank Holiday, the first time this Finals Day has been scheduled over the public holiday, expectations for the crowd were cautiously optimistic but there was a decent number who came along in shifts as each match unfolded.
Beckwithshaw took the Peter Bentley Cup and their captain Dan Stark was carried off the field on the shoulders of jubilant teammates.
Whatever the standard, whatever the league or division, a final always matters and Beckwithshaw were absolutely chuffed.
There was time to walk the boundary with Nidderdale League umpire David Barnes, who is also Vice President of Undercliffe Cricket Club and will be the subject for a future article on the website in September.
One superlative burger later with my umpteenth cup of tea and the Wath Cup Final between Pateley Bridge and Goldsborough second teams got underway.
I was particularly impressed with those at Scotton Cricket Club helping out to make this a day to remember. In between each match, a team of groundstaff would swoop onto the outfield sweeping, painting lines and running repairs.
To my eye, the wicket played without mischief despite an overnight deluge and thankfully, the few spots of rain that began to fall didn't lead to any stoppages.
I was the worldwide media who had assembled, alongside Mark from Caught Light Photography, and we got to talking about coverage of grassroots sport and also how football dominates the sport pages. I do wonder how cricket might fare if it received comparable coverage.
Out in the middle, this was the most one-sided of the three finals with Pateley Bridge ending on 115-2 (Tom Durrance 52 not out) before bowling out Goldsborough for just 39 (James Johnson 4-9).
I half expected monster totals and a more agricultural approach to batting but across the day, those that prospered took their catches (there were some spectacular, at-full-stretch, diving efforts – exhibit A above) and tied down opposition courtesy of a wicket-to-wicket philosophy with little dropped too short.
By late afternoon, the lemon drizzle, victoria sponge and chocolate caramel slice had been laid to waste (thanks to #teamscotton for those) and the crowd settled in their seats for the last cup competition, the Barrett Cup, between Boroughbridge & Staveley from Division Four and Burnt Yates in the Division above.
I got chatting to the parents of a player about how two clubs merged to safeguard the future of both.
Boroughbridge & Staveley cricket clubs were once fierce local rivals but the need for a ground and players brought the two together and it's a common sense solution I'm seeing more of in Yorkshire.
This was a firecracker of a finale that saw Burnt Yates bowled out for 72.
Simon Taylor, a tall seam bowler who delivered the ball from the clouds made life tricky en route to 2-19 and the Boroughbridge captain Christian Hendy was in the thick of things with four wickets.


Another bowler, Jake Fletcher, whose bowling stint of 2-8 combined wickets with a miserly economy rate, was to have a dramatic impact in the game and had a massive leap in his delivery stride as if he had springs in his spikes.
Elsewhere, there were frenetic runouts, batmen left on their knees in despair and by and large, ball dominated bat.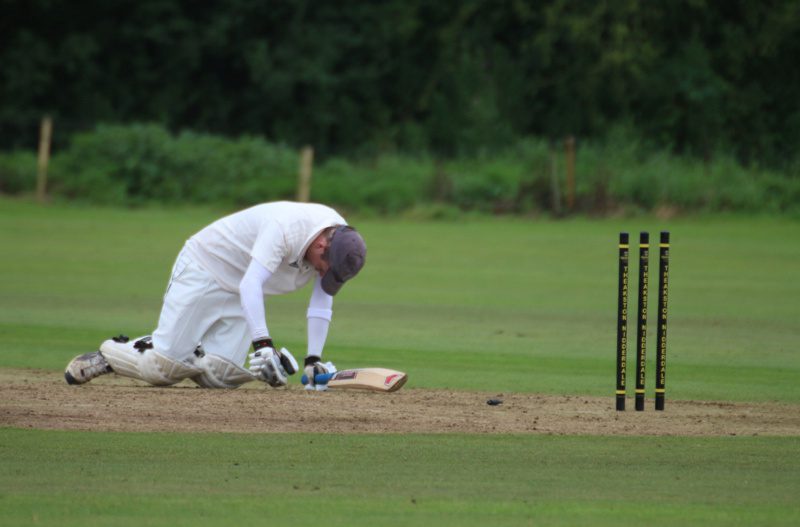 On one such circuit of my many perambulations, I struck up a conversation with several onlookers seemingly very comfortable in folding chairs who turned out to be the shirt sponsors of Boroughbridge & Staveley.
Garry Bielby and Donna Rennie were a friendly reminder that there are many out there who support grassroots cricket because they want to support their community and feel it's the right thing to do rather than for any compelling, commercial reasons.
So thank you Boroughbridge Construction and all the other sponsors out there that do their bit.
You can see things in amateur cricket that are peculiar to a particular team, league or region. The bloke, above, had a wonderfully eccentric run-up.
He began, stopped, shimmied and shuffled and set off again. I meant to ask him how it came about.
Mind you…I'm not one to talk. There is no coaching manual ever created that suggests you run into bowl and drag your trailing leg like a skinny rudder but I've been doing it for over twenty years.
The target of 73 should have been well within reach and Boroughbridge & Staveley set about their task with sensible, composed cricket.
They got to about 30-1 and I recall meeting another spectator walking in the other direction.
As wise cricketing heads tend to do, upon passing the electronic scoreboard we suggested, in unison, that the Barrett Cup could be over sooner than expected.
I can't have walked more than another ten paces before the Boroughbridge & Staveley innings collapsed inwards like the fragile architecture of an uncontent soufflé.
Wickets followed one after another as Burnt Yates sensed the game had a final twist. When the last Boroughbridge & Staveley batsman walked out looking steely and determined, there were still a handful of runs to eek out.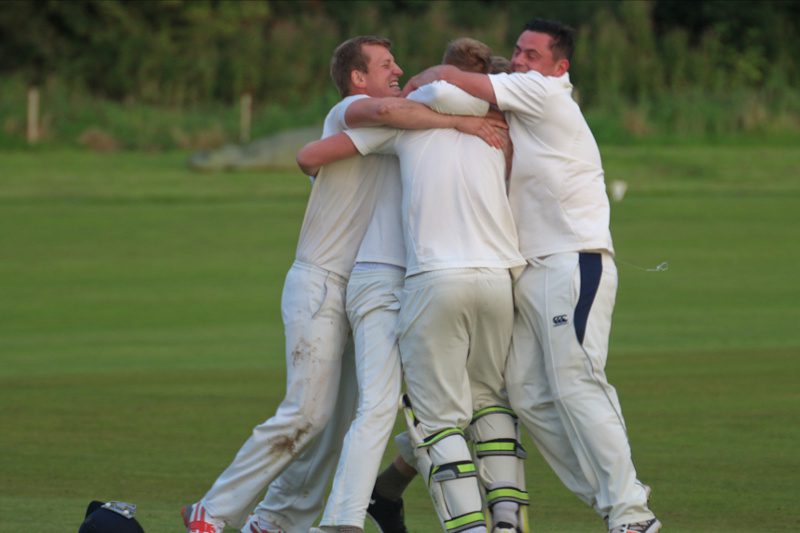 Those watching who had sat around chatting and sharing a beer were stilled by the tension. At that compelling point, I stood in the entrance of the clubhouse and it was utterly silent.
Fans of either allegiance were frozen. No-one daring to talk.
A few balls later, the winning run by Jake Fletcher precipitated a guttural roar and a few exaggerated breaths let out in disappointment.
Fletcher held his arms aloft as if welcoming a group hug and was engulfed by ecstatic teammates who rushed on to kick off the celebrations.
To be part of something that mattered to so many was a privilege. I get it.
Writing as someone who's part of a squad that hasn't won all season, I understand the sweet nectar of triumph, even if it remains elusive.
The Nidderdale League is a massive amateur league encompassing thousands of players and spanning many Yorkshire postcodes.
I'm getting to know more of those who help to make it a success and it remains well organised and well respected with good reason.
That evening, as I sat tackling a rather limp chicken fillet burger opposite Harrogate bus station, there was ample time to reflect on the day.
You'd think, as a neutral, none of the cricket would particularly matter but actually I found it all did.
Days like these reinforce why I chose to cover amateur cricket in the first place.

Congratulations to all clubs who took part but also to the umpires, scorers, host club and league officials; pieces in a jigsaw that ensured the day ran smoothly.
If you're interested in coming along to watch a game, up next is the league's premier cup competition, the Atkinson Swires Senior Knockout Cup Final between Spofforth and Darley at Ouseburn Cricket Club on Sunday 4th September.
Don't forget to check out Cricket Yorkshire's match photos below!
To find out the latest from the Theakston Nidderdale League, visit: http://www.nidderdaleleague.co.uk/
Alternatively, they are @nidderdale1894 on Twitter and there is a Nidderdale League Facebook page.
*This is a sponsored article for the Theakston Nidderdale League – if the mood takes you, click to read Cricket Yorkshire's policy on sponsored content**
** CLICK TO ACCESS PHOTOS FROM THE DAY'S ACTION AT SCOTTON CC **
Here's where you can check out photos from the three Nidderdale League cups. Epic sporting drama, bails cartwheeling, and much more…
**As with all Cricket Yorkshire photo albums, you'll be asked for your email and will be added to the mailing list. We don't spam you with irrelevant junk, just occasional top-quality cricket writing.
There's normally a Cricket Yorkshire newsletter (SAMPLE) every fortnight or so (tends to be a Friday) and if you decide it's not for you, you can easily unsubscribe at any point but most people don't.
Latest posts by John Fuller
(see all)