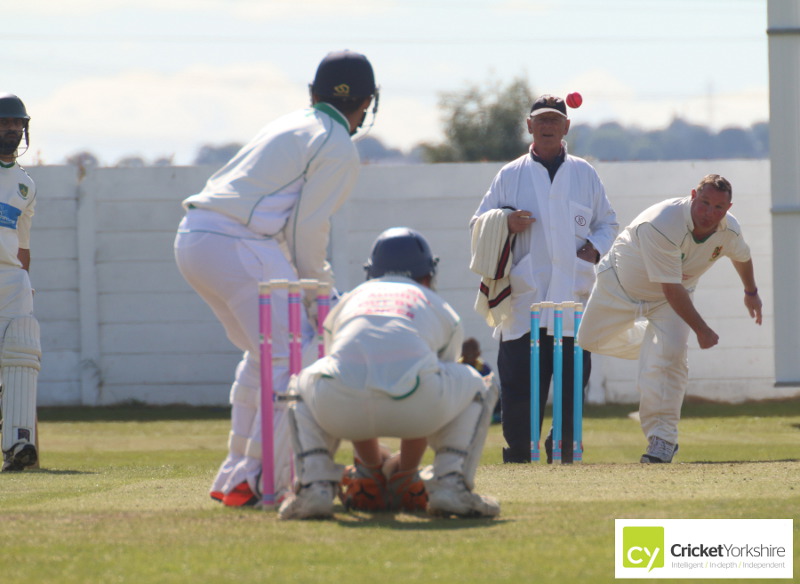 It was time for another Cricket Yorkshire travel adventure…if you've not been before, Altofts Cricket Club lies at the Northern fringes of this Yorkshire village outside Wakefield.
The quickest route on foot from Normanton railway station requires a meander along Wakefield Wheel, a pleasant path that cuts through grassland and on a day as I enjoyed it, a welcome dose of nature's charm.
CHARITY MATCH AT ALTOFTS
A few weeks back – give or take as the months melt into one during the cricket season – I headed along to watch a charity cricket match for Cricket Yorkshire's partnership with Yorkshire Cancer Research.
The Harrogate-based cancer charity are building on their association as the charity partner of Yorkshire County Cricket Club by aiming to educate about cancer across the region through the vehicle of cricket.
That includes talking to cricket clubs about holding events and fundraisers as the charity doesn't run on thin air – but more importantly, the need to raise awareness of the threat from melanoma and other skin cancers.
While playing or watching cricket, players and supporters are susceptible to the harmful UV rays from our Yorkshire sunshine, even when it's cloudy, so gently pushing the message of sunscreen, headwear and common sense are all well worthwhile.
Their slogan of 'don't get caught out by cancer' has plenty of bite behind the soundbite. Sadly, most of us won't have to look around too far to know of someone who has had cancer of one form of another.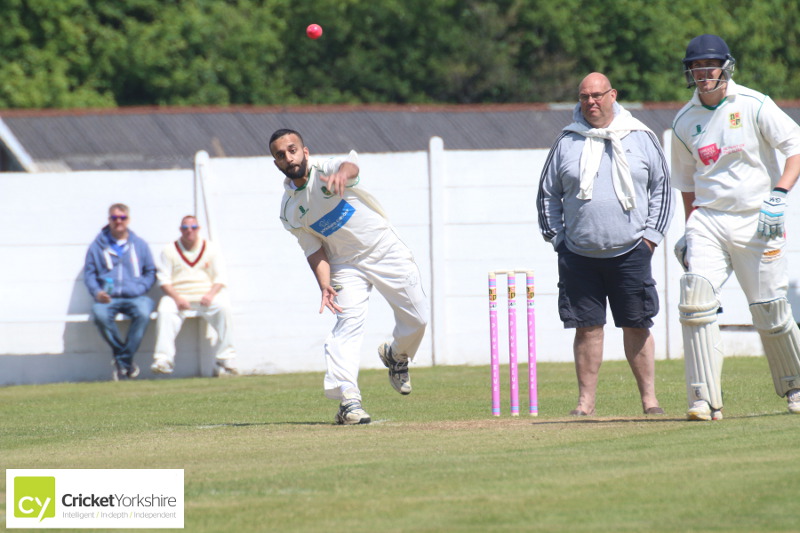 PINK VS BLUE OUT IN THE MIDDLE
On a warm and blustery Sunday afternoon at Lock Lane in Altofts, the home side and nearby Wrenthorpe battled it out in a twenty-five over contest.
With Yorkshire Cancer Research (blue) and Breast Cancer Campaign (pink) the day's beneficiaries, both sets of players had specially-made shirts with each side representing a charity and #DONT GET CAUGHT OUT BY CANCER and #LETS HIT CANCER FOR SIX in pink and blue.
There was plenty to capture the attention of any spectators with everything from a booming sound system that sparked into live periodically to cupcakes and chicken biryani (not together!) just a few of the edible treats to capitalise on.
This is a ground hugged by a white fence with visitors perched on folding seats or dotted around the boundary looking uber relaxed.
Behind its walls, a mammoth Asda warehouse (with humungous green lettering) dominates the skyline in the background on the other side of the M62.
The least this Yorkshire-based supermarket chain could do is put some funds Altofts' way given the free advertising they currently get during each cricket season.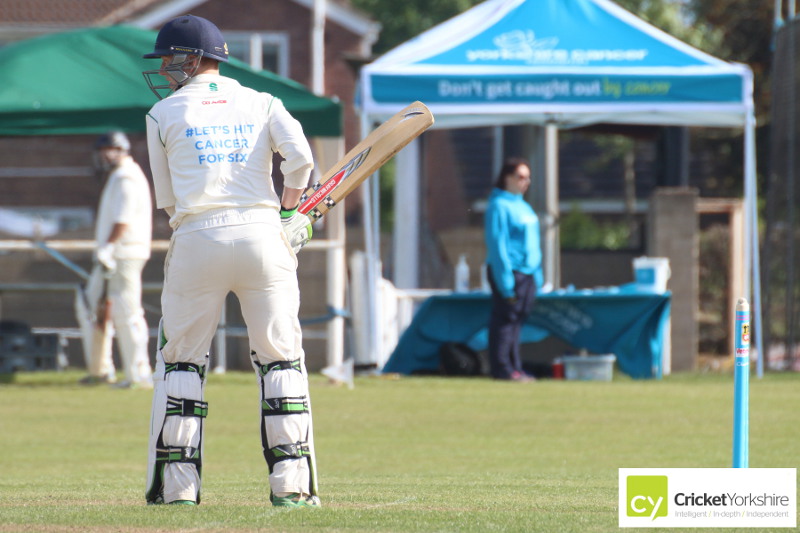 UV WRISTBANDS AND SUNSCREEN
Sophie Bunker, Community Engagement Officer for Yorkshire Cancer Research, had set up a gazebo and was finding the UV wristbands were proving very popular with all ages; as was the sunscreen on offer.
The cricket was a mix of ages and abilities not just reflecting Wrenthorpe's first eleven who are near the top of the Central Yorkshire League's Premier Division while Altofts prop up proceedings in twelfth.
A competition to win a tenner if anyone caught, one-handed, a ball hit into the crowd had just the one opportunity while I was there as it was belted over the ropes in front of the pavilion.
Unfortunately, the chance went begging much to the amusement of everyone nearby who had prioritised safety and scattered like pigeons.
There was plenty of friendly chat during the match from the commentator whose patter on the mike reflected a match that everyone attending seemed to immerse themselves in.
Events like these live and die on a couple of key ingredients. If the weather's kind, which it was, then you stand the best chance of persuading locals to come along on their Sunday for a bite to eat and a bit of cricket.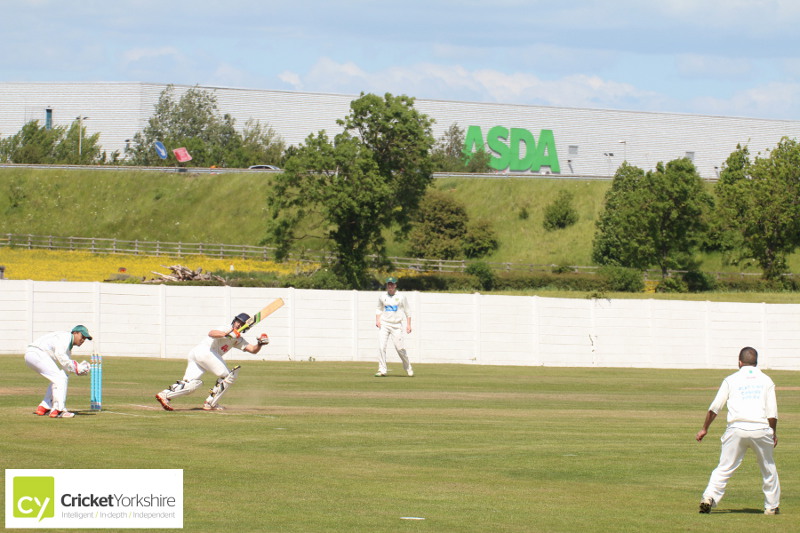 The x-factor however is the energy and drive of those organising and helping with the running of the day.
A limp lettuce leaf for tea and not much else happening will not exactly get the punters in from miles around…
But Altofts Cricket Club pulled out all the stops to put on an awesome day that showed how connected cricket can be within a community.
Paul Denison was generous with his time to give background as to all things Altofts and after a chicken biryani, fourteen gallons of tea and enough cakes to fuel a marathon runner, it's with considerable expertise that I can vouch for the fare on offer.
ALTOFTS WIN CLOSE TUSSLE
Wrenthorpe came up just short of the Altofts score of 207 but while cricket was the framework for today, it was really a reminder how charitable causes can be helped without just rattling a collecting tin.
Cricket clubs have an opportunity to plug into the momentum that Yorkshire Cancer Research has mustered following its presence at the Headingley Test and this first (of many hopefully) club events.
It has to work for everyone because cricket clubs are not wealthy enough by and large to put all the effort in and not get some financial reward to re-invest themselves but the Altofts trail-blazer showed the art of the possible.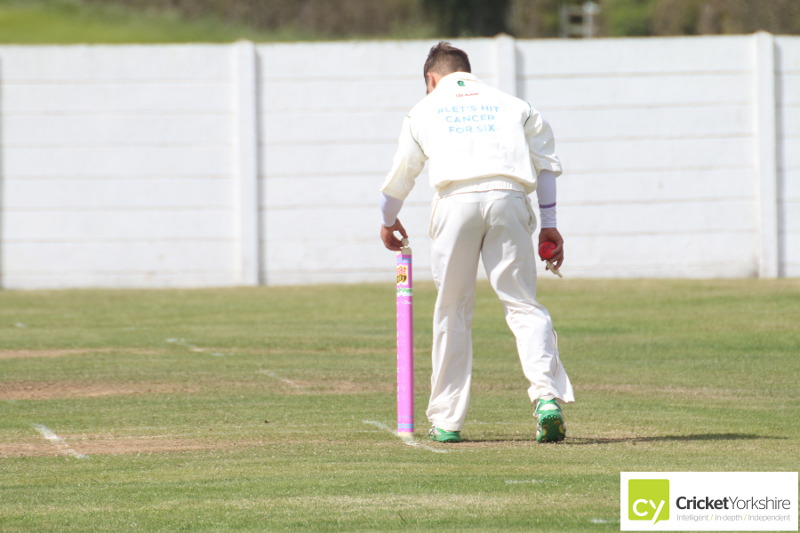 HOST A CANCER CHARITY EVENT
If cricket clubs across Yorkshire are interested in hosting an event for Yorkshire Cancer Research (YCR), whether cricket or something else entirely, I know the charity are keen to help facilitate this in amateur cricket.
Have a word with Sophie Bunker from Yorkshire Cancer Research via that email link, who is based at the Yorkshire Cricket Foundation at Headingley, as she'll be able to kickstart any ideas.
A couple of cricket clubs have already got the foundations for future events underway including Stones Cricket Club who are doing an U9 and U11 tournament on 31 July.
It's a chance to raise some money for charity and showcase your cricket club to existing and new audiences, who knows, you may even pick up a player or two…
Thanks to everyone at Altofts for providing inspiration and I look forward to seeing how other cricket clubs get involved in the coming months in the vital fight against cancer.
**This is a sponsored article as part of Cricket Yorkshire's partnership with Yorkshire Cancer Research – if the mood takes you, click to read Cricket Yorkshire's policy on sponsored content**
Latest posts by John Fuller
(see all)