It's particularly in an Ashes year when the Heavy Woollen Cup comes into sharper focus. The England-Australia rivalry is as old as it gets – and yet, this club cricket trophy in Yorkshire first took place less than a year later in 1883.
Once limited to 32 clubs who were based within a strict distance of 18 miles from Batley Town Hall, rules and entry requirements have changed over the decades – but they are now as they were.

In terms of team changes, Burley-in-Wharfedale from the Aire-Wharfe Cricket League are in the Heavy Woollen Cup for the first time while Hanging Heaton, who have won the Cup and hosted the finals before, opted not to take part this year.
Thinking of logistics, the challenge comes in the Second Round of the Heavy Woollen Cup and the First Round of the Crowther Cup (for 2nd XI teams).
Other cricket leagues will have their own cup competitions that may clash while the recent impact of rain on fixtures creates a further logjam with Huddersfield League clubs now choosing to play those games on 14 May.
Thanks to Noel Bullock, PR Officer for the Heavy Woollen Cup, who shared some background and told me the key headline that teas must be provided for officials and both sets of players. (Hopefully, there are leftovers for supporters to buy).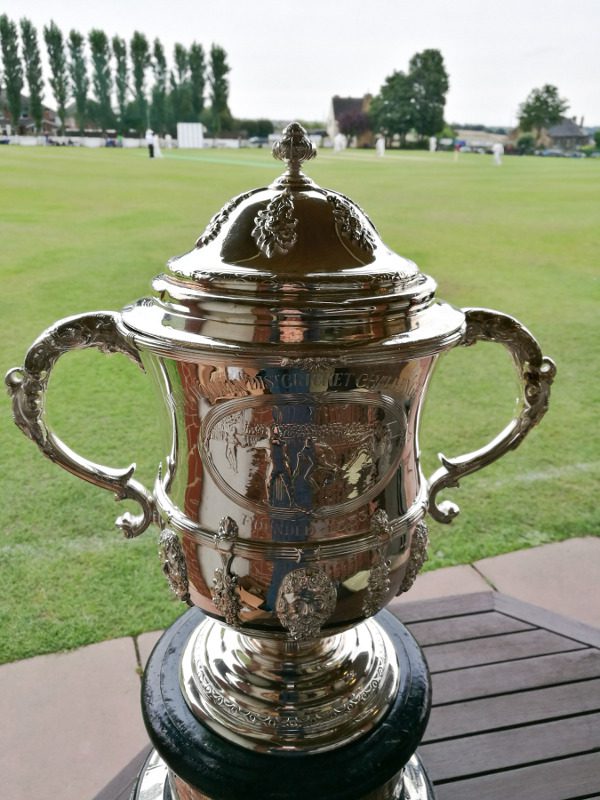 Proud of its Heavy Woollen heritage from what was once the beating heart of the textiles district, today's competition has the feel of the FA Cup for West Yorkshire cricket.

The Heavy Woollen Cup also reinforces the quality of club cricket within 1,440 cricket pitch lengths from Batley Town Hall. (Yes, I worked that out in a quiet moment).

New Farnley (Bradford Premier League) are the holders and begin their 2023 campaign with a tricky away tie at Red Lane against Farsley.

Round One sees four all-Bradford Premier League match-ups with Bradford & Bingley versus Methley a hard one to call. Woodlands are the reigning Champion Club of Yorkshire (after winning the Premier League Play-Offs at Headingley last September) and are at home to Wakefield Thornes, another past winner at Yorkshire CCC.

Solly Sports is the long-time sponsor of this competition which has attracted new teams from other leagues; at a time you may think clubs would be paring back commitments with leagues, cups, T20s and national commitments.

Castleford are a prime example; a quality outfit who have won Yorkshire Premier League North and were the 2021 Champions of Yorkshire. The Men of Cas begin with a trip to Yorkshire Southern Cricket Premier League outfit Barnsley Woolley Miners.
Hoylandswaine (above) have a strong record in the Heavy Woollen Cup and begin away at Honley's green pagoda in an all-Huddersfield League clash. Swaine are going for their first title having reached three in a row between 2015 and 2017 and lost twice to Woodlands and once to New Farnley.

At this elite level of club cricket, anyone can beat anyone but even so, New Farnley are the form side having won in 2021, after the Cup was not contested during the Covid year of 2020) – then retained the trophy last year.

Since 2013, they've made five finals and won four of them. Equally in terms of trends, a Bradford Premier League side has lifted the Heavy Woollen Cup every year since Townville triumphed in 2014 – will another league claim the cup in 2023?

Round One (Sunday, April 23)

Honley vs Hoylandswaine
New Rover vs Gomersal
Kirkburton vs Ossett
East Bierley vs Undercliffe
Broad Oak vs Townville
Farsley vs New Farnley
Pudsey Congs vs Birstall
Bradford & Bingley vs Methley
Moorlands vs Golcar
Beckwithshaw vs Otley
Shelley vs South Kirkby Colliery
Barkisland vs Spen Victoria
Scholes vs Burley In Wharfedale
Woodlands vs Wakefield Thornes
Barnsley Woolley Miners vs Castleford

Cawthorne vs Sandal or Shepley
(Sandal vs Shepley is this Sunday due to recent rain)

Past Winners (Since 2000)

2000 – Baildon 146, Hanging Heaton 147-1
2001 – Hanging Heaton 206-9, Baildon 207-6
2002 – Baildon 212-6, Keighley 216-4
2003 – Spen Victoria 145-9, Mirfield 148-2
2004 – Woodlands 233-8, Spen Victoria 197-9
2005 – Barnsley 168-7, Woodlands 150
2006 – Baildon 99, Barnsley 101-2
2007 – Wrenthorpe 285-4, Wickersley 217
2008 – Wrenthorpe 237-8, Barnsley 237-9
2009 – Wrenthorpe 182, Baildon 88
2010 – Wrenthorpe 298-8, Hanging Heaton 99
2011 – Shepley 336-5, Gomersal 291
2012 – Wrenthorpe 198-9, Townville 137
2013 – New Farnley 158, Hanging Heaton 162-4
2014 – Townville 226-9, Pudsey Congs 227-5
2015 – Woodlands 182, Hoylandswaine 148
2016 – New Farnley 341-4, Hoylandswaine 220
2017 – Woodlands 217-7, Hoylandswaine 215
2018 – Hanging Heaton 264-6, New Farnley 262-8
2019 – Townville 223-7, Shepley 233-6 (DLS)
2020 – No Competition
2021 – New Farnley 246-6, Woodlands 126
2022 – New Farnley 222-6, Townville 218

For all of the latest news, stats and photography relating to the Heavy Woollen Cup, visit https://www.bradfordcl.com/pages/heavy-woollen-cup.

Image credit: Ray Spencer (New Farnley lifting the trophy in 2022).
Latest posts by John Fuller
(see all)