Hallam Cricket Club play a lot of cricket. They are a bustling, South Yorkshire hotspot and I caught up with their Chairman Matthew Mawson to understand how their club ticks.
They have five senior Saturday sides, a Sunday team, a Wednesday evening eleven in the Sheffield Midweek Alliance, a share in the South Sheffield/North Derbyshire Women's team, a myriad of junior age groups and that's even before their indoor cricket pedigree and runaway success with All Stars.
"Our club is about inclusion. We try to give as many opportunities as we can for those who want to play and get involved in cricket" says Matthew. Smaller clubs might have a similar ethos but whether for funding, volunteer numbers or facilities, they can't (yet) offer the breadth.
While Hallam's first-eleven nervily secured their status in the Yorkshire South Premier League in the last game of the season, a club of their size caters for all abilities across the spectrum.
"You don't have to be the best player in the world but if you want to have a good time, enjoy the cricket and the social scene then to me, that's what amateur sport is about."
Tomorrow night it's the second BIG Friday of the summer at Crim as welcome 165 All Stars and our regular under 9's to Hallam CC!! ⭐️???
The Bar will be open from 5 with our BBQ and hot selection of pies & pastries all available too! ???
We would love too see you there! ☀️ pic.twitter.com/WPR47nZTRv

— Hallam CC (@HallamCC) May 16, 2019
All Stars night at Hallam is a big deal. Over the evening, they have three separate programmes catering for about 200 children which requires 10 coaches, not counting those running under-nines sessions.
The barbeque gets fired up and collaboration with Porter Pizza Company has gone down a storm with the wood-fired oven keeping parents and spectators well looked after.
My observation is that All Stars (for 5-8 year-olds) has had a mixed reaction in club cricket circles. Many see the benefit from a cricket perspective but aren't always convinced how it helps the club itself. 
Hallam are fully on board: "We're getting an audience that is new to cricket, new to the club, every couple of years it refreshes itself and there's opportunity to involve parents and generate income for the club."
The relaxed youth policy at Hallam is not to stream the kids by ability too soon (until the Under 15s): "You want them to have the chance to learn and develop and from my perspective, kids should be exposed to as many sports as they possibly can."
If this all sounds like a cricket utopia then the means are not too dissimilar from any other cricket club, namely the buy-in from volunteers who appreciate their community and the role cricket has to offer.
That said, for a historic club like Hallam Cricket Club (dating back to 1804), they have one eye firmly on the future and role of their facilities.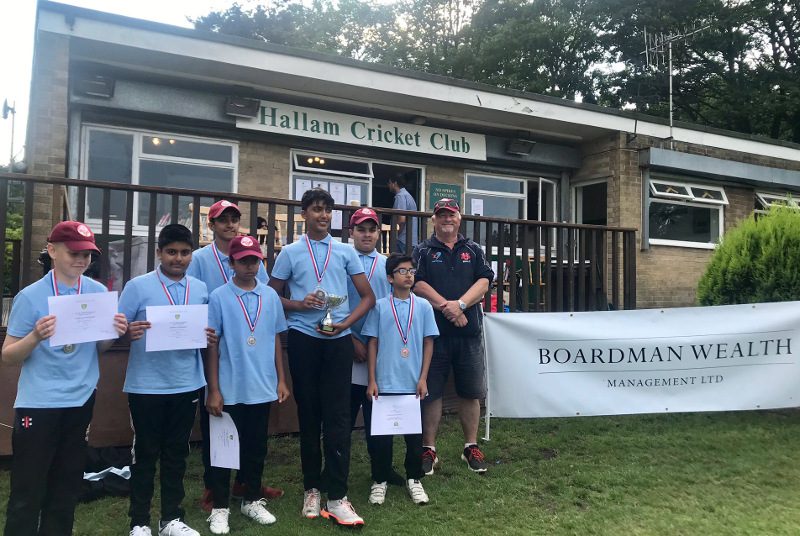 For their 24-team offering, Hallam currently have their base at Sandygate to the West of Sheffield city centre and took on a second hub at Crimicar Lane a decade ago; an old school sports field that had gone to fallow ground. 
This enabled Hallam CC to expand from three to five senior sides. In addition, they rent a third ground, Birkdale School Playing Fields at Castle Dyke, for their fifth team on a Saturday.
While huge clubs like Hallam can generally offer everyone a game of cricket at whatever standard suits, part of the challenge is running all the teams and the logistics around a larger operation.
While a cursory look over their Twitter account reveals everything from race nights to first-teamers getting a chance to bowl at the Sri Lankan World Cup squad at Headingley, there is always room for improvement.
They've long identified the need to upgrade but despite some drawbacks ("We've a 200-year-old ground and a pavilion that's 50 years old and not in a particularly good state"), their cricket offering is hard to fault. 
Hallam's social events, held about every quarter, aren't as well attended as they could be (in Matthew's own words) and that continues to be a learning curve but the outlook overall is promising.
While some South Yorkshire clubs have maintained their two Saturday sides over many decades, Hallam have grown and grown. How come?
"We've been fortunate that we've had people who want to lead the club who've had the foresight and the wherewithal to want to develop and bring cricket to a wider audience."
As to 2020 and beyond, Hallam Cricket aren't about to stand still. Continuing to be ambitious, they have targeted expansion of their women and girls cricket as well as the disability game.
At a time when some clubs struggle to just retain what they have, there's always room for a success story and good luck to Hallam for the next chapter.
**This is a sponsored article as part of our partnership with the Yorkshire Cricket Board – if the mood takes you, click to read Cricket Yorkshire's policy on sponsored content**
Latest posts by John Fuller
(see all)