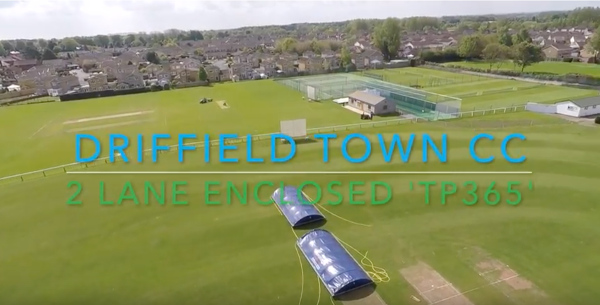 Driffield Town Cricket Club's new 'tp365' Non Turf Cricket Practice Facility, installed by total-play, has been a slow burner; a patient journey but it is now pride of place.
On my travels around Yorkshire, I see superb facilities spring up year-on-year but the dedication and collaboration to make it happen can often take years.
Discussions were had as far back as 2011 but the project for new non-turf nets was only re-ignited when Ian Stabler (Secretary, Junior Section) and Club Chairman Mick Drury decided to kickstart things in 2017.
Those that have gone down this path with their club – or are interested in doing so in future – know how central to success the conundrum of funding is but before that came Driffield Town's research into what they wanted. Ian picks up the story:
"I'd been up to Snainton and I'd seen the facility there and it looked absolutely first-class.

I thought, 'if Snainton can get it, I can't understand why we can't at Driffield.' "
The demand at Driffield Town Cricket Club is off the back of a thriving juniors set-up with 67 enrolled in the ECB's Allstars programme for 5-8 year-olds and in the region of 50 kids at under-nines with the older age-groups bolstering the numbers further.
Before this non-turf practice facility was finalised, Driffield Town's only option was old portable nets to use on the cricket square so the juniors couldn't play when there was a match on at weekends with a packed adult fixture list.
Ian (above right) took the funding bull by the horns and began exploring and applying for grants – starting with Sport England's Community Asset Fund; a capital fund dedicated to enhancing the spaces in a local community. As you'd expect, demand massively outstrips supply and is believed to be up to 450% over-subscribed, according to Ian.
Success with grant applications often hinges on how broad the demographic is that a cricket club can serve. In Driffield Town's case, they do initiatives like Have a Go that cater for friends and businesses who want to sample cricket informally.
Linking up with schools has been instrumental in persuading those who hold the purse-strings that cricket nets would benefit hundreds, if not thousands, across the age ranges.
There is also Kings Mill School in Driffield, who cater for children with severe or complex learning disabilities and the children come down to the cricket club, as do another local school who don't have their own ground.
With all the cricket at Driffield Town including senior and junior matches, YCB representative teams, women's softball and other uses, Sport England were persuaded to award £20,000 and the clock was running on the project to get it built and ready for the 2018 cricket season.
Other pots of funding came through a Tesco Bags of Help grant, the Horace Taylor Trust and East Riding of Yorkshire Council via 'commuted sums' provision;

that means housing developers must pay an amount, as part of planning permission applications, which is then used to improve sport and leisure facilities in the area.
If all this sounds particularly involved, that's because it is and signifies the level of detail over years by volunteers who have a desire to fulfil a plan to make their cricket club better.
Other funders, to wrap up the rolling credits, were the England & Wales Cricket Board (ECB) with Ian keen to note special thanks to the Yorkshire Cricket Board's Joe Ashdown who, in his role as East Yorkshire & Selby Cricket Development Manager, was able to secure additional monies for Driffield Town.
Ian explained that in this instance, the ECB's process was opposite to Sport England's and keeping to the letter for each separately is paramount. Driffield Town then had due diligence to pass, as is the way, with their constitution under the microscope, cashflow forecasts and comprehensive development planning.
The majority of the funding for the project was from external sources and that required understanding from total-play, given that a number of funding sources required invoices of the completed work first.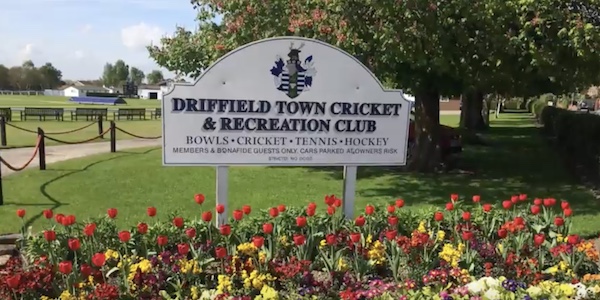 By February 2018, Anthony Burton, Product Development Manager at total-play Ltd, met Mick, Ian as well as the Driffield Town CC groundsman Mark Goddard to discuss final build location and re-routing of power cables and make sure everyone was happy with the design specs.
Conversations also picked up with Allison Henshaw (ECB Regional Facilities Manager) to determine that all the relevant requirements for the facility were being met in order to give the support with funding.
To support Ian's Sport England application, total-play Ltd provided him with a full breakdown of future maintenance procedure and expected costs.
This could safeguard sustainability and also reassure all stakeholders in a project like this that future-proofing had been factored in.
Ian inked in a deadline for installation – in order to protect the interests of the tennis membership with the nets next to the natural grass tennis courts which were partially moved.
Everything was set and then what followed was an unprecedented amount of snow and rainfall but work got underway in April.
The build by total-play was in two phases with their 'construction' team followed by their 'finishing' team who attended the site to complete it with steelwork, netting, shock pads and carpets.
This was no small endeavour with 200 tonnes of material shifted, then care and attention given to making sure the natural grass access into the site was remediated, graded out and put back to grass – as if they've never been there.
For Ian Stabler, it's been a long time coming but rewarding to see it through. He's certainly pleased with how it's turned out:
"I couldn't fault it at all. The reason we went with total-play was that the quality is so much better than alot of the others. It will last a long time.

We had a look at one or two other facilities where the bounce didn't seem to be as consistent or the quality of the netting and how it was anchored to the ground."
He adds: "Everybody's really appreciating it. People can go in and use a bowling machine and it gives a true bounce. From a coaching point of view with juniors, you can work in an enclosed environment in smaller groups which helps."
All good things come to those that wait. Driffield Town Cricket Club have now enhanced their cricket capability and those in this East Yorkshire market town can enjoy it for years to come.

Driffield Town Cricket Club's Project Spec:
2 Lane Fully Enclosed ECB Approved 'tp365' Non Turf Cricket Practice Facility
'tp1' blue / green two tone Wilton Woven playing surface
One lane with white training lines
4m high galvanised Steelwork with 25.55m long batting lanes
Green HD Protection Tunnel Netting system
White 'Wrap' batting curtains
Lockable pedestrian access gate
Green full length retractable side curtains


Contact total-play for cricket ground advice
If you want to talk through anything you've read in this sponsored article then you can get in touch with Anthony Burton via email or call on 01604 864575.
Alternatively, if you'd prefer to browse their Cricket Ground Shop, there are a host of practical solutions to help with groundsmanship.
To link up with total play on social media, they are @TotalPlayLtd on Twitter and TotalPlayLtd on Facebook.
*You can also read more about how Total Play has helped transform the cricket ground at Bradford Park Avenue here on Cricket Yorkshire.
**This is a sponsored article on behalf of Total Play – if the mood takes you, click to read Cricket Yorkshire's policy on sponsored content.**
Latest posts by John Fuller
(see all)