Crunching along the gravel path at Bradford Park Avenue's cricket ground off Canterbury Avenue took me to the newly installed eight-lane, non-turf cricket nets.
Walls of chipboard and construction detritus highlight that this ambitious £5.5m project to transform a much-loved former county cricket venue into a top-class sports facility are ongoing but that in itself spells a vision the city can look forward to.
Future phases include a £2.5 million pavilion that will boast county cricket standard changing rooms and a 250-capacity restaurant as well as an additional 5,000 new stadium seats and England & Wales Cricket Board (ECB) standard floodlights.
This has been a collaborative effort with substantial financial support provided by the ECB, Sport England and City of Bradford Metropolitan District Council (CBMDC).
Stakeholders from across cricket and local government have worked together to ensure the project kicks on with a spirit of partnership between Yorkshire County Cricket Club, Yorkshire Cricket Board, Yorkshire Cricket Foundation, the ECB, Sport England and Bradford Council reflecting the size and scope of this progressive build.
On my travels around Yorkshire, I've seen my share of cricket nets from withered carpets on top of decaying concrete to secure and proficient practice facilities.
Perhaps my mood had been augmented by the evening sunshine or the meatballs from the nearby Persian restaurant but I was soon grinning like an idiot at the progress at Bradford Park Avenue and looking around for someone, anyone in fact, to show.
The artificial cricket nets are a top-of-the-line system – I would go so far to say that they are as good as anything I've seen in Yorkshire – and anyone practicing there in future will be very lucky indeed.
As a mediocre league cricketer with a propensity to step to leg, shut my eyes and mow (partly through being repeatedly beheaded at inferior cricket nets where pace, bounce and safety are all a lottery), I am envious of those that can now train in Bradford.
The grass banks are bedding in but everything has that delicious newness and consideration has been given to the aesthetic so the changing rooms building next to the nets is a stylish, pale wooden construction that has a hint of a nature reserve hide about it.
The black cage outline of the cricket nets contrasts with the red brick of the Al-Jamia Suffa-Tul-Islam Grand Mosque that rises up behind the batsmen like an imposing backstop across the road.
This evening, White Rose Cricket Club, who compete in the Quaid E Azam Sunday Cricket League, are getting in some overs while the Yorkshire weather is being so hospitable. They used to travel to Headingley and are naturally delighted to take advantage of a premier alternative on their doorstep.
There is the usual curiosity when the batsmen padding up and bowlers running in spy the camera with the zoom lens but they are a friendly bunch, content to be photographed going through their paces.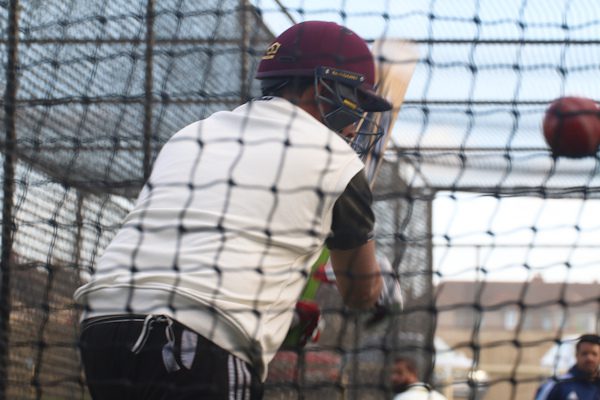 The process of who installed these nets went out to tender through Bradford Council and those companies on the list of ECB-approved suppliers were invited to submit a design and build based on specifications around size, use and practical requirements.
For Total Play, the sports surface specialists who ultimately won the business and created these nets, it began with a site visit and thrashing out their particularly expertise and point of difference given each ECB non-turf system is unique in concept, construction or components.
While you might imagine putting down cricket nets would be a fairly generic process, nothing could be further from the truth. The reality accounts for the subtleties of topography above ground and geology beneath the surface.
In the case of Bradford Park Avenue, the chosen location of the cricket nets threw up questions of how to build on top of where the old football pitch once stood.
David Bates, Total Play Managing Director, believes that's what set Total Play apart from some of the other tenders submitted:
"The way we always build systems, we do have a standard design, however, we always look at the characteristics, geology and topographical elements then design around the fundamentals of our system. We basically tailor it to suit the ground…"
This is where we get a bit BBC Time Team for a moment but it's fundamentally an alliance of catering for Bradford's geography meshed with the specialist field of cricket net installation…and who can say fairer than that?
Because of its original purpose as a football pitch, there was 400-500ml of a sandy loam (that's soil content) and underneath that there were some old clay pipes.
This complicated things somewhat and led to the conclusion that as well as building the nets themselves, the pitch surface or profile from before needed to be removed to solve drainage issues and there was no load-bearing capacity.
David's analogy was of the site at the time as a "big sloppy mattress like a blancmange" so to dispel those sinking concerns of cricketers running into bowl and realising the ground is disappearing from view, testing was undertaken.
As I'm sure all you structural engineers will know, the California bearing ratio (CBR) is a penetration test to ascertain the mechanical strength of natural ground…ok, so I googled that but it confirmed to Total Play that the football pitch would need to be dug out.
The contractor building the changing rooms had to alter the remit of how they were clearing up the site and install a 450ml gravel rack onto which the cricket nets I was mesmerically gawping at would sit.
Subsequent testing relating to how the ground would hold up with the weight of the materials and lots of cricketers charging about gave the green light to install the nets. That wasn't the end of the story though with a nod to archaeology and Bradford's mining past.
A bell pit (essentially a well that was once used to get access to and extract coal) was discovered underneath the site for what has since become the pavilion by the nets.
This obviously needed filling in and stabilising but was a reminder of the pockets of coal once treasured across the Bradford region and how people would hand dig the sooty nuggets and leave behind chasms.
While I was there, Nasa, who is Park Avenue's groundsman, beckoned me over to come and inspect the outfield and square. He was understandably proud as punch with the way things are literally bedding down.
There are seventeen wickets across the square – six that existed beforehand and eleven newly created over winter by Total Play that were constructed using characteristics such as the depth and use of ongar loam to attempt to replicate Headingley.
Local league clubs at Bradford Park Avenue this season are using the older strips that will be upgraded this winter with the eleven new pitches aiming to be ready for 2018.
While expectations are high for an outfield that resembles a billiard table by 2019 and pitches that are hallmarks of consistent pace and bounce to potentially host first-class cricket, it is all about the daily rituals that combine soil structure, growth patterns and whatever Yorkshire's climate feels like delivering.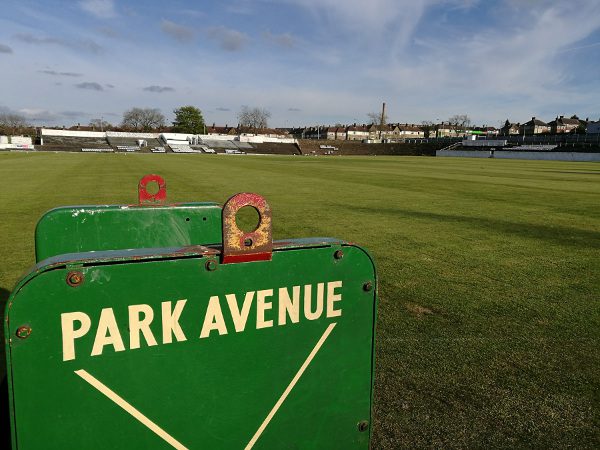 Nasa's full-time role in Bradford as cricketing grass scientist (my off-the-cuff job title for him) continues to involve ensuring hydration during what has been an unusually dry six weeks as well as working to specifications laid down by Total Play with light rolling and keeping the grass cut to exacting standards.
There is collaboration aplenty with the evolution of the outfield and square at Bradford Park Avenue; Total Play, ECB and Yorkshire County Cricket Club all adding their nous to work towards a surface fit to eat your dinner off or host elite women's and disability cricket.
Nasa's groundsmanship mentor, Richard Robinson, on the Headingley groundstaff and in charge at Weetwood, visits Bradford as has Andy Fogarty, Yorkshire County Cricket Club's Head Groundsman.
There's also the benefits of the equipment loaned from the county such as the outfield cutter to keep things on track with the intention to scarify and reseed the outfield this autumn.
I have watched the Bradford Mutual Sunday School Cricket League and Quaid E Azam Sunday Cricket League as well as Bradford district cricket last summer and though the you have to look beyond the shabby appearance of the stands, seats and scoreboard, the pitches are definitely up to scratch and being enjoyed already.
Bradford Park Avenue resonates with cricket fans across the world and its journey is one that has plenty of miles yet to run but there were doubters who disbelieved we'd ever get this far.
Slowly, the pieces of the puzzle are slotting into place and the outstanding cricket nets, now a permanent feature for the people of Bradford to use, are testament to the momentum of the project.

CONTACT TOTAL PLAY FOR CRICKET GROUND ADVICE
If you want to discuss anything you've read in this sponsored article then you can email Anthony Burton or call on 01604 864575 who is on hand to field any questions.
Alternatively, if you'd prefer to browse their Cricket Ground Shop, there are a host of practical solutions to help with groundsmanship.
To link up with total play on social media, they are @TotalPlayLtd on Twitter and TotalPlayLtd on Facebook.
*This is a sponsored article on behalf of Total Play – if the mood takes you, click to read Cricket Yorkshire's policy on sponsored content.**
Latest posts by John Fuller
(see all)