Hi everyone, we are all trying to wrap our heads around the extraordinary times in which we find ourselves.
Here on Cricket Yorkshire, there will be plenty to digest and ponder in the coming month and I've been mulling over how to add something new for website readers.
What I've come up with is a weekly cricket column. Something more personal to let you all into what life is like at CYHQ, part-cricket and part-observations of life.
If you like the way I write, there should be something here to give you pause for thought and perhaps even a chuckle in the unsettling weeks and months ahead.
Only I could launch a cricket column with no prospect of cricket on the horizon.
Wednesday 18 March

When the ECB recommended that all recreational cricket in England and Wales was suspended for the foreseeable future, I was having a cream tea in Goldsborough with a cat called Jeeves.
A pre-season holiday to Scotland had hastily been cancelled the week before and we'd spent the past few days in a Jacobean stately home where one of the resident cats was making a bold bid to lick the jam off my scone.
It has been a stressful and uncertain time for everyone due to the virulent reach of coronavirus around the world since January. It takes some processing to attempt to reconcile what's happening.
It feels like we've all been dumped in a zombie movie where society is fragmenting and it's everyone for themselves. We've not got to that stage yet but as a fellow guest gloomily announced over breakfast, their local Asda in Northamptonshire had been broken into – so what was next?
The infectious nature of the respiratory illness COVID-19 and the need to dampen its spread has made it impossible to rally together. At least, not in person.
I've coped by largely isolating myself from much of the news; a strange notion for a journalist who usually thrives on current affairs but the blow-by-blow, piecemeal negativity wasn't proving helpful.
Social media can be a remarkable network to connect people from across the world but to observe some behaviour online has been to recoil from the negativity and critical judgement of how others cope with this once-in-a-lifetime event.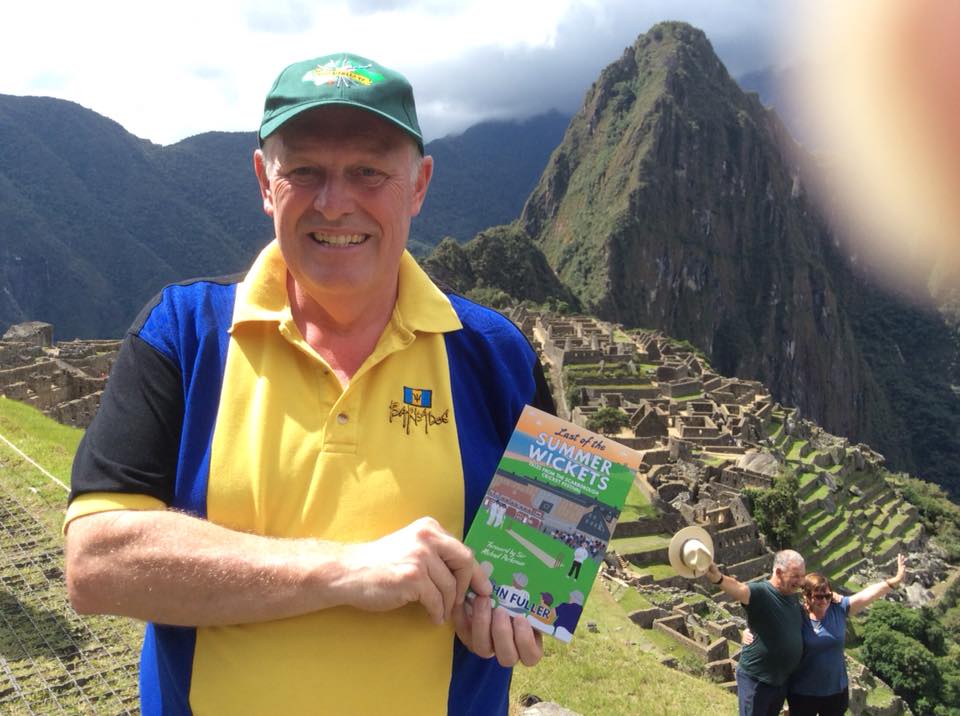 That said, it has the ability to lift us too. I was having a really bad day recently when a Twitter follower sent me a picture of him with my Scarborough Festival book up Machu Picchu.
The kindness of strangers, eh? Thank you, Graham.
I like everything about the image. There's a thumb partly over the camera lens. That my little cricket book is putting in an appearance in Peru, high in the Andes Mountains. 
Best of all is the contrast between a fan showing off a book about county cricket with the couple lower down who are excitedly posing for a photo with arms spread in wild celebration.
Anyhow, Mrs Cricket Yorkshire and I suspected that events would unravel over the coming weeks and there was a chance the country would go into full lockdown. 
Hence the reason to escape to this picturesque North Yorkshire village for a time and have my nether regions prickled by a cat who likes to sit in laps and has claws a lion would be proud of.
I have a soft spot for cats but have now wised up to Jeeves' antics, who does that thing moggies all do when they are trying to settle and their claws test where they plan to rest.
I deploy a thick cotton napkin acting as an extra layer of protection and the soundtrack of contented purring is very relaxing.
For a spell, we live in our own bubble. We eat decadently, watch red kites surf the airwaves at dusk over the fields and savour this period of calm.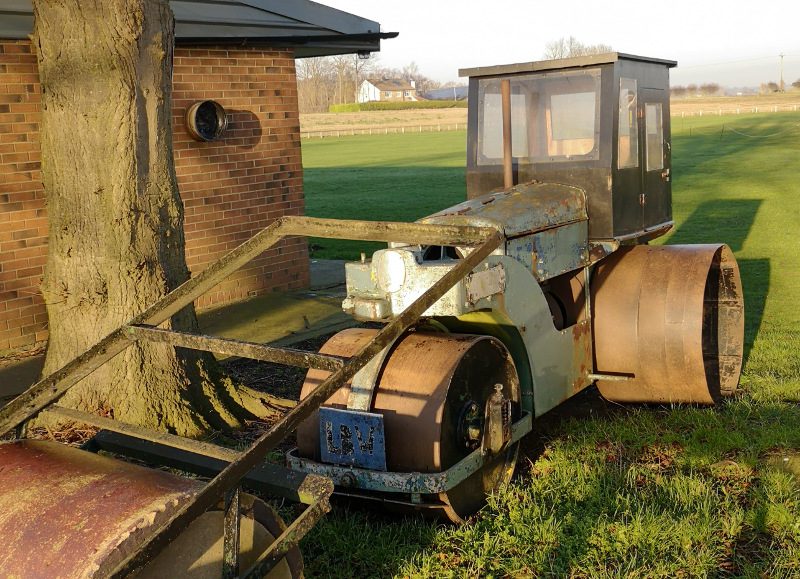 Thursday 19 March
Any attempts to cling to normality are punctured by the flustered receptionist fielding calls to postpone room bookings.
'Social distancing' is now in full effect which means we should all stay at home, limit contact with others and not travel unless absolutely necessary.
The situation has escalated in a matter of days with government advice to close all schools, food and drink premises and a raft of other businesses to dissolve the chance of the general public fanning the flames of coronavirus.
It all feels surreal, scary and more than a bit apocalyptic.
As we take a taxi back to Knaresborough railway station, we pass Goldsborough Cricket Club's pitch. Dormant, as it would be, in late March but a symbol that club cricket has been paused indefinitely before it even started.

It is a scenic spot surrounded by fields and the location of the square means it's a short bunt to biff a straight six over the bowler's head.
The ball must do a bit too as this was the scene of an epic batting collapse that once yielded ten ducks and only five extras for the scoreboard in 2006.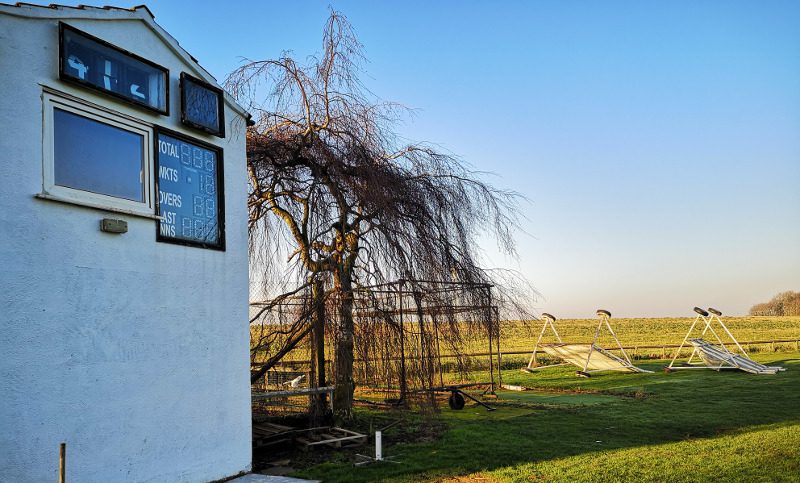 Today, that scoreboard glistens in the morning sunlight. It's a tall, whitewashed structure that reminds me of the lifeguard's station in Baywatch (because of the side stairs that scorers, not David Hasselhoff, climb up.)

The sightscreens at Goldsborough are both tipped over, as if resting. They are those ones with a sheet of canvas and resemble sickly catamarans as we scoot by in the taxi.
Like us, the driver is self-employed so he thinks this will be his last day of work for a number of months. He is pondering two options: to sell his car or keep it for the summer in the hope that restrictions ease.
Getting home and passing our door threshold is a welcome act of crossing boundaries. It's part-relief and safety at familiar surroundings, part-concern that we might be confined here for a long, long time.
The visit to the supermarket probably didn't help. There were restrictions on items you can buy, empty shelves and Aldi's decision to stock vast amounts of water and fizzy drinks. They were everywhere you looked.
An air of unease hung like a shroud as shoppers scooped up dried goods and one red-faced gentleman began single-handedly buying up the entire wine collection. You could see it in everyone's faces. What the hell do I buy? What the hell don't I buy?
It was like a sombre game of Supermarket Sweep.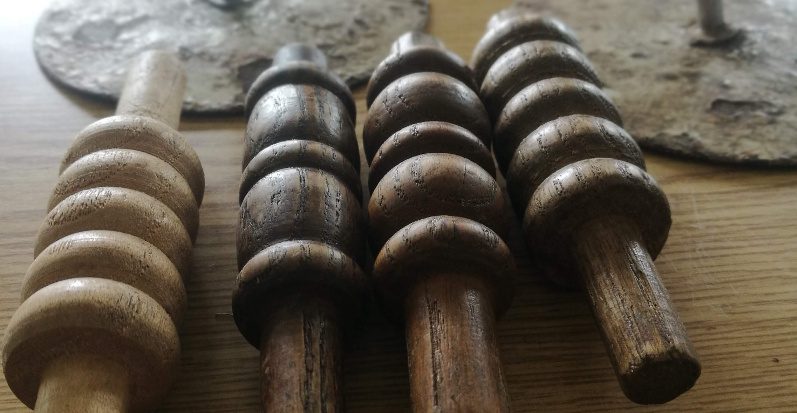 Friday 20 March
Back at the keyboard, I stare for ages at the blinking cursor on the Google Doc, unsuccessfully attempting to collate thoughts and strike the right tone.
The article about recreational cricket being on pause is not exactly hot off the press but it's important to register this moment in cricketing history.
After all, some cricket clubs in Yorkshire were still playing matches during a world war.
We don't know when we'll see domestic club cricket again. If at all this summer. Or next. It feels highly unlikely in 2020 but what do I know?
Clearly even pondering what is ultimately a hobby at this time of global crisis feels a little insensitive but this is a cricket column after all – and a cricket website.
The suspension of grassroots cricket has come at a time of year where members at clubs haven't yet renewed or they have and now there's no cricket.
No socials, match fees or anything for cricket clubs to keep the finances ticking. Of course, the bills don't stop.
It's hard to see this not radically re-shaping the grassroots game with clubs closing across the country. Some already find it a struggle when the sun is out and the appetite for cricket is booming post-World Cup win.
I'm sure there will be grants and funding available in due course but that will only crystallise when we know as a country what the landscape is like.
Even though the cricket season would not be happening until April with Yorkshire's match against Leeds Bradford MCCU, and leagues following a few weeks after, you can feel the chasm left by no cricket available to watch, follow or play.
I imagine we'll see all kinds of indoor challenges and garden games. I have a few ideas of my own.
Perhaps a Cricket Yorkshire fielding extravaganza with a teabag and a mug as the only cricket kit you'll need.
In other news, it was announced by the ECB today (Fri 20 March) that all professional cricket has been delayed until at least 28 May.
A June start is extremely optimistic. One might say pie in the sky but with the shifting sands allied to a complex range of stakeholders and the massive finances at play, you can see the reluctance to predict too far ahead.
Could we see county games behind closed doors? I find that hard to fathom until the risk has been unquestionably quashed.
There are also mutterings about the County Championship being the competition that gets chopped in any re-structure.
It takes a university professor and advanced computing a year to sort the fixtures so any re-think will inevitably involve some heavy-duty pruning.
As I set this post live, we've gone into full lockdown so the permutations of the county calendar will have to wait.
What a last over from Hopkins, just 8 from it.

Those boundaries are never too small for this lad.

We win by 2 runs!!!

Time for a sing song and a Wath Blazer.

See you in the virtual bar. https://t.co/HFcaZdET3L

— Wath Cricket Club (@WathCricketClub) March 21, 2020
Meanwhile, clubs and leagues are already responding to the coronavirus in thoughtful and inventive ways.
In the first-ever Virtual T20 game, played out on Twitter, Wath beat Houghton Main by just 2 runs.
Some cricket leagues have paused their real-life season, others have cancelled the first half. Everyone, in all walks of life, is on tenterhooks, waiting, hoping, for clarity and confidence.
I know it feels as if the scores are currently tied, same wickets down and everyone is scrambling around for the rulebook to know what to do next.
The picture, though muddy at present, will eventually sharpen.
Will I get the chance to taste the culinary calibre of Yorkshire clubs this season or do we do a Great British Cricket Tea by video chat?
This weekly column will reveal all but thanks for reading and please share it via the Twitter and Facebook buttons below, if you know someone who likes their cricket.
Stay well,
John
Latest posts by John Fuller
(see all)