The 2022 club cricket season is within touching distance and there are so many reasons to be optimistic.
After two long seasons of Covid-affected cricket, restrictions are set to be a thing of the past when clubs across the country take to the field come April.
John Fuller, Founder of Cricket Yorkshire, finds himself in the hot seat for a change in this episode of the Cricket Yorkshire Podcast as I ask the questions…
With this change comes other aspects such as the return of cricket teas, more freedom for spectators and generally just a fresh buzz around the club cricket scene again.
All we need now is some glorious English sunshine!
With all this in mind, I sat down for a natter with John as we discussed the imminent 2022 season and life at Cricket Yorkshire HQ.
I've always thought John's calming tones would be suited to Cbeebies bedtime reading, so if you're after a nice informal listen with grassroots cricket just over the horizon, this is the one for you.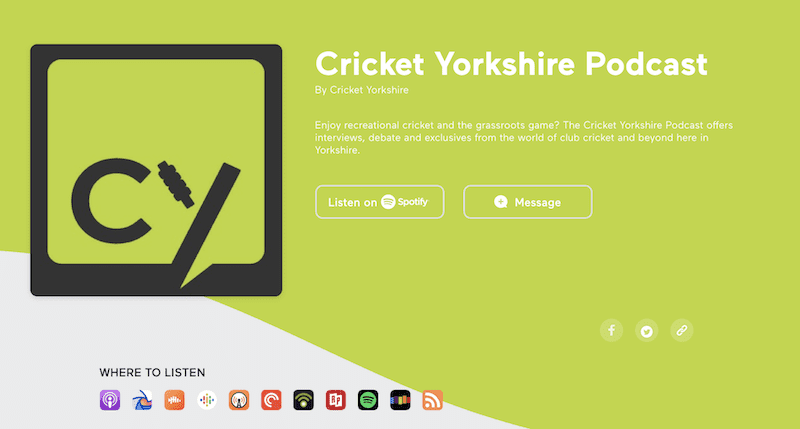 Here's what we cover:
● Outlook for the Yorkshire club cricket scene heading into the 2022 season?

● Importance of travel and club visits to Cricket Yorkshire's coverage and looking forward to visiting/re-visiting grounds. Favourite grounds to date?
● We're all set for the return of cricket teas – you must be excited to get stuck in once again? Notable ones to date?
● What are your hopes and thoughts for Cricket Yorkshire this year?
● How is the e-course and commercial side of CY going? Is it a tough time to generate revenue for an independent website like Cricket Yorkshire?
It's about an hour's episode if you're driving back from work, want a podcast for a commute or some cricket chat on in the background at home.
Happy listening!
Latest posts by Asher Nutting
(see all)