If you like cricket board games then the story of how Flickit Cricket came to life during lockdown is a tale not to miss.

As a self-employed cricket coach, Scott Moody was suddenly out of work in March when the country was kept indoors because of coronavirus.

Confined to a flat in South-West London and unable to do the outdoor video drills that other cricket coaches were launching, board games came to the rescue.

Scott was sat playing a game of Monopoly with his daughter when he had something of a cricket board game 'eureka' moment:

"I was looking at the board and the Community Chest and Chance boxes in the middle reminded me of a popping crease. I got the ruler out and drew on a cricket pitch! I put the wicketkeeper in and where the bowler would be."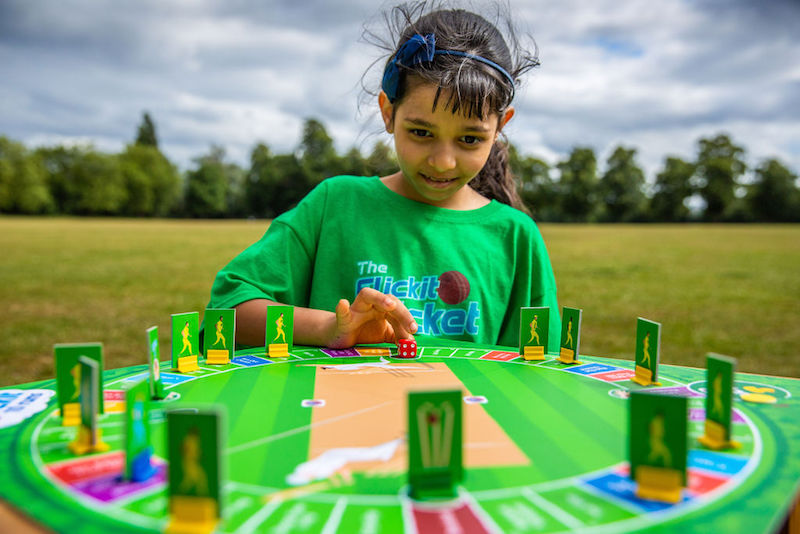 Inventing a cricket board game

The Moody family Monopoly board rapidly got ruined for the greater good as fielders were drawn in and in-play scenarios took shape.

He sent that very basic version out to the kids he coaches with a few rules, if they had a Monopoly board kicking around. The feedback was amazing; enough to take it beyond one of those moments of inspiration that never go anywhere.
As a designer, Scott's sister-in-law, Sandra, came up with the look of the board, rules were adapted and the prototype went out to his cricket network.
Again, the response from the cricketers he coaches was a massive thumbs-up. But this concept for a new cricket board game still hinged on a fortunate dice roll: "I wanted an element that relied less on luck and more about skill."
He adds: "It just came to me one night at 2am, still thinking about this cricket game I'd invented: what if you flicked the dice at the stumps?"

Flickit Cricket was born. Run out decisions or LBW shouts can be decided by a carefully aimed flick of the dice at the upright cards. Very satisfying for adults and kids alike.
How do you play Flickit Cricket?

If you're a parent with a child between 9-15 then you're more likely to be familiar with apps than cricket board games.
This exciting new board game recreates the drama of a T20 match. Score runs, claim wickets and with players captaining their teams, they decide on strategy.
You get to pick your team mates, set the field, achieve every dismissal and have your own captain playing figure on the board.
This is a 2020 reboot for cricket board games.
Yes, it's a mix of flicking dexterity and luck but as an introduction to cricket, there's the fielding positions and the inevitable maths that come with any form of the game.
As a former legspinner who once played alongside Shane Warne, Justin Langer and Damien Martyn, Scott brings a knowledge of cricket to this, allied with a background as a cricket coach and teacher.
What's it like playing Flickit Cricket?

In the Fuller household, we had an absolute blast playing Flickit Cricket. It was lots of fun as the dice were flicked all over the kitchen at high velocity.
You place fielders round the board with positions marked so you'll get to learn your cow corner from your square leg. There's bowling and batting powerplays and you're out if the fielding side can knock over the stumps with their flicks.
Proving it is a cricket board game of incredible accuracy, Mrs Cricket Yorkshire ran me out for a golden duck on the first ball of the match.
She also caught half my team out at leg slip. They clearly need a few intensive net sessions.
It takes about an hour for a game, assuming you haven't flicked the dice under the sofa and need a strategic timeout to try and locate them.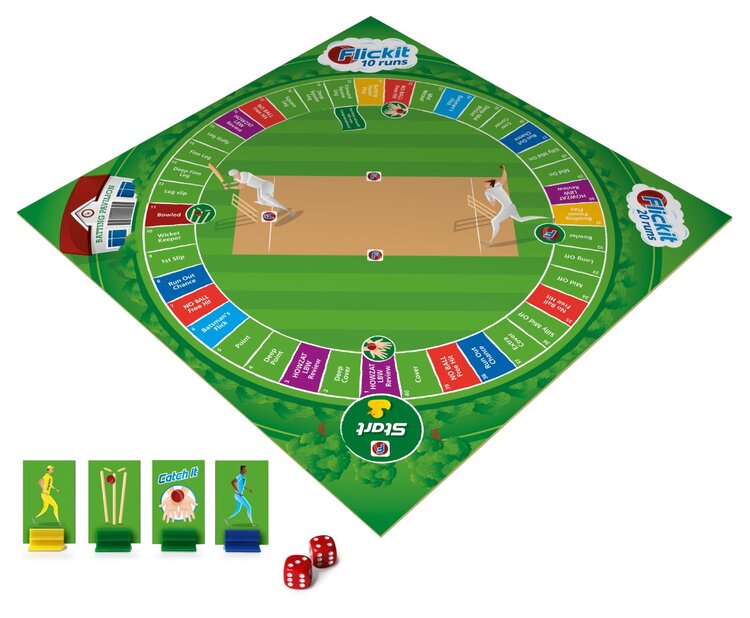 How do you buy Flickit Cricket?

This has been a cricket board game brought to life by Scott's creativity and a desire to entertain his kids during lockdown.
Flickit Cricket is now available to order at www.flickitcricket.com.
There hasn't been a new cricket board game in decades. Flickit Cricket deserves a wide audience and would make the perfect birthday or Christmas present.
Follow Flickit Cricket on Social Media
Visit flickitcricket.com to order your game, watch videos, reviews and download resources.
You can follow @flickitcricket on Facebook or @flickitcricket on Twitter.
*Thanks for reading! This is a sponsored article for Flickit Cricket – if the mood takes you, click to read Cricket Yorkshire's policy on sponsored content** 
Latest posts by John Fuller
(see all)