Order your FrogBox Streaming kit by Sportradar before 1 March '23 and have access to 2022 pricing, saving you £200!
For cricket clubs thinking about live streaming then now's the time to jump in, get a discount and set up before the new season.

In this content partnership with Sportradar's FrogBox, we'll look at the benefits, what's included, the costs and your next steps.
What is FrogBox?

FrogBox is a complete live streaming kit with everything cricket clubs at any level need to broadcast the action from games, as it happens, while recording footage for later too.

An ECB-approved supplier, FrogBox is the only streaming package that integrates with Play-Cricket Scorer and Play-Cricket Live. FrogBox is owned by Sportradar, the world's leading sports technology company, whose remit is to create immersive experiences for sports fans.

Benefits to Live Streaming
A professional broadcasting experience every time
FrogBox is portable – so use it on any ground
Works with Play-Cricket for live scorecards
On-screen graphic overlays like TV broadcasts
Promote sponsors during live games


Increase membership – streaming is a definite selling point
Highlights (4s, 6s, wickets) are automatically clipped. (New in 2023, added feature to allow clipping of additional balls as highlights – appeals, funny moments etc.)
Live stream to YouTube, build an audience and earn from Google Ads
Create highlight reels using Lilypad – FrogBox's cricket archive and fan engagement tool
Players and coaches can watch clips back to improve
Use games for fantastic video clips on social media all year

The clubs I've interviewed about using FrogBox rave about it. Its potential is far beyond a funny clip of your spinner being hit into another postcode.

Though, there's nothing wrong with that – as Illingworth St Mary's found out when their clip of Asif hitting his own car with a six went viral.

Bring in new sponsors, encourage new members, create an extra buzz around games and upgrade your club this year.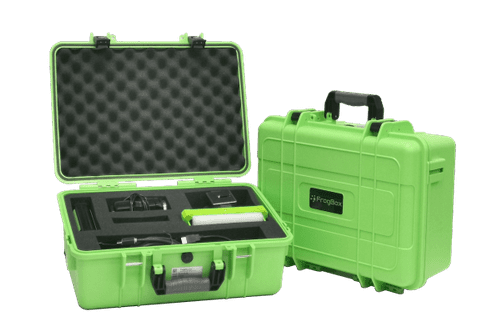 Costs


There are two costs to owning a FrogBox:

1. Buy the streaming kit – which includes a FrogBox camera with exclusive wind noise reduction kit, remote-controlled pan & tilt head, mast, rechargeable battery and waterproof carry case/chargers/cables.

£950 before 1 March 2023 – then £1,150. This is a one-off cost.

2. Buy the streaming pass – this enables your cricket club to have all the cutting-edge tech that adds polish and powerful features to your live streaming.

Overlay live scores, add club logo and sponsor graphics for the live stream direct to YouTube, or create match highlights (without hours of editing) using the Lilypad tool (included) to share with the wider club community.

There's even a dedicated Play-Cricket public match centre which includes your live stream, live scores and highlights.
£250 a year
Otley Cricket Club: Case Study

Hundreds of cricket clubs are using FrogBox every year – because it's such a fantastic addition that adds a professional upgrade, supports sponsors, drives conversations and allows anyone to feel connected to a club.

Take Otley Cricket Club, who play in the Aire-Wharfe Cricket League. They are a great example of a club using all of what FrogBox can do – while thinking of the commercial angle.

Otley have signed a two-year commercial partnership that is the highest value at the club for six or seven years. In addition, numerous companies are getting in touch about being a digital partner.

With FrogBox, your club can sell sponsorship packages around a live stream (showing sponsors at the end of overs or an innings), as well as being on YouTube or social media.

Sponsors will want to know how many views they are getting and this is something FrogBox can easily provide in a way that an ad board is only an estimate.

---

'FrogBox has undoubtedly widened our area and potential for new partners.
With many more partnership options now available for us to create and sell, the initial set-up costs, which were a sticking point, have proved minimal as we are already seeing an increase in interest to become involved with the cricket club.'

OTLEY CRICKET CLUB

---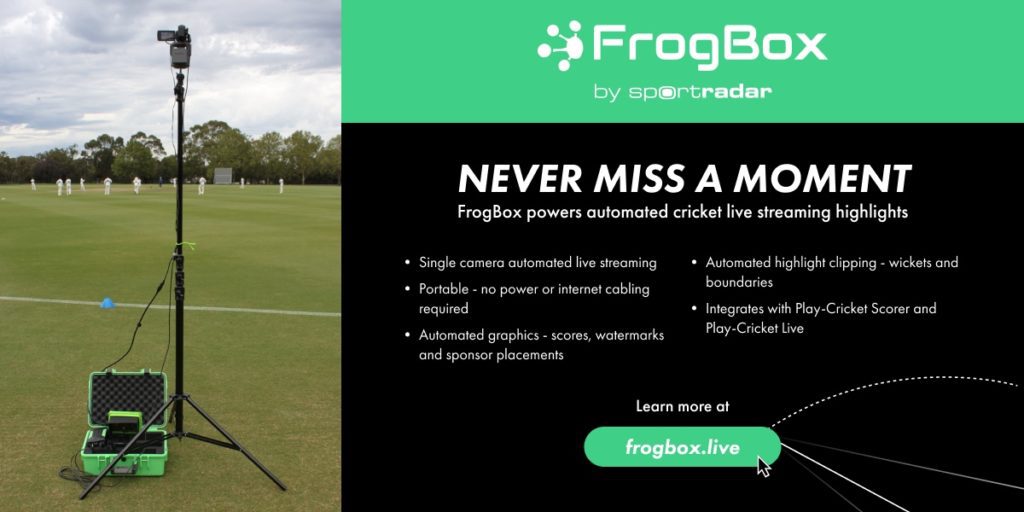 Next Steps
Visit the FrogBox website to see for yourself. You can also arrange a call with Chris Watling at a time that suits for any questions your club might have.

Remember… Order before 1 March for the £200 discount.
Prices on the FrogBox streaming kit are being frozen until then. Afterwards, the price increases to £1,150.

The streaming pass price stays the same at £250 a year.
For the latest on social media, follow @FrogBoxLive on Twitter or FrogBox on Facebook.
You can also check out FrogBox on TikTok & they're @frogboxlive on Instagram.
Cricket Yorkshire is partnering with FrogBox for 2023 and will be offering advice on getting the most from FrogBox including interviews with clubs.
This is a sponsored article for FrogBox – if the mood takes you, click to read Cricket Yorkshire's policy on sponsored content*
Latest posts by John Fuller
(see all)