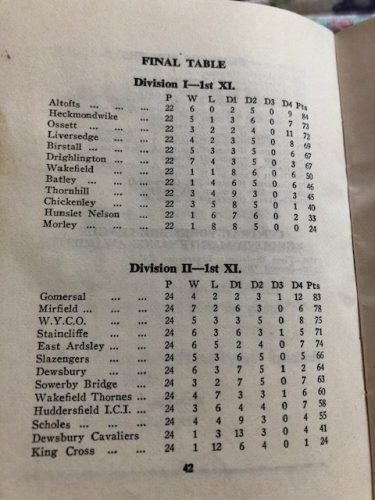 Rupert Jones reflects on his time batting in the Central Yorkshire Cricket League; of cricket clubs now sadly no more and the might of Altofts Cricket Club.
***
These are the 1981 league tables for the Central Yorkshire Cricket League, often referred to as the Heavy Woollen Cricket League.
It was in some ways a very significant season that would have a long-term influence on Yorkshire cricket & I will come to that in my detour story.
I am Rupert Jones; a very average cricketer who largely opened the batting for Hunslet Nelson CC between 1977 & 1985 & then Olicanian CC between 1997 & 2006.
Finally, it was semi-retirement with cricket for St George's CC at Harewood House.
You will notice the 12-year gap. I was then in Botswana where I continued playing cricket in the Gaborone Cricket League.
In total, I have occupied hundreds of overs played a dead bat to thousands of balls, barely hit a six & scored 24 fifties. 
There were never really enough overs in a game for me to score more or even get one ton. I was Boycott-esque in my ability to play a maiden over. 
Now let's go back to the photograph of those league tables. What you notice is that nine of those clubs have long since ceased to exist. Two more have changed names. 
On top of that, one club had already dropped out from the 1980 season which was Brook Motors who played their cricket on their beautiful ground in Fartown, Huddersfield.
The 9 clubs are Wakefield, Thornhill, Chickenley, WYCO, Staincliffe, Slazenger's, Dewsbury, Huddersfield ICI & Kings Cross. 
Heckmondwike disappeared but have come back, adding Carlinghew to their name. Dewsbury Cavaliers changed their name to Moorlands but is it the same club?
My debut 50 came at ICI's ground in April 1978 followed by a 2nd 50 at Brook Motors. Fifties followed at Kings Cross, Cavaliers & Thornhill. Then a memorable 48 run out at Chickenley. So for me, the loss of these clubs moves me.
My favourite grounds were always Heckmondwike & Mirfield who have also had their ups and downs.
The saddest ground was Savile Town, Dewsbury. It just seemed to convey its past with a huge, dilapidated pavilion which I once explored when playing for the first team in 1978 while Genesis played Knebworth. 
I was probably quite lucky not to put my foot through the floors they were so far gone. The ground was huge and the grass never seemed to be cut very short. 
It's no wonder I once took 39 balls to get off the mark there though I did at least get 29 in a memorable Crowther Cup win. WYCO was another huge ground with a walk past the bowling greens to get to the changing rooms.
These league tables certainly mark a sad nod to what was to come. It also marks the start of the computer and video game era. I wonder if there is a connection?
Now to that detour. The Altofts side of 1981 was, in my opinion, one of the strongest club sides ever. They had no less than four overseas players. Opening the innings was Ronnie Hart, with a One-Day International appearance for New Zealand. 
Coming in at first wicket down was the Young New Zealand Cricketer of the Year Alan Hunt, followed by Lindsay Crocker who managed the last NZ Test team to tour England! Batting at 7 was an 18-year-old Australian called Dean Jones.
In addition, Altofts could call upon Glyn Cardall & Tony Sutton who were both Yorkshire second-teamers & Tony Frost who played for Notts 2nds. All this was thanks to the genius of Clive Jackson still running Altofts today.
In 1981, I was in the summer term of a blissful end of my first year at Manchester Polytechnic. We had no summer exams so could largely just indulge which included travelling back on Saturdays to play cricket.
After a 36 at home to Heckmondwike (Reg Parker keeping wicket) I found myself selected for the first team. Our opponents were Altofts. 
Well, after 26 overs, they were 52 for 2. My dad even popped down to have a chat with his fellow Aussie, the young Dean Jones. He moaned to him that he was not getting much of a bat and was largely relied upon to do the bowling. 
Jones came in with less than 7 overs left and scored 76 not out. That sort of striking was unheard of in those days. 
Ray Bebbington (Three-time winner of Central Yorkshire League's Bowling Award) went for 64 in 4 overs. 
A new star was born. We were quickly dispatched, I made a duck & Altofts won the league. And I mentioned consequences for the future of league cricket. 
Well, they were responsible for every club rather than just the elite getting an overseas player and for it soon becoming one player per club.
The following season, Ronnie Hart brought his mate over but Altofts had to give him to Heckmondwike. 
His name was Gavin Larsen who would finish with 121 one-day international appearances for New Zealand and bowl his miserly medium-pace in three World Cups.
And another little curio. Despite their total dominance, Altofts only scored one individual hundred that season. 
This shows you how much club wickets have improved since. As it happens, our last game of the season that year was against Altofts 2nds and I carried my bat for 61 not out. 
In December at the WACA, Dean Jones took 199 off Western Australia with a certain DK Lillee bowling.
Editor's Note:
Thanks to Rupert for his article and to Brian and Clive for the photos. If you'd like a further article then have a read of Central Yorkshire Cricket League: History at Methley which was the last day of the league and I was there to watch Methley win it.
Here's the news on the Yorkshire CCC website of the Yorkshire Premier League restructure that shook up the top level of recreational cricket in Yorkshire.
Last but not least, some photos of the Yorkshire Premier Leagues Championship Final (2018) as Wakefield Thornes beat Great Ayton.
Was this article of interest? Stay in Touch!
If you liked this article, sign up for the Cricket Yorkshire Newsletter and get the free download: '6 Ways to Get Your Cricket While The Season's On Pause'.
You'll receive inside news from CYHQ, partner offers and exclusive competitions.
Latest posts by Cricket Yorkshire
(see all)