Perhaps inevitably, having no firm plan to see any cricket meant I ended up catching two games in the first full weekend of league action.

Saturday was a drive over to Knaresborough; the A658 offering ample opportunity (if you're not driving) to spot red kites circling. One flew low, perhaps 20 feet above our car, as we took the Harrogate road towards Weeton. 
Fully deployed, its black feathers at the tip of each wing were stretching out. I ended up seeing three graceful birds of prey in the space of a minute.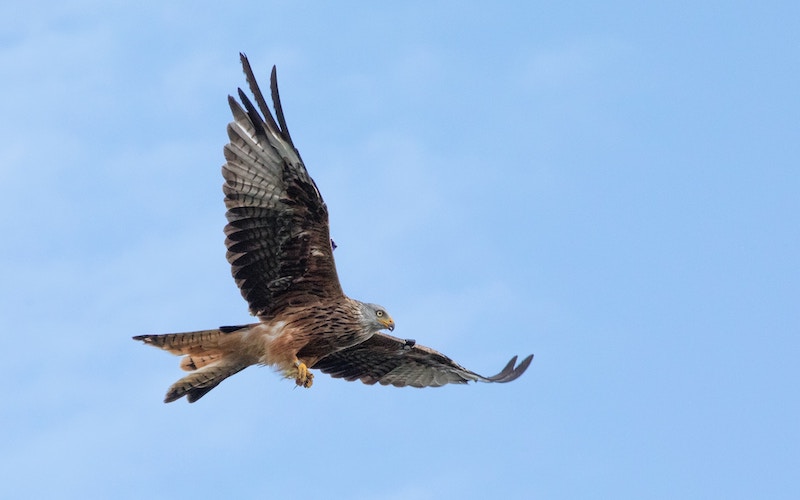 Photo by David Adams (not the same exact bird, just in case you were wondering).
A sense of wonder was replaced by a profound sense of stress when we got to Knaresborough and looked to park. A combination of no right turns, narrow, winding streets, lots of pedestrians and not enough spaces might have frayed a few nerves.

We weren't the only ones driving around the centre of this beautiful market town on the banks of the River Nidd in North Yorkshire with a crushing sense of deja vu. It felt as little like Yorkshire's answer to the Monaco Grand Prix.

No matter. When you find a spot (we almost wept with gratitude when someone offered theirs), it's as if you've won the lottery.

A leisurely lunch at Honeybee Tearoom on Cheapside was fully restorative (note to self: take a slice of cherry pie away) before a wander over to Knaresborough Castle for 'that' blockbuster view.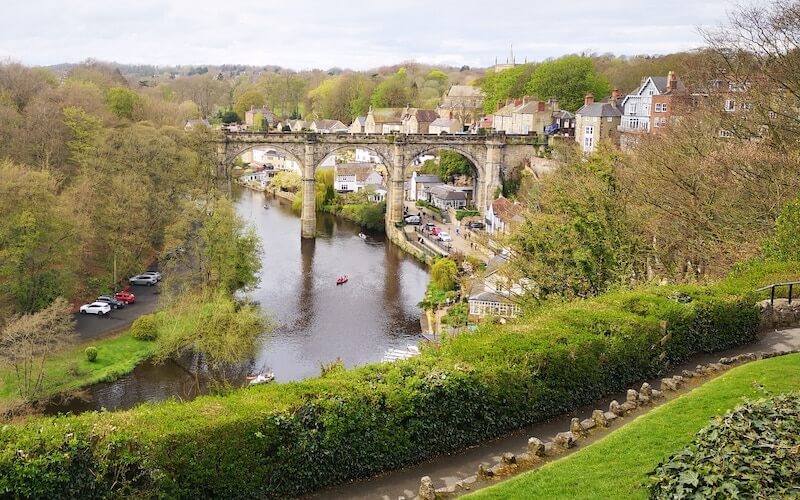 A winding path takes you down to the riverside where rowing boats were burbling their way up and down near the iconic viaduct.
A string of cafes (there are plenty of good ones in Knaresborough) on Waterside leads to a host of gorgeous houses. The sun came out and this charming part of town warmed up and lit up, punctuated only by an impromptu pause at the Yorkshire Bees Wax Candle Company for honey supplies.

At the road over the River Nidd (Bland's Hill), we carried on but up the hill is The Cricketers pub where Knaresborough Forest Cricket Club played one of the very few fixtures in Yorkshire to survive the mass cancellation of fixtures by leagues in mid-April.

Instead, we ambled down Abbey Road, past the entrance to The Chapel of Our Lady of the Crag, a tiny chapel that's cut into Nidd Gorge.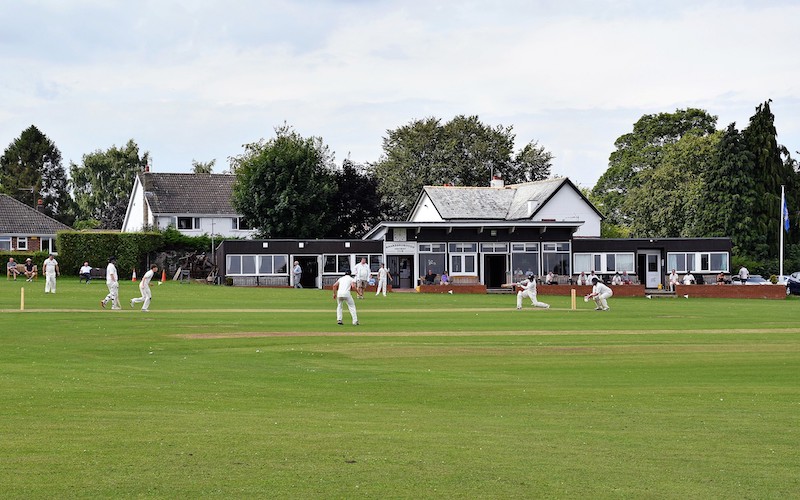 Photo: David Major (2nd XI game from 2019)
Perhaps unconsciously sensing my need for a game, Mrs Cricket Yorkshire suggested a detour up a steep path on our left that burst lungs but popped us out at Knaresborough Cricket Club.

It was my first game of 2023. There's something comforting about having club cricket back, like wearing a favourite shirt. Or the natural order of things has been restored.
Whitkirk were batting in this Championship West encounter of the Yorkshire Premier League North (Honestly, I Googled later, hadn't a clue when we arrived). There's something luxurious about turning up at a club and catching a few overs with no expectations whatsoever.

My wife, niece and I sat on a bench by the clubhouse as Whitkirk's Simon Webb worked the ball around comfortably on his way to an unbeaten 83. Whitkirk closed on 152-6 off 38 overs by which time we had meandered back into town, thus missing Knaresborough being shot out for 53 to lose by 99 runs.
Unless my eyes deceived me, Nigel Martyn was his usual busy self behind the sticks and there was the cry of "Relax! Relaaaaax!" from the home side in the field as the temptation to shy at the stumps was narrowly averted.

Even so, it was a gentle and very satisfying start to the season; strange not to have a camera and zoom lens on a monopod or to have been around to roadtest the teas but we're all up and running.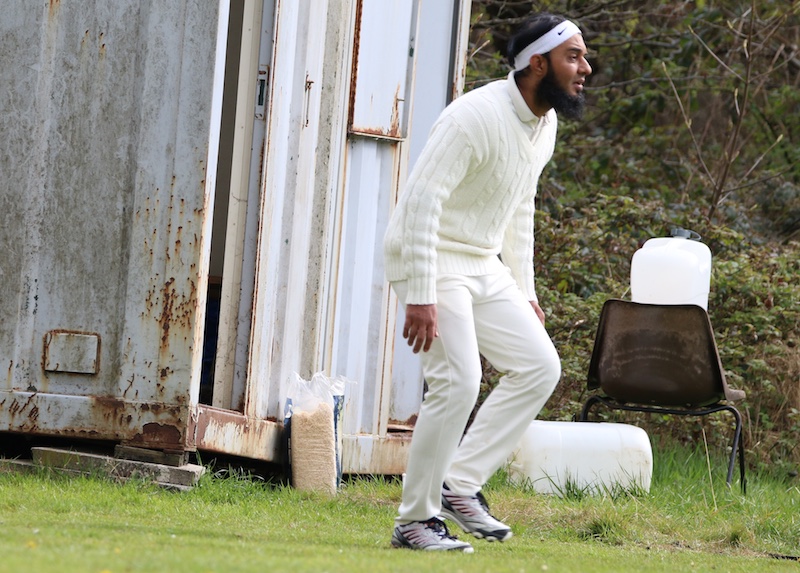 Sunday

No particular plan to see any cricket but on a walk to Saltaire – but there is a clutch of grounds with games on most Saturdays and Sundays.

After a bite at The Pepper Mill on Bingley Road (try their Bradford eggs), we found ourselves walking along the canal path away from Saltaire towards Hirst Wood.

Through the trees on the right in Roberts Park were glimpses of multi-coloured clothing, an ACS T20 Cup match of the Quaid-e-Azam Cricket League. Sure enough, when we got to Higher Ground cafe, there was a game in progress there too.

So, we sat outside nursing a Yorkshire Tea in the premium seats just beyond the boundary to watch the T20 with all of its usual drama. 
Regular sixes were launched into the mini car park near the entrance to Hirst Wood, including an effortless flick off the legs that bounced off a white car to collective 'oohs' and laughs.

The ground had been mowed but there were signs of the recent rain with bunts into the outfield coming to an abrupt halt; in contrast to last year where outfields were glassy and fast due to the prolonged heatwave.
Incidentally, the photo above is from a past game at Hirst Wood – all you'd have got with my phone camera was a piece of very moist cake with some incredibly small dots in the far distance.

It was an ACS T20 fixture in Division 1 between Gulhar (YF) CC v Asian Tigers CC.
One side had a green shirt with Ibrahim Foods splashed across the chest and a mobile phone number. Their opponents had a black shirt with gold trim (probably Asian Tigers) and each player had their name in chunky font across the back.

Speaking of phones, we had spent a very pleasant half an hour that had involved boundaries, top edges and a couple of wickets (including a towering catch) when all the phones in the vicinity started beeping.

It was the UK Government's national warning system being tested. There was something very surreal and a bit apocalyptic about everyone's phones going off all at the same time. Might have caught an umpire or two out in the middle.

It actually happened in waves over the course of about five minutes. As the same jarring frequency, presumably different phone networks, reverberated around.

As the innings break came, we sauntered off for a walk along the canal – but Gulhar (130-3, Asif Hussain 57*) won comfortably against the Asian Tigers who were 71 all out (Hasib Butt 3-2, M Rashid 3-15).

After what has felt like an interminably long time without, club cricket is back and normal service has been resumed.
Latest posts by John Fuller
(see all)