It's Battrick deadline time. The clock ticks down. But not nearly fast enough for my liking. This is the world of free, addictive cricket games. The pressure of managing a club cricket team.
Five minutes. Two minutes. Refresh the page for the umpteenth time and check the transfer market for updates. Nope, still the highest bidder…
Will someone put in a cheeky last-minute bid, as happens all the time on Ebay?
Was this how Jason Gillespie signed Aaron Finch, I wonder? Still, it beats loitering at a motorways service station to bag a star player, if that actually ever happens. I'd like to believe it still does.
No-one likes getting gazumped in a financial deal for a cricketer.
Believe it or not, that still rings true even if it's a fictional cricketer in an online cricket game.
Suddenly, it's official. The thirty-six year old Australian Rob Miller has signed for Eleven Yorkshire Badgers for the princely sum of £10,127 a week.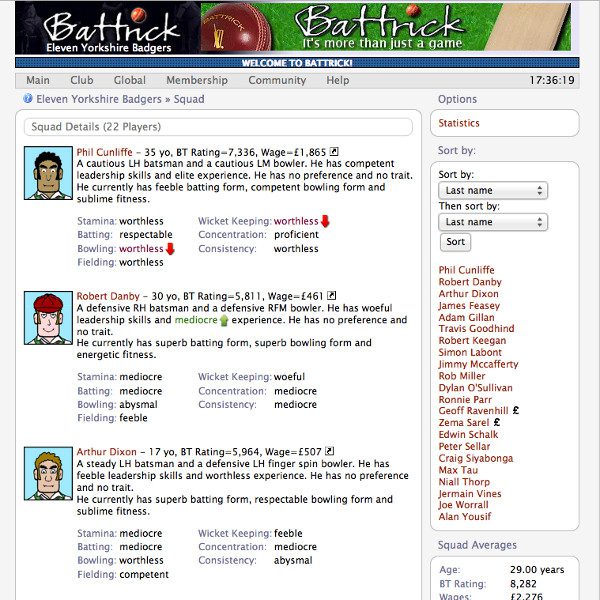 Welcome to Battrick, the free-internet browser-based cricket management game, created by Allan Fairlie-Clarke and released back in 2005.
The premise is that you take over an amateur league cricket team in the country of your choice and through a combination of tactics, selection, training and transfers, the world is your oyster.
Celebrating its tenth year, Battrick's popularity is such that over 250,000 people have played what for many quickly becomes a compelling game.
There will broadly be two reactions from readers of this to the idea of a form of fantasy cricket, either: not interested and perhaps even, get a life…
In the other camp, those who like their cricket; might know or play cricket games and are interested in managing their own amateur cricket team to glory.
For those wavering, suspend your cynicism for a minute, it's actually a lot of fun. Besides, long gone are the days where games were the realm of a narrow teen demographic.
A report by market research firm comScore reckoned there are now as many as twenty million active mobile gamers in the UK.
That's 'mobile' as in device rather than ability to combine co-ordination with movement.
I digress. If you want, Battrick can be a lot more involved than merely tinkering with a team, sitting back and waiting for the silverware to roll in.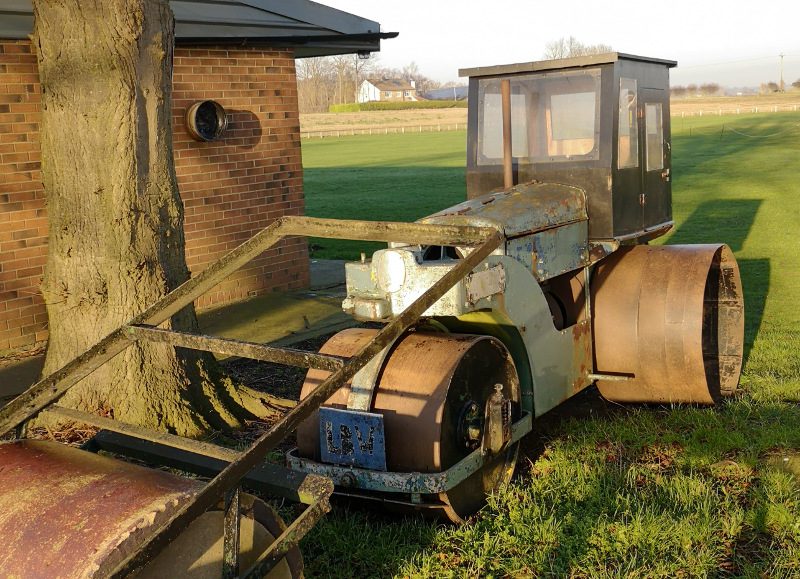 What's the appeal? Why is Battrick brilliant?
It's free (unless you want to upgrade to £20 for a year for extra features), it's simple to set up and you can become as involved or hands-off as you like. Besides, it's got real personality.
A word to the wise. If you are the type of person who flits and dips into things online and is perpetually short of time then managing a cricket team is likely to fall by the wayside.
If you're going to get the most out of it then Battrick takes some time to understand a few of the basics and to gradually build success.
Here's a few tips and tricks after Cricket Yorkshire's own team, the aforementioned Eleven Yorkshire Badgers, formed and set about blazing a trail through the amateur league scene. Sort of.
Once you register, you can start assessing your squad, finances and managing your resources before an actual fixture swings round.
A quick Google offers a tantalising bibliography of sources to answer any questions but a combination of the Battrick Wiki guide and registering with a few forums within the game itself will set you right.
The temptation is to do everything immediately. Splashing the cash. Signing the big players. Go, go, go….
Whoah there. Take a pause. Think like a strategic mastermind. Rome wasn't built in a mouse click.
First of all, decide the wheat from the chafe. Then get rid of the chafe.
if comparisons with seed casings from cereal grain is baffling you, that's taking an analytical eye as to the quality and depth of your squad.
Players have a Battrick (BT) rating, description of the type of player they are and various skill ratings in certain disciplines.
Take one of our own squad, the Yorkshire Badger Phil Cunliffe whose profile reads:
BT Rating=7,336, Wage=£1,865. A cautious LH batsman and a cautious LM bowler. He has competent leadership skills and elite experience.
Phil has currently has feeble batting form, competent bowling form and sublime fitness (I remember those days, he says nostalgically).
Skills are ranked 'worthless' to 'phenomenal' with plenty of gradation in between and it takes a while to work out which of feeble, worthless or mediocre are better than the rest.
You can be Andy Flower, Peter Moores, Ashley Giles or Jason Gillespie in your approach – whatever that might be.
Your club gets put into three competitions so in my case, First Class League X.298, one-dayers VI.128 and BT20: VII.748.
You can tell your groundsman to prepare a dusty wicket for your forthcoming must-win match with Fabletown CC; appoint a financial advisor to woo sponsors; invest in a Junior Academy and spend some cash for a ground development or new players.
Battrick, which is driven by a game engine built on stats, has a thread of amateur cricket believability running through it.
True, you don't get a call on a Friday night from two of your players crying off and news filtering through that the guy with the teas is lost in a remote Yorkshire Dales village.
But for something to concentrate the mind, keep you in touch with cricket over these dark winter nights and as harmless entertainment, it'll draw you in.
Fully prepared to only play short-term for the sake of the article then jettison because of other things to do, Eleven Yorkshire Badgers is now thriving, if not exactly walking all over opposition.
One of the unquestionable assets is following a live game which offers text commentary that is colourful and laced with humour.
Less Sky Sports gags but leaning towards Test Match Special or BBC local radio cricket commentary. And that's an overwhelming tick in the box as far as I'm concerned.
Take this particular gem when one of my batsman was dismissed in a friendly not so long ago:
'Harley will claim that was brilliant reflexes, but the replay shows that the ball firmly lodged itself in his love handles there as he was finishing his follow through.'
For some used to other cricket management games for computer or console, the inability to affect a game while it is live might be frustrating.
So no turning to your senior player who has just been carted for 38 in an over and telling him to 'Take a blow.'
Or hurling advice/abuse at your opening batsman for batting like it's a Timeless Test.
But these are minor quibbles in a well thought through game that is really recommended.
If you're at work, get the screen tabbing expertise down to a fine art to toggle between vital, deadline-driven projects and surfing Battrick's transfer market for your next superstar.
Battrick will either pass you by in a blink of an eye…
Or it will happily hoover up whole months of your precious time, hunched over the keyboard, starved of sunlight in much the same way those from the Championship Manager generation were.
Image credit of computer/desk – thanks to Jeff Sheldon
Latest posts by John Fuller
(see all)