I hadn't been to Steeton Cricket Club for years but the first team's home fixture against Green Lane offered a chance to rectify that.

Steeton is a village off the A629 as you wind your way North towards the market town of Skipton. It is home to Grandma Wild's Biscuits, Airedale General Hospital and a cricket club who have become an underdog success story.

I waved off Mrs Fuller at the start of Summerhill Lane which stretches its way down to Steeton's clubhouse and walked the rest of the way, past the football field to the cricket.
---

The punctuation between sports is a hedge with a gap to cut through.
My first impression was that they should use the lead bails today. It was seriously windy.

---
Both Division 2 sides were on the outfield running through fielding and bowling drills 45 minutes before the 1pm start. So far, so professional.

A chat with the umpires ensued, including recommendations for teas in future. Ilkley got a hearty thumbs-up with plenty of nodding.

I met up with a friend, Brian, and his son as they set up camping chairs at the clubhouse end of the ground in front of the obligatory whitewashed wall.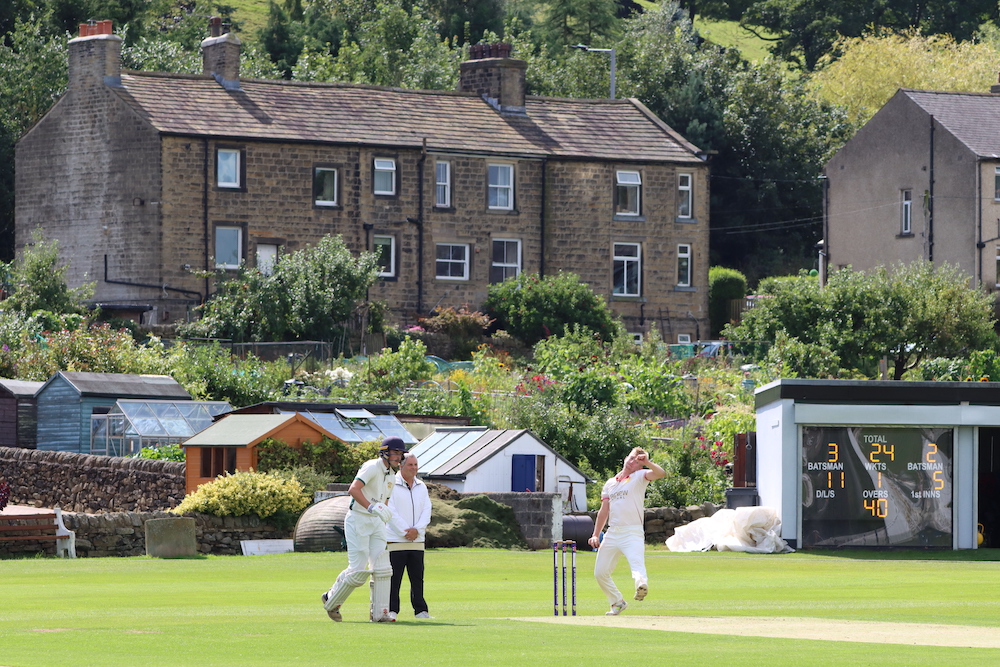 Steeton took to the field and began with seam bowler Ben Hemsley who started as a junior for my old club Bingley Congs before a couple of years at Keighley but now joining Steeton.
---

I last saw him covered in mud having a strong game at scrum-half for Bradford & Bingley RFC in a tough season where the 'Bees' failed to win a game.

---

Green Lane, who play at Nunroyd Park in Yeadon, lost their first wicket early doors but had their Aussie overseas Brodie Richardson to thank, he looked comfortable for his 48.

Green Lane's President Thomas, in his navy Aire-Wharfe League jumper, chuckled away next to me and confided that Brodie never thinks he's out. On this occasion, he didn't look thrilled with an LBW decision but find me a batter who does.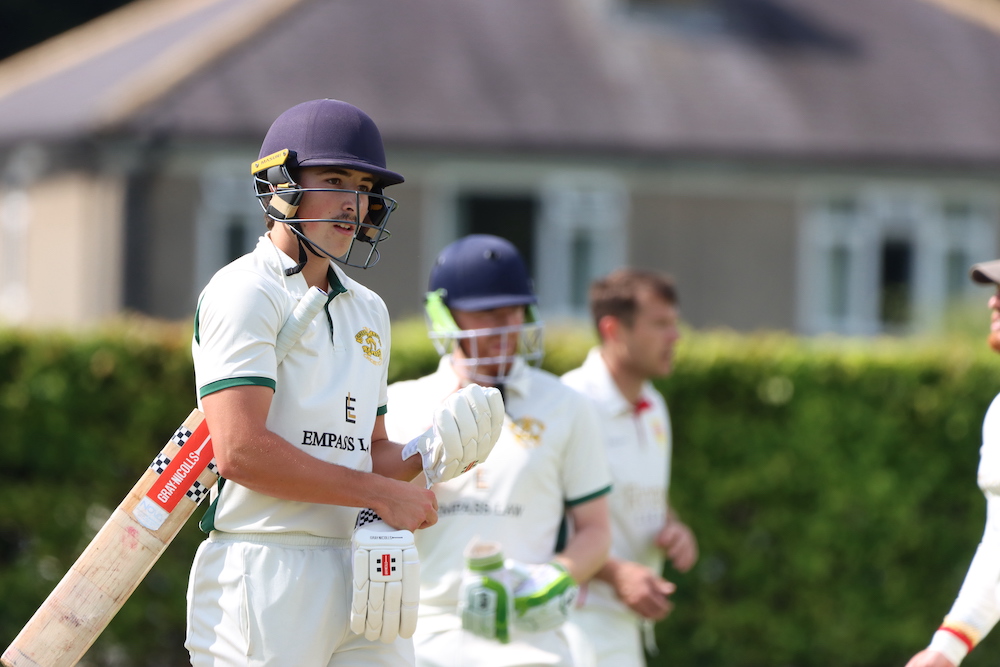 It was a curious innings from Green Lane who built a score that was slow but purposeful as Steeton struggled to claim wickets. A smart run out and a stumping helped to stem the momentum with Adam Hardwick's spin proving effective.

There were moments that spring to mind like the Green Lane batter who came out with a white helmet straight out of the 1970s Packer Series. It seemed to do the job as he confidently rotated the strike and biffed a six out of the ground.

I had taken up position on the bench and got talking to another spectator, an umpire from down South who had noticed one of the Green Lane openers hadn't been wearing a lid; unusual at the top of the order.

---

At one point, a black dog, perhaps a young cocker spaniel, interrupted proceedings briefly by tearing onto the outfield and darting in between fielders, demanding to have a bowl.

---


My laps of the ground yielded the usual nuggets; Steeton were missing key players including opening batter Matthew Nutter, keeper and middle-order batter Adam Smith and overseas player Jack Ramage, who returned to Australia midweek. Doubtless Green Lane had the same issue too, this being the holiday season.
Phil Barrett, Steeton's President, was his usual helpful self with some background. Apparently, Matthew Nutter is an aggressive, but quixotic batter who has two distinctive modes: destroy any bowling attack or get out for a duck.
Phil reckoned Adam Smith is one of the best keepers Steeton have ever had at the club while Jack Ramage is a key player, having scored 1,453 runs for the club last season.

Elsewhere on my perambulations, I was told that one of Steeton's strengths lies in the depth of their bowling and perhaps offered a clue to one of the reasons for their cup success.

The Waddilove Cup is the Airedale and Wharfedale Senior Cricket League's premier cup competition for its top teams.

Steeton have now beaten Rawdon in the final two years running, despite being a division below.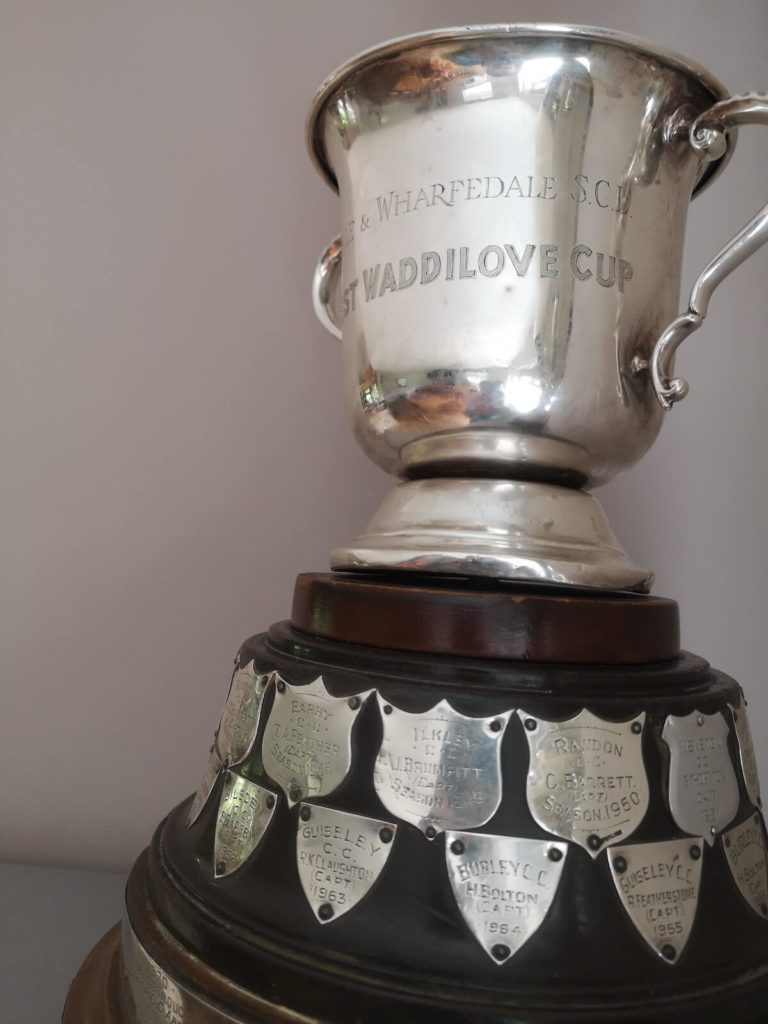 One theory doing the rounds was that the cup has a lower over limit per bowler so a couple of key players can't dominate in quite the same way as the league.

The weather certainly played its part in this year's cup success with Steeton successful in a bowl-out and then a coin toss en route to the final at Collingham and Linton.
To take you back to Steeton, they had kept Green Lane to 170-8 with the wickets shared around.
Paul Quinlan's 1-24 won't capture many headlines but it was an intelligent spell of seam bowling that yielded little luck. He managed to extract bounce while Stephen Pearson's 15-over spell (1-39) was economical.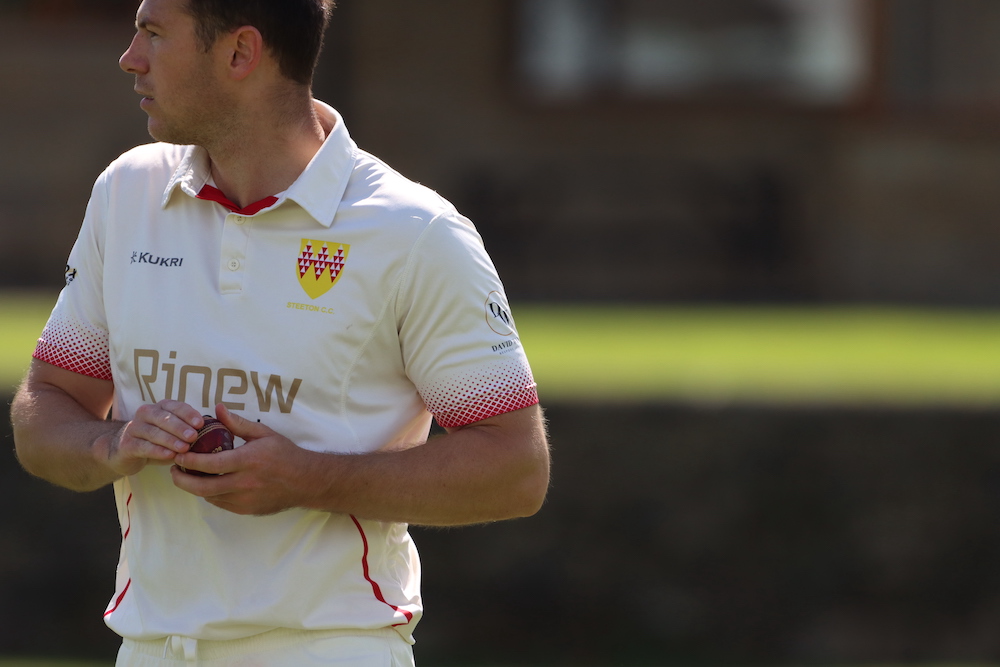 I headed indoors to buy a tea and the meat and potato pie was the star of the show as the players laid waste to a generous hot and cold selection.

Steeton's trophy cabinet is packed with cups from down the years and with no space left, the Waddilove Cup was sat on the top which I liked actually as you can see it better.
Steeton's bar has nice touches to it with stained glass features in the wood panelling while there is a painting to its right of the clubhouse that gives a sense of their HQ.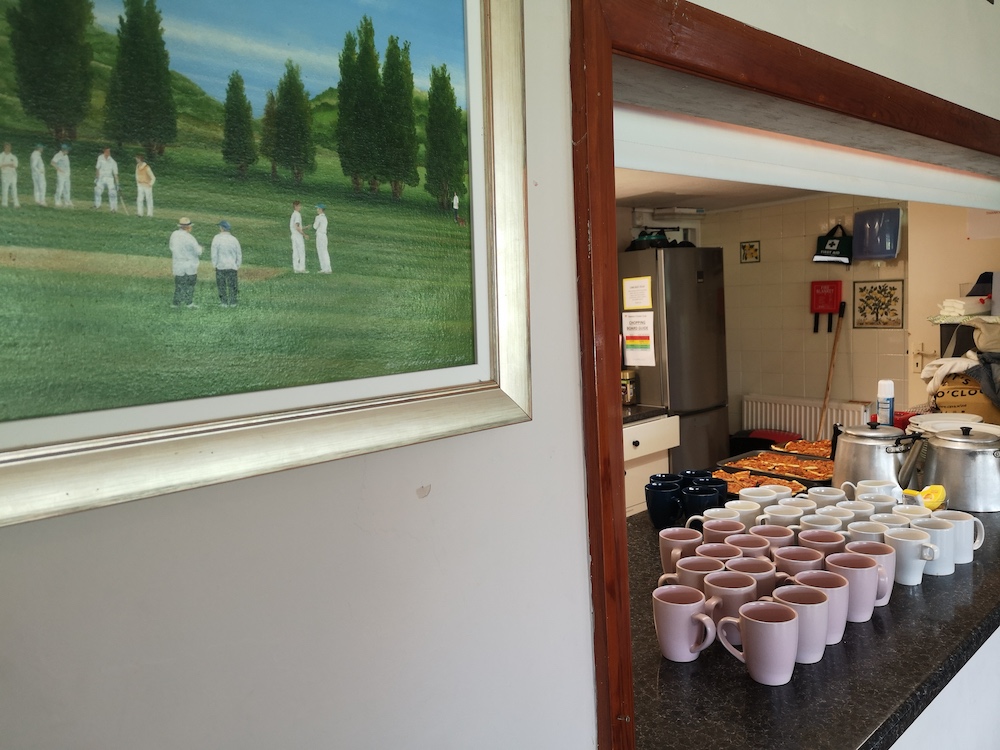 I hadn't looked too closely as it's missing stumps and there is the suggestion of umpires using one pitch and players on another but still a neat addition. It was painted, from photographs, in Australia by a friend of an ex-Steeton player who moved out there.
---

Refuelling over, we made our back out for the home side's reply. It really wasn't long before the second act burst into life. Green Lane were vocal in the field, erupting into life with a brace of LBW shouts that the umpire genially smiled away.

---
At the start of the reply, there was a curious moment when Steeton's opener was stumped.
It wasn't really a Jonny Bairstow / Alex Carey moment; from the boundary, it looked as if he distractedly wandered out of his crease and had to sheepishly make his way off. There may be an alternative tale to tell on that…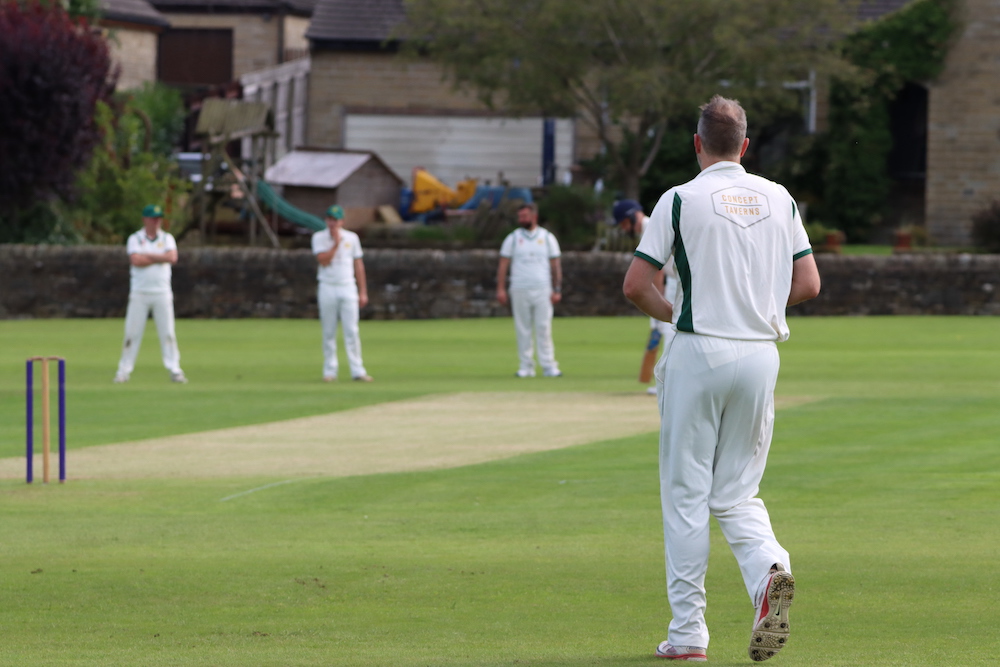 Steeton's top order was blown away by Mark McEneaney (4-23) and Neil Britton (2-34). Britton was bowling beautifully, beginning his run-up some 45 degrees to the bowling crease.

It was so extreme that I was curious how someone starts out so far right of the stumps – but it clearly works. He has 500+ wickets in senior league cricket dating back to 1996.

---

Today, we had prime seats to watch how Britton got the ball to just seam away enough to draw the stroke while extracting ample bounce.

---


From the carnage of 7-4, Steeton needed a calm head and their skipper Stephen Pearson (36) dug in but there was ultimately too much to do and perhaps not enough experience.

The victory by 95 runs was a relief for Green Lane; the first for six weeks although they remain in a Division 2 relegation scrap with Kirstall Educational, Bolton Villas and Olicanian.
As for Steeton (269), they collected just four league points after being swept away for just 75 all out.
I understand the club's main ambition this year is to get the 1st XI back into the top flight. This was a bump in the road and means that third-placed Ilkley (262) are breathing down their neck for the final few games.
It was a pleasure to get back to Steeton; there's a laid-back friendliness to the place that was evident and on a day where it nudged into the twenties, a fine place to catch an afternoon of club cricket.
***

Here are more Aire-Wharfe Cricket League cricket features or club cricket articles from across Yorkshire.

Match Photos
Click around and enjoy the photos below – if you want to donate a cuppa for my next club visit, there's the option to do that here too via my Ko-fi page.
Latest posts by John Fuller
(see all)