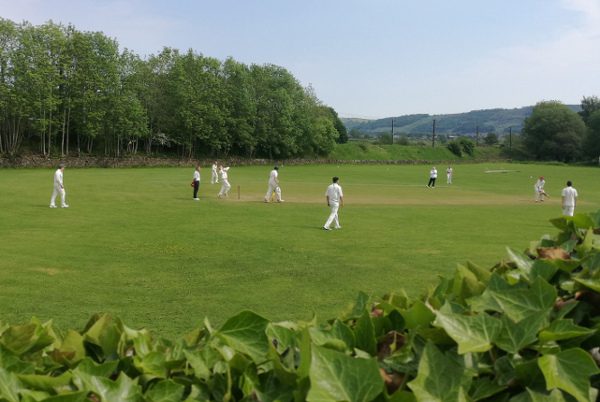 Something a bit different for this episode of the Cricket Yorkshire Podcast as I headed off by train and on foot to explore two grounds I'd not been to before.
The cricket podcast is recorded out and about so get ready for birds chirping, cricketers chirping and it was a blustery day so on occasion, it sounds like the microphone is being mauled by a persistent dog.
Cononley were digging in against Chatburn in Division Two of the Craven Cricket League and were 54-5 when I got there, inching stoically towards a batting point. They managed 152-7 thanks to 43 from Charles Calvert and late-order runs from Matthew Phillips (33) and Willie Naylor (28 not out) after I had moved on – and would go on to win.
It had the calm, unflustered pace of longer-form cricket; a play unfolding in several acts and a refreshing reminder that all good things come to those that wait.
The goal for the afternoon was to pick out a couple of cricket clubs to see for the first time to usher in what turned out to be a balmy Bank Holiday weekend. Plenty to like about Cononley's cricket ground (see photo above); a short walk reached from the platform of the Skipton train.
It is possible to watch the action from elevated grass banks or stroll over to talk to those in the old man's stand (that's actually what it's called before I get complaint letters). The gentlemen of Cononley putting the world to rights at their regular dugout, shielded from a sizzling sun, appear briefly on the Cricket Yorkshire podcast though frankly, they deserve their own radio show.
It was then back on the train to Steeton & Silsden and a short walk to Steeton Cricket Club whose seconds were at home to Ilkley in the Aire-Wharfe Cricket League on Summerhill Lane.
I caught up with Steeton's President Phil Barrett who wears many hats including club photographer, webmaster and has pulled on the shirt over 800 times for his club that yielded 700 wickets.
With little cover from a pugnacious wind strafing across the field next to the A629, it was a further reminder to invest in a wind muffler but he was full of stories and everyone appeared proud to be involved at a club cheering its 150th year in 2018.
Steeton and Cononley were hospitable hotspots of village cricket. The adult recreational game may face question marks over its future but on this showing, there is plenty of life in the old dog yet. The sense of importance that club cricket has within a community was there to see and I have to believe that both will be there for the next generation and the one after that.
If you like the idea of a gentle amble on a radiant afternoon to introduce you to more club cricket in Yorkshire then kick back and enjoy this latest podcast episode – eight and a half minutes of sunshine and solid, forward defences.
As ever, if you are willing to share the article via Twitter or Facebook, perhaps someone on the other side of the world will get to hear of the exploits in Yorkshire cricket…all thanks to you!
HAVE A LISTEN TO THE CRICKET YORKSHIRE PODCAST HERE:
Latest posts by John Fuller
(see all)