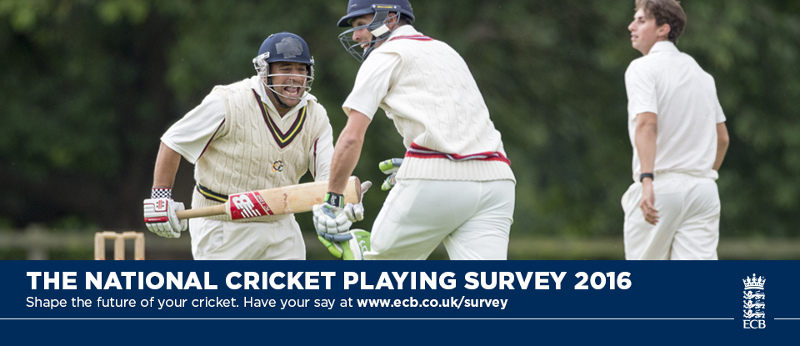 I had wandered down to my cricket club on Sunday to watch the seconds do a decent job of keeping the opposition under wraps en route to the cup final.
It was sappingly humid and the rain fell at stages but that didn't stop folk supporting their club and getting stuck into the tinnies and the burgers.
I am a little disconnected from my club at the minute, by virtue of matches covered for Cricket Yorkshire tending to be at weekends but nonetheless, it felt the equivalent of returning home after a stint at university.
My return to competitive cricket this season lasted a month during which time our plucky XI failed to win a game but I rediscovered that league cricket could be fun, even if my bowling radar spectacularly went on the blink back in June.
Life as a cricket journalist has stopped any league appearances since but it was in this context that I got thinking about The National Cricket Playing Survey 2016 by the England & Wales Cricket Board (ECB).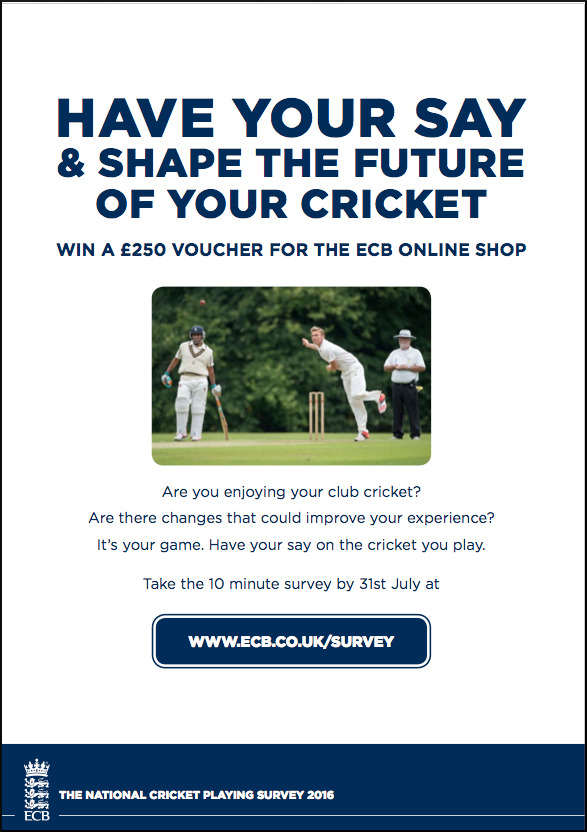 First of all, if you're reading this then heart-felt congratulations. You have clicked on a link about a cricket survey.
It's not exactly rock and roll. Did I promise you a complimentary cricket tea or something else outlandish? I have been known to do that on Twitter to encourage website visitors.
In some ways, I am exactly the kind of person the ECB wants to hear from in their survey – a wavering, participating cricketer – which is why I did the decent thing and completed it. They reckon this survey takes ten minutes – but I hurtled through in half that time which is not meant as a boast…more as a nudge to encourage you all to do it yourself.
Why? Well, either you play cricket and therefore the ECB wants to know what are your preferred formats the game could take local to you or you're a lapsed cricketer and the governing body would dearly like to tempt you back – if you can spare them a few minutes to outline how they might do that.
Surveys are rarely completed unless those doing them are being magnanimous and generous with their time to affect positive change and/or there's the proverbial carrot of a prize.
Well, here's the good news…if you do the 2016 ECB Playing Survey then you could win £250 to spend on playing equipment or England Cricket merchandise at the official England Cricket Online Store.
I really hope whatever your connection with cricket, whether engrained, peripheral or non-existent, you zip through the survey.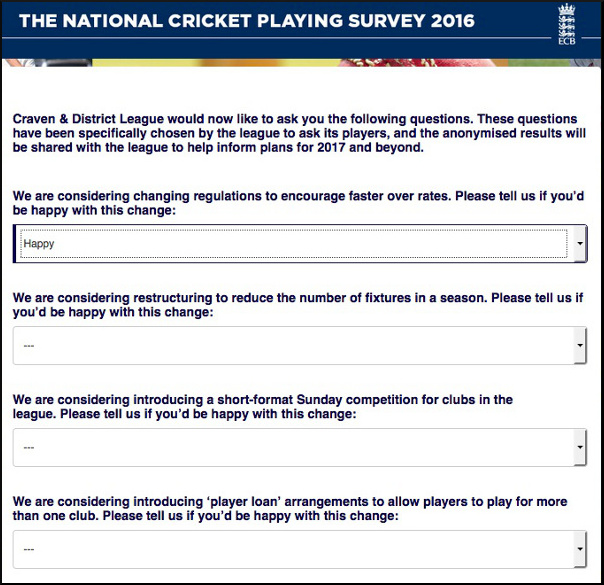 I liked this year's survey for a few reasons, if you're currently playing league cricket then there were personalised questions for that league. In mine (the Craven League), they are looking at measures for faster over rates, a Sunday competition and player loans.
They also try to pinpoint how you interact with the game asking you to agree or disagree with statements like 'I only scoff the tea then disappear' to 'I live my life around cricket, can tell you Joe Root's strike rate to four decimal places and only listen to the radio if it's Test Match Special.'
Well, ok, I made those up but you get the gist. After all, how is a governing body going to grow the numbers playing cricket if it doesn't get their opinions?
I hope the cricket survey isn't the only market survey tool being brought to bear.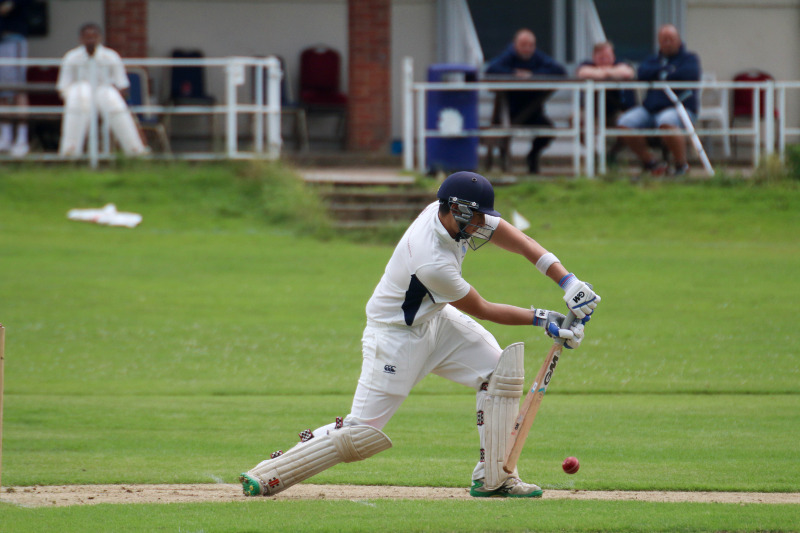 If I've learnt anything since starting Cricket Yorkshire – other than my weakness for victoria sponge is all-consuming – it's that you need to talk to your audience in the right way, at the right time and in the medium they are using.
So, if this English cricket survey is the only source of information to be gleaned about participation then we're missing a trick. Someone at the ECB needs to be snapchatting.
No, I don't know what that means either but it's what the 'yoof' do and not everyone, or even most of us, are compelled to lend their voice by nature of an online survey.
I also have digits crossed that those who have never played cricket, or only in the dim and distant past when forced into reluctant action in a PE lesson, are gently being nudged for their opinion on cricket.
Whether that's recruiting Vinnie Viking (Yorkshire County Cricket Club's mascot for limited overs cricket) to shape some moves in Trinity Leeds shopping centre or get out into workplaces to ask a few pertinent questions.
Those of all ages, backgrounds and circumstances should be just as vital in this conversation as those who can be found in whites dreaming of breaking stumps or cantering to double hundreds.
We could also do with hearing the detailed analysis of the results of each annual survey as happened in previous years but that was conspicuous by its absence for 2015's data.
If the game is to grow and prosper, it has to be all things to all people and that includes tempting back those for whom cricket takes too long, costs too much, isn't convenient, fast enough or slow enough.
If you haven't ever tried cricket then we need to be reaching out and offering whatever it is that will make you give it a go.
I often hear the recreational game is in crisis. I don't know about that. It's evolving and those that administer the game need to listen and respond to that and this survey is a small but important cox in that process.
So…as I clamber down off my soap box…go on…please fill out the survey, it takes less time than an over of cricket but will help shape the future of English cricket in 2017 and beyond.
**This is an article as part of the partnership with the Yorkshire Cricket Board – if the mood takes you, click to read Cricket Yorkshire's policy on sponsored content**
Latest posts by John Fuller
(see all)