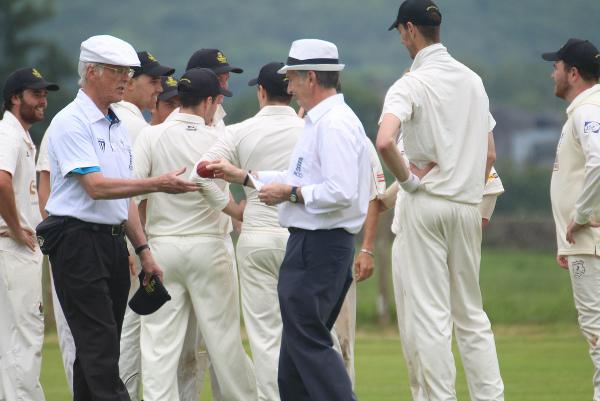 The forecast bleakly predicted rain. Siling it down, as they say here in Yorkshire. The graphic on my smartphone was prophesising a light soaking building to the kind of downpour where you anxiously seek higher ground.
Sunday's Theakston Nidderdale Cricket League Ingilby Shield fixture – pitting a League Representative XI against a team of overseas cricketers – was scuppered surely but I travelled anyway.
You don't turn down the chance to return to one of Yorkshire's outstanding village cricket grounds at Glasshouses CC and as it was a 'Yorkshire V Cancer' match, there was added significance with the welcome presence of Yorkshire Cancer Research.
It can't be easy for a cancer charity to get across the vital message around the dangers of skin cancer if it's overcast or rains.

Particularly in the UK, we struggle to get their heads round the notion of the threat unless we're sweating profusely and starting to turn the colour of a watermelon's flesh (without the pips hopefully).
Picture the relief then on the journey over from Harrogate with Graham, the League's Honorary Secretary, as we cut through a succession of pretty villages such as Summerbridge, Low Laithe and Wilsill and the sunshine lit up this Area of Outstanding Natural Beauty like a celestial torch for as far as the eye could see.
Parking up strategically to the right of what might be a clean straight drive for six onto the windscreen, we met with players, umpires and spectators who began to arrive and show just as much surprise with how warm it was.
Crucially, no-one felt the need to put suncream on that I saw which is not to pass out judgement from upon high but perhaps reinforces the point that if it's not blue skies and temperature in the late twenties then we think we'll be ok.
The advice from Yorkshire Cancer Research is that we shouldn't stay clear of the sun completely, a much-needed source of vitamin D, but we can avoid sunburn and reduce the risk of skin cancer with a few sane considerations:
·         Spending time in the shade when the sun is at its strongest, usually between 11am and 3pm
·         Covering up – wear clothes that protect you from the sun, including a wide brimmed hat, t-shirts with sleeves and sunglasses
·         Using sunscreen with a sun protection factor (SPF) of at least 30 and a high star rating – don't forget about covering your ears, hands, feet, shoulders, and behind the neck
·         Re-apply your sunscreen every 2 hours
It's a sad fact that cases of skin cancer in Yorkshire increased by 67% between 2001 and 2013 with exposure to the sun, or sunbeds, as the cause of 86% of those.
The charity estimates that 80% of lifetime exposure to the sun occurs during childhood, and a single, blistering sunburn can double the risk of getting skin cancer later in life.
Look, we have differing skin types – I once got sunburnt at an arctic Headingley Test match in May – but we're all wiser after the fact by which time it's too late so if you take anything from this article, make a conscious effort to cover up and look after yourselves, that's all I'm asking.
So, back to the cricket where news that the imperious groundsman Ken was on holiday felt like a double-edged sword. A shame to miss him after last year's memorable visit but pleased that Mrs Hainsworth had managed to drag him away from the cricket square.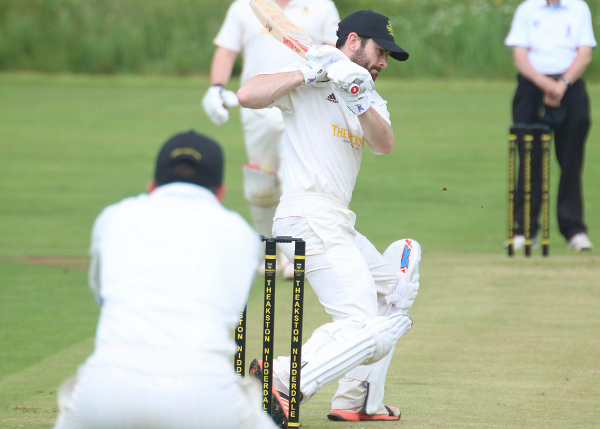 Credit to the Nidderdale League who had gone to town with everything from branded stumps (donated to the host club) to commemorative Ingilby Shield embroidered caps so both sides certainly looked the part.
In case you're wondering, the fixture came about originally and was hosted by Ripley Cricket Club with the input of Sir Thomas Ingilby, Director of Welcome to Yorkshire and owner of Ripley Castle estate.
This year's action got underway with the tallest league bowler anywhere on the planet charging into deliver a shiny red orb from about a mile above ground.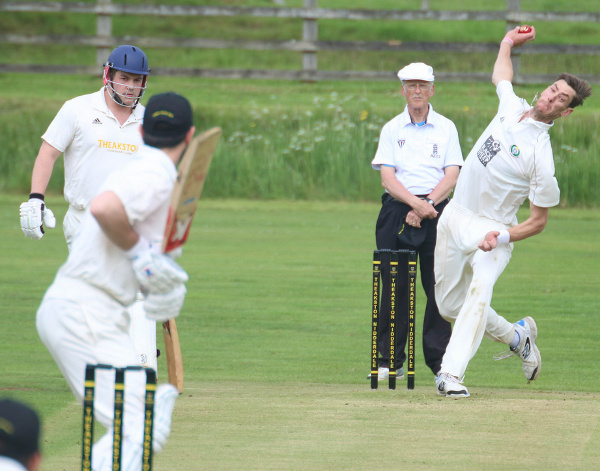 Ben Fielding, an Australian fast bowler who hails from Lucknow Cricket Club in Victoria, bowled with pace and bounce on a damp track. He must easily be eleven foot tall and is back for his second season with Masham in Division Two.
The League XI rustled up a total of 160 during which time I prowled the circumference of this beautiful ground, camera at the ready, resembling a bearded stick insect, crouching at obtuse angles and getting muddy.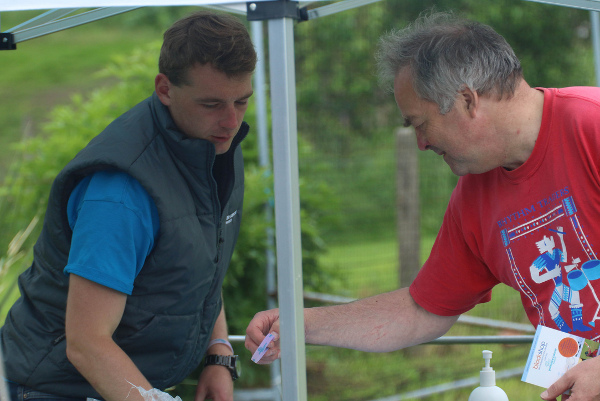 Jack, who plays his cricket with Richmondshire CC, is manning the Yorkshire Cancer Research stand with the occasional spectator ambling over to grab a UV wristband and have a natter.
The charity is in its second year of a partnership with Yorkshire County Cricket Club, Yorkshire Cricket Foundation and the Yorkshire Cricket Board to increase awareness of the signs and symptoms of skin cancer as well as highlighting the dangers of the sun.
Part of that strategy has been to work with cricket clubs across Yorkshire, inviting them to hold their own 'Yorkshire v Cancer' events which act as fundraisers but as importantly, a channel to inform the tens of thousands who watch, play, coach, officiate or are otherwise involved.
There have already been many notable successes with cricket clubs. Hats off to Bilton Cricket Club who got Yorkshire County Cricket Club First XI Coach Jason Gillespie and BBC Radio Leeds' Dave Callaghan along to a charity evening and raised a whopping £3,341.70.
As well as the Nidderdale Cricket League, the Aire-Wharfe League, Halifax League, Bradford Junior League and Quaid-e-Azam League have all agreed to support the charity this summer which is heartening to see as health messages wrapped up in fun, inclusive cricketing events can be a powerful force for good across communities.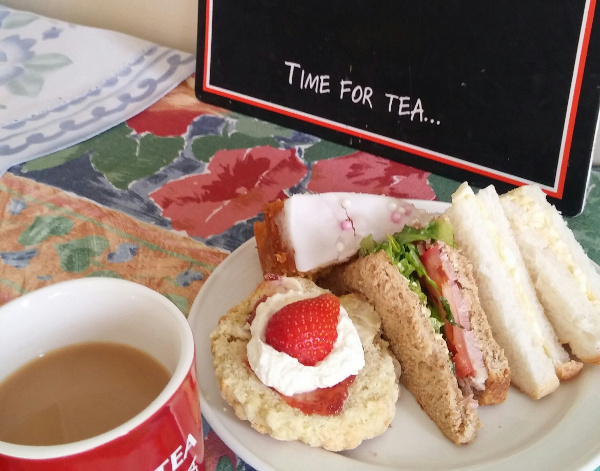 By the time the players break for tea and sit out in clusters on the grass with steaming mugs and plates piled high with sandwiches and cake, the grouchy weather front predicted for the morning has silently surrounded the valley.
It is going to rain buckets, it's just a matter of when. But that's a concern for a bit later as I buy a 'full tea' from Eileen, the sprightly octogenarian who has been making sumptuous cricket sustenance at Glasshouses since before I was in shorts.
Surrounded on all sides by victoria sponge (best cricket tea this year), I sign copies of my cricket book, All Wickets Great and Small, an apt setting for it given Glasshouses CC features with a celebration of their groundsman.
We barely get back underway before the gigantic tap in the skies was turned on and everyone scurried for cover. That could have been curtains for this fixture as the rain bounced relentlessly off the clubhouse roof and faces peered outside solemnly from the dry.
But, in a carbon copy of my experience here last year, they're made a sterner stuff round these parts and they don't let a bit of a summer shower (ok, so it was absolutely hammering it down) dampen spirits.
A revised total of 81 is calculated with the run chase reduced to twenty overs – something the Overseas XI canter to with aplomb to continue their fine record in this particular game over the years.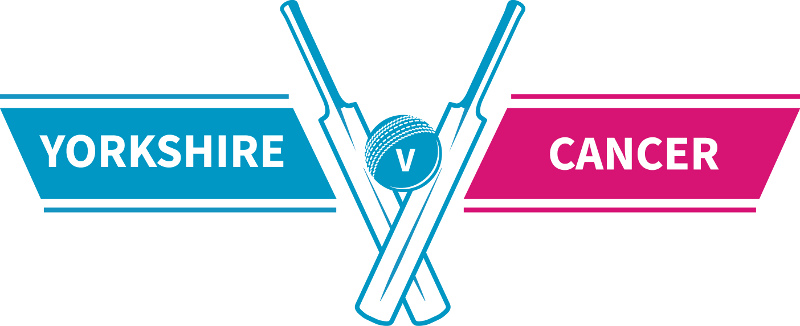 CLUBS & LEAGUES: GET IN TOUCH WITH YORKSHIRE CANCER RESEARCH
Want to hold a 'Yorkshire V Cancer' cricket match? visit www.ycr.org.uk/yorkshirevcancer or contact Sophie by emailing [email protected] or calling 07470 057493.
**This is a sponsored article as part of Cricket Yorkshire's partnership with Yorkshire Cancer Research – if the mood takes you, click to read Cricket Yorkshire's policy on sponsored content**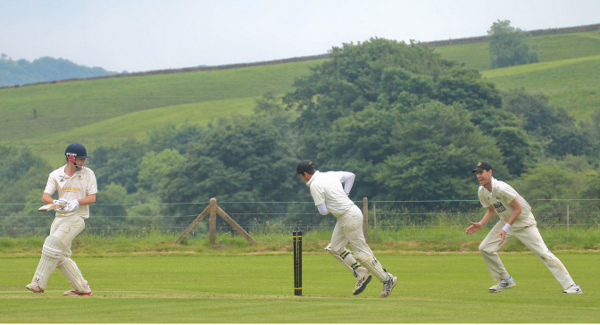 **CLICK FOR INGILBY SHIELD MATCH PHOTOS**
So regular readers will know the drill, this is where you can click round Cricket Yorkshire's album from all the Nidderdale Cricket League action.
For photos capturing the cricket action and drama of the day, just click the link above. Or THIS ONE!
** You'll need to type in your email address to access the images but joining Cricket Yorkshire's mailing list is the tiniest price for the premier club cricket photography anywhere on planet earth. Besides, you'll get a cracking fortnightly read and exclusive offers too. Enjoy!
Latest posts by John Fuller
(see all)