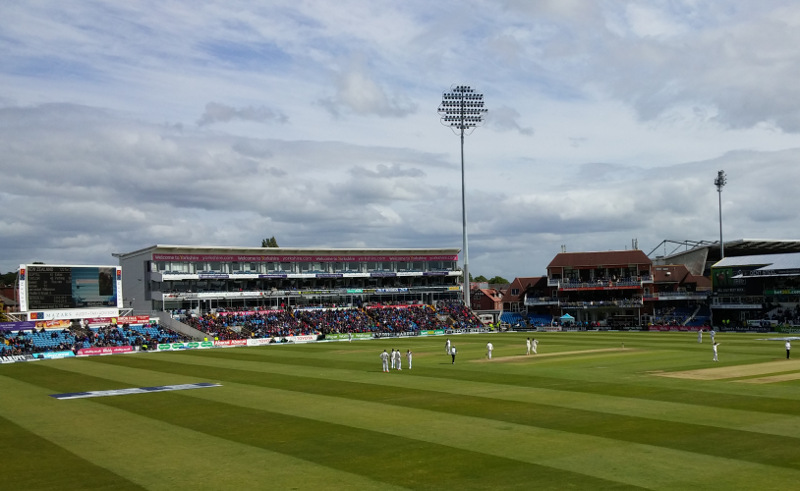 The two-carriage industrial tinbox destined for Harrogate is popular this particular Sunday morning at Leeds station.
Little wonder as it's the third day of the Investec Test match at Headingley between England and New Zealand.
Clusters of cricket fans loiter at each of the entrances to the train, waiting for the doors to open and chatting about the game.
At Burley Park, we all disembark and wind our way up Chapel Lane, behind the Co-op, in a patient, cheery snake of cricket supporters.
These are the early birds; the ones that want to get to the stadium before the rush; locate their seat; watch England and New Zealand practice and mutter at the weather forecast.
Today has a charity flavour to it as it's Yorkshire Cancer Research Day at the Test.
The Harrogate-based charity is the official charity partner of Yorkshire County Cricket Club and it's an opportunity to deliver some sensible sporting messages to the Yorkshire public around cancer.
Each charity supporter gets their own blue T-shirt as well as a free ticket so Block I of the Community Stand is already filling up nicely like a smurf convention.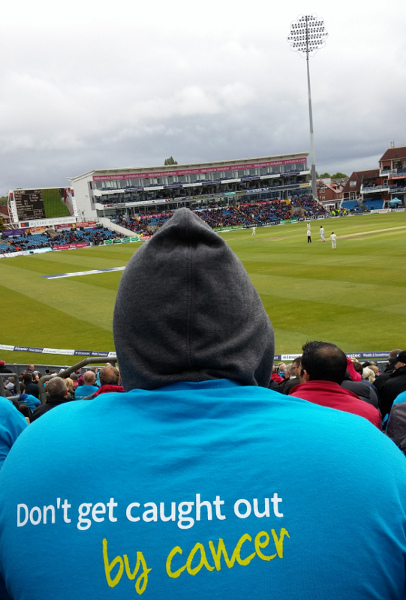 This will be the first Test match experience for Mrs Cricket Yorkshire and we have come prepared for this bitterly cold morning by wearing all the clothes we own.
The charity's gazebo can be seen from afar like a beacon of blue on an otherwise overcast prelude to the cricket with grumpy clouds congregating.
There is energy around any day of a Test match that is infectious and an extraordinary amount of people out on the Headingley grass.
Groundstaff flit around; both squads and coaches run through drills; cameras, presenters and photographers all congregate while in the concrete ring surrounding them, fans watch; buy programmes and soak it all up.
For us, we proudly put on our Yorkshire Cancer Research T-shirts and pick up white UV wristbands that change to purple in the sunshine to prompt us to put on sun protection.
En route to our seats, we stop off at the Yorkshire Cricket Supporters Association hut to have a chat and then it's hot drinks and a welcome cascade of sugared mini donuts.
Charles Rowett, the charity's Chief Executive, is there to welcome everyone to the stand and by happy coincidence, friends from our local cricket club are right in front of us.
A fifteen-minute delay precipitates a thrilling mini-passage of play that sees NZ scoop up Bell, Buttler and Ali with only 14 extra runs added.
Stuart Broad is in miserable form with the bat and has been for many Test matches but he will remember this counter-punching partnership with fondness as boundaries flowed.
It is the coldest day of watching cricket I can recall and that includes one May morning a few years back when Yorkshire were at Scarborough in beany hats and foggy breath was commonplace.
But the cricket breaks the temperature shackles and we collectively warm to this unlikely tail-end revival with Mark Wood a willing accomplice as the ninth-wicket partnership yields 51.
I have to tentatively explain to Mrs CY that this is not usual for Test cricket. England don't tend to swagger along at fifteen runs-an-over…
In a twist to the game that had the statisticians feverish with excitement, England were all out for 350; exactly the same first-innings total as New Zealand.
The innings break allowed the chance to go in search of a thai lunch with the drunken chicken noodles the best food at a sports stadium in a long while.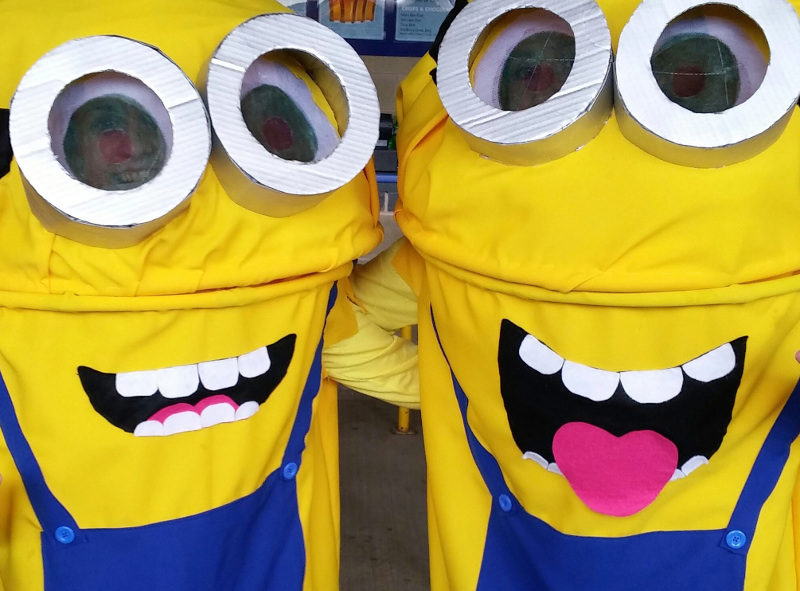 Two ladies dressed as minions from Despicable Me passed by so naturally they were grabbed for photos; they were later to win the fancy dress competition by virtue of hand-making their wonderful costumes.
The lunch interval sees the thoroughfares around Headingley become a surging mass of fans and we were carried away on the tide past Devon Malcolm doing a Q&A and the Gray Nicolls batmaker working on a cleft.
In the East Stand, the health initiative Boundaries for Life were offering free health checks to fans and staff which included blood pressure, body mass index and a mouth check.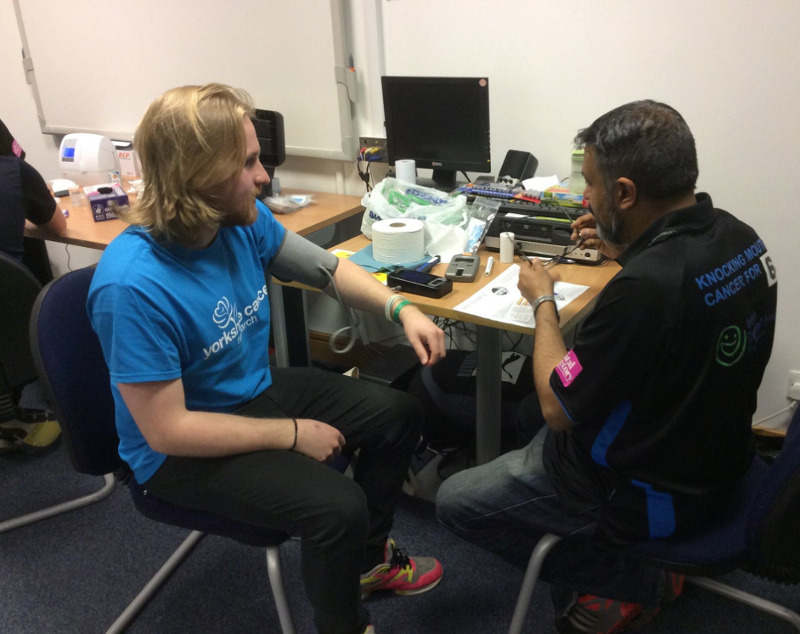 It was pleasing to see a line of blokes in their fifties and sixties waiting to be checked out and here's why.
On Test Match Special the previous day, I'd been listening to Sir Michael Parkinson discuss his own prostate cancer and he hit the nail on the head in terms of the need for early diagnosis.

Let's face it, us blokes can be a bit rubbish when it comes to dealing with our health and the older we get, the less we tend to do about that.
Ignoring a potential problem doesn't mean it goes away. Often, it will get worse and getting health MOTs or seeking advice about a concern is not a waste of time, it's just safeguarding your future.
In terms of cancer, Yorkshire has a major, ongoing challenge and Yorkshire Cancer Research is playing its part in meeting that head-on.
Their research shows more people in Yorkshire are likely to get cancer and also tragically to die from it than elsewhere in the UK.
GOING INTO BAT AGAINST CANCER
This Test match allowed some much-needed media exposure in front of the Sky cameras but also to nudge the cricketing public to the fact that the Yorkshire charity has been going into bat for those facing cancer for ninety years.
The afternoon session saw New Zealand, in a match they had to win to level the two-Test series, gallop off as the sunshine periodically peek out from behind our backs.
It only briefly felt anything close to being warm (with the mercury nudging a ludicrous eight degrees Celsius) but our UV bracelets still went purple pretty quickly whenever they were emerged from the layers of clothing.
I'd brought a cap but opted for a beanie hat to encourage more circulation which had long ceased however many mugs of tea were powered through.
It is a curiosity that cricket provides one of the few places where the ladies toilets are quiet and without the trademark queues while the gents loos are obviously packed.
This didn't stop me hogging the hand drier whilst coaxing life back into digits.
The point of this preamble is to get across IT WAS REALLY COLD. Ok, ok, sorry for shouting but there's a reason behind this.

While the cricket thrilled as first England and then New Zealand wrestled the initiative, I was gradually cooking.
What is the lowest possible temperature at which you can still get sunburn?
Anyone? Well, seeing as those that go skiing wear suncream then let's not be fooled by an arctic temperature.
True, Headingley is only 79m above sea level but here's the thing, you can still get sunburnt most of the year round in Yorkshire.
The propensity for sunburn – as I was soon to find out – is to do with the strength of the UV rays from the sun rather than how hot or cold you happen to feel outdoors.
To guard against this, wear a wide brimmed hat (ahem, not a beanie hat), put on your sun cream (with sun protection factor (SPF) of 15 at least) even in lower temperatures and on overcast days.
We left the action around teatime as McCullum was reining in his natural desire to smash every ball he faces for six.
The visitors went on to compile 338-6 with their wicketkeeper BJ Watling playing an unfussy but combative knock in the evening sunshine.
At home, the consensus, on the sofa watching the Channel 5 highlights, was that England would have to bat exceptionally well to get out of jail with a draw.
We also both realised that we can 'caught the sun' – a poetic way of saying got sunburnt; in my case, I now ressembled a Ribena cartoon character.
I'm not remotely proud to say that I had achieved the impossible of near hypothermia and sunburn in a single day at the cricket.
I had ignored all the sane advice of sensible headwear and sun protection and paid the penalty.
Nonetheless, it was a special day of Test cricket and in the future, Cricket Yorkshire will also be looking at how cricket clubs can benefit from activities with Yorkshire Cancer Research.
**This is a sponsored article as part of Cricket Yorkshire's partnership with Yorkshire Cancer Research – if the mood takes you, click to read Cricket Yorkshire's policy on sponsored content**
Latest posts by John Fuller
(see all)