The blurry man staring out at me shifts in his chair in Melbourne and tinkers with his webcam.
Meet Dennis Freedman, creator of Dennis Does Cricket, a website Cricket Yorkshire has kept its beady eye on as part of a continual scour of the t'interweb thingy for inspiration.
Occasionally, Cricket Yorkshire will profile other cricket websites. What. On. Earth. You still with me? The reason being to shout about other sites you may not have heard about and spread a little digital love if that doesn't sound too dubious.
When England last toured Sri Lanka, we profiled Island Cricket which remains one of our most popular articles of all-time and nearly melted the Facebook like button.
So, why pick Dennis of all the bloggers out there? It was his out-front opinions, smart use of WordPress, the content management system (CMS) that we use here at CY, allied with deft design touches and extremely daft humour.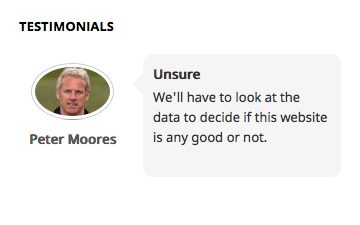 The testimonials are genius and includes some genuine and many not so genuine comments from Douglas Jardine (who must be getting on a bit) to David Warner to Imran Tahir.
Meanwhile, the writing doesn't take long to draw a smile like this from guest writer 'Kaz' on the issue of sledging:
"Let's make the whole Ashes campaign sledge-free, says Jimmy Anderson, unravelling himself from the lotus position. That series we played against New Zealand was just lovely. All that cuddling and kumbaya."
There's also a podcast on Soundcloud and iTunes called 'Can't Bowl Can't Throw' that has drawn an every-increasing cult following (as opposed to a following of cults, which works less well. Unless they all like cricket).
Once Skype is playing ball, this Anglo-Aussie conference call starts with a discussion about the strategy of putting the audience first and foremost.
Google Analytics has long since shown that most UK readers of Cricket Yorkshire like endless mentions of cake and the varying strength of Yorkshire Tea at clubs around the North of England. Or at least you all do now…
In Dennis' case, the majority of readers or listeners are in the UK, South Africa and India so part of the journey has been adapting editorial style and understanding when he's overstepped the mark (hopefully less than Mitchell Johnson in that last Test match) – as he admits to freely in the early days.
His following across social media trumps Cricket Yorkshire by some distance (jealous much?) thanks in no small part to now being a suggested account to follow on Twitter for sports fans in Australia.
Hmm. How to get everyone using Twitter in Yorkshire to get a nudge to follow @cricketyorks?
We've both had our viral successes. Not so long ago, Dennis wrote a piece about the rules of backyard cricket that has attracted 28,000 Facebook shares as well as being the centre of an ABC Perth podcast with Brad Hogg.
We kick on to the Ashes and I try not to gloat, really I do. It was probably best we talked before the fifth Test that snuck into a fourth day but was a curious way to end the 3-2 series win as Alastair Cook's side were taken to the cleaners by an innings but won back the urn:
"Irrespective that England smashed Australia, I don't think anyone picked it, not so much the scoreline but the way the matches have played with none of them lasting the five days. The fact too that there hasn't been a draw."
While Dennis Does Cricket relishes the satirical, whimsical and outlandish, we slip comfortably into chewing the fat over some mainstream, meaty topics.
Next subject up for debate is the free-to-air chunter and as it turns out, Australia has so-called anti-siphoning laws that ensure certain sporting events must be shown on free-to-air TV.
Our interview came before BT Sport's recent deal with Cricket Australia ousted Sky as the overseas broadcast partner but predictably those anti-siphoning laws are now being scrutinised by Sky.
In England, we had the so-called 'crown jewels of sport' which were meant to be protected by the Ofcom Code on Sports but over time, that has been revised/eroded and now cricket, unlike football, is in category B which can be exclusively hidden behind a paywall – as the ECB decided was the wisest strategy since 2006.
The way cricket is broadcast and priced in Australia is the envy of many over here but it's the independent governance introduced into Australian State cricket that has arguably most freshened things up.
What would Dennis choose to do to improve the worldwide game, if given the keys to the cookie jar for a day?
"Boards (ICC, ECB, Cricket Sri Lanka…etc) need to be independently run by directors that sit above the game rather than buried in the game with people pulling levers. You'd get more distribution of the product out to people via terrestrial or digital.

"If you look at the Australian examples across different sports, it's happened here with football and rugby league, when they've gone independent, the product's become more visible on TV."
He also believes there's a need for a Test Championship between the top few ranked teams as opposed to the current ICC rankings that are a bit of shambles with no-one able to definitively call themselves the best Test nation with much confidence.
Over this hour or so over Skype, the Aussie perspective with Dennis Does Cricket has been a welcome counter-balance to a lot of the mainstream media froth that circulates without actually managing to say anything.
Whereas the Cricket Yorkshire humour tends to be last of the summer-wine-inspired, gentle grumbling about the weather, the price of stamps, the relative merits of Yorkshire cricket teas, live cricket not on terrestrial, the weather, live cricket still not on terrestrial…Dennis Does Cricket can happily wave its hairy buttocks at a subject – and frequently does so with some relish.
But as its creator admits himself, audiences on social media have reacted to content and moved the boundary rope of taste around accordingly, wherever that is.
Dennis Does Cricket was recently on form with reaction to the Ben Stokes incident at Lord's: 'Ben Stokes Discovers the Laws of Cricket with this intro: 'That awkward moment when you complain about being Out when you are Out.'
You can visit Dennis Does Cricket for caustic brilliance and Cricket Yorkshire will continue to profile other cricket websites to showcase digital reverse sweeps from nations either touring England or where England happen to be playing overseas.
WANT TO READ MORE??
**In the meantime, you can check out our interview with Sri Lankan website, Island Cricket, Cricket Yorkshire's most shared article on Facebook EVER. (No pressure, Dennis)…
Latest posts by John Fuller
(see all)