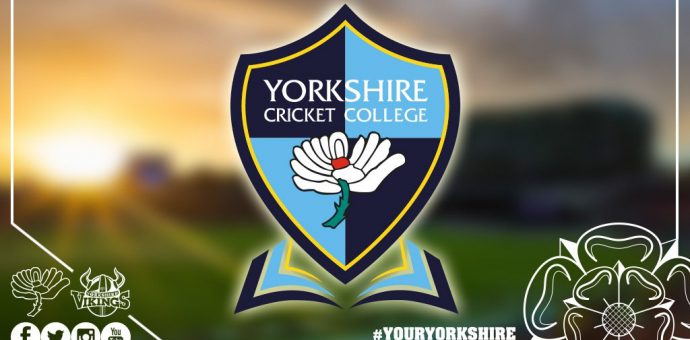 When I was sixteen, I thought about cricket, girls and the next meal.
The motivations of Julius Caesar, fiendish fractions and the periodic table went in one ear and out the other.
This might have explained why my GCSE results passed only a vague resemblance to the infinitely more positive predicted grades my teachers thought were in the pipeline.
Still, A-Levels beckoned and with it the prospect of King Lear, Vesuvius and honing my left-arm seam bowling – just not in that order…
Had a sports course been available that combined classroom studies with specialist cricket practice, who knows where life would have taken me – but it would have been very tempting to find out.




Cricket Yorkshire is working with the charity Yorkshire Cricket Foundation this summer, through a series of articles, designed to showcase their community work, projects and initiatives.
First up is the launch of their Yorkshire Cricket College from this September – a two-year, full-time education and cricket development programme for 16-18 year olds.
This is an opportunity for 18 students to gain BTEC Level 3 90 Credit Diploma in Sport
 in the first year then progress to BTEC Level 3 Extended Diploma in Sport.
With 420 UCAS points up for grabs, this free course requires students to have a minimum of GCSEs A-C (preferably one Maths or English).
The only cost to those who enrol will be buying the requisite sports kit – expected to be £100-£150 though even this may end up being discounted.
The means and cost of our education remains a hot topic across age groups from primary school to university and to find a course with the blend of content and skills that offers a defined career pathway – with cricket as the vehicle – is relatively new and very inspiring.
Little preview of what our Yorkshire Cricket College classrooms will look like! Register for an Open Day now! https://t.co/M8FmTNGfWc pic.twitter.com/2kCyTYyGbf

— YCCC_YCF (@YCCC_YCF) March 24, 2017
How much cricket is involved?

It's important to stress this course isn't aimed at the next Joe Root.
If it emerges that a student on the course has the ability to potentially crack professional cricket then they couldn't be better placed to explore that.
However, the Yorkshire Cricket College will be an inclusive environment for those of all cricket abilities; sure, an interest in cricket is a given but their ability to bowl leg spin or unveil the reverse sweep won't dictate whether a student is accepted.
There will be cricket built into the timetable three times a week (that's up to six hours a week) – and will encompass training, specialist skills and access to the expertise, coaching and technology available at Headingley stadium where the course will be taught.
From a cricketing perspective, this will be the bells-and-whistles treatment from current and ex-professionals who are accredited at ECB coaching levels 2, 3 and 4.
All aspects of the game will be covered, training as a squad with personalised training programmes and one-to-one time to assist students achieve their potential.
The Yorkshire Cricket College students will be able to tap into the same technology and tools currently used at Headingley by England players and county professionals so get ready for video analysis plus outdoor training and matches during the summer term.
You'll notice the photos so far in this article until now are of young lads. Well, it's key to point out that the Yorkshire Cricket College welcomes applications from girls who want to combine studies with advancing their cricket.
There are equal opportunities for male and female students and who ends up on the course will entirely be down to the strength of applications and how everyone comes across at the interview stage.
Education through sport
As well as the cricket coaching pedigree from Pro Coach, who reside at the Indoor Cricket Centre on St Michael's Lane, students will be attending classes in the East Stand of Yorkshire County Cricket Club.
Here's a taster of the range of subjects that will be covered:
YEAR ONE
Principles of Anatomy & Physiology

The Physiology of Fitness

Technical & Tactical

Practical Team Sports

Fitness Training & Programming

Fitness Testing for Sport & Exercise

Current Issues in Sport

Sports Coaching

Assessing Risk in Sport

Instructing Exercise Physical Activity & Fitness
YEAR TWO
Analysis of Sports Performance

Rules, Regulations & Officiating in Sport

The Athlete's Lifestyle

Talent Identification & Development in Sport

Psychology for Sports Performance

Exercise, Health & Lifestyle

Sports Nutrition

Sports Injuries

Organising Sports Events
This Diploma in Sport will be run by SCL Education Group who are a government-approved post-16 education provider in the sport & active leisure sector.
They are engaged with over 100 colleges, employers, sports clubs and universities as programme partners and have taught over 15,000 young adults, many of whom were unplugged altogether from education.
CAREER PROGRESSION
At 18, I went to university without any clue of what I wanted to do with my life. The careers advice at the time was vague at best – somewhat conflicted by my interest in writing but having just tanked my A-Level English exams.
What's really positive and worth flagging up about the Yorkshire Cricket College is that during the two-year course, there will be ample chance to speak to those at Yorkshire County Cricket Club from a range of backgrounds and job roles about working in sport.
Whether it's talking to a Chairman, Chief Executive or those employed in sales, marketing or hospitality, this course allows students to pick up tips from the men and women who were once in their shoes trying to figure out their way in the world.
In fact, there may even be scope for a paid job at the end of it all.
A number of those currently working at Headingley arrived through the doors as interns, students or casual staff but have gone on to secure permanent roles.
Of course, after those initial twenty students in the 2017/18 academic year have secured their BTEC Level 3 Extended Diploma in Sport, the world is their oyster.
They may turn to full time employment or seek to go the apprenticeship route. Coaching opportunities here in the UK or overseas or a Foundation or BA Honours Degree at university in a sports-related discipline are some of the other possible tangents.
ATTEND AN OPEN DAY
The process for applications is in several stages.
First, register to attend an Open Day (see 'Open Days' tab of web page), the next date is 2 June at 6pm at Headingley cricket ground.
There will then be invitations to attend interviews before the actual enrolment stage.
HOW TO FIND OUT MORE & APPLY?

If you'd like to apply, are a parent of someone who might be interested or maybe know someone suitable through club cricket, here's what you do…

Contact Nick Robinson from the Yorkshire Cricket Foundation via email [email protected] or telephone 0113 203 3632.
Plus, here are all of the details you could possibly need in one place from application process to course units to cricket content.
You can keep up-to-date with Yorkshire Cricket Foundation and all that they do via @YCCC_YCF on Twitter, the YCF Facebook page and checking in on the Yorkshire Cricket Foundation website.
Please spread the word – by sharing this article using the Twitter and Facebook buttons at the bottom of the page – and best of luck with their studies to the class of 2017/18!
**This is a sponsored article for Yorkshire Cricket Foundation – if the mood takes you, click to read Cricket Yorkshire's policy on sponsored content**
Latest posts by John Fuller
(see all)