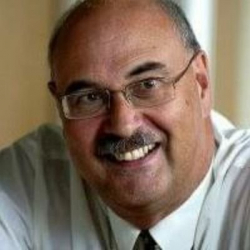 Latest posts by Bill Marshall
(see all)
Bill Marshall interviews Woodlands' opening bat Sam Frankland about the volume of cricket that success brings and how the season is going.
Remember the days when overs cricket had just replaced timed cricket?
Or when a top edge into the face meant a visit to the local A&E rather than a replacement helmet?
Or when the only matches on Sundays were knockout matches, and each league only had one cup competition?
Or when every tea was a sit-down salad affair?
Times have moved on.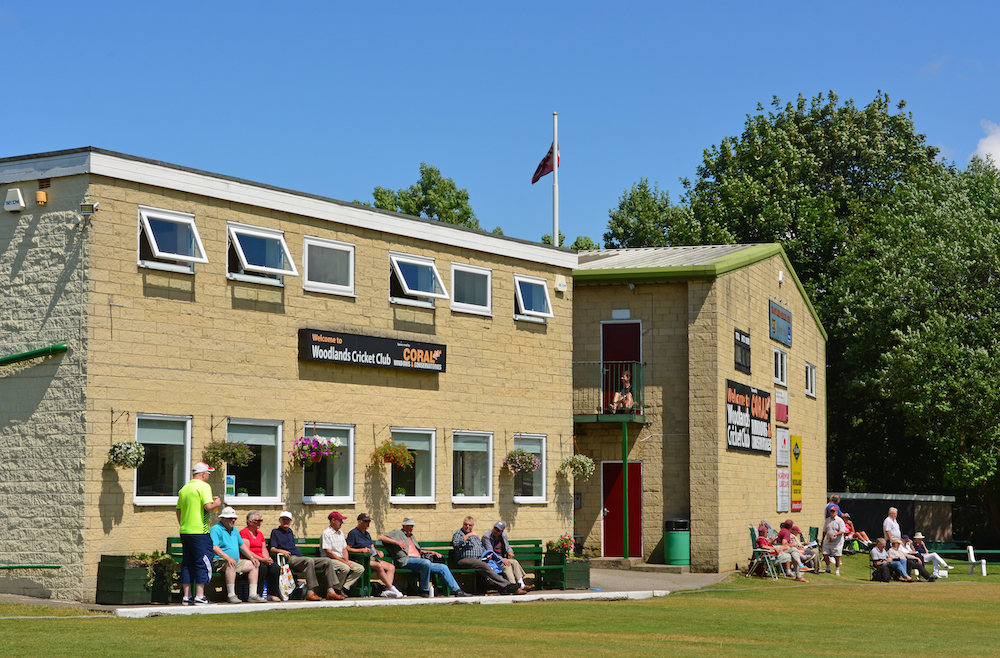 Prior to the weekend of July 8-9, Bradford Premier League heavyweights Woodlands were battling on four fronts (five if you include T20) and had already played 21 matches this season.
---
Editor's Note: After the weekend's fixtures, Woodlands are now out of the ECB National Club Championship after losing to Richmondshire by seven wickets (revised target) – but still lead the Bradford Premier League by 26pts from Townville. (JF)
---
Or, put it another way, they have now had nine double weekends and one triple weekend (ten weekends in total when they have at least played on a Saturday and Sunday out of a possible 12), missing only April 30 and May 21.
And upcoming they know they have at least two more double weekends, the final of the Solly Sports Heavy Woollen Cup (against either New Farnley or Huddersfield League side Scholes at Methley on Sunday, August 20) and the semi-finals of the Priestley Cup (home to New Farnley a week on Sunday, which will be their eighth successive double weekend).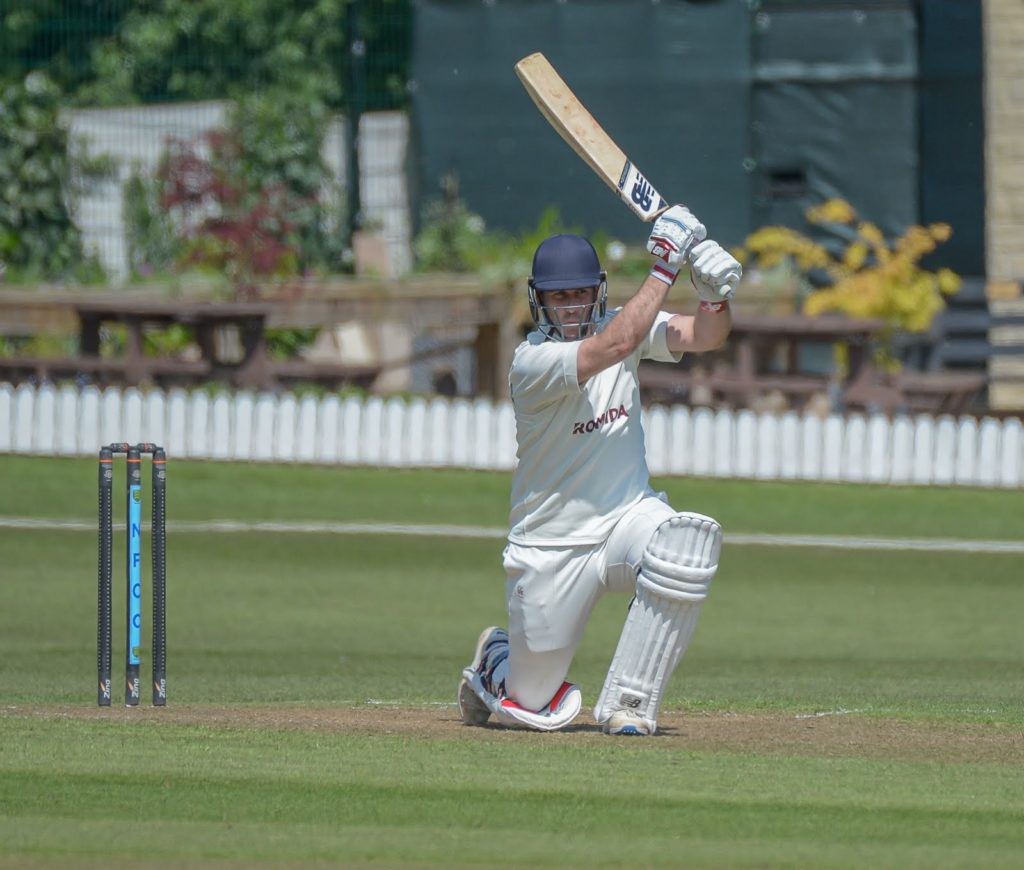 What an undertaking for the first-teamers at a club but how much is too much?
Woodlands' opening bat Sam Frankland admits that it is a heavy schedule but revealed that is largely forgotten once the team arrive at the ground (usually their home turf at Albert Terrace as they, incredibly, will have been drawn at home for 10 cup matches out of ten come Sunday, July 16, which if you were wondering comes in at odds of 1024-1.
Frankland, who made 98 against Beckwithshaw as they reached the final of the Heavy Woollen Cup, confessed: "We are conscious of the commitment that we are putting in. However, I don't see it as a burden. At Woodlands, double weekends come with the territory.
"But once you are here (at the ground) nobody is fed up of playing because there is a buzz about the club, and a winning mentality certainly helps week in, week out."
The negative for Frankland is a lack of family time at weekends, but a shorter warm-up time prior to matches has helped a little.
He said: "I have a young family – boys aged eight (Will) and six (Oliver) – and you can spend an extra half-hour at home with them on a Sunday morning, but it is more that the meeting time that has been altered.
"We normally meet an hour or an hour and 15 before the match starts but (captain) Brad (Schmulian) says that it is OK if we are on the field 45 minutes before the start, which seems to work well for us due to the volume of cricket that we are playing.
---

"Because we are playing lots of Sunday cricket – we are playing week in, week out – Brad has just told us to be relaxed and be positive and express ourselves."

---
As for the impingement on family life, Frankland admitted: "Personally it does become more and more difficult, and Will has started playing more games of cricket this year so there is a commitment that way as he is playing tournaments on Saturday mornings."
However, those 10 cup games at home have helped.
Frankland added: "Every cup game at home is an advantage to us, especially playing against teams who play on bigger grounds, but maybe the groundsmen is not too pleased.
"But we have a new clubhouse, a new bar area and there is that nice buzz."
Frankland and Tim Jackson can usually be relied upon to give Woodlands a decent start – for example last weekend they figured in partnerships of 100 and 91.
Frankland explained after the Beckwithshaw match: "Tim and I have a good relationship at the moment where we seem to bounce off each other and we were positive and it came off today, as it did yesterday."
After the openers comes the reliability of Schmulian, who has a Joe Root-like ability to keep the scoreboard ticking over at a healthy rate, and the power hitting of Tom Clee.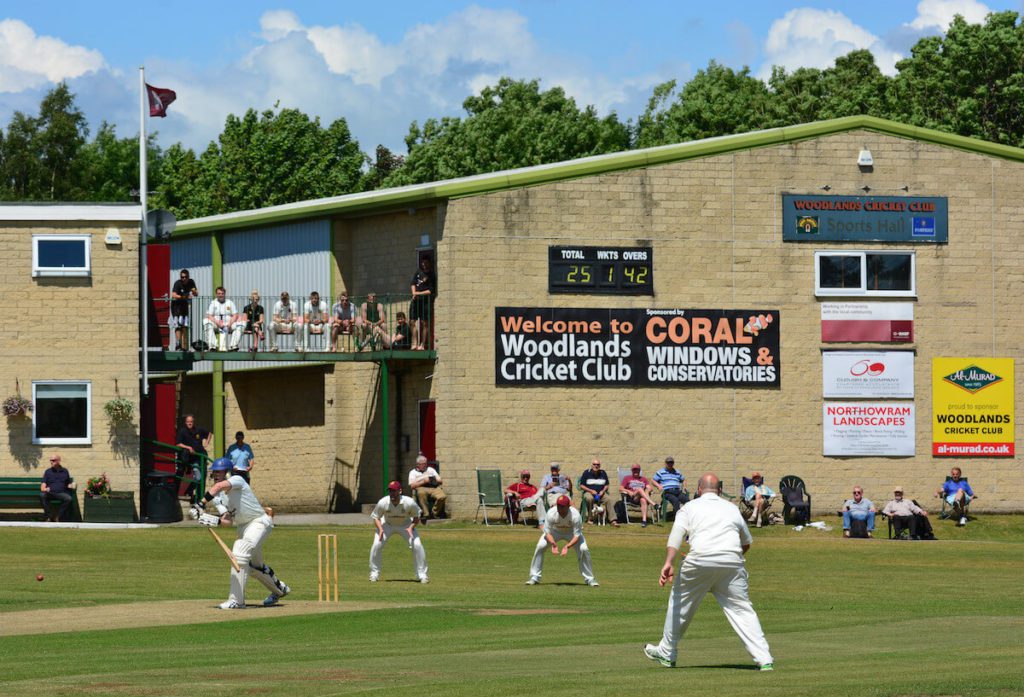 Frankland said of himself, Jackson and Schmulian: "Our top three seem to be in form, which is good going into the crunch part of the season."
He said of middle-order batter Clee: "Tom has had a bit of a stop-start season and he has been finding unusual ways to get out and I know that he is frustrated that he has not had the scores that he had last season, but I don't think that he is doing much different, apart from being unlucky at times.
"But once he is in, he hits as big a ball as anyone in the league."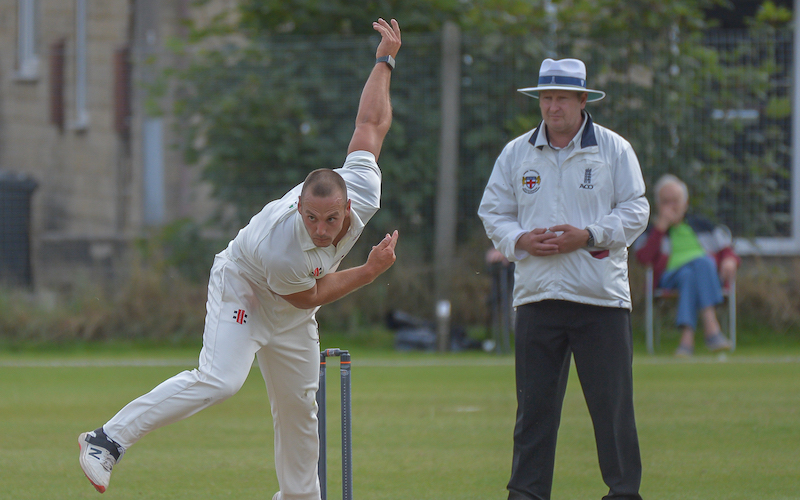 Military medium Stuart Hudson certainly felt that for Beckwithshaw, going for three successive sixes from Clee, which his skipper, ex-semi-professional footballer Chris Wademan, found rather amusing standing in the deep.
However, Frankland admits that visitors, especially those who haven't played at their ground before, have inadvertently helped the home team.
---

"Lots of teams have come to Albert Terrace this season, particularly clubs from outside the league, and struggled over how to set fields and defend, especially with the short boundary, which plays to our strength."

---
"You probably need sweepers out straight away and they (Beckwithshaw) realised that the longer the innings went on that they could not attack us as much as they would have probably liked or expected.
"They stopped the boundaries in the middle part of our innings and took a few wickets, which slows the game down a little bit."
Thanks to Bill Marshall for this interview and Ray Spencer for his photography.