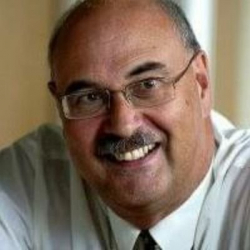 Latest posts by Bill Marshall
(see all)
Uumpires Carl Williams and Michael Steele conferred on the square during Pudsey St Lawrence's innings against Clifton Alliance in their first-round ECB National Club Championship clash.
Were they checking the number of overs each bowler had delivered?
Had somebody said something out of turn?
Were they just passing the time of day?
Then Williams turned to the scoreboard, putting one hand to his opposite shoulder and signalling to Noel Bullock and Adrian Fuller that five penalty runs should be applied.
It later transpired that one of the Clifton Alliance fielders, Sam Lingard, had been spotted applying saliva to the match ball (doubtless by habit) hence the award of the penalty runs.
"I only told them three times," wailed Clifton Alliance skipper Liam Green later as he digested the penalty.
Although putting sweat on the ball is still allowed, applying saliva has been banned by the Marylebone Cricket Club (MCC to me and you) since last October as it is deemed to be "an unfair practice".
The International Cricket Council (ICC) made the application of saliva a no-no as an interim change in June 2020 due to Covid, with most leagues applying it, although the umpires then had discretion to give two warnings before dishing out the punishment.
It also became apparent in talking to Williams during a lengthy rain delay at Tofts Road that even if a fielder applies saliva to the ball, it is the bowler who risks being taken off for the duration of the innings if there is a repeat offence during one of his overs.
Williams admitted that he had applied the law the week before as well, while Steele admitted that he had never applied it.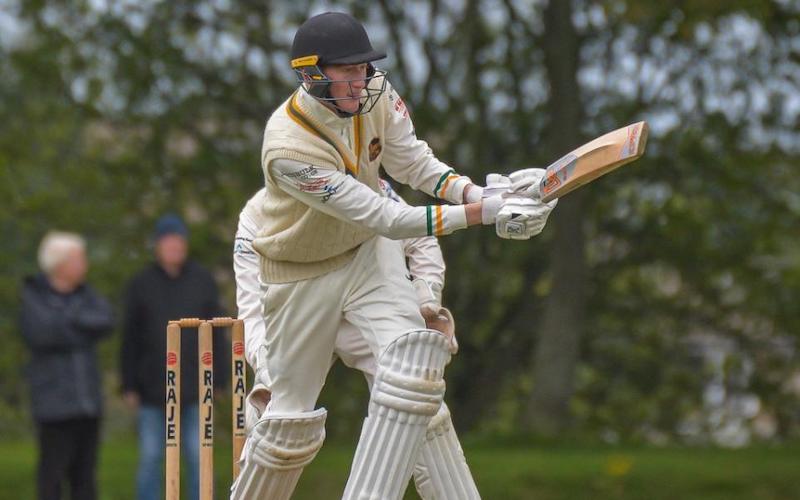 Photo: Ray Spencer

Archie Scott (above), player of the match in the first-round tie after scoring 88 not out and taking 5-15 in a Duckworth Lewis Stern-affected win by 103 runs, was at the crease during the penalty-runs award.
He said: "The umpires awarded five penalty runs but I didn't realise that the batters then have the choice of changing the ball (in case the condition of it had been altered) but Rodders (Mark Robertshaw) and I were timing it pretty well, so we decided to stick with the same ball."
Robertshaw was dismissed for 82, made off 89 balls and containing nine fours and three sixes and put on 192 with Scott, whose innings lasted 94 balls and included ten fours and three sixes.
The noticeable thing about their stand was that Scott was on one when Robertshaw had already advanced to 18, and Scott remembered: "I was on six when Mark was 30"
However, Scott scored the next 28 runs off the bat, passing his opening partner with a straight six over the low-whitewashed wall to advance to 34 with Robertshaw still on 30.
Scott said: "I got a few away of their off-spinner, such as a cut off the back foot, and I got a couple of drives off the bowler at the other end."
Scott, who made his debut at the top of the order when he was 18, recalled: "I opened for the second team and in junior cricket, but it didn't go well to start off with with the first team. so then I dropped down the order to five and have been at four or five since.
"The decision to open with me against Clifton Alliance was probably decided about three weeks beforehand when Besty (Charlie Best) told Spike (Chris Marsden) that he would be away.
"But Spike told me about 10 minutes after the toss. However, I was half-expecting it, so it didn't fluster me.
"Mark and myself had a chat before the game and said 'we have got to stick to our strengths'. Mark said 'If it is there, I am going to bang it', but I was hitting sweepers for a time and he was timing it well so I just tried to get off strike."
Scott added: "There is a huge difference batting at the top (to the middle order). You need a different, tighter technique as the new ball does a little bit more
"Patience is the most important thing as an opener. You have to give yourself 10, 15, 20 balls just to get your eye in, watch the ball, see what the pitch is doing and try and judge what a good score is.
"We knew that with the short boundary and the pitch being better than it was the day before (that it could be high)."
Did the rain rob Scott of a hundred as they had to declare during the tea interval at 212-1 off 31 overs?
He said: "Potentially, and it would have been nice to get one, but I might have gone down the track, hit one and been caught on the boundary so we will never know.
"Spike said during the tea interval 'I don't think that you will be going back out there and batting', and the umpires were good and knew all of the rules and regulations.
"This is treated as the ECB's premier club competition so they give you every single opportunity to get the game done.
"If it had been a league game it probably would have been canned at 3pm or as soon as we finished batting.
"The umpires knew how congested the fixture list is at this time of season and we would have had to go to Clifton Alliance the following weekend, which would have meant that our Priestley Cup tie would have been put back.
"But we finished the match in glorious sunshine, which I cannot believe happened, but it was the nicest part of the day, and that can happen. The umpires did well."
The chief worry for Saints after the break was the performance of opener Edward Wade, who reached his half-century in 29 balls, including six fours and four sixes.
---
Scott said: "He (Wade) put pressure on us straight away, rather than us bowling poorly. He hit a six over deep backward square that went 70 or 80 metres and was taking the game away from us, and we would have lost if he had carried on batting."
---
"But Barrie Frankland is as safe as houses on the boundary, and we got him (Wade) out."
Then it was down to Scott and Marsden (2-32) to mop up the innings.
Scott revealed: "I bowled at the top end the day before but bowling at the bottom end down the hill with the breeze suits me a little bit better because of my height. I tend to bowl a little bit fuller.
"But our keeper Luke Heinemann is the best in the league standing up to the wicket. I don't have to tell him about any variations. He catches everything standing up. He is second to none standing up.
"Obviously there are other good keepers at every club but when 'China' is stood up I wouldn't swap him for anyone."
Scott admitted afterwards that the carrot of playing the final at Lord's was as much of an incentive to players like Robertshaw and Marsden as it was to the younger members of the team.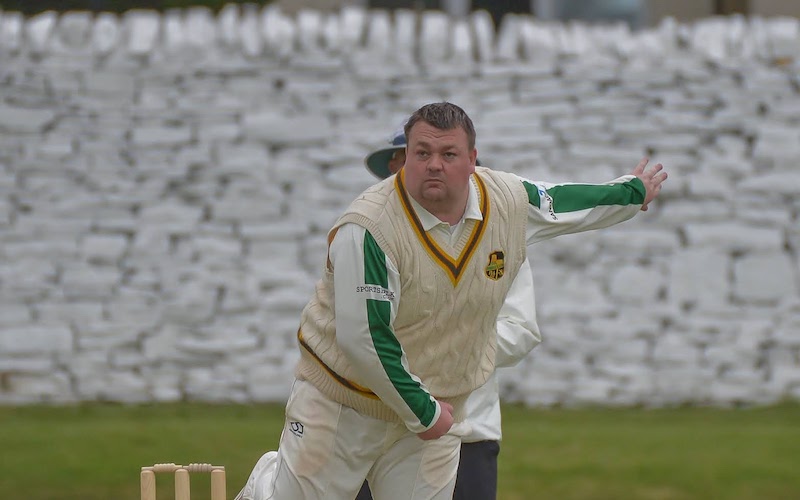 The 24-year-old said: "You would reckon that it would be the old boys who wouldn't want to do it, but it was Mark and Spike who were pushing for it.
"They have had brilliant careers and have won everything, but we have never played in this competition before and they said 'Boys, should we enter this?'
---
"In two weeks' time, we go to Barnard Castle for the next round (May 14) and the final is at Lord's, and if that is not going to inspire you then nothing will really."
---
As for the York-based visitors' innings, Scott said: "We knew that if we got two or three early wickets that we could choke the life out of them with spin, and that has been one of our strengths for a long time.
"But we just haven't been able to put performances together. Some weeks, we bat well we don't bowl so great well and other weeks we bowl well and it is the batting that lets us down.
"We were under a bit of pressure having lost two in the league (Bradford Premier League Premier Division) so we all owed it to each other to put in a good performance.
"Against Hanging Heaton, we were in control, but Callum Geldart batted really well.
"Against Woodlands, we were probably 20 runs light but we had them at 35-3 and didn't quite have enough but they played well (opener Tim Jackson 66no, Kieran Collins 76no).
"That is the thing about this league. You can have teams three, four or five down and players come in at six or seven and take the game away from you in no time.
"At our ground, with its dimensions, you are not safe with 300 in mid-summer and a mishit still goes over the wall."
Thanks to Bill Marshall for the interview and to Ray for the photo.
For the latest news from the Bradford Premier League, visit bradfordcl.com.