Asher Nutting explores a selection of cricket gifts for Christmas, birthdays or pre-season…
The 2022 season continues to creep closer, meaning it's the time of year when club cricketers hurry round to refresh their kit. Oh boy, can I not wait for another season scratching around to try and reach three figures; but that's not the point here.
The point is that cricket lovers – or haters, depending on if your Warburtons half-sandwich is half-full or half-empty – can prove to be tough to buy for when it comes to the festive period and birthdays.
So instead, let Father Crick-mas at Cricket Yorkshire HQ do the hard work for you.
Ignore Mariah Carey's suggestion of gifting yourself and instead feast your eyes upon this smörgåsbord of gift ideas from the weird to the wacky to the wonderful…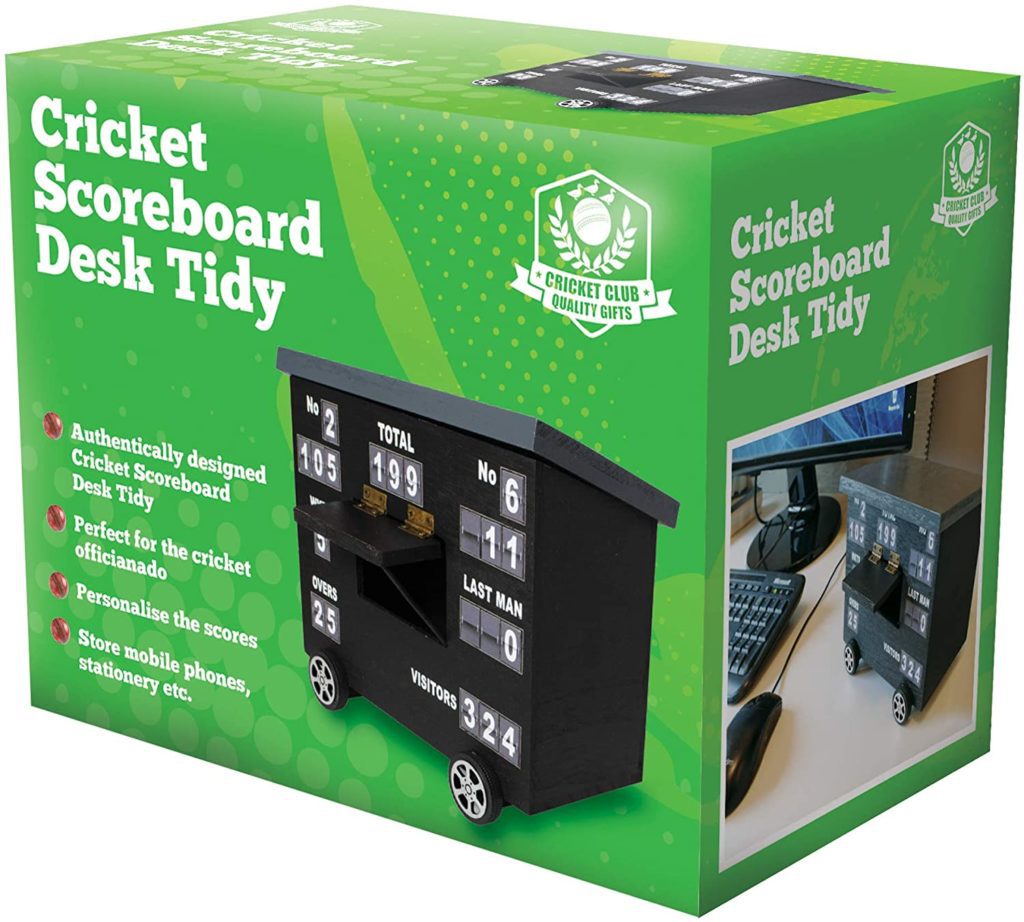 1. Cricket Scoreboard Desk Tidy – £15.99
While I'm aware that I'm the sort of person who's prone to exaggerations, this is one of the greatest things I've ever set my eyes upon.
When I first stumbled across it, I couldn't help but smile.
It's so simple and yet actually very useful. I'm not sure words can do justice quite how much I'm a fan of it but I expect the owner of Oliphant to feature on Her Majesty's honours list come the end of the year.
2. Payntr Cricket spikes – prices vary
Who doesn't love a crisp new pair of spikes ready for the new season?
Only a few years ago, you had Slazenger, Kookaburra or if you wanted to splash out a bit more, Adidas. Then Payntr took the cricket shoes market by storm.
Not only are Payntr a Yorkshire success story but if you use our exclusive discount YORKSHIRE20 you can get 20% off your payntr.com order*. It's a Christmas miracle, I know.
If you're already sorted for spikes, Payntr do trainers, hoodies, caps and much more too!

(*Cricket Yorkshire voucher excludes sale or golf and all purchases will support this website through our affiliate partnership.)
One for the traditionalists and I'm sure a game which will bring back fond memories for many people reading this – bold to assume that 'many' people are choosing to read my waffle.
There's a reason Owzthat! has been a feature of UK living rooms for decades – simplicity.
**Read Cricket Yorkshire's Guide to Owzthat! – dice, paper and imagination**
The quirky dice rolling game doesn't require a sunny day, bouncy track or even any sort of ability, making it the perfect stocking filler for any cricket nut.
4. Pop-Up Garden Fielders – £40.99

The chances are the cricketer in your life spent countless hours as a youngster playing garden cricket, ultimately causing some pretty intense sibling arguments.
Shouts of "that's gone straight to cover" as you cream an Ian Bell-esque drive for four or "caught deep square-leg" as you channel your inner-Ponting.
For a product so simple, these pop-up fielders could genuinely add a new dynamic to garden cricket whether playing for fun or actually practising shot placement. Garden cricket never looked so good.
You were promised 'wacky' at the start of this cricket gifts guide and there's been a serious lack of ridiculousness for my liking so far. Fear no more.
This 'mini me' could surely provide a chuckle for the cricketer in your life or equally, act as comfort for those at home while you're out scoring tons and/or taking five-fers.
It's hard to actually put into words exactly what this is and so I'll just let you see for yourself.
A Note from CYHQ – Cricket Yorkshire may earn a commission through items you buy on this website (like Payntr and Amazon). It doesn't cost you anything and you'll be supporting grassroots cricket journalism. Thanks!
Leave a comment below!
What's the best cricket gift you've ever been given? What would be your ultimate cricket gift?
Latest posts by Asher Nutting
(see all)